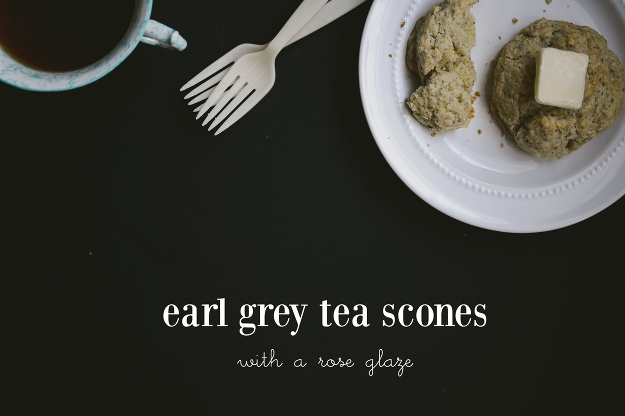 My sister threw the most amazing bridal shower for me. It wasn't just a gathering with fun wedding-related games such as toilet paper dresses. It was a classy tea party, offering various types of teas and a whole plethora of desserts: scones, cakes, fruit tarts, and pie! Lucy knows me well (she should! She's my identical twin sister). As a result, I have a bunch of loose tea leaves left over. I'm going to drink copious amounts of tea and stain my teeth yellow, just in time for my wedding (let's hope not). I decided to make earl grey tea scones.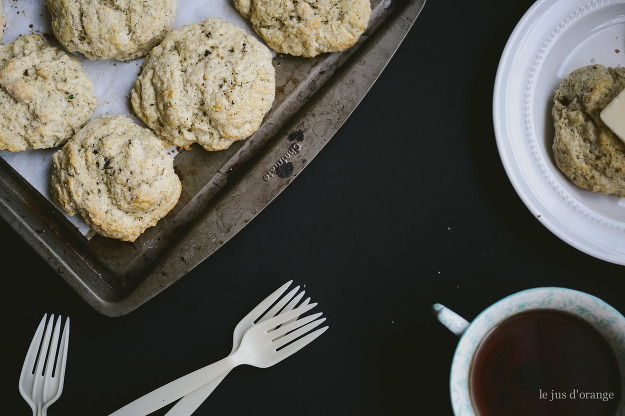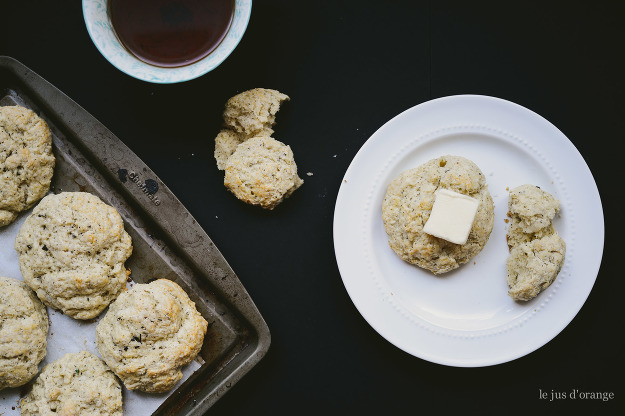 I'm sort of obsessed with tea. I love jasmine green tea, oolong tea, earl grey tea, and I definitely would not turn down one of those fun mixed teas such as lavender white hibiscus tea. I recently discovered that I can incorporate tea into my baking or cooking. All you need is a trusty coffee bean grinder/spice grinder and a strainer. You can definitely use tea bags as well, but I find that loose leaf tea is of higher quality and adds a more definite flavor. These earl grey tea scones are lovely on their own. They have a very subtle hint of earl grey that makes the scone more aromatic and complex. I brushed a tiny bit of rose glaze to add just a little bit of sweetness to them. Adapted from these basic buttermilk scones.
---

RECIPE: Earl Grey Tea Scones with Rose Glaze
Earl Grey Tea Scones
1 tbsp steeped earl grey tea
2 tbsp ground up loose leaves of earl grey tea
3 cups all-purpose flour
1/4 cup + 1 tbsp sugar demarara sugar for sprinkling
1/2 tsp baking soda
2 1/2 tsp baking powder
1/2 tsp salt
3/4 cup butter (prepare this before hand by cutting into cubes and sticking it in the freezer)
1 1/4 cup buttermilk
1 tsp vanilla extract
buttermilk for brushing
1| Prepare: Preheat oven to 425F. Cut up butter into 1/2 inch cubes and stick it in the freezer)
2| Mix dry ingredients together – flour, ground tea leaves, sugar, baking soda, baking powder, salt
3| Use fingers to rub butter into dry ingredients. Pea-sized or smaller chunks will remain.
4| Mix buttermilk, vanilla, 1 tablespoon steeped tea together.
5| Make a well in the center of dry ingredients. Pour wet ingredients in.
6| Use a spatula (or your hands) to mix gently until just combined. DO NOT OVERMIX or knead
7| On a lightly floured surface, pat mixture into a 1 1/2″ thick sheet. Use a biscuit cutter or shape into wedges (up to you).
8| Place on parchment lined baking sheet, about 1-2 inches apart.
9| Bake for 11-12 minutes, until tops are golden brown. *Handle the dough as little and as gently as possible for best results.
Rose Glaze
1 cup powdered sugar
1 tablespoon rose syrup
2 tablespoon water
1 tablespoon ground earl grey tea leaves (optional)
Whisk ingredients together. Brush lightly (do not pour it on!) over cooled scones.