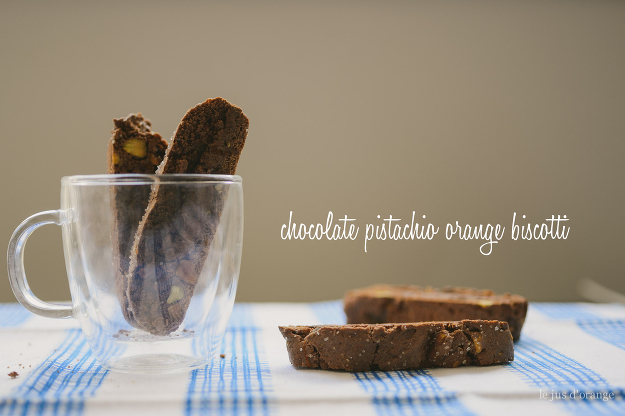 Biscotti. People call it the Italian cookie. Others say it's heaven dipped in coffee. I say, let's stop talking and just eat them. Biscotti means "twice cooked". This is indeed the case for this cookie. The dough is formed into a loaf and cooked until it is set. While it's fresh out of the oven, the loaf is chopped into biscotti pieces. Then, they are popped back into the oven to achieve that delicious crunchiness. They're meant to be dry and crunchy – so you can imagine how great it would taste when dipped in coffee!
I can't believe I'm getting married in a week and a half!! I will be leaving Boston for California this Saturday, so I'll have a week to do last minute preparations. For most of the wedding planning time, I've felt pretty relaxed and stress-free, especially since I have an awesome wedding planner to back me up. However, now that it's within two weeks, I can feel the stress start to creep up on me.
What do I do when I'm stressed? I bake of course -such a cliched answer, but so true. My friend J first introduced me to baking biscotti, something I would never have thought of before (I don't know why). He made these awesome pistachio-orange biscotti drizzled with dark chocolate, and they were amazing. The biscotti I made here were inspired by his, but instead of drizzling with chocolate, I used cocoa powder to give the whole cookie a tinge of chocolate.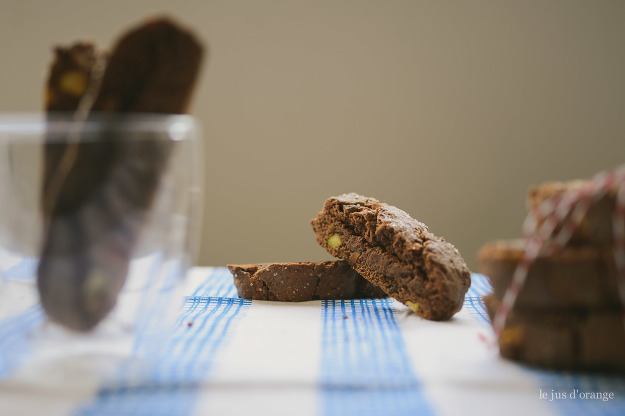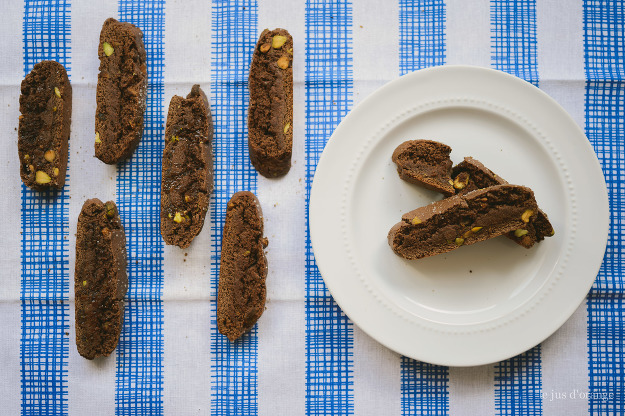 RECIPE: Chocolate Pistachio Orange Biscotti
adapted from a friend's recipe!
Ingredients
1/3 cup butter, softened
1 cup granulated sugar
3 eggs
2 3/4 cups all purpose flour, sifted
2 tsp vanilla
1/3 cup cocoa powder
2 tsp baking powder
1 tbsp ground cinnamon
1/2 cup coarsely chopped pistachios
2 tbsp orange zest
1 tsp juice of orange
demarara sugar
1| Sift together flour, cocoa, baking powder, cinnamon
2| Cream butter and sugar until very light and fluffy. I used beaters in a stand mixer.
3| One at a time, add eggs. Beat well after each addition.
4| Add vanilla extract and 1 tsp juice. Add orange zest.
5| In 4 installments, gradually add dry mixture to wet mixture, blending after each addition. Remove bowl from stand mixer and gently fold in pistachios.
6| Preheat oven to 350F. Divide dough into two halves. On a baking sheet lined with parchment paper, shape each quarter into a log of about 10″ long, 2-3″ wide. Gently roll across top of each log to flatten. Sprinkle with demarara sugar.
7| Bake for 20-25 minutes, until dough is set. Remove from oven and cut with a sharp knife into biscotti pieces. Place back onto cookie sheet with cut side down.
8| Bake for 8-10 minutes. Flip cookies. Bake for another 8-10 minutes. Cool on a wire rack. Store them in airtight container. Dip them in coffee. Munch on them all morning at work.