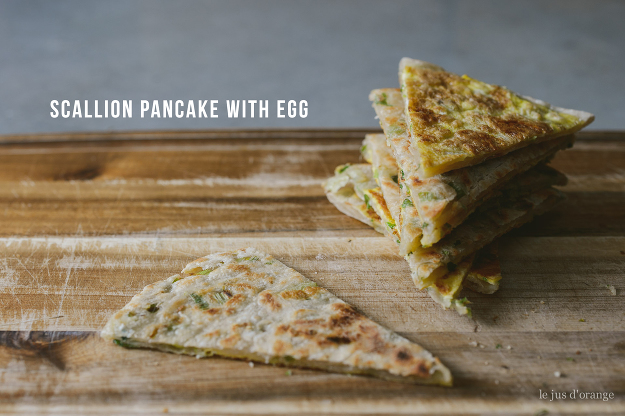 Ok, who grew up eating these scallion pancakes? I did!!!! Every time we went out to a Chinese restaurant, my sister, my brother, and I would always insist on ordering scallion pancakes as appetizer. It didn't matter that they were so easy to make and not worth the price (as our parents told us). The crispy, deliciously fragrant pancake was something I grew up with. When I finally developed an interest in cooking, this was one of the first dishes I tried out. Trust me, it's easy, fun, and messy!!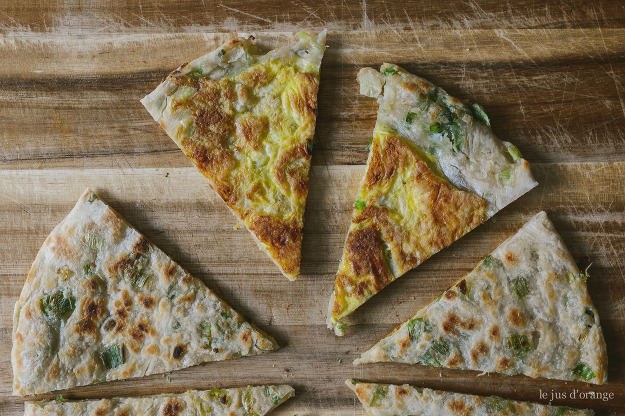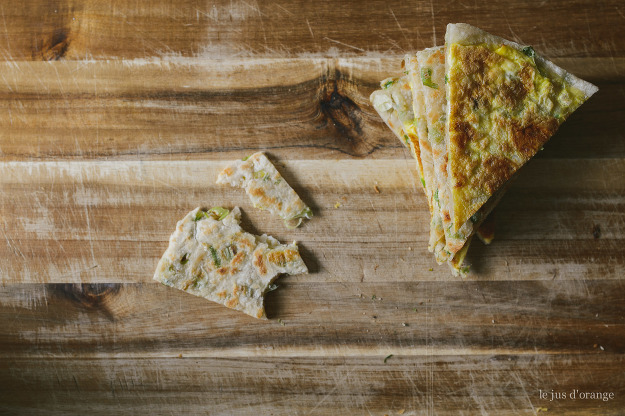 Alternatively, you can omit the egg part and just make the pancake. If you don't have sesame oil handy, use canola oil, although I always find that using sesame oil adds an extra flavor to the pancake.


Recipe: Cong You Bing Jia Dan 蔥油餅加蛋 (Scallion Egg Pancakes) 
Ingredients
2 1/2 cups flour
1 cup boiling water
1/4 cup sesame oil (approximate)
1 bunch scallions, finely chopped (comes out to about 1/2-3/4 cup chopped scallions)
salt
2 eggs, beaten with 1 tsp water
1| Mix flour and water together until combined. Using your hands, knead for 5-10 minutes until the dough is smooth and elastic (warning: it will be sticky!)
2| Coat dough with a bit of oil and let rest in a bowl for 30 minutes.
3| Cut dough into four parts.
4| Roll dough onto a lightly floured surface as thin as possible. Brush with sesame oil. Sprinkle with salt. Sprinkle evenly with chopped scallions. Roll into a thin log. For a larger pancake, just coil the log to form a spiral.
5| Repeat one more time – this allows the flakiness and layers to emerge. Roll the spiral into an oval, as thin as you can get it. Brush with sesame oil and sprinkle with salt and scallions. Roll into a thin log and coil into a spiral again.
6| Roll it out to desired size (does not have to be as thin as before) and shape.
7| Heat up a skillet with sesame oil or vegetable oil on medium-high heat. When oil is hot, gently place pancake on skillet. It will sizzle. Cook for 2 minutes. You will see the dough become more "translucent" and less white and dough-like. Use a spatula to flip the dough. Immediately pour your prepared egg mixture on top- if you have to, use a spatula to evenly spread egg mixture across surface of pancake. Cook for another 2 minutes. The egg mixture should be spread thinly enough that it will cook through. If it isn't, then simply flip the pancake again (with egg) so that the egg mixture is on the bottom. When finished, both sides should be golden brown and crispy.
8| Cut and serve fresh!!