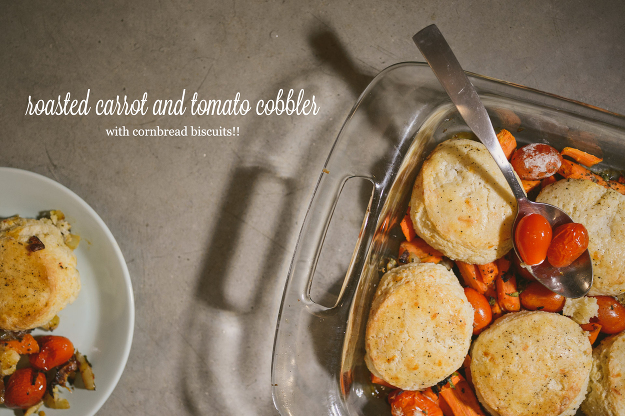 Topped with cornbread gruyère biscuits!! This combination of flavors is unbeatable. In fact, it's going to be my go-to dish for potlucks. It's summer, and I love potlucks. So expect more talk about potlucks. When I was renting a house back in Saint Louis, Alex and I hosted quite a few potlucks / barbecues, and it was a blast!! I miss that. In Boston, our apartment is a little too small to host a potluck. I'm not discouraged, though, because there are some great parks, perfect for a potluck picnic!
Oh also, where have I been these past three weeks? I got married!! Then the hubby and I took a two week trip to Asia, visiting family in China (JiangSu region) and my best friend in Japan. I love travelling. I am also very inspired by the Chinese and Japanese cuisine we consumed during our trip, more notably the Japanese food. We had sasshimi (of course), soba, udon, ramen with anchovy based broth, okonomiyaki, taiyaki, teppanyaki, to name a few… I love how clean, simple, and elegant Japanese food is. I think it will influence my cooking quite a bit. I will do a post soon about the various foods we ate.
For now, please do try this savory cobbler
Let's start with a few facts:
Biscuits are delicious. Nobody is going to argue with that.
Gruyère is one of my favorite cheeses.
Cornbread is one of those dishes you can eat continuously year round. I even use cornbread for my stuffing during Thanksgiving!
Combining these three makes THE BEST BISCUITS EVER!!!! Trust me on this!! I can't stop eating them!
Place them on top of a bed of herb roasted carrots and grape tomatoes and you get a delicious savory cobbler. 
You don't agree? Well, then I dare you to make these. Come back and let me know if they are good or not.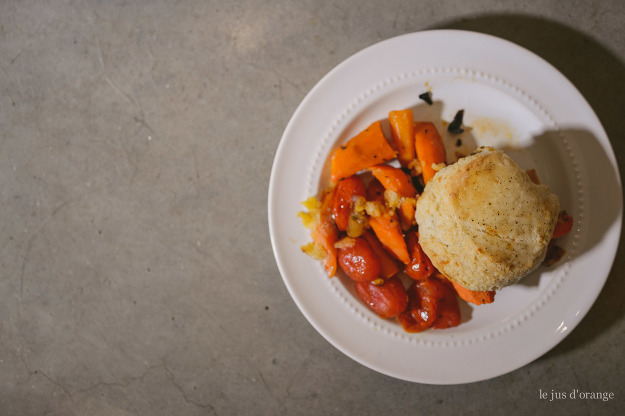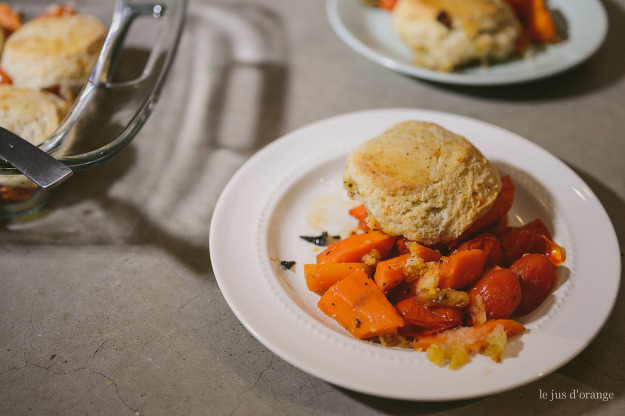 ---

RECIPE: Roasted Carrot and Tomato Cobbler with Cornbread Gruyère Biscuits
Biscuits loosely adapted from here. Definitely took me several tries to incorporate the right proportions of cornbread + cheese + buttermilk!
Cornbread Gruyère Biscuits
2 sticks butter, chopped into 1 cm cubes. (Tip: Chop these beforehand and stick them in the fridge. You're going to want the better to stay cold.)
3 cups flour
1 cup cornmeal
3/4 cup sugar
1 tablespoon baking powder
1 teaspoon baking soda
1 teaspoon salt
1 teaspoon black pepper
1.5 cup grated gruyère
1 cup cold buttermilk
1| Prepare biscuits first. Sift together the flour, cornmeal, sugar, baking powder, baking soda, salt, and pepper.
2| Add cold butter, and using your fingers, rub the butter into the dry ingredients. Don't worry about completely incorporating it – pea sized pieces of butter will remain, but that's completely ok!
3| Gently add in gruyère.
4| Create a well in the center and add in 3/4 cup buttermilk. Mix quickly with fork (or hands, if you dare) until wet and dry ingredients come together. If it's too dry, add the rest of the buttermilk. It should come together but not be sticky.
5| Knead dough a bit until it comes together – do not over mix or over knead.
6| Wrap and chill for 1 hour.
Roasted Carrot and Tomato Cobbler
6 large carrots, peeled, halved, then chopped diagonally. Use judgement to make pieces approximately the same size.
2 cups grape tomatos (or more!)
2 tablespoons coconut oil (can use olive oil)
1 onion, sliced
2 cloves garlic, minced
3 tablespoons balsamic vinegar
3 tablespoons chopped fresh basil
1 tablespoon dried thyme
1 tablespoon dried oregano
a pinch of red pepper flakes
1| Preheat oven to 375F.
2| First, caramelize the onions. In a skillet, heat up coconut oil. add in sliced onions over medium heat. Cook until onions are caramelized (15-20 minutes). Add in garlic and cook for another 1-2 minutes.
3| In a mixing bowl, toss chopped carrots, grape tomatos, and caramelized onions together. Add in basil, thyme, and oregano. Add balsamic vinegar.  Add red pepper flakes. Toss everything together.
4| Spread in baking dish and roast for 20-25 minutes.
5| Meanwhile, prepare the biscuits. On a lightly floured surface, roll on dough until it is about 3/4″ thick. Use a biscuit cutter (or if you're lazy like me, a measuring cup!) to cut out biscuits.
6| When filling is ready (after 25 minutes), place biscuits carefully on top of cobbler. Using a pastry brush, brush buttermilk atop of the biscuits. Sprinkle with black pepper.
7| Bake for another 15-20 minutes, or until biscuits are golden brown on top!