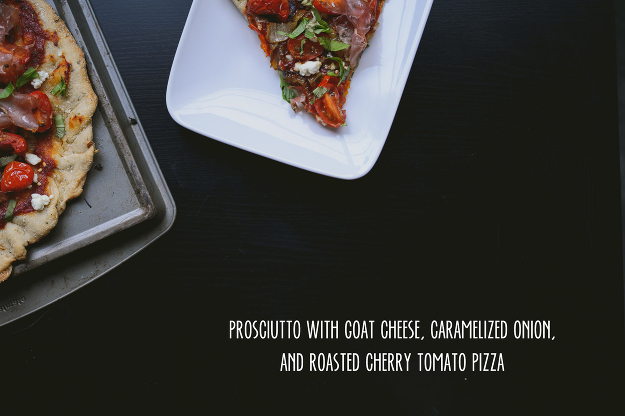 This is possibly the best combination of toppings a pizza can ever have. After the first bite, I knew that this was the pizza. The sweetness of the caramelized onions pairs perfectly with the goat cheese and crispy prosciutto. The roasted cherry tomatoes underscore the simple marinara base sauce on top of the pizza. The basil gives it a subtle freshness. This pizza is killing me! I wanted to eat more but I had to share it with my husband. This pizza is not too greasy, not too cheesy, and not too salty – the perfect pizza. Let me present: prosciutto with goat cheese, caramelized onion, and roasted tomato pizza.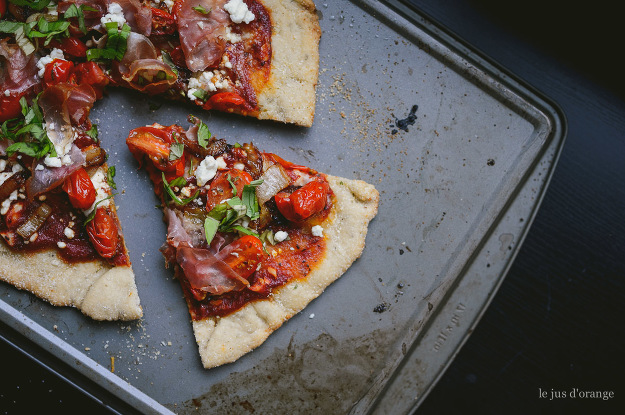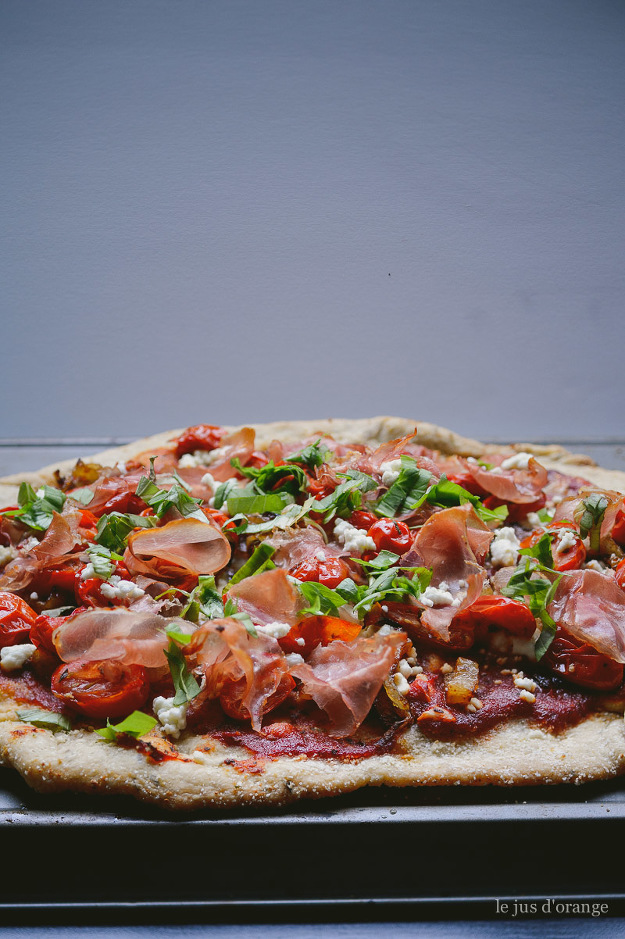 I made this using a normal kitchen oven. I've since obtained an indoor pizza maker, boasting "crispy crusts". I'm definitely looking forward to avoiding turning my oven to 450F, especially in the summer. Thin crust goes particularly well with this pizza. It focuses the taste away from the crust and onto the tomato sauce, tomatoes, prosciutto, and goat cheese. I've never been a fan of all-cheese pizzas, so this sprinkling of goat cheese gives just the right balance of cheese and red sauce. Excuse the knobbly shape of my pizza… I was a little bit clumsy and had to literally throw it from the cutting board to this baking sheet. Don't worry, I'm getting a pizza peel soon.


RECIPE: Pizza topped with prosciutto, goat cheese, caramelized onion, and roasted cherry tomato
*Make pizza dough beforehand. Adapted from here.
Herbed Pizza dough 
2 1/4 tsp active dry yeast (or 1 package)
1 tbsp honey or sugar
1 cup warm water (should be lukewarm to the touch)
1.5 tbsp extra virgin olive oil
1 tsp dried oregano
1 tsp dried basil
3 cups flour
1 tsp salt
1| Mix honey, 1/4 cup water, and yeast in a bowl. Let sit for 5-10 minutes, until foamy or bubbly. This is a important step to confirm that the yeast is indeed active.
2| Mix flour, salt, oregano, and basil together.
3| Add oil and remaining water to yeast mixture.
4| Add 2 cup flour mixture to yeast mixture. Use your hands to work the dough together. At this point you can continue kneading by hand or use a stand mixer with dough hook attached.
5| Add the remaining 1 cup flour mixture, working the dough either by hand or with dough hooks. When all flour is added, knead for another 3-5 minutes by hand: on a lightly floured surface, or with mixture: until dough easily comes off the sides or climbs up the dough hooks.
6| Knead by hand for another 1-2 minutes. Dough should be tacky but firm and smooth.
7| Place in greased bowl and cover with a damp cloth. Put in a warm place to rise for about 2 hours (I usually put it in a turned-off oven)
8| Divide dough into two balls. Use your hands to form each half into a ball by pulling down the sides and tucking at the bottom. Then, roll the ball with your hands until a smooth ball forms.
9| Let rise for another hour. If you are not using it immediately, you can wrap tightly with plastic wrap and place in the fridge for up to 2 days. Or, freeze it
The simplest tomato marinara sauce
1 can tomato paste
6 oz water
3 tsp honey
3 tbsp Parmesan cheese
2 cloves garlic, minced
1 tsp dried oregano
1 tsp dried basil
1/2 tsp red pepper flake
1/2 tsp black pepper
1/2 tsp salt
1| Mix all the ingredients in a sauce pan over medium-high heat. Let simmer for 15-20 minutes.
Prosciutto, goat cheese, caramelized onion, roasted tomato pizza
1/2 yellow onion, finely sliced
2 tbsp butter
1 cup cherry tomatoes, sliced in half
1 tsp oregano
1 tsp basil
1 tbsp extra virgin olive oil
4 slices prosciutto, torn into 2″ chunks
1/2 cup crumbled goat cheese (although this depends on your preference!)
1/2 cup shredded mozzarella cheese
2 tbsp chiffonade of basil
cornmeal, for dusting

Garlic Butter
1 clove garlic, minced finely
3 tbsp melted butter
1 tsp garlic salt
1| Roasted Cherry tomato: Preheat oven to 350F. Toss oregano, basil, and halved cherry tomatoes with extra virgin olive oil. Spread on a baking sheet and bake for 20 minutes.
2| Caramelized onions: Meanwhile, melt 2 tbsp butter (you can substitute vegetable oil for this). On medium-low heat, cook onions for about 20 minutes, until they are golden brown and caramelized. Set aside.
3| Preheat oven to 450F (after tomatoes are done). Place an upside down baking sheet in oven (or a pizza stone)
4| Shape pizza dough on a cutting board lightly dusted with cornmeal. Use a rolling pin or use your hands to form a circle or rectangle shape. Leave the edges slightly thicker than the center.
5| Brush with garlic salt butter. Take out heated baking sheet with gloves and set it right next to the cutting board. Gently shake dough onto heated baking sheet. Cook for 8 minutes.
6| Brush with garlic salt butter again. Gently spread a thin layer of tomato sauce across pizza dough. Sprinkle mozzarella cheese on. Sprinkle 1/2 of goat cheese across. Place caramelized onions across surface. Place roasted tomatoes across surface. Finally, strategically place prosciutto so that it is evenly distributed. Add remaining goat cheese.
7| Bake for another 5 minutes, or until crust is golden brown.
8| Remove from oven and top generously with a chiffonade of basil.
*I tend to cut back on the mozzarella cheese. For this pizza, the star of the show is the goat cheese, and it pairs wonderfully with prosciutto.