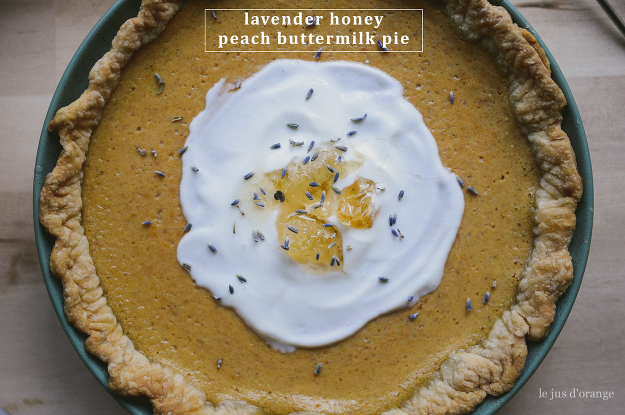 What a mouthful. Lavender honey peach buttermilk pie. What can I say? I love putting together different flavors, and honey and lavender are just subtle enough to be placed with peach. This custard pie is sweet, refreshing, and permeated with the peach flavor, and adapted from Joy's Apricot Buttermilk Pie. Topped with a greek yogurt cream and honeycomb, I can almost say it's healthy. Well, not really, but the point is, it's not exactly the most unhealthy dessert right? I used lavender as a secondary taste, and it worked out really well in this pie. Lavender can often be an overpowering flavor, so I ground it up with sugar – think of it as using a lavender scented sugar, if you will. The point is, it's August. Peaches are ripe. Go pick some peaches. And make this pie.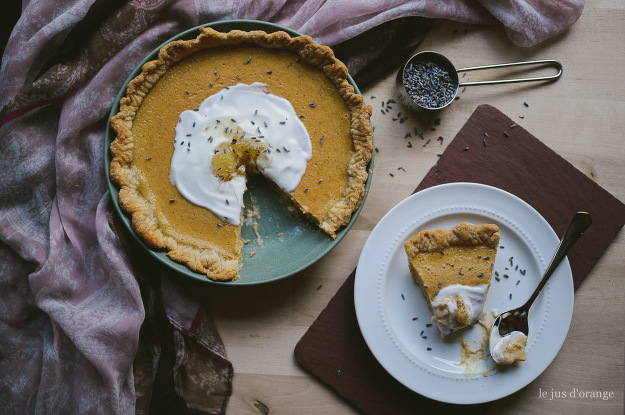 I started out with lavender and sugar. There are two ways to do this. You can first grind up the lavender, then rub it with sugar, or you can put the sugar with lavender buds in a spice grinder and process it that way. The sugar becomes quite fine (almost like powdered sugar), which is nice side effect.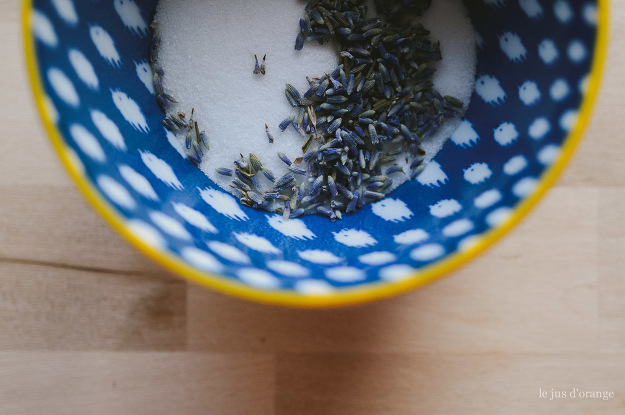 This recipe is inspired by Joy The Baker's apricot buttermilk pie. I did not have dried apricots on hand, but I did have some plump, ripe yellow peaches. So I fiddled with this, changed some of that, and here is a peach buttermilk pie. This pie not only tastes good, but it also looks so darn pretty! I'm all for the lattice pie and all the interesting things you can do with a double crust (like this), but a clean custard pie… In the way a freshly made bed just invites you to lay on it, a clean custard pie just calls for me to dive in with a fork. A custard pie invites vignettes of lazy summer days, pristine white walls, a clear blue sky, and a fancy tea party. But that's just me.


Let's talk about honeycomb for a minute. My first encounter with it, ever, was at a honey bee event put on by Cuisine En Locale and Follow the Honey. It was a superb event with a 10 course meal, honey bee education, and possibly the craziest thing I've ever seen: a bee bearding.

As someone who is nervous around bees, I was shocked and fascinated and I could not take my eyes off of her. She is so brave and I am in awe of her daring. Bee bearding is based on the hive culture of the honey bees. The model wore a pendant containing the queen bee around her neck, and slowly, the honey bees made their way to her.
The ten course meal contained delicious foods such as lamb tacos, a wonderful palate cleanser of cucumber blueberry sorbet, and a roast beef salad topped with honeycomb. Each course had something to do with honey, and the honey was taken from different apiaries across Massachusetts. Alex and I were sitting at a table full of apiary owners, and we learned so much about honey bee keeping and honey in general. This was my first time tasting honeycomb. Topped over salad, it was amazing. Like sponges full of honey. When I bit into the honeycomb, honey literally burst and oozed into my mouth. Alex called it honey gushers. When I made my weekly run to SOWA Sunday market, I stopped by my favorite honey boutique, Kirk Websters, and I was overjoyed to see that they sold honeycomb! I'm going to incorporate into a salad soon, but for now, I couldn't resist using it as a topping for this pie. And trust me, it was a good choice.


---

RECIPE: Lavender Honey Peach Buttermilk Pie

Ingredients
Single 9″ pie crust (see recipe from here)
12 oz peach puree (about 3/4 cup, 2 peaches were enough for me)
1/2 cup granulated sugar
1.5 tbsp lavender buds
3 large eggs
2 tbs all purpose flour
1/2 tsp salt
1/2 cup browned butter
1 cup buttermilk
1/4 cup honey
2 tsp vanilla extract
1| Dough: Roll on floured surface to about 12″ in diameter. Place over pie pan. Crimp as desired. Cover with plastic wrap and place in fridge to rest for at least 30 minutes.
2| Prepare: In a spice grinder, grind together sugar and lavender buds. Set aside. In a heavy bottomed saucepan, melt butter until brown. Set aside. Remove the pit from the peaches (2 was enough for me) and place in a food processor or blender. Puree until smooth (or, it can be a little chunky if you want chunks of peaches in the pie). Set aside.
3| Add eggs to sugar mixture and whisk until thick and pale. Add flour and salt and whisk. Add browned butter and stir. Stream in buttermilk, honey, and vanilla and whisk to incorporate, until smooth. Fold in peach puree.
4| Preheat oven to 350F.
5| Pour filling into pie shell. Place on a rimmed baking sheet and bake for about 45 minutes, until center is only slightly jiggly and pie is puffy on the edges. Remove from oven and let cool to room temperature. Cover and place in refrigerator to let it set overnight.
Greek Yogurt Topping + honeycomb
1/2 cup plain greek yogurt (best to avoid non-fat!)
1/3 cup heavy whipping cream
2 tablespoon powdered sugar
1 tsp vanilla extract
honeycomb
Beat all ingredients until peaks form. Spread onto pie with offset spatula. Top with honeycomb!