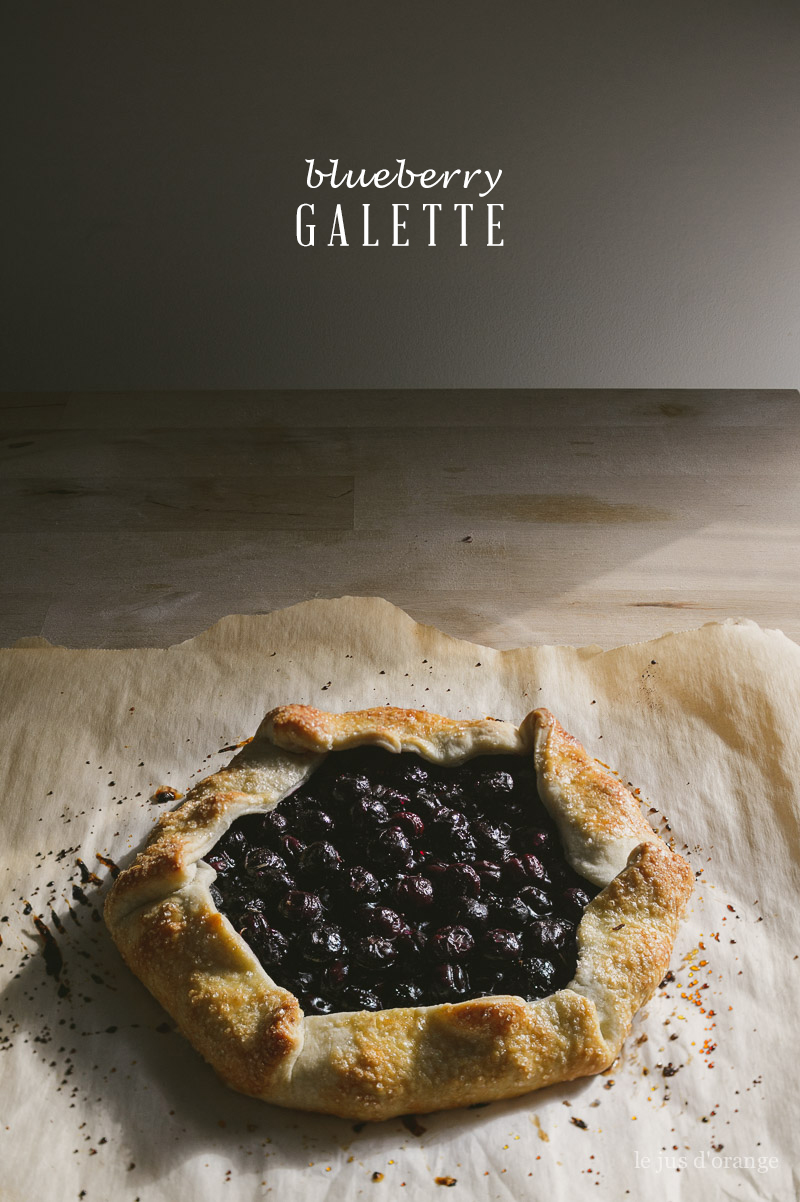 Two days ago, I made pie. Apple pie, to be specific. I was testing out a new recipe, and while it was a good apple pie, it wasn't great – yet. I'm working on it :). It involves sea salt caramel, honeycrisps, and a super flaky pie curst. Anyways, whenever I make a double crust, I always end up with some leftover pie crust. I usually just wrap it up and stick it in the fridge to use for a mini tart, hand pies, or galette. I had some fat, juicy blueberries (probably the last of the season …) and a wistfulness for summer to return, so I made a blueberry galette. Classic, simple, easy as pie (see what I did there? :)).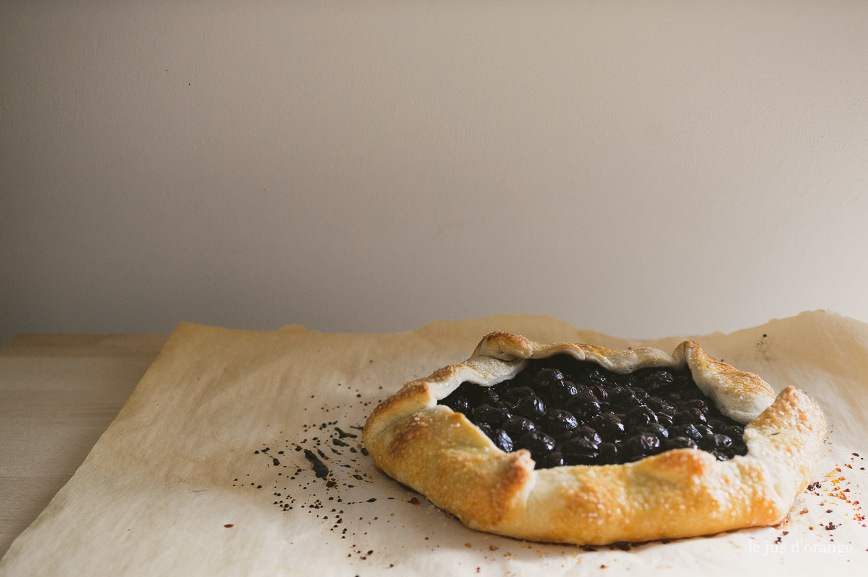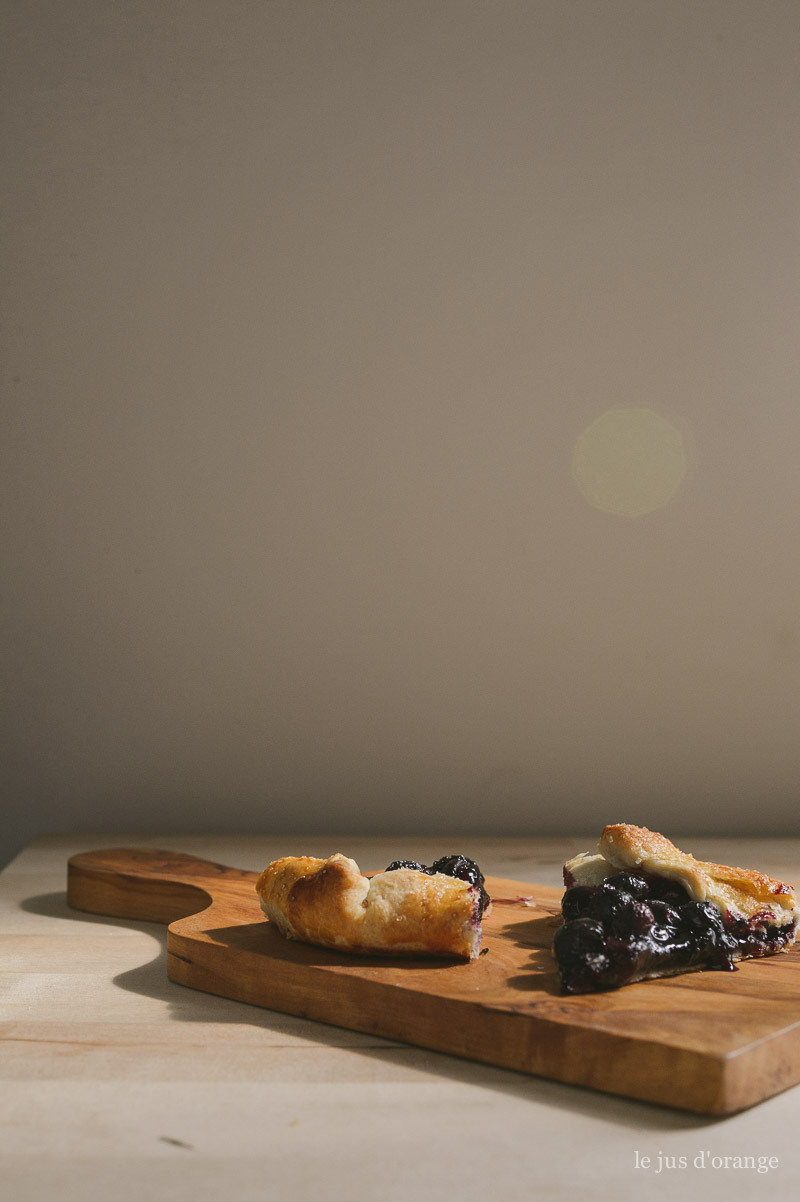 The first thing you have to do is make the pie crust, of course. Below is the recipe for a single 9″ crust, which should be more than enough for a galette.



There's something about big, fat, juicy blueberries that cook down in the oven and become something akin to gushers. They pop and the juices just flow out, staining everything in the best way possible. They take on this tart flavor and all I'm thinking about when I bite into a slice, is why aren't they ripe year round?? My favorite is when I get to the edge – that folded over edge, enclosing a hidden burst of blueberries. You know what I'm talking about.



---

RECIPE: Blueberry Galette
Pie crust adapted from Four & Twenty Blackbirds

Single 9″ pie crust
1 1/4 cup all purpose flour
1/2 tsp salt
1 tbsp sugar
1 stick butter, pre-chopped into 1 cm cubes and placed in the freezer
1/2 cup ice cold water
2 tbsp apple cider vinegar
Directions:
1| Pie Crust: Prepare all ingredients. Mix apple cider vinegar with water, and place that in the freezer as well.
2| Mix together flour, salt, and sugar.
3| Take butter out of the freezer and using a pastry cutter, a fork, or your fingers, work quickly and cut butter into dry ingredients. You should end up with pea sized chunks, which is completely fine!
4| Take out cider vinegar / water mixture. Using tablespoons at a time, mix it into dry ingredients until just combined. Do not overmix or knead. Add the mixture gradually – you can always add more water, but you can't take it out. The resulting dough should be damp but not moist.
5| Shape into a disk and wrap with plastic wrap. Chill in the fridge for at least 1 hour.
Blueberry Galette
2 cups fresh blueberries
2 tbsp cornstarch
1 tbsp lemon juice
1/4 cup granulated sugar
1 tsp vanilla extract
1 dash salt

egg wash: whisk 1 egg with a splash of water
demarara sugar, for sprinkling
Directions:
1| Take pie crust out of the fridge. Preheat oven to 425F.
2| Mix blueberries, cornstarch, lemon juice, sugar, vanilla, and salt in a bowl.
3| On a lightly floured surface, roll out pie crust to about 10-12″, depending on what you want.
4| Spread blueberries on dough, leaving 1″ around the edges.
5| Fold edge over blueberries and crimp all around.
6| Place on parchment paper lined baking sheet and brush with egg wash. Sprinkle generously with demarara sugar.
7| Bake at 425F for 20 minutes. Then bake at 375F for another 20-30 minutes, until blueberries are bubbling.