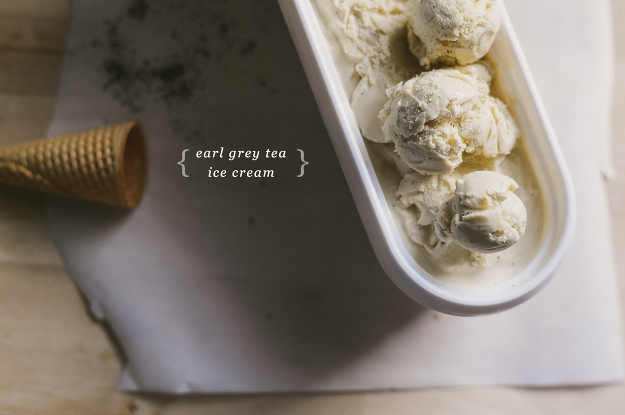 There's always a vignette of a little kid who gets an ice cream cone, and then because there are too many scoops piled on the cone, the top scoop just falls, splat, onto the ground. The kid cries, but everything is OK because they get a new cone. Well, that has happened to be, but I was too embarrassed to ask for a new cone, and well, let's just say I was not 5.
I was showing a close friend around San Francisco. I'm from a small town about 40 minutes from the city, so let's be honest – the level of familiarity I had with this city was akin to the level of familiarly I had with…. gorillas.
I was young. I was not organized. I was new to this hosting – planning process. We went to the MOMA. It was closed, but we did get to peer up the atrium (I admire you, Mario Botta). We debated going to the California Academy of Sciences, but she didn't like animals or science. She did, however, like food. It's one reason we're so close (we both know our priorities when travelling). She looked up an ice cream place in the Dogpatch neighborhood. It was closed, even though the website said it was open. We trek, on foot, to Bi-Rite Creamery, and to my great relief, it was open! By that time we were sweating, even though it was a nice cool 64 degrees, and we grabbed onto those waffle cones with three scoops of ice cream without any regard for decorum or grace. So much, in fact, that when I swirled around in triumph, clutching my ice cream cone topped with lavender honey ice cream, the top scoop fell off. I swear I didn't touch it. I didn't even try one lick. It just went with the momentum and fell right off.  I was mortified and squeeze two fat tears out. I was that girl who cried when her ice cream fell off. Mind you, I was not sobbing. I simply allowed two tears to stream down.
Now when I tell that story, I laugh, because if I don't laugh, then I'll just mope. Losing a scoop of lavender honey ice cream is worth crying over, especially if it's a scoop of Bi-rite creamery ice cream.
We aren't as in control as we think we are. Sometimes, I hold on to these less than happy, and definitely not graceful, moments, because it's then when we realize who we can cry in front of, and who we can trust when we let our mask slip.
Of course, I like to think I've become a better hostess. Come visit Boston, y'all!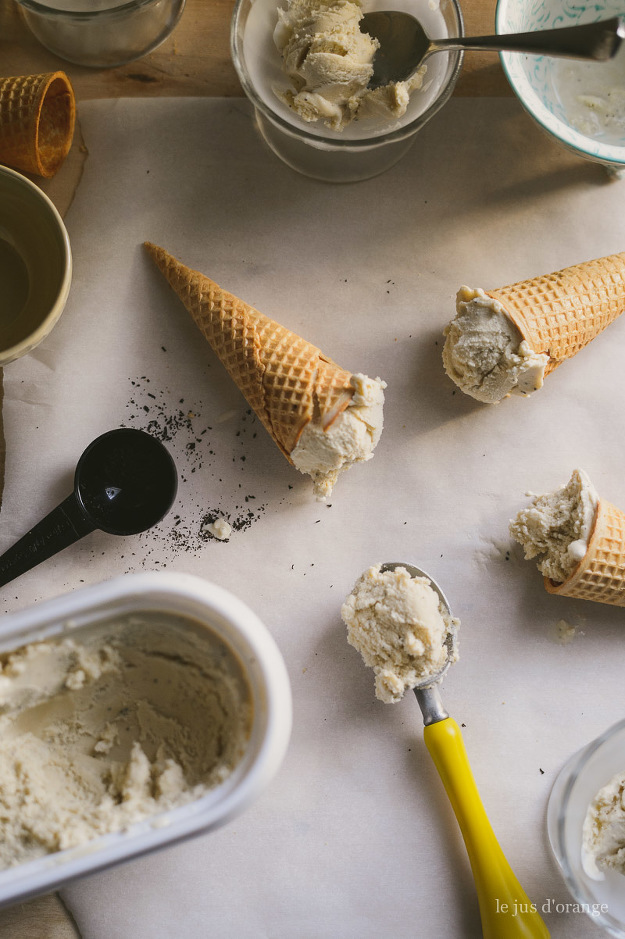 For my last ice cream, I tried out a no-egg mixture (honey green tea), and it worked out well. It did become soft quicker, and as it sat in the freezer, I could definitely taste the re-crystallization. For this earl grey tea ice cream, I experimented with a custard base. More steps, but easy enough to do. I found that it froze well and had a firm structure. It was delicious! I think I'm going to always make custard based ice creams from now on. I literally could not stop eating this. Thankfully I came to my senses and invited friends over to help. I also made chocolate chip cookies and made ice cream sandwiches. I refuse to feel guilty.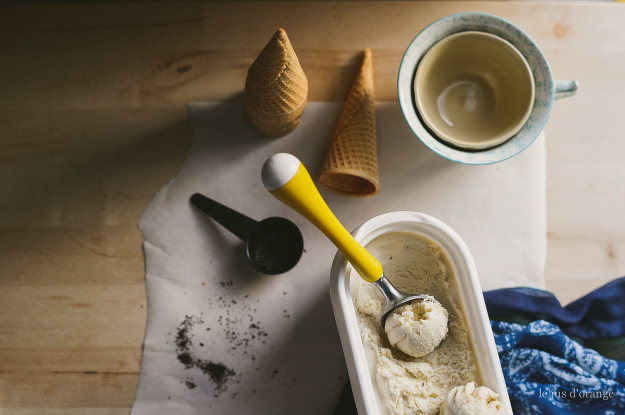 Earl grey tea is one of my favorite flavors and teas to play with. It's a nice, black tea flavored with the citrus-y bergamot. It's very different from the Chinese black teas I grew up on, but I love earl grey for its delicate aromatics. I find it particularly delightful to bake with (as with these earl grey tea scones). I have a long list of other concoctions I can come up with using this wonderful flavor. For this ice cream recipe, I not only let the milk/cream mixture seep in earl grey for a good amount of time, but I also sprinkled in ground up earl grey tea to add that lovely speckled look and that extra oomph of flavor. I based this recipe off the ones provided with the accompanying recipe booklet from the ice cream machine.



---

RECIPE: Earl Grey Tea Ice Cream
*Churn according to ice cream makers directions
Ingredients
2 cups whole milk
2 cups heavy cream
2 tbs earl grey tea, (or 2 earl grey tea bags)
1 tbs earl grey loose leaf tea, ground into a fine powder
1 cup granulated sugar
1 tbs vanilla extract
5 egg yolks 
Directions
1| Prepare the night before: Stick freezer bowl in the back of the freezer the night before you plan to make ice cream.
2| Place 2 tbs earl grey tea in a tea sieve if you are using loose leaf tea. Take another tablespoon and grind using a spice grinder. Set aside.
3| Heat milk and heavy cream until it begins to simmer – do not let it boil. Remove from heat and add in tea, in sieve. Let it steep for 5-7 minutes, stirring occasionally.
4| In the meantime, whisk yolks and sugar until pale in color and thick. When tea milk mixture is done steeping, gently stream into yolk/sugar mixture, whisking constantly after each addition. This is called tempering – the point is to prevent cooking of egg yolks. Have patience, and do this slowly.
5| Sprinkle in ground up early grey tea. Pour mixture back into a saucepan and heat until custard is thick. I like to use the spoon test – dip a wooden spoon into the mixture, and remove it. Run a finger in a line down the back of the wooden spoon. If the line remains visible, then the custard is thick enough.
6| Pour custard through a sieve into a bowl. Stir in extract. Cover with plastic wrap and immediately chill in fridge for at least 2 hours.
7| Pour into ice cream maker and churn according to instructions.
8| Pour churned ice cream into an airtight container and freezer for another few hours.
9| Serve with chocolate chip cookies and waffle cones!