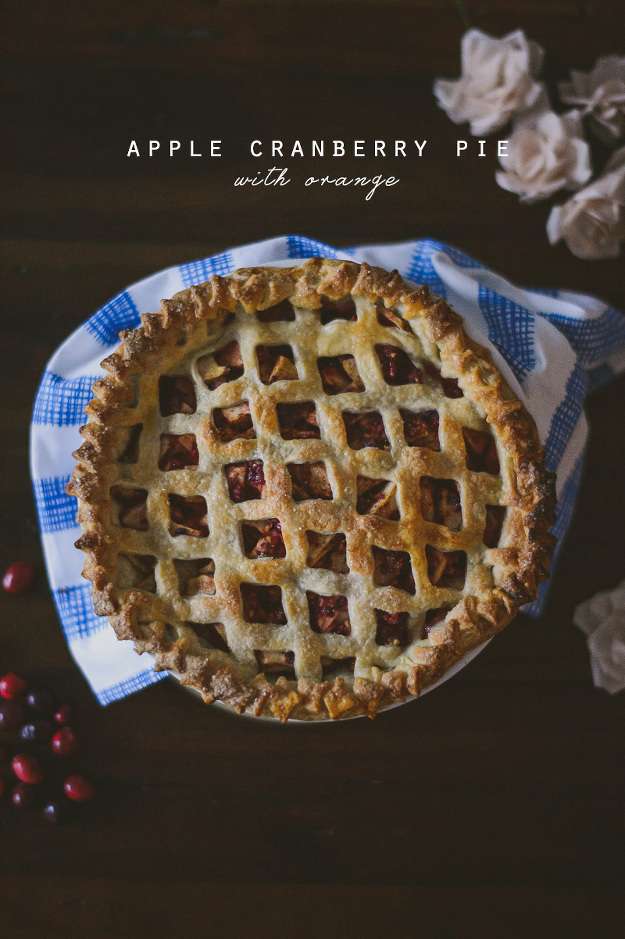 Even though I love summer, hot weather, and abundant fresh berries, there's always a unique, special anticipation for the holiday season. For me, that's November – January. I'm not big on Halloween, but once we start gearing up for Thanksgiving and Christmas, I'm your girl! I love the Thanksgiving feast, the use of cranberries, the endless presence of apples and pumpkin, holiday cookies, and presents!!! Christmas tree!! Ornaments! The list goes on!!! I get way too excited, so please pardon my enthusiasm. Nothing says holiday quite like cranberries and giveaways!! The Harvard Common Press generously sent me a cookbook, "PIE" by Ken Haedrich. With 300 recipes, including several pie crust ones, I almost staggered under the sheer volume of this cookbook. After flipping through it, all I could think about was making pies.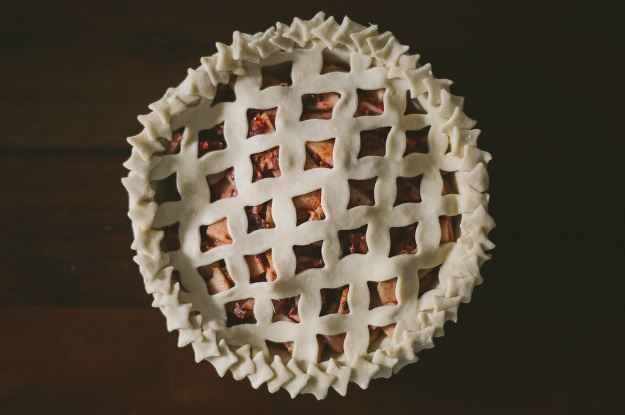 Isn't this method of decorating the pie crust beautiful? It's so incredibly easy, I almost feel as if I'm cheating. You take a tiny cookie cutter and just have at a rolled out pie crust. Save the cutouts and line the edges and ta-da! You have a lovely,intricate pattern for a pie crust.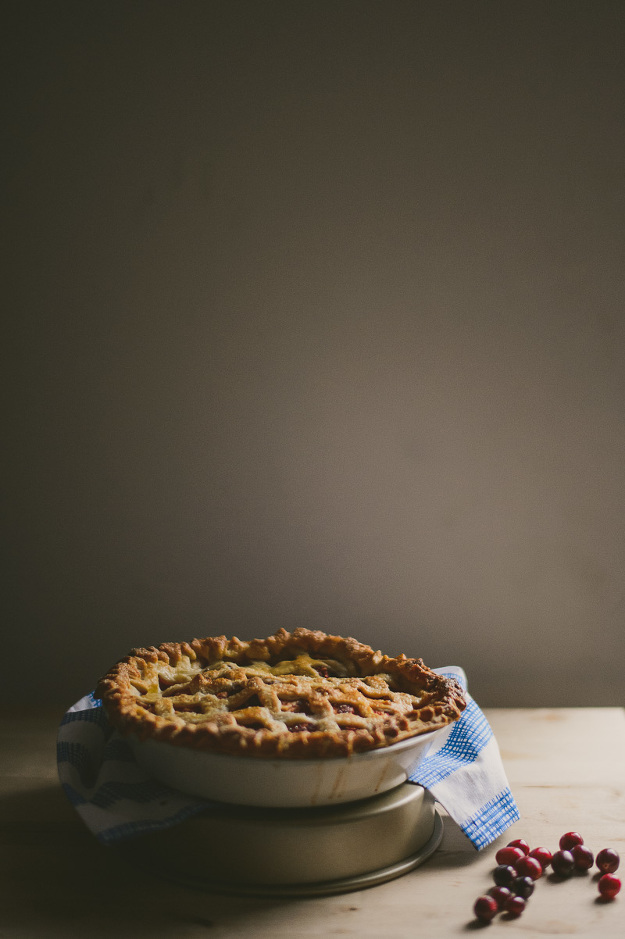 I love how the cranberries give the pie such a vibrant red color.


This cranberry apple pie with orange was inspired by Ken Haedrich's Freeform Cranberry apple orange pie. The only changes I made were the use of my own pie crust (I'm just very particular about my pie crust), the brown sugar addition, and the increase in ground cinnamon. However, I've included the pie crust from Ken Haedrich's book as well, for reference.

---

In the spirit of the holiday giving season, Harvard Common press is generously offering a copy of this book to a reader!! All you have to do is follow me on Instagram and leave a comment about your favorite pie on this blog post. I will randomly choose a winner in 1 week. *limited to US and Canada residents
Have fun, all!
RECIPE: Apple Cranberry Pie with Orange
*Adapted from Cranberry-Apple-Orange Freeform Pie by Ken Haedrich
– I used my own pie crust you can find here, but I've included Ken's for reference!
Pie Crust by Ken Haedrich –
1 1/2 cups all-purpose flour
1 1/2 teaspoons sugar
1/2 teaspoon salt
1/4 cup (1/2 stick) cold unsalted butter, cut into 1/4-inch pieces
1/4 cup cold vegetable shortening, cut into pieces
1/4 cup cold water
1| Combine the flour, sugar, and salt in a large bowl. Toss well, by hand, to mix. Scatter the butter over the dry ingredients and toss to mix. Using a pastry blender, 2 knives, or your fingertips, cut or rub the butter into the flour until it is broken into pieces the size of small peas. Add the shortening and continue to cut until all of the fat is cut into small pieces. Sprinkle half of the water over the mixture. Toss well with a fork to dampen the mixture. Add the remaining water, 1 1/2 to 2 tablespoons at a time, and continue to toss and mix, pulling the mixture up from the bottom of the bowl on the upstroke and gently pressing down on the downstroke. Dough made by hand often needs a bit more water. If necessary, add water 1 or 2 teaspoons at a time until the pastry can be packed.
2| Using your hands, pack the pastry into a ball (or 2 balls if you are making a double crust) as you would pack a snowball. If you're making a double crust, make one ball slightly larger than the other; this will be your bottom crust. Knead each ball once or twice, then flatten the balls into 3/4-inch-thick disks on a floured work surface. Wrap the disks in plastic and refrigerate for at least an hour or overnight before rolling.
Cranberry Apple Pie with Orange
2 cups fresh cranberries
3/4 cup light brown sugar
3 large baking apples (I used Granny Smiths), peeled, cored, and thinly sliced
juice and zest of one large orange
1/2 tsp vanilla extract
3 tbsp all purpose flour
1 tsp ground cinnamon

1 egg
splash of water
Demarara sugar
If you haven't already, prepare the pastry and refrigerate until firm enough to roll, about 1 hour.
Combine the cranberries and sugar in a food processor and pulse until the cranberries are coarsely chopped. Transfer to a large bowl and add all the remaining filling ingredients, tossing well to combine. Set the mixture aside for 30 minutes. Preheat the oven to 400°F a few minutes before you start to assemble the pie.
Roll out 1 disc of pie dough. Place on top of pie pan. Spoon filling into pie pan. Then, roll out 2nd disc of dough. Do a lattice crust or this patterned one (to do that, simply take a tiny cookie cutter and cut dough out in a pattern. Gently lift onto the pie pan). Crimp edges or place cutouts around edges. Let rest in fridge for 15 minutes.
Make egg wash: whisk egg with splash of water. Brush surface of pie with egg wash. Sprinkle generously with demarara sugar.
Place the pie on the center oven rack and bake for 30 minutes. Reduce the oven temperature to 375°F and rotate the pie 180 degrees, so that the part that was facing the back of the oven now faces forward. Continue to bake until the juices bubble thickly up, 30 to 35 minutes.
Transfer the pie to a wire rack and let cool for at least 1 hour before serving.

Don't forget to follow me on Instagram and leave a comment on this blog post – what's your favorite pie? to enter the giveaway!!!
UPDATE: Congrats Samantha for winning this giveaway! Thank you to everyone who entered! It was such a joy reading about your favorite pies!!!