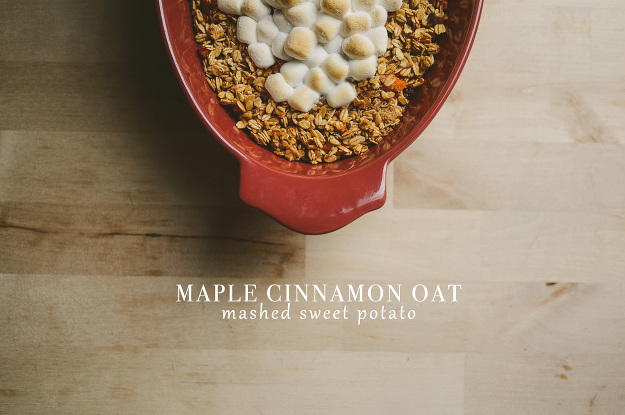 I don't particularly like melted marshmallows (gasp!!!). When we went camping or just sit around the fireplace with marshmallows on sticks in our hands, I'm enthusiastic about the ritual of toasting marshmallows, but I never really chomped down with eagerness. However, I just LOVE sweet potato casserole at Thanksgiving, topped with marshmallows. The way the marshmallows melt with the mashed sweet potatoes speaks to me the way toasted marshmallows never will. This is something I came up with last year, and it was a huge success! It consists of mashed roasted sweet potatoes, maple syrup, granola, and brown sugar. Crunchy, and healthy (except for the marshmallows, but honestly, you can omit this if you want). I tell myself that this is healthy because there are oats in this dish! Don't tell me otherwise please.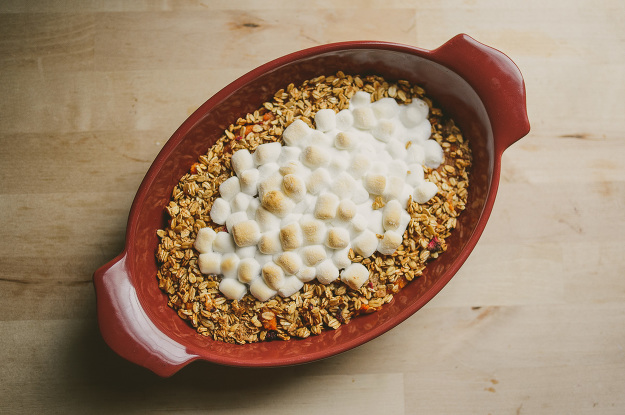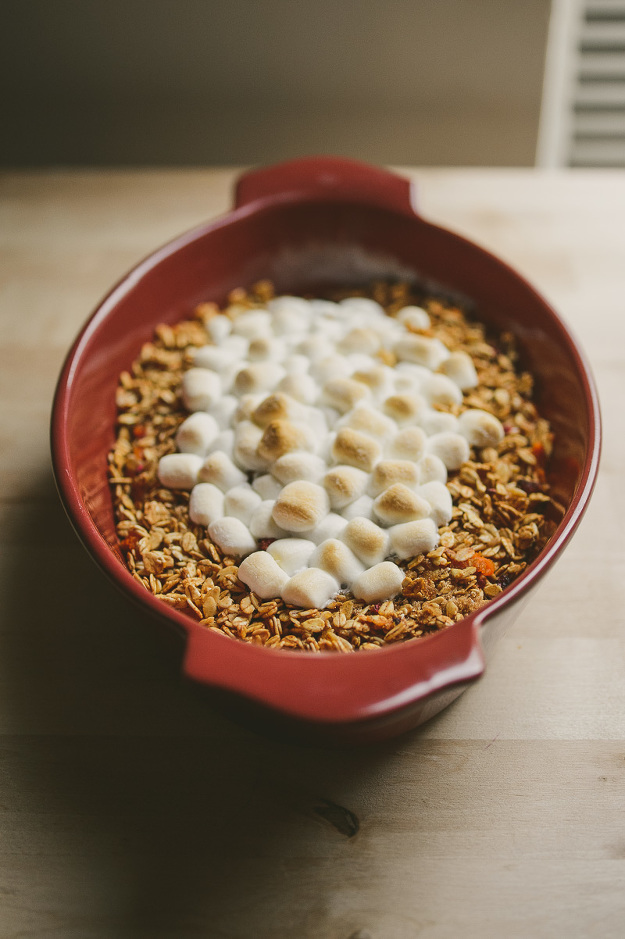 RECIPE: Maple Cinnamon Oat Mashed Sweet Potato
Sweet potato mix adapted from here.
Ingredients
3 lbs sweet potato
1/2 stick unsalted butter, room temperature (1/4 cup)
1/4 cup dark brown sugar
3 tbsp maple syrup
1/4 cup whole milk
1 large egg
1 tsp vanilla extract
1 tsp cinnamon
1/2 tsp salt
SWEET POTATO:
1| Preheat oven to 400F
2| Place potatoes onto a baking sheet lined with parchment paper and bake for 45 min to 1 hour, until fork tender. Cool. Reduce temperature to 350F. Meanwhile, make topping – mix the below ingredients together until thoroughly combined.
Oats topping
1.5 cup homemade granola (or store bought)
3 tbs brown sugar
1 tbs cinnamon
2 tbs unsalted butter, melted
mini marshmallows, to your preference. 
3| Peel potatoes. Lightly oil a gratin (pie plate or casserole dish would work too, or individual ramekins :])
4| Using an electric mixer, beat sweet potatoes, butter, sugar, milk, maple syrup, egg, vanilla, cinnamon, and salt until well combined.
5| Spread mixture onto dish.
6| Sprinkle granola mixture on top. Bake for 25 minutes. Add marshmallows in the middle and bake for another 5-7 minutes, until there is a light golden sheen to them.