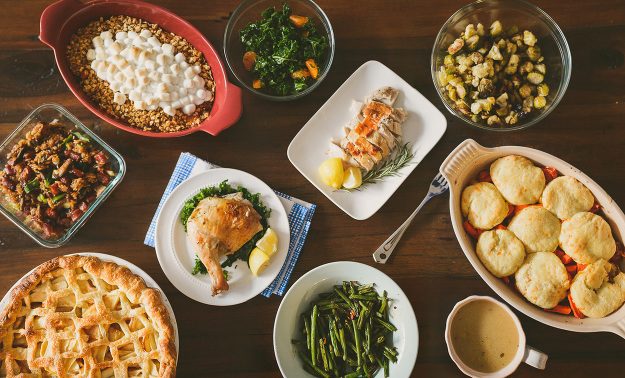 I've made Thanksgiving dinner for the past two years, for friends. As someone living far from home (all the way across the country), I usually am not home for Thanksgiving. Thankfully, I am able to celebrate with my friends. Last year, I had my first year as a hostess for Thanksgiving. The previous year before that was a potluck, so it was a little different. I went crazy. I had excel spreadsheets of oven temperatures, times, and what I can do on Monday, Tuesday, and Wednesday of that week. It was crazy, but it worked. This year, Alex's family is coming over (yay!!!), which means the pressure is on. Sort of – not really, because I know they would love anything that we make. I decided to put together a Chinese-American fusion Thanksgiving. I did a "Friendsgiving" a couple of weeks ago with a sampler of the food I'd planned to make for Thanksgiving. I think it turned out well :).Recipes linked!! *In my Friendsgiving 2014, I made a chicken instead of turkey, using the same seasonings and flavoring :). I'll be making a real turkey for the real day, though!
Thanksgiving 2014 Menu
Butternut squash soup
Fall Harvest Roasted Vegetables
Scallion Pancakes
Tangerine Kale Massaged Salad
Maple Cinnamon Oat Mashed Sweet Potatoes
Chinese Sticky Rice (No Mi Fan)
Sichuan Fried Green Beans (Si Ji Dou)
Balsamic Roasted Tomato and Carrot Cobbler topped with Cornbread Gruyere Biscuits
Citrus Herb de Provence Turkey with gravy
Apple Cranberry Pie
Browned Butter Pumpkin Pie
How does that sound?