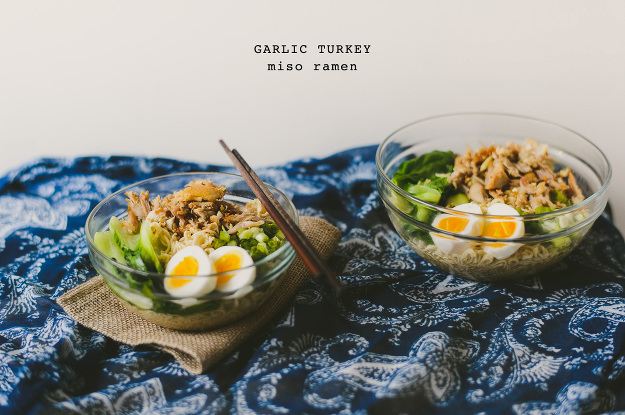 I hope everyone had a wonderful Thanksgiving! I for one am in a perpetual food coma. We had the whole turkey/stuffing/pie ordeal, then we had sushi the next day for lunch. I still feel like I'm recovering. However, the irrational eating doesn't stop after Thanksgiving is over. Nope – I've got to find ways to use up all the leftover turkey, vegetable, and salted duck. That's right – salted duck. My father-in-law has a specialty, which is NanJing salted duck, and he had to make us one for us to eat after he left. So now in addition to a bunch of leftover turkey, we have a whole salted duck. Yum, but what do I do with it?
One thing at a time. I decided some comfort food was needed after hosting, entertaining family, and cooking a big Thanksgiving meal. Plus, it's about 20 degrees outside, so soup noodles were a must. I fried up the turkey with some garlic to crisp it up, then made ramen in a dashi miso soup to go with it. Baby bok choy and soft-hard boiled egg optional.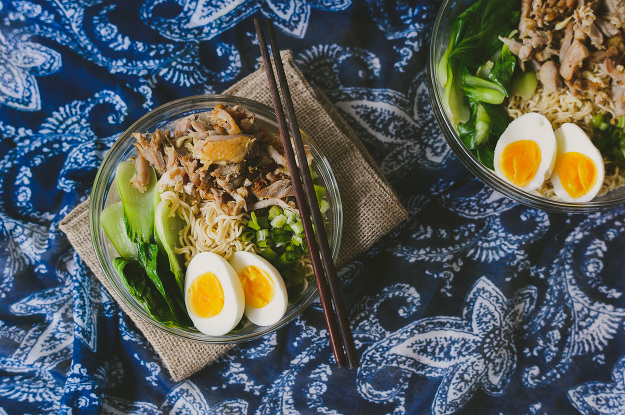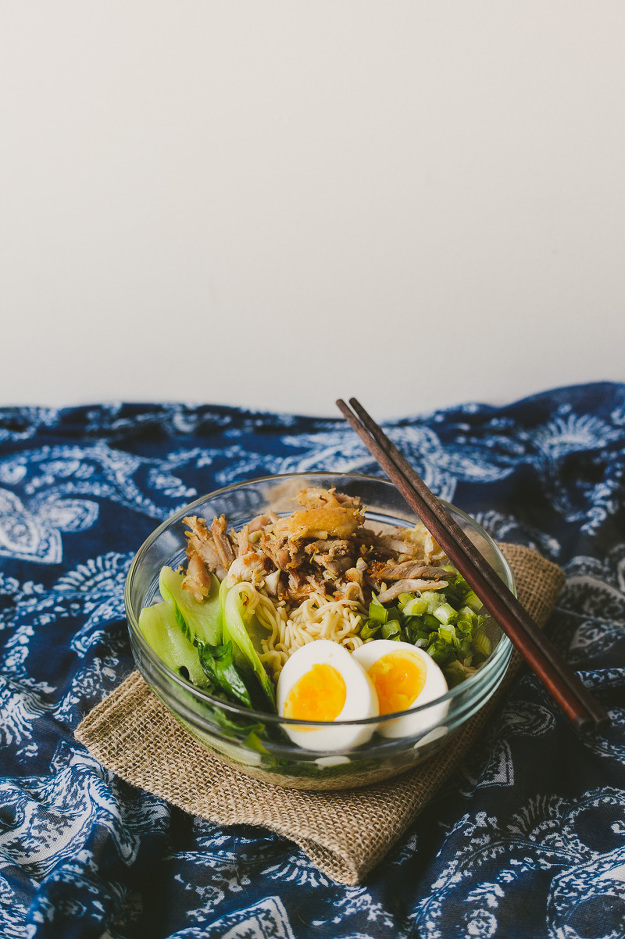 Start with the leftover turkey. I just took whatever I had left over – some drumstick, some thigh, some breast, and shredded it with a fork.

Then, melt some butter in a heavy skillet and crisp up that turkey. I also included some garlic.

You can stop now and make turkey tacos, or you can put this over rice, or you can make turkey miso ramen! The possibilities are endless. Make the soup and ramen, and top with bok choy and egg!




RECIPE: Garlic Turkey Miso Ramen
Ingredients
2 cups shredded turkey
1 tbsp butter
2 cloves garlic, minced finely
3 cups chicken or turkey broth
2 tbsp miso paste
1 tbsp dashi powder
dash white pepper
dried ramen noodle (I used two packs)
2 stalks scallion, sliced thinly
handful baby bok choy
2 eggs, hard boiled
DIRECTIONS
1| In a large pot, heat up chicken broth. Add in dashi and miso paste and whisk to dissolve.
2| Meanwhile, heat up a heavy skillet. Melt butter. Add shredded turkey and garlic and fry until turkey becomes crispy. Set aside
3| When the chicken broth is boiling, add in bok choy and cook for 1-2 minuets, until it turns bright green. Remove from broth with chopsticks – do not leave this in for too long, otherwise it will overcook.
4| Add in ramen noodles and cook until al dente. Add in dash of white pepper, and season to taste with salt and pepper.
5| Divide into two bowls. Top with turkey, bok choy, and sliced hard boiled eggs. Sprinkle scallions on top. Enjoy while hot!!