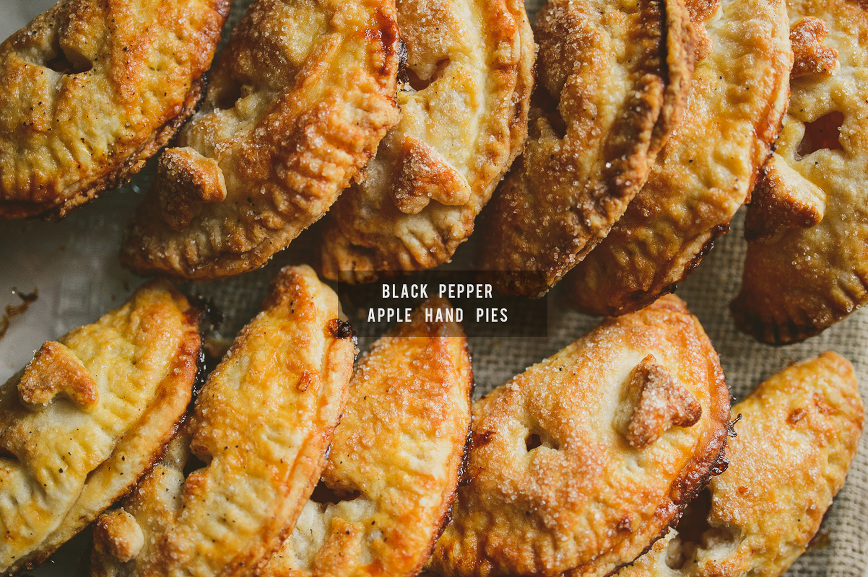 The countdown to Christmas has started. I'm almost embarrassed that I don't have anything remotely Christmas related on the blog (yet), but that passed in almost 1 second. Because I have these lovely black pepper apple hand pies to present to you. I can make these relevant to the times- just watch: Apple pie is universal. Pies are made for holidays. Now they're made into teeny tiny cute hand pies so everyone can have their individual portion. Multiple people = a party. A party in December = holiday part. So, these pies are holiday party pies!!!
I'm actually not kidding. I've brought these to parties, and they were a HIT. I just love pairing sweet with savory flavors. I always go to apple for pies, because they really are universal, but I decided I wanted to do something different with them. I've added bourbon to these before. I've added caramel. I've added cranberries to make a cran-apple pie. This time, I decided to play with the crust to add a subtle kick to it! It's lovely!!! Also, Tasting Table regrammed these for one of their Follow Fridays on instagram. Isn't that amazing or what? I practically fainted from fangirl overdose.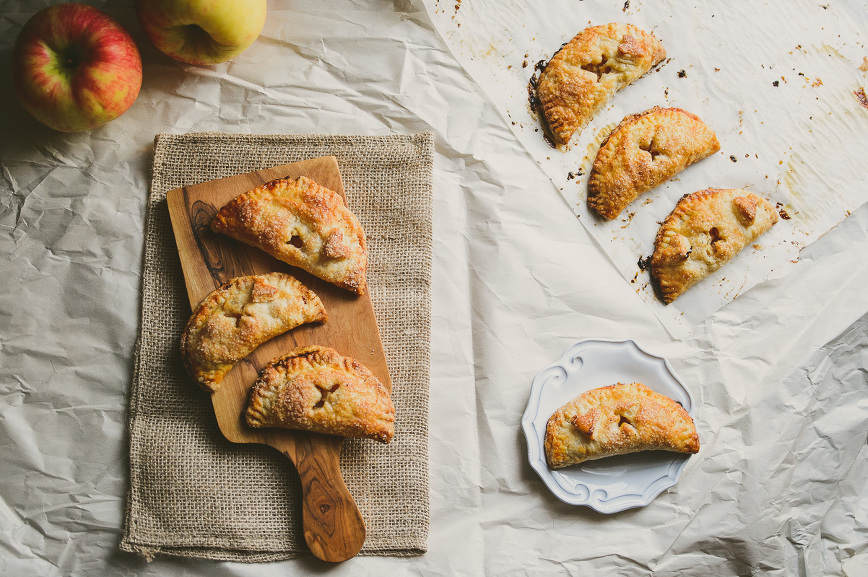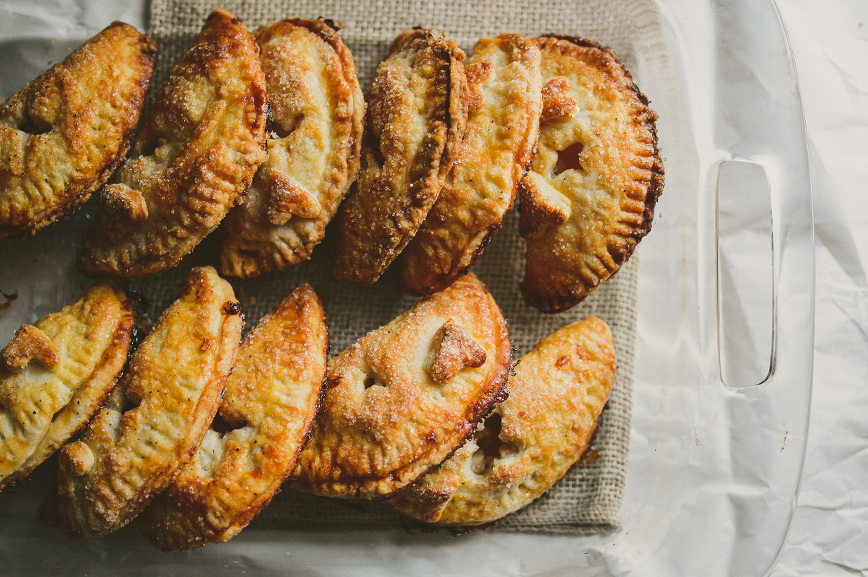 December is such a busy month. I have a whole list – literally a 6″ long in my tiny handwriting, of baking projects I wanted to put together for you all! However, time just flows out of my fingers like when you scoop up sand. From engagement shoots to just planning our honeymoon (NEW ZEALAND TICKETS BOOKED!!!), I just haven't found time to break out my new holiday cookie cutters and get making. I promise I will soon :). For now, please enjoy these hand pies.




RECIPE: Black Pepper Apple Hand Pies.
Pie crust adapted from Four & Twenty Blackbirds

Double Pie Crust, 9″
2 1/2 cups flour
2 sticks butter, cubed into 1 cm pieces, cold – prepare this beforehand
1 tsp salt
3 tsp sugar
3/4 cup cold water
2 tbsp apple cider vinegar
1/4 tsp freshly ground black pepper + more for sprinkling
1| Prepare: Cube butter into 1cm pieces, and place it in a bowl in the freezer. I find that this allows the butter to get very cold before you work with it. Put the 2 tbsp apple cider vinegar into cold water, and place this into the freezer as well. Don't worry about it freezing- you will use it before it can freeze.
2| Combine flour, salt, sugar, black pepper.
3| Take cold butter, and using a pastry cutter, fork, or fingers, work quickly and cut butter into dry ingredients. Pea size chunks will remain, and that's completely fine.
4| Take out cider vinegar / water mixture. Using tablespoons at a time, mix it into dry ingredients until just combined. Do not overmix or knead. Add the mixture gradually – you can always add more water, but you can't take it out. The resulting dough should be damp but not moist.
5| Separate dough into two halves. Shape into disks and wrap with plastic wrap. Place in fridge. Let dough rest for at least 1 hour.
APPLE HAND PIES
2 apples, very thinly sliced and chopped (peeled and cored)
1 tsp cinnamon
1/4 cup honey
1/4 cup brown sugar
splash lemon juice
lemon zest if you have
1| Just mix all the apple filling ingredients together and set aside.
2| Roll out pie crust and use a bowl (or a cutter if you have one) to make about 4-5″ circle. Spoon two tablespoon apple filling onto it, and try to leave as much juice out as you can.
3| Fold the edge over and use fingers or fork to press edges together.
4| Use a sharp knife to slice some slits – this lets the air out so they don't explode.
5| Do it for as much dough as you can get. Put them on parchment paper lined baking sheet and stick it in the fridge for 10 min.
6| Preheat oven to 425. Meanwhile, beat 1 egg + a splash of milk or water together.
7| Using a pastry brush, brush it over the chilled hand pies. Sprinkle with a turn of black pepper if grinding, or just a light dash. Sprinkle liberally with demarara sugar (or raw sugar, or just granulated) and bake for 20 minutes. Then turn heat to 375 and bake for another 20-25 minutes, until it is golden brown.
Enjoy