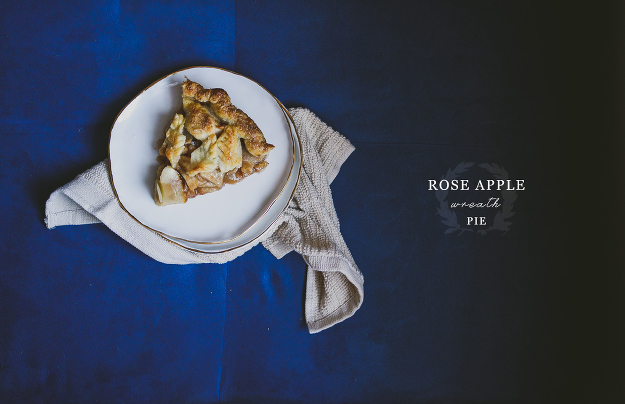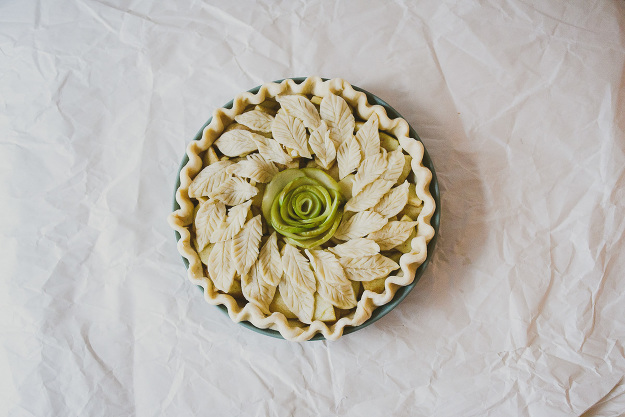 I see so many beautiful wreaths going around on the blogosphere –here are a couple for you to be inspired by:
This beautiful wreath from Bread + Barrow (I so wish I could be a fly on the wall during this lovely workshop!)
And another one from My Blue and White Kitchen
And ok, because it's just so amazing, and it's a form a pie, these Shanghainese red-cooked pork pot pie from Two Red Bowls. Cynthia you are amazing!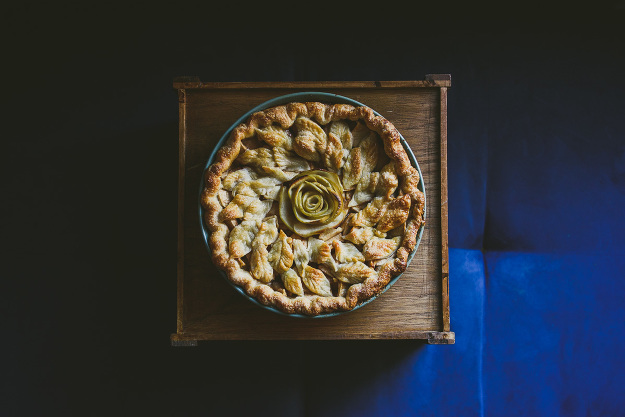 I'm not wiz with plants, herbs, and doing complicated wiring to make beautiful DIY wreaths. I'd like to be, and I'd like to try, but you know what I can do? Make pie. So I made a wreath pie. I went a step further and made a rose apple wreath pie. It sounds a lot more complicated than it is, but I promise you it is manageable. First of all, I realized I didn't have a classic apple pie up, even though it's probably my go-to pie, EVER. When my friend dog-sits for us, I make him this apple pie. When guests come over, I make apple pie. Yet, with all this talk about the classic apple pie, I still don't have that post for you. However, I can tell you how to make it. Simply erase all traces of the rose water, and do a full lattice crust :).


For this rose apple wreath pie, I not only wanted it to be pretty and impressive, but I also wanted it to actually have tones of rose in it. The wreath is made with pie crust cut into leave shapes. The rose in the middle is made from a single apple, with its peel on.



I was recently attacked by someone close to the family (and apparently very bitter) about having pies instead of cake at my wedding, among other things. I think that as a wedding photographer, I see more weddings than the average person – about once a week during peak season. We get the traditional hotel ballroom, huge wedding cake, church ceremony weddings quite often in Boston, but we also get the garden weddings with a cupcake bar, or the barn wedding with pies. I love every single one of them, because these weddings are ultimately a reflection on the couple who are getting married. Alex and I always love taking portraits and capturing the moments between people, but I take guilty pleasure in documenting all the wonderful details, whether it be elaborate floral arrangements or handmade name cards. I always knew weddings were complicated, but it wasn't until I actually planned one that I realized just how long that list of details was. Said person basically attacked every aspect of my wedding – from the music (how can you think The Beatles are distasteful?) to the photographers (who are world renowned), to the decision to have pies. I was angry, hurt, and disappointed, but in the end, it made me appreciate my wedding even more. Because I had an awesome wedding. With pies from Three Babes Bakeshop (the best. EVER.) I love pies, if you can't tell. I live for pies. I will always have pies.



RECIPE: Rose Apple Wreath Pie
*I've always liked my apples more tart/crisp than the traditional gooey. If you like the gooey type, you can simply heat up the apple pie filling in a saucepan on the stove until apples are softened, and let it cool completely.
Pie crust adapted from Four & Twenty Blackbirds
Double Pie Crust, 9″
2 1/2 cups flour
2 sticks butter, cubed into 1 cm pieces, cold – prepare this beforehand
1 tsp salt
3 tsp sugar
3/4 cup cold water
2 tbsp apple cider vinegar
2 tbsp rose water
1| Prepare: Cube butter into 1cm pieces, and place it in a bowl in the freezer. I find that this allows the butter to get very cold before you work with it. Put the 2 tbsp apple cider vinegar into cold water, and place this into the freezer as well. Don't worry about it freezing- you will use it before it can freeze.
2| Combine flour, salt, sugar
3| Take cold butter, and using a pastry cutter, fork, or fingers, work quickly and cut butter into dry ingredients. Pea size chunks will remain, and that's completely fine.
4| Take out cider vinegar / water mixture. Using tablespoons at a time, mix it into dry ingredients until just combined. Do not overmix or knead. Add the mixture gradually – you can always add more water, but you can't take it out. The resulting dough should be damp but not moist.
5| Separate dough into two halves. Shape into disks and wrap with plastic wrap. Place in fridge. Let dough rest for at least 1 hour. 
Apple Pie Filling
5 -6 large baking apples – peel and core apples except for one and slice and dice. For the last apple, Slice very thinly with the peel still on. This will be your rose apple.
½ cup brown sugar
¼ cup raw sugar (or you can use granulated)
1 tbs all purpose flour
1 tbsp ground cinnamon
½ tsp freshly grated nutmeg
1 tbsp rose water
¼ cup applesauce
1 tbsp lemon juice
1 tbsp melted butter
2 tbs brown sugar

demarara sugar for sprinkling
egg wash (1 egg, beaten + splash of water)
1| Combine the diced apple pieces from the apples with ½ cup brown sugar, ¼ cup raw sugar, flour, cinnamon, nutmeg, rosewater, applesauce, and lemon juice. Set aside>
2| Prepare the rose apple: In a smaller microwaveable bowl, combine the melted butter, thin apple slices with the peel still on, and brown sugar. Microwave for 15 seconds, until the apples are soft enough to roll. Spread it out across a surface to let the petals cool
3| Butter 9″ pie dish. On a lightly floured surface, roll out dough until it is about 2″ larger than your pie dish. Place onto dish. Crimp edges. Place in fridge until filling is ready.
4| When filling is done, gently pour apple mixture (NOT the soft rose one) into pie dish.
5| Roll out other disk of dough to 1/8" thickness and form leaf shapes using knife. If you want to be fancy, etch leaf lines onto each leaf.
6| Gently place each leaf on top of the apples, avoiding the middle 3-4" in the center. You can form a wreath around the middle. When I am placing one leaf on top of another, I first moisten the bottom leaf with water so that the top leaf can stick.
7| Make Rose: Place slices, all facing the same direction, in a horizontal line. Half of one apple should overlap the other half. Then, starting from one end, tightly roll the apples down the line. You will reach a point where you can simply pick up the rose apple. Place it onto the center of the wreath pie. Now you can add additional petals on the outside.

8| Place in fridge for 15 minutes.
9| Meanwhile, preheat oven to 425F.
10| Brush pie with egg wash and sprinkle generously with demarara sugar.
11| Bake for 20 minutes, or until crust is light golden.
12| Reduce heat to 375F, and bake for another 35-40 minutes, until filling is bubbly.
13| Remove from heat.