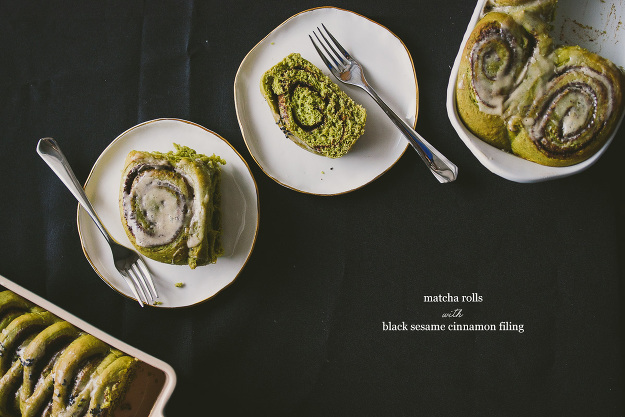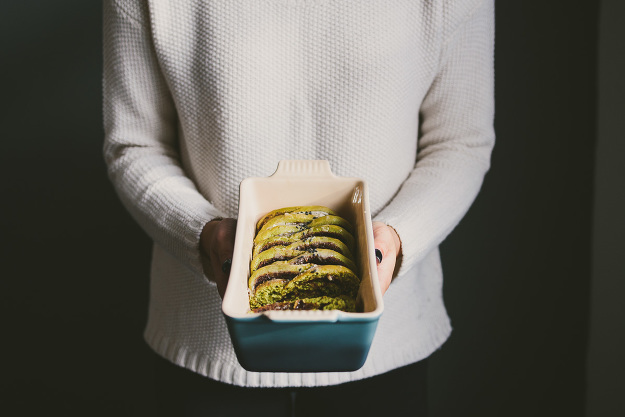 They're like cinnamon rolls… on tea. I was going to write on steroids, but that's so overused and it didn't really make sense because they're not buffed up versions of cinnamon rolls. They're just different, with more of a tea/nutty flavor. If you've had matcha flavored treats, you know what I'm talking about. Then add black sesame to the cinnamon filling????!!!!! You've got crazy awesome cinnamon rolls to devour. But really, matcha rolls with black sesame cinnamon filling. They're not really cinnamon rolls. I'm not going to call them that. I don't think words can express how much I love matcha. It adds such a lovely depth to baked goods. As the matcha editor for the Matcha feed at The Feed Feed, I'm constantly looking for goods using matcha, and I'm constantly amazed by the creativity of the community!!!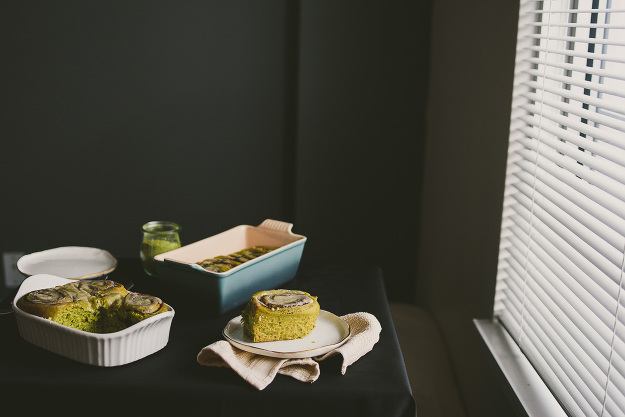 Let's have some link love for all things matcha:
In my tiny corner of the food blogging world, I'm so excited to share with you my recipe for matcha cinnamon rolls. It uses buttermilk, which we all know is the key to super soft things, a lot of patience, matcha, and black sesame. Among other ingredients normally found in rolls, such as sugar and egg.
I get a lot of questions about where I find my matcha. You can find them online, at Whole Foods, or, my personal favorite, at Encha! Li literally tore off my blinds and introduced me to four grades of matcha. Four. You know, it makes sense, because if you think about other ingredients we drink that we use to cook (like bourbon or white wine), you know that you should always cook what you will drink. So none of that cheap barely tolerable white wine. Same thing with matcha – you want to bake with quality matcha meant for baking. I used culinary grade organic matcha in these rolls, which you can find here. Do you see this gorgeous gorgeous color without ANY food dyes?

I rolled these in two different ways (if you can't tell, I'm very indecisive when it comes to forming buns and all that. My solution is to just make them both!)




RECIPE: Buttermilk Matcha Rolls with Black Sesame Filling
Adapted from Hummingbird High
Buttermilk Matcha Dough
3 1/4 cups all purpose flour
3 tbsp sugar
½ tsp baking soda
1 heaping tbsp. matcha
pinch salt
1 tbsp active dry yeast
1 cup buttermilk, lukewarm (or 1 cup milk with 1 tbs lemon)
1 egg, room temperature
¼ cup vegetable oil

Filling
3 tbsp butter, melted
1/3 cup granulated sugar
2 tsp ground cinnamon
2 tsp ground black sesame

Glaze
1 cup powdered sugar
1/2 tsp vanilla extract
1 tsp milk
1 tbsp butter, softened
1| Combine lukewarm milk with yeast. Wait 5-10 min until foamy. Whisk flour, matcha, sugar, baking soda, salt together in a bowl.
2| Add egg and oil to yeast mixture and whisk to combine. Set aside.
3| Form a well in the center of the dry ingredients and add yeast/milk mixture. Fold until combined.
4| When dough is ready to be handled, turn onto a lightly floured surface and knead for 10 minutes (time this!). Dough should be smooth and elastic, but not sticky. If it is still too sticky, then slowly add flour, 1 tbsp at a time.
5| Transfer the dough to a lightly greased bowl, and turn it around to cover with grease. Cover with plastic wrap and place in turned off oven for 1.5 hours. Dough will double in size!!
6| Transfer to a lightly floured surface and roll into a rectangle.
7| Brush melted butter onto the surface. Sprinkle with the filling mixture.
8| Roll dough lengthwise. If you are forming a loaf, use kitchen scissors to cut dough's upper half and gently push to the edges, forming petals. Alternatively, you can cut the roll into 8 different pieces to form individual buns. Place on parchment paper lined pan, spaced slightly less than an inch apart. Cover with plastic wrap again and rise another hour. Patience is key.
9| Preheat oven to 350 F. Bake for 25-30 minutes, until edges are golden in color. Cool on a wire rack.
10| Glaze: mix sugar, vanilla, butter together. Add milk in 1 drop at a time until you get the consistency you want. Spread over warm cinnamon buns.