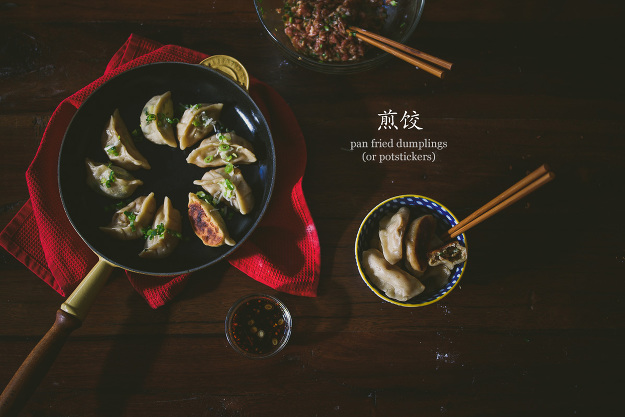 Potstickers. 锅贴。 煎饺。 Pan fried dumplings. Whatever you want to call it, I'm going to share with you two ways to make dumplings from home, from scratch. You don't need to go hunt down dumplings wrappers or pre-made dumpling fillings, because these babies are incredibly easy to make right from home! In fact, I bet you could gather up your friends and have your own dumpling party for Lunar New Years!! I was going to wait to post this, but I figured I'd post it early so that you can try these out in time for Lunar New Year (this year, it's 2/19!)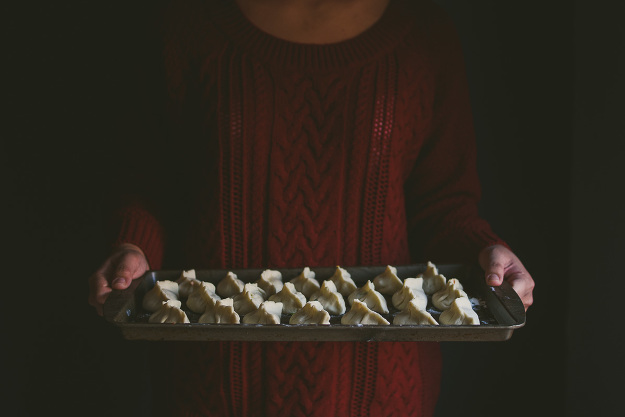 If I could choose one type of food to eat for the rest of my life, it would be dumplings, hands down.
I still remember going over to my cousin's house, and they had some family friends over as well -I'm can't quite recall the exact connection, but let's just say it was a large gathering – and we made dumplings. This was the first time I'd seen dumplings made completely from scratch. One of the ladies just pinched off a corner of dough, rolled, and wrapped in an efficiency that scared me. I couldn't even repeat the steps, she was that quick. So I observed. Everyone participated. Multiple chopsticks hovered and floated among the different fillings. Little dishes of water were passed around like shots. And trays of dumplings filled up.
I wanted in, so I sneaked some filling and wrapping and attempted to wrap one myself, creating weird amoeba-shaped dumplings that my mom pretended not to notice. When it came out poorly hidden among beautiful dumplings, she pretended it was the best one. The process of making dumplings, wrapping them, then steaming or boiling them and smelling the aromas of Chinese chives and pork –it's not about the end result but the experience that goes into making dumplings.
By definition via dictionary.com, dumplings are "a rounded mass of steamed and seasoned dough, often served in soup or with stewed meat." This is the Western definition of dumplings. In Asia, dumplings are often a mixture of meat and vegetables, enclosed in a wrapping of dough. They are a major food group of China, and as someone who grew up with a Chinese background, they have been a food staple, something I sorely miss when I am away from home. Nothing beats my mother's handmade dumplings.
Dumplings in China are more than food. They are a means of social bonding. They send a family member away with good luck. They represent wealth and riches. They usher in the New Year at midnight. They are indispensable in Chinese culture.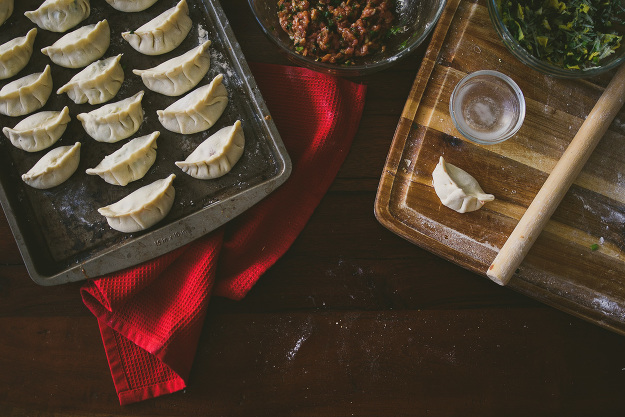 I could actually go on and on about dumplings. In fact, way back when I was in college, I took a food writing class. I told you, I've always loved food and knew I needed to improve my writing. For my final paper, I wrote about dumplings. I can't stop laughing right now, and my husband, while studying for his big medical board exam, is shooting me glances, willing me to hush up. I actually did a little drawing detailing how to wrap the dumpling. Man, this really brings back memories!


Additionally, there are also numerous videos on how to wrap dumplings, which may help you more if you are a visual learner. Once you get the hang of it, it's not that hard. Plus, it's fun to make ones in different sizes and shapes. I am definitely not an expert in wrapping dumplings, as you can see, but you know what? imperfection is preferred, always.
As usual, I couldn't make my mind about which one to make (this seems to be a pattern, with my scallion buns two ways, and matcha rolls two ways! I'm ok with it!)  So, my friends, I'd like to share two ways to make dumplings: 1) Pork and chive, and 2) Chive, egg, and vermicelli. The recipe I've provided is if you want to make one or the other. If you want to do both, like I did, simply cut them in half. The first one is pretty common, I think. The second one I think I've only seen made by my mom, so hopefully I'm contributing another vegetarian dumpling option to the blogosphere!

Another thing I love about dumplings: they can reflect your family's traditions or preferences. I've met so many lovely people through college and beyond who have their own methods of making dumplings. I love that I can learn a little bit about someone through their way of making dumplings. It's like another language we can speak in.


As for the dumpling wrapper, you can either pinch off pieces of dough, then roll it out to your desired shape, OR you can divide it into 4 pieces, roll it out, and use circle cookie cutters to cut them out. I prefer pinching it off – I think it gives me more control, and I actually love imperfect dumpling wrapper shapes. I like just using my hands to create each piece.


 After wrapping them, you can either cook them immediately, or place them in the freezer on the tray. Once fully frozen, you can transfer them to plastic bags for better storage.


Oh. If I had a motto or one liner for my cooking philosophy, it would be: garnish with scallions. YAY!

Another perk? These are so easy to store and pack for lunch. The best packed lunch, in my opinion.

RECIPE: Dumplings / Potstickers Two Ways: Pork and Chive, and Chive, Egg, and Vermicelli
Makes about 30, depending on the size of your dumpling wrappers!!
Wrappers
2 cups all purpose flour
pinch salt
3/4 cup boiling water
1| Whisk together dry ingredients. Bring water to a boil, then immediately remove from heat. After 5 seconds (count them!), gently stream them into the dry ingredients, constantly stirring.
2| Using your hands, knead into a dough. If it's too dry, add in a little bit more water. Making dumplings is more of an instinctive thing – use your sense of touch and feel when the dough starts to become a unified mass. Knead for another 3 minutes. The dough should be elastic, smooth, but not sticky.
3| Wrap tightly in plastic wrap and let dough sit for 30 minutes, up to 1 hour, at room temperature. This hydrates the flour and makes the dough easier to handle.
Pork and Chive Filling
1 lb ground pork
1 cup finely chopped chives
2 tsp minced garlic
1 tsp salt (add at the end)
1 tsp cornstarch
½ tbsp. sesame oil
1 tbsp soy sauce
½ tbsp. shaoxing rice wine
1 stalk green onion, finely chopped
1 tsp finely grated fresh ginger
1 tsp white pepper
1 egg

Chive, Egg, and Vermicelli Filling
1 cups finely chopped chives
4 eggs, beaten
2 tsp salt, add at the end
1 cup chopped vermicelli noodles (soaked in water for 5-10 minutes)

water, to seal dumplings
cooking oil
scallions, to garnish
1| Pork and Chive filling: Simply mix all ingredients together well. I like to use my hand to mash it all together. Vegetarian filling: On low heat in a large nonstick pan, pour a thin layer of eggs on it. Cook through, and using a chopstick, carefully lift it onto a cutting board. Chop thinly. Repeat until all eggs are used. Combine chives, egg, and soaked vermicelli. Hold the salt until you are just ready to wrap – this prevents sogginess.
2| Form dough wrappers: Pinch off about 2 tbsp of dough, and on a well floured surface, roll between your palms first to shape into a sphere, then use a rolling pin to roll into a rough circular shape. It should be pretty thin – about 1-2mm thick. You can make thicker skins or thinner ones, depending on your taste. I prefer thicker, chewy dumpling skins. Make sure you flour liberally to avoid wrappers sticking together!
3| I generally make about 10 skins, then start wrapping. Place 1.5 tbsp filling onto the center of the wrapper. Lightly trace the perimeter with some water. Then, cradling it within your hands, start pleating one side. Fold the other half moon over and press gently.
4| Place dumplings on a tray. When you're finished, either freeze immediately, or cook.
5| To Freeze: simply stick the tray into your freezer. Once they are completely frozen, you can transfer them to plastic bags.
6|To Cook:  Heat up some cooking oil in a flat-bottomed pan on medium-low heat. Test the heat by dropping one drop of water into the pan – it will sizzle. Gently place dumplings in one single layer, not touching, in the pan. They will start to sizzle – continue to brown for about 3 minutes.
7| Check if they are browned to your desire. Once it is, turn heat to low, pour about 1/4 cup of water into the pan, and cover immediately. Steam for 10-12 minutes, until dumplings are thoroughly cooked through. It's completely OK to sacrifice one dumpling to test (or, just sneak some before serving!).
8| Done!! Serve with dipping sauce, or just eat plain.