Happy Monday, friends! How was your weekend? I had a lovely one – with the weather "warming up" (and by warming, I mean that the temperature rose to above freezing. In Boston, that's pretty amazing), Alex and I actually were able to photograph two engagement sessions! Both were outdoor, winter-wonderland-esque shoots, and I had a lot of fun fighting my way through hip-deep snow to get some shots. We had munchkins, hot chocolate, blankets, and a positive attitude. Sometimes, that's all you need to make a session special. It felt a little surreal to walk quietly in the woods, unused to hearing only the subtle creaking of branches, straining under the weight of the snow. There were no chirping birds, no rustling of leaves – just the muffle sounds of footsteps in the snow of fellow hikers.
I was also surprised and honored to be one of Food52's 8 Food Blog Link Love! I'm there with some really great company, so I definitely recommend you check each one of those blogs out.
I've been struggling with the feeling of cabin fever, especially when we've had basically a snow storm every single week. I dislike nothing more than the feeling of being idle, with plans canceled because of the snow. I become a woman possessed, whirling around the apartment to clean, organize, scrub the stove, clear out the pantry, cook for the next few days, brainstorm, sketch, whatever. This is when Alex usually takes his studying downstairs… oops :). I made a cake. Earl grey tea cake with lavender icing, to be precise. It turned out to be the perfect moist cake for a snowy day. In addition, the light on snowy days is gorgeous. The snow basically acts like a natural reflector – all that soft, diffused light streaming in is actually perfect for food photography!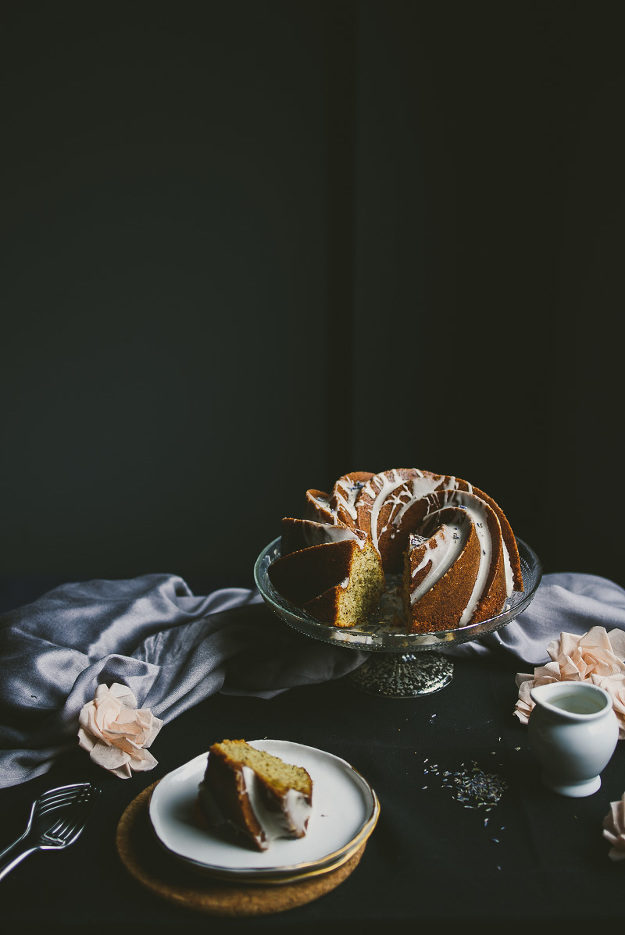 This cake is the type of cake you want to eat in bed, curled up beneath cozy quilts in front of a gentle fire. My tiny apartment in Boston doesn't have a fireplace, so I make do with just the quilts. Cup of tea in one hand, fork in the other, with Gilmore Girls playing on Netflix. After all the cleaning/baking/domestic activities, I'm happy to settle down with a slice of earl-grey scented cake smothered in fragrant lavender icing.






RECIPE: Earl Grey Bundt Cake with Lavender Icing
Adapted from Buttered Up. 
*I didn't have buttermilk on hand, so I added 1 tbsp lemon juice to 1 cup milk. To give it more earl grey flavor, I first infused the milk with earl grey, then added lemon juice. You can omit this step if you want to!
Ingredients
3 cups all-purpose flour
1 teaspoon baking powder
1/2 teaspoon baking soda
1/2 teaspoon salt
3 tbsp earl grey tea in a mesh strainer (tea bags work too)
3 tbsp earl grey tea, ground.
1 cup + 2 tbsp (2 1/4 sticks unsalted butter) at room temp
1.5 cups granulated sugar
1 tbsp vanilla extract
4 large eggs
1 cup buttermilk (1 cup milk with 1 tbsp lemon)
1| Prepare beforehand: I wanted buttermilk to be infused with earl grey tea, so I made my own buttermilk. I first heated up milk until it is just boiling, then added in earl grey leaves to steep for 10 minutes. Then, I let it cool. I added 1 tbsp lemon juice to make buttermilk.
2| Preheat oven to 350. Grease bundt pan and dust with flour.
3| Sift together flour, baking powder, baking soda, salt, ground up tea.
4| Cream together butter and sugar until pale and fluffy, about 5 minutes.
5| Add in extract and beat until well incorporated, about 1-2 minutes.
6| Add in eggs, one at a time, making sure it is well incorporated after each addition.
7| Add 1/3 of the flour mixture and mix. Add in 1/2 of buttermilk and mix. Add in another 1/3 of flour. Add in remaining ½ of buttermilk. Then, add in the remaining amount of flour. After each addition, mix until just combined. Do not over mix.
8| Pour batter evenly into the pan. Lightly tap it against a surface to remove any air bubbles.
9| Bake for one hour, until toothpick inserted comes out clean. Invert onto a wire rack and cool for another hour.
10| Drizzle glaze on completely cooled cake.
Lavender honey icing
1 cup powdered sugar
1 tsp vanilla extract
1 tbsp honey
1 tsp ground up lavender
1-2 tbsp milk
1| Heat up milk in microwave for 30 seconds. Add in lavender. Let steep for 10 minutes. Strain.
2| Whisk in sugar, extract, honey.