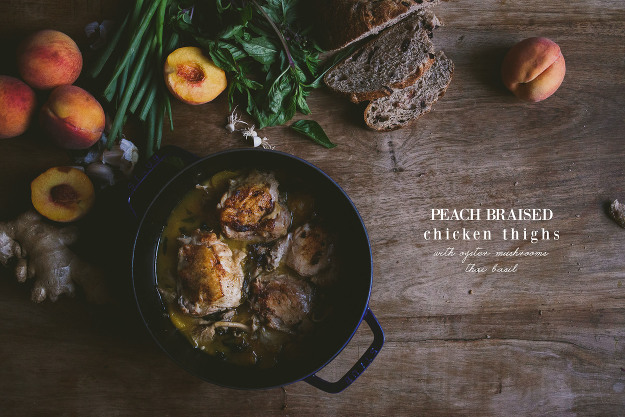 Somehow, it's July. Half of 2015 has gone by, speeding around the corner and disappearing out of sight. Somehow, half the summer has vanished, tucked away in the form of wedding photos and hand-written notes. To put it tritely, the past several weeks were a whirlwind. Consecutive weddings, engagement sessions, rehearsal dinners, client consults – everything that excites me yet simultaneously drains me. Finally, this past weekend, we were photo-free: on the weekend of July 4th, possibly one of the most festive, crowd-drawing holidays of the year. However, at the risk of sounding boring , we decided to turn down friends' invitations to celebrate. It was actually our only free weekend until end of August. Sometimes I just have to take sit back and take a breather. Go to a place where all I can do is sit down, cuddle with my pup, and close my eyes. Most amusingly, though, we found a few friends who were also staying in the city and somehow obtained 3 racks of ribs and made asian-style oven-baked ribs. We threw napkins on the table and just used our hands to dive in. No stress, informal dinner. Perfect for this weekend. I had a lot of fun slow roasting ribs for over 6 hours and doing three versions: a five-spice rub alone, a spicy gochujang sauce, and soy garlic sauce. The sauces were inspired by Bonchon's chicken flavors

and worked so well with the tender ribs. Would you be interested in a recipe for that?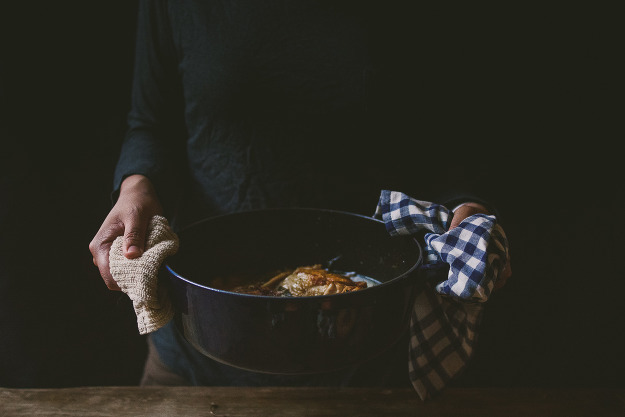 I fall into this cycle over and over again. I start collecting stress like I'm foraging wildflowers – inhaling its essence, inspecting each one carefully, keeping them close and hoarding them like a special collection. Except I end up with my mind jumbled. Every incoming to-do or worry or event just hovers around me like a dark cloud. I need to remind myself to step back. To assess. To compartmentalize. To learn to prioritize and make more lists. To relax. I used to wake up early to do yoga, or go for a leisurely run with my dog (despite the fact that she is lazy and ends up slowing me down) and then brew some matcha or drip coffee for myself: a quite morning to cherish. I'm going to start trying to do this again. Mornings recharge me: a moment of peace and silent reflection to organize the rest of the day. They say breakfast is the most important meal, and I believe it is, for me. Not only for energy but also for a mental recharge.
I want to thank each and every one of you. When I initially started blogging, it was just to document my experiments in the kitchen. Somehow, this became… more. When you comment or send me an email to say hello, it truly makes my day. I'm really bad at responding, but please know that I read each word you write. And I smile, because what keeps me blogging is you!!!!!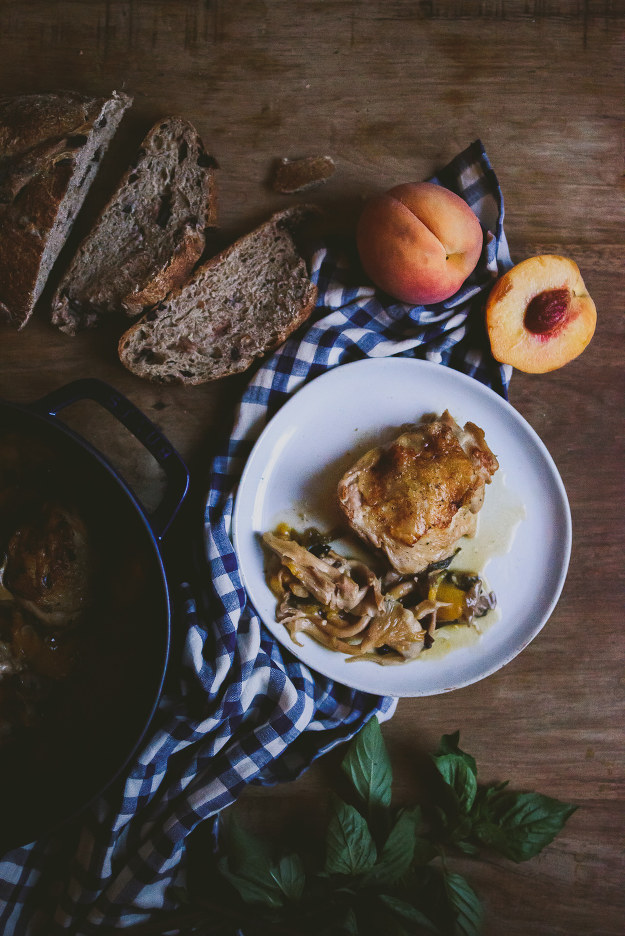 Last week Meg and I went on an adventure to New Hampshire and visited this awesome mushroom farm. We were treated with a wonderfully informative tour, ambitions to return, and a box of freshly picked mushrooms. We had yellow oyster, blue oyster, chestnut, elm, king oyster, and lion's mane / bear's head mushrooms. A feast for my eyes. I felt like a cartoon character, with idea bubbles just flowing out of what I could do with them. The next day, I had to use them in some way, and I'd been itching to try out an idea that has been at the back of my mind for quite some time: peach braised chicken thighs. Can we pause and talk about the fact that I have zero chicken recipes on my blog? I eat chicken the most out of any other meat, but in my recipes it seems like I eat duck or pork the most. I admit I do prefer duck out of everything, but chicken is a staple. It's the everyday meat in the XuLiu household. For my chicken debut, let me show you how to make peach braised chicken thighs, with oyster mushrooms and thai basil. I was worried about the sweetness of the peach, but it turned out really well. It was a sweet but savory sauce over crisp, juicy chicken thighs. The aromatic, spice of thai basil added a dimension to the sauce that made me want to just eat it by the spoonful, but it's no secret I love thai basil, right?


Always begin by browning the thighs. I actually didn't brown it too successfully so I went back and browned it some more with butter after braising. Adding the oyster mushrooms in the braise was so good. Oh my gosh. I loved the chicken, obviously, but the accompanying mushrooms were a perfect side dish. Cooked through and retaining its natural flavor while still absorbing the peach/thai-basil braise. Plus? It was still crunchy and not soggy! Yum! 


I started out the braise with some slices of peach to really let the fruit break down and incorporate into the braise. After the thighs finished braising, I added in another fresh batch of peaches to give it a little more freshness.


And of course, I ate it with the absolutely delicious olive sourdough loaf I picked up from Sunnyfield Bakery, who we also met in New Hampshire and had a delightful conversation with. More exciting things coming! 


A side note: in terms of styling and photography, it was a bit of a challenge for me, personally. Since I've never done a chicken post, this was my first time thinking of plating and styling chicken thighs. I know Meg and I have had this conversation many times – when a food is just not as pretty as say, a cake topped with fruit or flowers, how do you make it look appetizing and beautiful in a photo? I ended up using the ingredients to tell the story. What do you do when it comes to styling challenges?



RECIPE: Summer Peach Braised Chicken Thighs with Oyster Mushrooms and Thai Basil
very loosely adapted from Saveur
Ingredients
2 lb bone-in, skin-on chicken thighs
5 scallion onions, chopped roughly
3 cloves garlic, sliced
1 tsp ginger, grated
1 tbsp all purpose flour
2 cups peaches, pitted and sliced
2 cups chicken broth
2 tbsp apple cider vinegar
1 tbsp brown sugar
1/3 cup chopped thai basil
1.5 cup oyster mushrooms (mix of yellow and blue)
1| Heat oven to 375F.
2| Season chicken with salt and pepper.
3| Heat up some extra virgin olive oil in a dutch pan. Work in batches and brown chicken on both sides until golden – about 10 minutes. Remove from dutch oven and set aside.
4| Turn heat to low. Pour any remaining fat/residue from pot. Add in scallions, ginger, and garlic and cook, stirring constantly, until golden and fragrant, about 5 minutes. Add and cook mushrooms for 3-4 minutes, until juices are let out.
5| Add in half the peaches, vinegar, and brown sugar and simmer for another couple of minutes. Push everything to the side. Add in flour and stir with seeping juices, cooking, until browned. Slowly add in chicken broth and whisk until incorporated. Season with salt and pepper.
6| Bring to a boil and place chicken in one layer, with skin side up. Boil again and transfer dutch oven to oven. Cover with lid and roast for 45 minutes, until thermometer at thickest part of thigh is 165F.
7| Add rest of peaches to sauce and simmer sauce over medium-high heat, uncovered, until thick and reduced by half (10 minutes).
8| Stir in thai basil and spoon over chicken.
Note: Shallow round cocotte were sent to me by Staub; all opinions expressed here are purely my own.