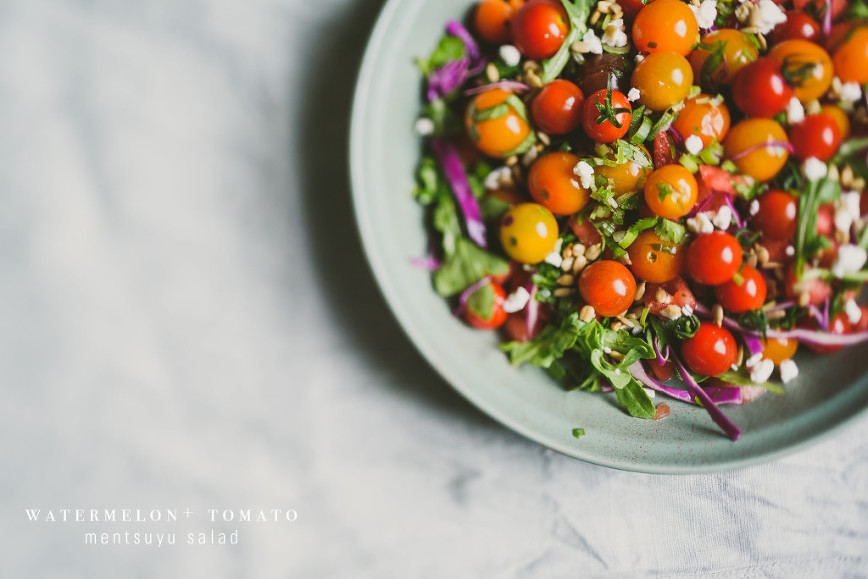 First, happy September! Second, a bunch of links:

I know I was a bit woeful about summer in my previous posts, but every time I go to the market I'm refilled with summer energy, and now that it's September I know I'm going to be sad that summer is almost over. So, let's take advantage of summer and make this watermelon tomato salad. This is a salad that must be eaten during the summer. Why? Because it uses juicy, ripe watermelon and the sweetest little tomatoes I've ever tasted. They're like natural gushers that burst in your mouth with sweet tomato juice. These tomatoes are the highlight of this dish, and if these tomatoes are sour or even worse, tasteless, then move on. Make something else.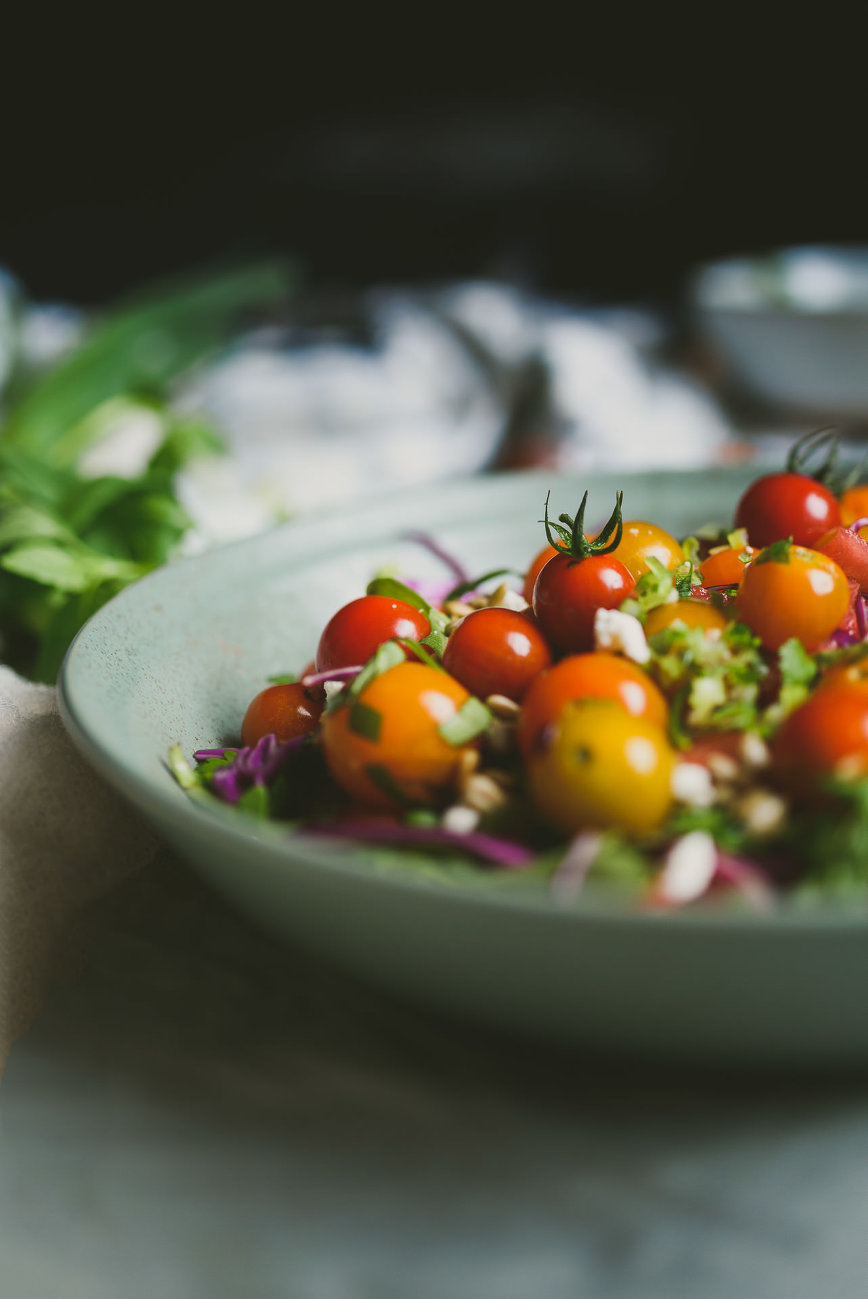 I honestly wasn't sure how this salad would taste. Instead of a vinaigrette or other dressing, I drizzled some cold mentsuyu sauce, made from dashi stock, chicken broth, sake, and mirin. This is the quick, no-fuss way to make it – if you're looking for the real deal, see Nami's recipe for mentsuyu here. It's a common noodle soup base in Japanese cooking. I make and use it mostly as a dipping sauce for soba, which is served cold and perfect for the summer. An idea struck me when I was eating my weekly soba – this mentsuyu sauce is the primary flavoring for cold soba. What if I repurposed it for something else?


I drizzled mentsuyu sauce over watermelon + tomato, with some herbs and arugula. It's salty and sweet with umami tastes scattered throughout, and the occasional tang from goat cheese, and it works. I made it twice again already and I'm not stopping anytime soon. I don't eat a lot of salads – I'm a rice and noodles kind of girl, but I will eat this salad every day if I can. The juice of watermelon gives everything a nice sweet coat, but the savory mentsuyu, packed with umami flavors, balances it out nicely. My favorite part is actually the cherry tomatoes. One bite and multiple flavors burst out: the sweet, tangy tomato, the sweetness from watermelon juice, and a punch of savory from the mentsuyu. Cilantro and basil give it an overall herbed fragrance that can't be left out. If you absolutely hate cilantro, you can omit it, but I highly recommend it!


Notes:
These measurements are approximate. This salad is simple in that the sauce is made, so all you need to do is toss together the fresh ingredients and then drizzle the sauce on.
You can make mentsusyu via Nami's recipe, or buy bottled mentsuyu from the store.

Recipe: Watermelon + Tomato Summer Salad with Mentsuyu Drizzle
Ingredients
1 cup Fresh watermelon, seedless, cut into ½ inch cubes
1 cup Husk or cherry tomatoes
Fresh cilantro
Fresh basil, julienned
1 cup argula
1 cup shredded red cabbage
Sprinkle of goat cheese
2-4 tbsp mentsuyu, chilled
sunflower seeds or sesame seeds
fresh finely chopped scallion greens

salt and pepper, to taste
Combine watermelon, tomatoes, arugula, red cabbage, herbs. Drizzle on mentsuyu sauce to taste. Sprinkle goat cheese, sunflower seeds, and scallions.