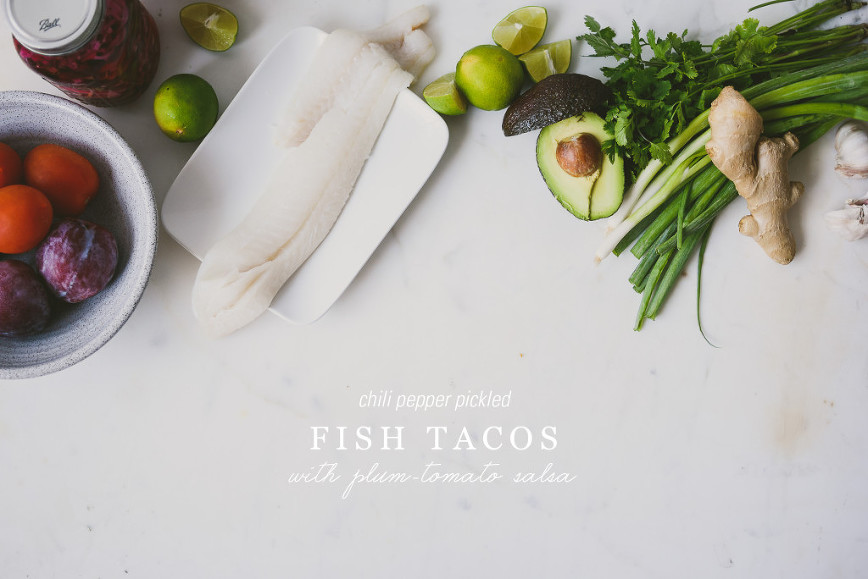 Are you bored with my incessant talk about fermentation yet? I am not even close to being done with fermenting foods. There are several cool fermentation-related things I want to share:
There's an article about fermentation in the latest edition of Edible Seacoast, and my kimchi photo is featured in its full-page glory. It's just thrilling to see my work in print. See kimchi recipe here.
Boston has an annual Fermentation Festival! It's happening on October 4th, and there will be culture sharing corners (for those who desire a SCOBY), a science corner, microbial experts, a… petting zoo??! I'll definitely be there, and there are some cool people like Cheryl Sternman Rule, Amanda Feifer, Alex Lewin, and my favorite potter + fermentation enthusiast +mastermind of this festival Jeremy Ogusky. If you're in Boston, I highly recommend you check it out.
Eva and Carey just wrapped up their podcast series on fermentation, and it is the best podcast series ever. They talk about not just sauerkraut and kimchi but also beer, cheese… and SOY! I was really excited about this, not just because Carey mentioned little ol' me when talking about stinky tofu, but because soy fermentation is often neglected. These podcasts are great resources for those interested in learning more specifics about fermentation
No link, but I started a fermentation project that I'm really excited about. I'm making sichuan fermented long beans and I cannot be more excited. I hunted down a bottle of white liquor specifically to make this dish. It does take four weeks… so we'll see how it turns out.
Pickles. I used to hate pickles with a passion. I would pick them out of burgers or throw dill pickles away angrily into the trash can. I'm still not a big fan of cucumber pickles, but I love cabbage, carrot, ginger, or just about any other vegetable pickles. Pickling is a lacto-fermentation process. What this means is that the vegetables are fermented using lactic acid, a metabolic byproduct. This is the same type of fermentation that is used to make kimchi! This chili pepper pickle is ready in a shorter period of time (3 days ~ a week) and has a distinctively different taste. It's a pickle. I used rice vinegar, sichuan peppercorns, some gochugaru to really give it a kick. Thai chili peppers are also essential to creating a really spicy but sweet pickle. I'm no expert with words, so I'll just have to say – try it out yourself. It might burn your lips in the best way possible.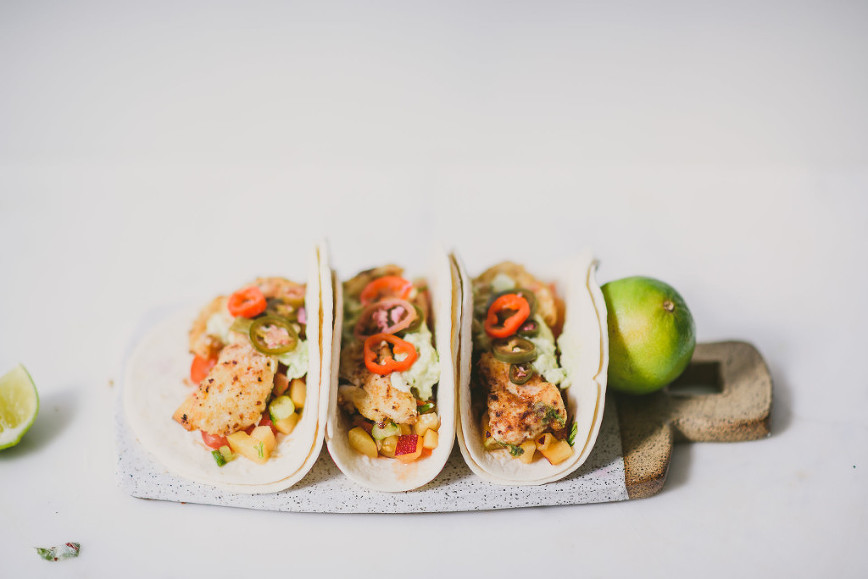 I made some fish tacos to go with this. The white cod is marinated in some spicy pickling brine + herbs and scallion, then tossed with flour + ground gochugaru, then lightly fried to get a thin, crispy outer layer. The gochugaru is optional, and if you want a super crispy exterior you can also dip the fish into a beer batter. I'm not a fan of extra crispy fish, so I just lightly fried it after a dusting of flour. A quick and easy plum salsa is piled into flour tortillas, topped with several pieces of fish, and then finally finished with avocado-yogurt and pickled peppers. The combination is quite satisfying.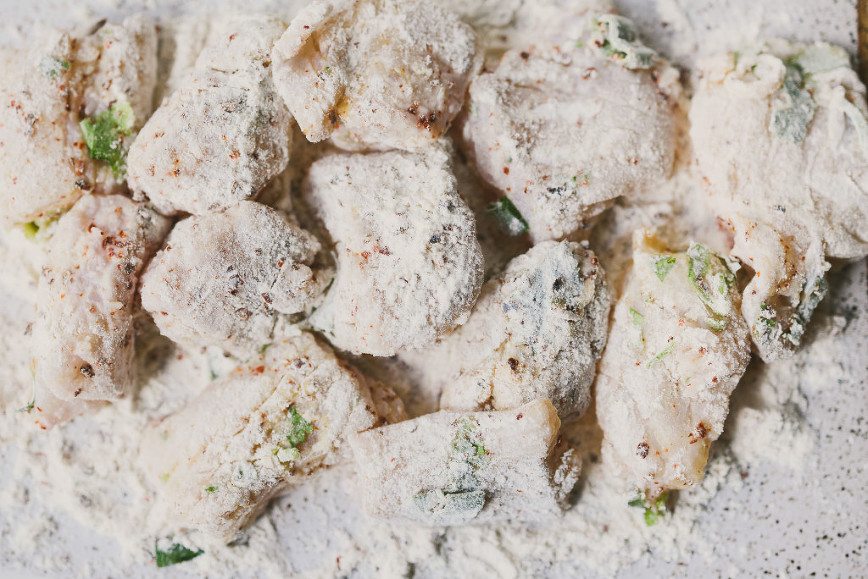 These pickles take at least 3 days to ferment. I left it in for a week and the flavor was amazing. I used thai chili peppers, jalapeños, and whatever other peppers I found at the farmer's market. This project started because I was mesmerized by the types of peppers there are out there and I wanted to "infuse" the pepper's intrinsic heat into other vegetables like carrots and red cabbage. The result is a wonderfully colorful jar of vegetables.


These pickles are quite good by themselves. I eat these as a side, over cold noodles, and even on top of a spread of goat cheese over toast. If you don't want to make the fish tacos, whatever – but at least try the pickled peppers!


I was inspired by Mandy's spicy fried chicken sandwich, which uses the pickling juice of jalapeños to marinade the chicken. This idea captivated me and had me dreaming of tantalizing flavors, tenderized and enhanced by the acidic pickling juices. It works. I marinated cod in pickling juice (pink due to the red cabbage), scallions, cilantro, and some ginger. Ginger and fish are inseparable, in case you didn't know.



After that, drain the fish and coat in a light dusting of flour + ground gochugaru, a korean red pepper flake. It's used in kimchi, the famous gochujang sauce, and I've recently been using it in my cooking a lot as a seasoning. This step is entirely optional. You can replace with salt and pepper.


After the fish is lightly fried, you can begin the fun part: assembling it all together!




Notes:
Chili Pepper Pickle: The vegetable amounts are general guidelines. You can increase carrots or cut them out entirely. The measurements you want to pay attention to are for the brine. I used rice vinegar, water, sugar, salt, and other seasonings. The salt draws water from the vegetables, and the acidity of the rice vinegar create an ideal environment for cultures (already present on the vegetables) to thrive. I've tried a brine with more vinegar than water, and the flavor is too dominant. A good ratio I've discovered both by personal and collective experiments is a 1:1 ratio of vinegar to water. Simple enough, right? Seasonings such as sichuan peppercorn, gochugaru, and bay leaf are completely optional, but recommend.
Use a nonstick pan for the cod. As much as I love my cast iron pans, cod is a delicate white fish. After marinading and handling for the flour coat, it is already pretty fragile. If you have a well seasoned cast iron I'd imagine it would work out fine, but I used my nonstick… just in case.
If you don't want to do the flour coating, that's perfectly fine. Just season with salt and pepper and fry on a nonstick pan. It'll still turn out good. This is how I usually cook my cod fillets, but for my fish taco I wanted something slightly more crisp.
salsa: This is the simplest, no fuss salsa ever. Personally I prefer salsas that are not runny – I'm looking for fresh chunks of tomato (and usually a fruit, like mango or plum), with cilantro and lime. It's that simple. Plus, with tacos I usually stay away from runny salsa because then you'll get a steady drip of salsa liquid as you eat the taco.
Avocado yogurt is also completely optional. I love having something cold and creamy to top my tacos, but I don't use sour ream much in my cooking. Some ripe avocado mashed with plain greek yogurt  hits the spot for me.

Bowls: ogusky ceramics / wooden spoon: apple doesn't fall /
RECIPE: Chili Pepper Pickle Marinated Fish Tacos + Plum Tomato Salsa
Chili Pepper Pickles
1/4 cup white vinegar
3/4 cup rice vinegar
1 cup water
1/4 cup sugar
1 tbsp salt
1 bay leaf
2 cups assorted chili peppers, chopped thinly
4-5 stalks scallions, roughly chopped or kept whole
3 cloves garlic, halved lengthwise
1 cup red cabbage, shredded
3-4 carrots, shredded
1 tbsp Sichuan peppercorns
1| Wash and chop vegetables. Place in an airtight jar.
2| Bring brine ingredients to a boil. Simmer for 2-3 minutes. Let brine cool completely. Pour over vegetables until vegetables are submerged. Cover with an airtight lid and refrigerate for at least 3 days. It will hold for a month.
Plum-Tomato Salsa + Avocado Yogurt
Salsa
1 cup diced tomatoes
1 cup diced plums
3 tbsp chopped scallions
1 tbsp chopped cilantro
1 tsp lime juice
1 tsp garlic
salt + pepper

Avocado yogurt
1 ripe avocado
1 tsp lime juice
1 cup greek yogurt, plain
sea salt
1| Combine and mix salsa ingredients
2| Mash avocado with greek yogurt and season with sea salt and lime juice, to taste.
Gochugaru Fish
9oz skinless, white fish fillet (I used cod)
1 tsp grated ginger
2 tbsp pickling liquid
1/4 cup finely diced scallions
1/4 cup cilantro, chopped
1/4 tsp white pepper
1 tbsp olive oil
juice of 1 lime

1 tsp ground up gochugaru + 1/2 cup flour (more as needed)
salt and pepper
1| Rinse and dry fish thoroughly. Mix in marinade of ginger, pickling liquid, scallions, cilantro, white pepper, olive oil, and lime juice. Marinade for 30 minutes.
2| Toss ground up gochugaru with flour and spread on a flat surface. Drain fish pieces thoroughly and lightly dust with flour mixture. Season with salt + pepper.
3| Heat up a nonstick skillet with 2 tsp vegetable oil. Place fish in one layer, not touching, and cook over medium-low heat. Do not move them until they are nicely browned. Flip and brown the other side. Remove from heat. Fish will flake easily when done, but once both sides are nice and brown the fish should be cooked through.
4| Assemble tacos: heat up flour tortillas on the stove or in the microwave. Spoon plum salsa over the tortilla. Place 3-4 pieces of fish on top. Spread some avocado yogurt and top with pickled peppers. Enjoy!