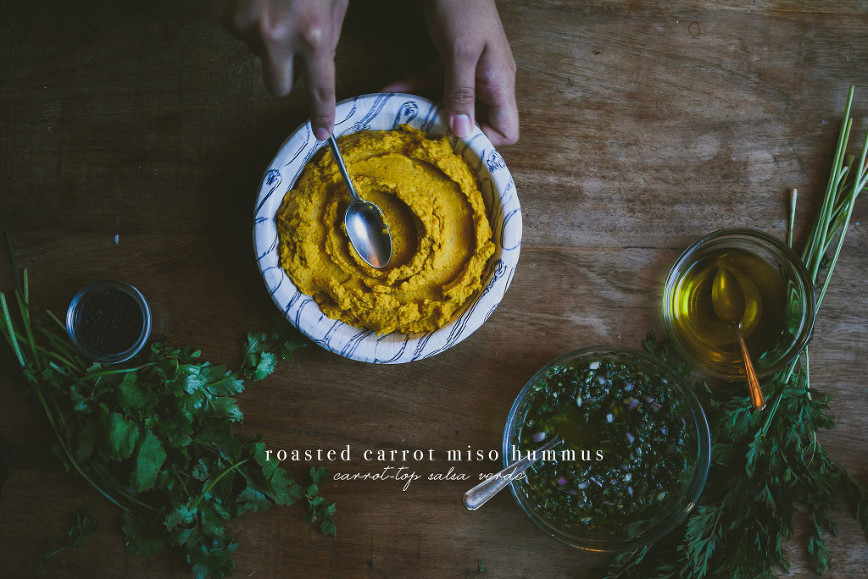 Yesterday I stepped outside wearing a chunky sweater and soft gray leggings. Last weekend I had a lovely coffee chat with Austin of Tea and Stories, and we both vehemently bashed apples – we both refuse to make anything with apples, a last resort to cling onto summer. However, with the new crisp air, lack of humidity, and the temperature dipping to 60s in the morning, I can't help but dream of apple, cinnamon, nutmeg, pears, gourds, pumpkin, and all the root vegetables. I gaze fondly at the still-green trees around me and imagine the full fall plumage. I think I'm going to be a leaf-peeper, guys. If you haven't heard this term, I don't blame you – I didn't know what it was until I moved to New England. Leaf-peeping is a quaint term referring to gazing at the beautiful fall foliage. Maine, New Hampshire, and Vermont are popular places, but I think we get a fairly beautiful scene in Boston as well. As you may know, fall is an especially exciting moment for wedding photography. A year ago, we had a wonderful couple who had formal photos taken at Boston Public Gardens. Head over to the gardens on a Saturday afternoon and  you'll see at lest 5 wedding parties wandering around. For this particular wedding, the leaves had just begun to change. But there was one tree. One tree that was beautiful in its branching and boasted a spectacular ombre of fall foliage. I swear, there was an informal line, with multiple wedding parties waiting their turn for a shot beneath this grand, overachieving tree. New England fall foliage is quite valued!
I can't wait for all the leaves to fall so that I can jump into piles of leaves. Annie, my dog, especially loves these piles of crisp leaves. She dives in, chomps on everything, and runs around flinging leaves around. What else does this impending fall mean to me? The oven on. Frequently. I'm going to bake and roast everything, starting with this dish for roasted carrot miso hummus. I love hummus and can't believe I don't have a recipe for it up yet. It's the easiest dish to make and it's hard to go wrong with making hummus. For this, I decided to roast carrots with ample garlic and then top it with carrot-top salsa verde. You can eat all parts of the carrot, and it's a shame to throw away the unique herb-y flavor of carrot-top greens. Give it a try!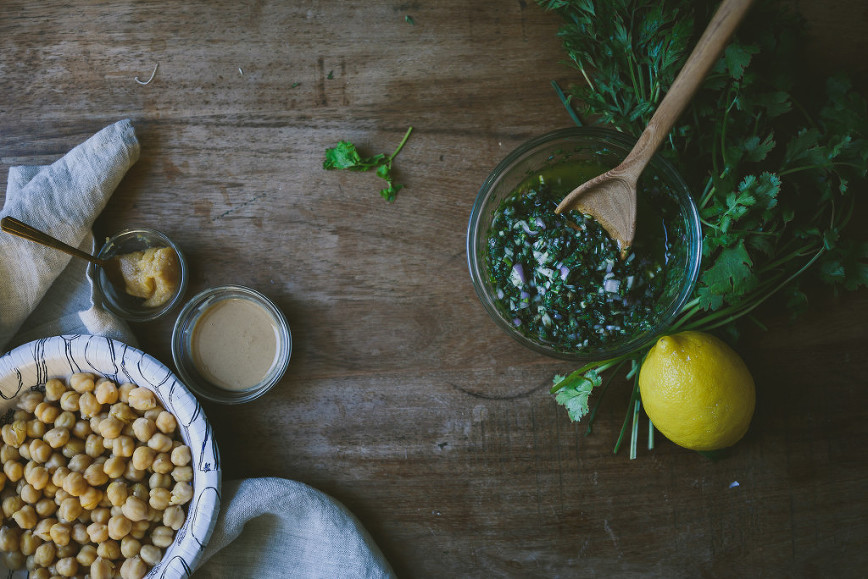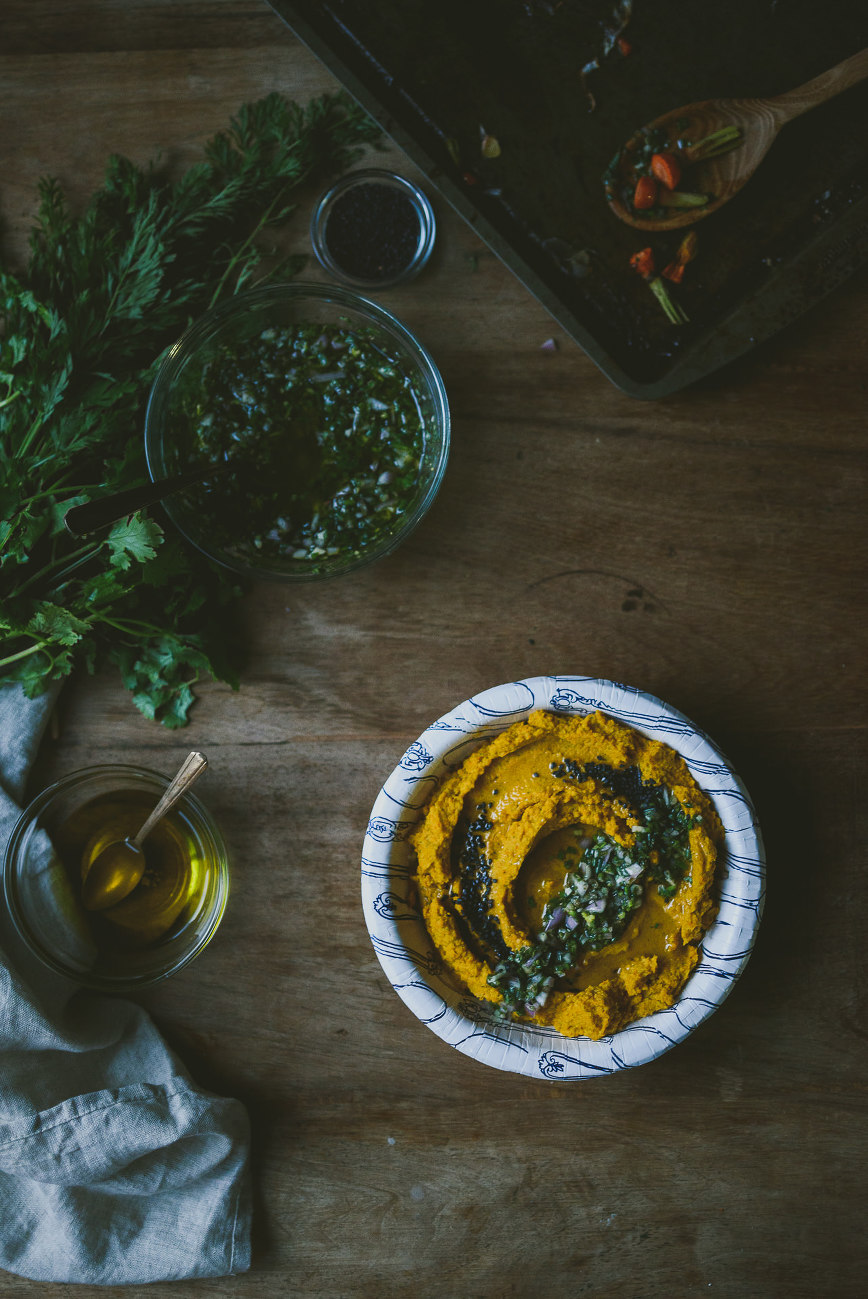 The carrots are roasted with a whole head of garlic and shallots. After 30-40 minutes of roasting, the carrots will be soft enough to process into the hummus, and the garlic will be so soft that a simple squeeze will have the cloves shooting out of their skins, ready to be mashed. I removed the loose skin from the chickpeas, which will help achieve a smoother hummus.



I based the salsa verde recipe from this classic one from the New York Times, sticking with the signature taste of capers but using carrot tops plus cilantro in addition to chives for the herbs. I'd have to say the carrot tops really do shine in this salsa verde. If you've ever held a bunch of carrots with their greens still attached, think back on what you smelled. That earthy, fragrant, herb-y aroma is coming from the carrot tops, not the carrots. They even taste a bit like carrots, but much richer and complex in flavor. I had extra salsa verde left over, and I tossed it with cherry tomatoes, plums, and mozzarella, and it was amazing!!!!!




In a typical Betty-fashion, I made a little stop-motion vignette showcasing plating hummus. The hummus is so soft and malleable but also form-keeping. It's fun to swirl a spoon and create deep spirals, perfect to hold some good olive oil and other garnishes like black sesame seeds. The salsa verde is a deep green due to the carrot-tops and chives, and I'm quite enjoying this color palette. It reminds me of fall.

Note: A huge thanks to Cheeky for sponsoring this post; all opinions expressed here are purely my own. September is Hunger Action Month, and Feeding America has launched a #Spoontember campaign to raise awareness of the 1 in 7 Americans who struggle with hunger. To participate, post a spoon selfie with the hashtag #Spoontember @FeedingAmerica @Cheeky_Home, and Cheeky is generously donating 1 meal per post to Feeding America. If you're not familiar with Cheeky, they donate a meal for every purchase even outside of the Spoontember campaign, and you can find them at Target. Amazingly, as of yesterday Cheeky had donated 4 million meals in 10 months!! 
Plates: Cheeky / Wooden Spoon: Old World Kitchen / Linens: Farmhouse Pottery /
RECIPE: Roasted Carrot Miso Hummus + Carrot-Top Salsa Verde
Roasted Carrot Miso Hummus
1 can chickpeas, drained and rinsed (outer skin peeled off)
1 bunch carrots, scrubbed (reserve green tops for salsa verde)
1 head garlic, top sliced off to reveal cloves
1 shallot, chopped
olive oil for roasting

3 tbsp tahini
2 tbsp white miso paste
1 tbsp lemon juice
1/2 cup fresh cilantro, chopped
1 tsp sea salt
pepper, to taste
1/2 tsp ground cumin
2 tbsp olive oil
up to 1/2 cup water, to loosen hummus up

black sesame to garnish, optional
1| Preheat oven to 400F. Toss carrots, shallot, and head of garlic with some olive oil and sea salt. Roast for 3-40 minutes, flipping half way, until carrots are tender and lightly browned. In the meantime, make carrot-top salsa verde.
2| Let cool. Garlic should be soft and easy to extract.
3| In a food processor, combine chickpeas, carrot, garlic cloves, shallot, tahini, miso, lemon juice, and cilantro and pulse until smooth. Drizzle in 2 tbsp olive oil with the processor still going. Add water only if necessary to loosen hummus up.
Carrot Top Salsa Verde
1/3 cup carrot tops, finely chopped
1/3 cup cilantro, chopped
1/3 cup chives, chopped
grated zest from one lemon
2 small cloves garlic, minced
2 tsp capers, drained and chopped roughly
1/3 cup olive oil
1 tbsp lemon juice
3 tbsp chopped shallot
1/2 tsp sea salt
fresh ground black pepper, to taste
1| Combine carrot-top, cilantro, chive, garlic, lemon zest, capers and mix well. While mixing, slowly drizzle in olive oil. If not immediately serving, set aside to let sauce infuse.
2| Combine lemon juice and chopped shallot.
3| Right before serving, add lemon juice + shallot to the rest of the sauce. Season with salt and pepper, to taste.