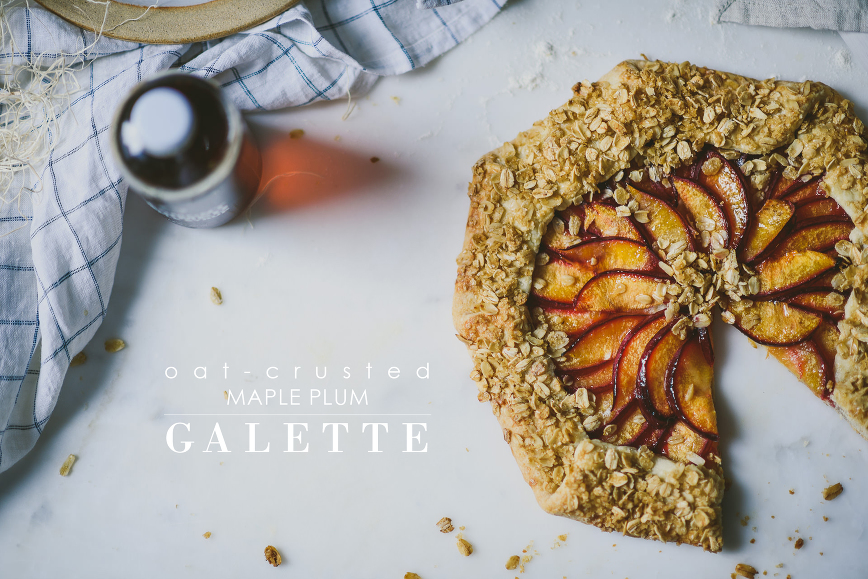 I grew up in California, where, contrary to popular belief, there is the phenomenon of changing foliage in the fall. Admittedly, not a lot, but there are pops of red and yellow to be seen gracing the blue skies when October rolls around. One of the first harp pieces I learned to play was Feuilles d'Automne, by Alphonse Hasselmans. It was a beautiful, moody piece with a melancholy and deliberate melody, proudly displaying the almost mystical qualities of the harp. I'm a sucker for French romantic pieces and as a beginning harpist, I fell in love with this piece. At that time I'd never experienced full foliage changes but I could imagine it in my head. Bright reds, yellows, oranges and a light breeze and blue skies. Knit sweaters, boots, and oversized scarves. However, the reality is that this musically-provoked image was nothing compared to my first New England fall. Reds, yellows, and oranges, yes, but also all the tones in between. The goldens, the yellow ochres, the fiery reds and burnt orange, glistening and merging until you see an never-still ombre so brilliant you can't look away. Even in gloomy days with a blanket of fog, you can see tips of color beckoning to you. Fall is wonderful. The sudden onset of apples, cinnamon-desserts, pumpkin, squash and the anticipation of the holidays is both giddily exciting but also overwhelming. Sometimes I want to just take a step back from all of that and just bask in nature's transition from summer to winter.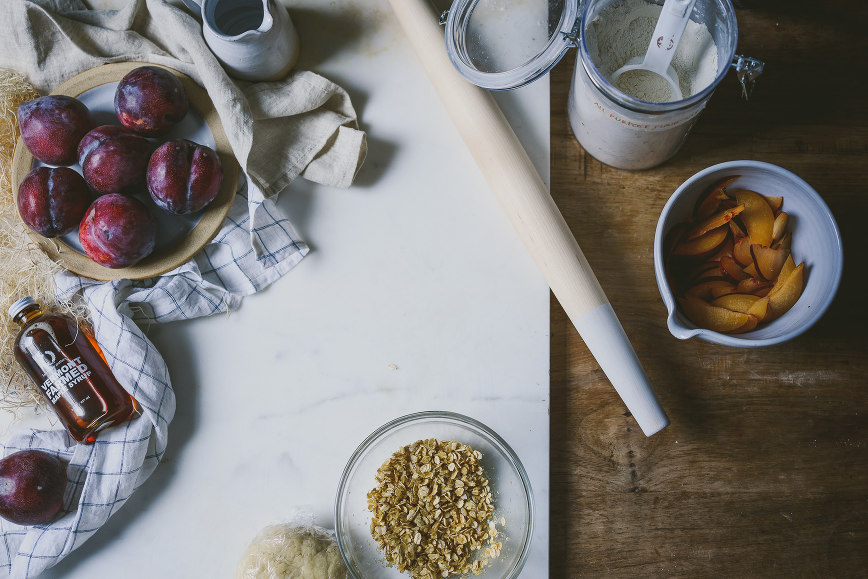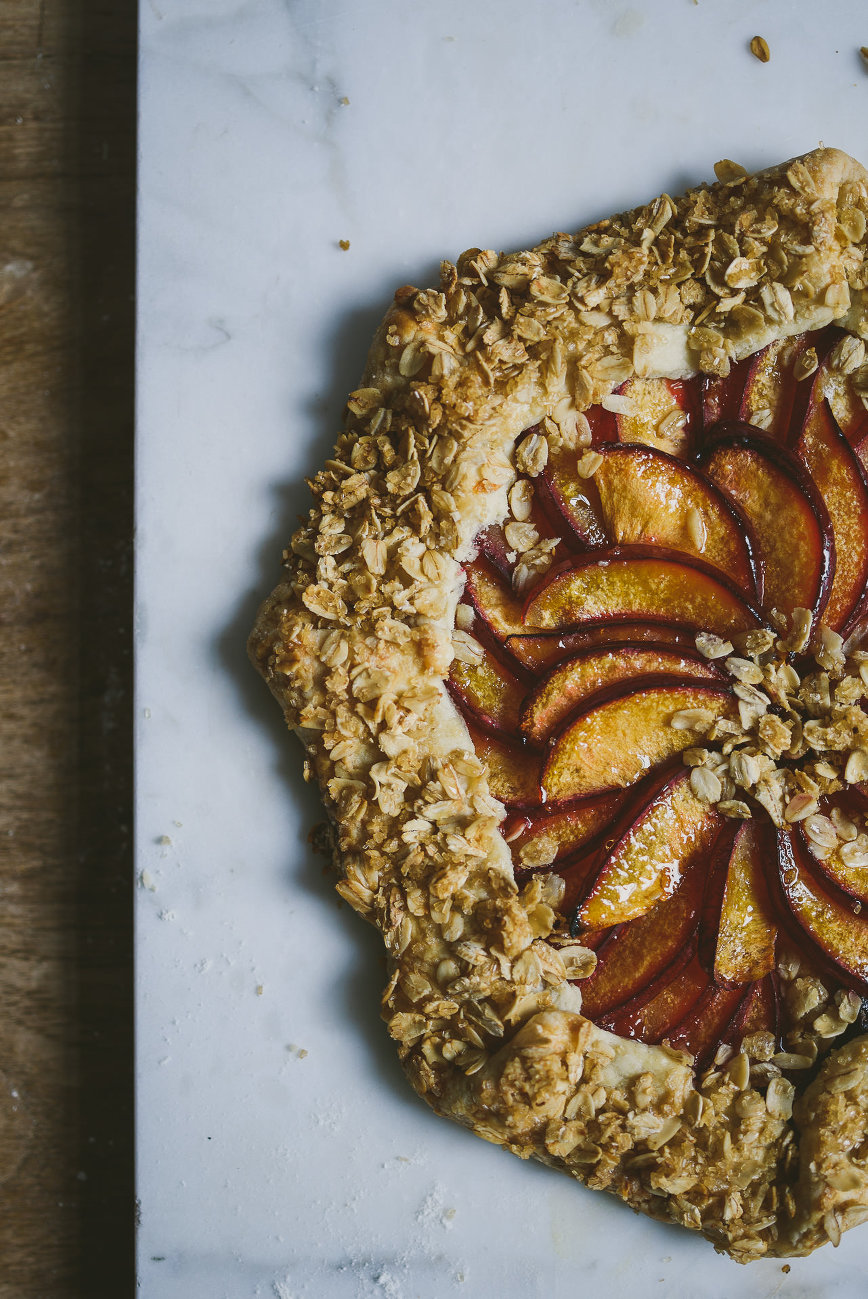 Right on the tails of that sentiment, I'm going to talk about fall foods. On the forefront are pies, galettes, and tarts. Prune plums are bountiful and in season now – September and early October. Find them and grab onto them, because they disappear fast. They hold flavor really well after cooking and I'm itching to use them in a braise. The flavor of these plums pair perfectly with maple syrup. Fair warning: use good quality maple syrup. I used amber maple syrup from Vermont, specifically Farmhouse Pottery's maple syrup. It is so good. Oh my God, taste this with a generic, low-grade maple syrup and you will instantly tell the difference. You don't even need a sophisticated palate like for wine tastings. The difference is that obvious. Use quality maple syrup and your dish will shine.



What is an oat-crusted galette? I was inspired by oat crumble pies and granola. I love the crunch of granola and the texture that a crumble can give to a pie, especially with juicy fruits in the filling. I also love textured and crispy surfaces when it comes to pie, so I thought, why not in a galette? Guys, it was good. Really crispy, crunchy, and the perfect amount of sweetness. Imagine extra crispy crust surrounding a juicy plum filling – delicious, right? Try it – I guarantee it won't disappoint you.



Bake until golden and… you get a lovely, textured crust that is unimaginably crispy and flaky!!! Lovely, isn't it? hints of maple syrup muddled with the juiciness of prune plums, all complemented by the subtle nutty crunch that the oat crust contributes – this is a galette that will please your guests. It's easy to make and the oat crust will also hide any misshapen galettes you crimp!




Note: This post is sponsored by farmhouse pottery. All opinions are purely my own. They were also featured on Food52 recently, so definitely check them out!

RECIPE: Oat-Crusted Maple Plum Galette
crust adapted from Four & Twenty Blackbirds
Crust
1 1/4 cup all purpose flour
1/2 tsp salt
1 tbsp sugar
1 stick butter, pre-chopped into 1 cm cubes and placed in freezer
1/2 cup cold water + 1 tbsp maple syrup

egg wash: 1 egg whisked with splash of water

Oat-topping
¼ cup rolled oats
2 tbsp turbinado sugar
1 tbsp olive oil
1 tbsp maple syrup

Galette
1.5 cups prune plums, pit remooved and sliced thinly
1 tbsp sugar
zest of a lemon
1 tbsp flour
1.5 tbsp cornstarch
3 tbsp maple syrup
1| Pie Crust: Prepare all ingredients. Mix together flour, salt, and sugar.
2| Take butter out of the freezer and using a pastry cutter, a fork, or your fingers, work quickly and cut butter into dry ingredients. You should end up with pea sized chunks, which is completely fine!
4| Using one tablespoon at a time, mix water/syrup into butter/flour mixture, until just combined. Do not overmix or knead. Add the mixture gradually – you can always add more water, but you can't take it out. The resulting dough should be damp but not moist.
5| Shape into a disk and wrap with plastic wrap. Chill in the fridge for at least 1 hour.
6| Oat Topping: combine all ingredients together and set aside.
7| Remove dough from fridge. On a sheet of floured parchment paper, roll out dough.
8| Mix plums with sugar, cornstarch, flour, lemon zest, and maple syrup. Spread plum slices on dough, leaving 1″ around the edges.
9| Fold edge over fruit and crimp all around.
10| Place parchment paper with the galette on baking sheet and brush with egg wash. Sprinkle generously with oat topping.
11| Bake at 375F for 40-45 minutes, until top is golden brown.