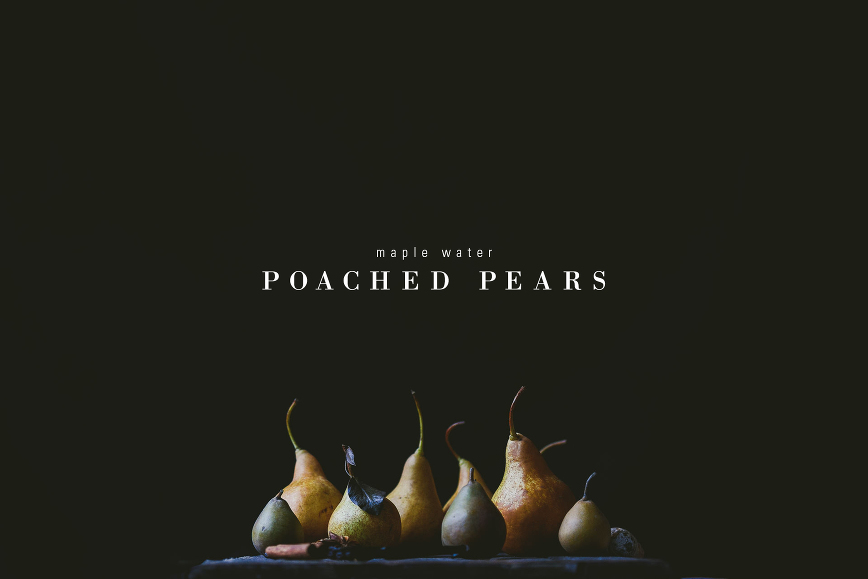 I'm not sure if it's my obsession with Vermont (and we just booked a wedding in VT next year! Woohoo) or how well maple and fall go together (even though maple is tapped in the spring), but I have been obsessed with maple recently. I make plum galettes enhanced by maple syrup, apple anise pancakes drizzled with maple syrup (but that's a classic combination), but I recently discovered that you can drink maple water. This is what is tapped straight from the tree before it is reduced to syrup and has half the sugar of coconut water, and has natural electrolytes! I had the privilege of trying a sample when I was at Whole Foods, and now I'm so happy to partner with Drink Maple to bring you maple water poached pears!!!!!!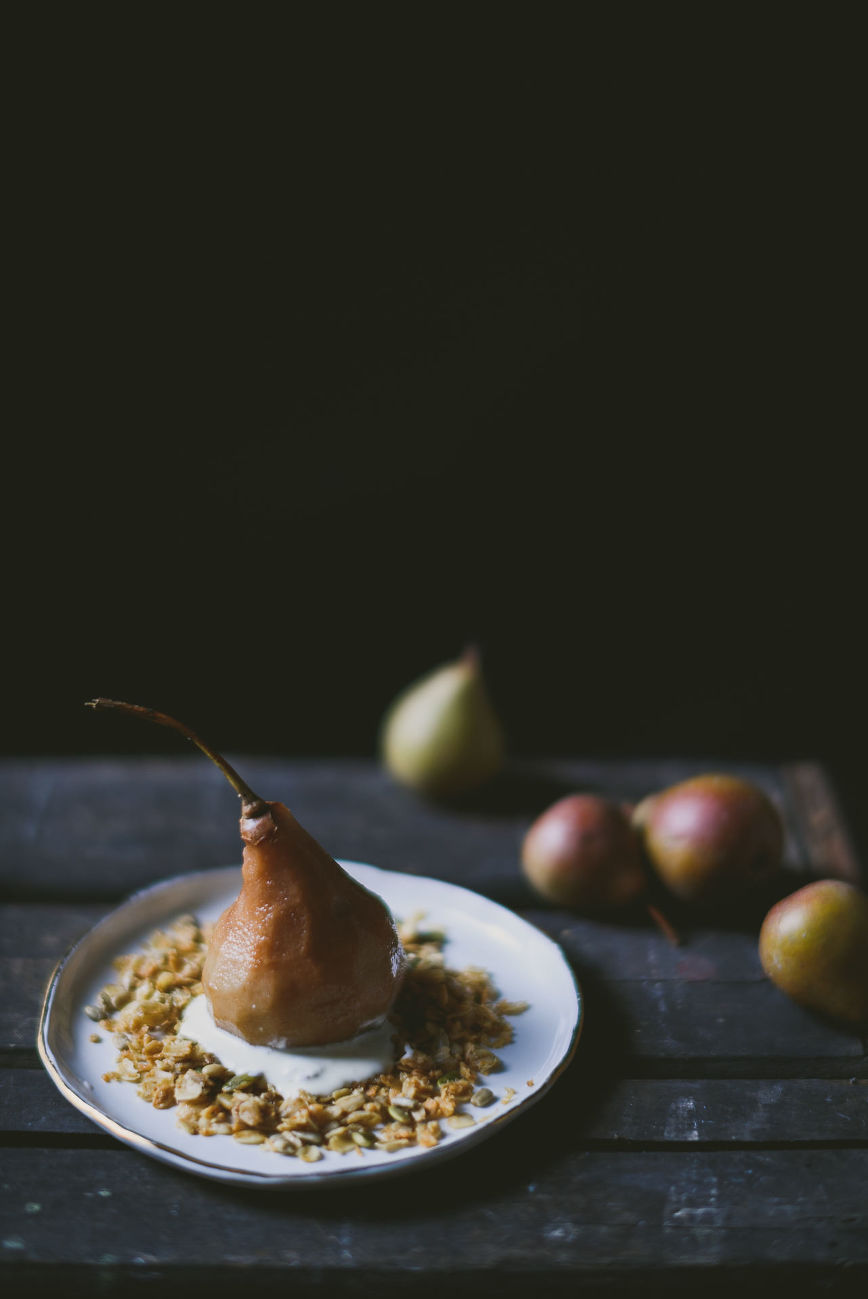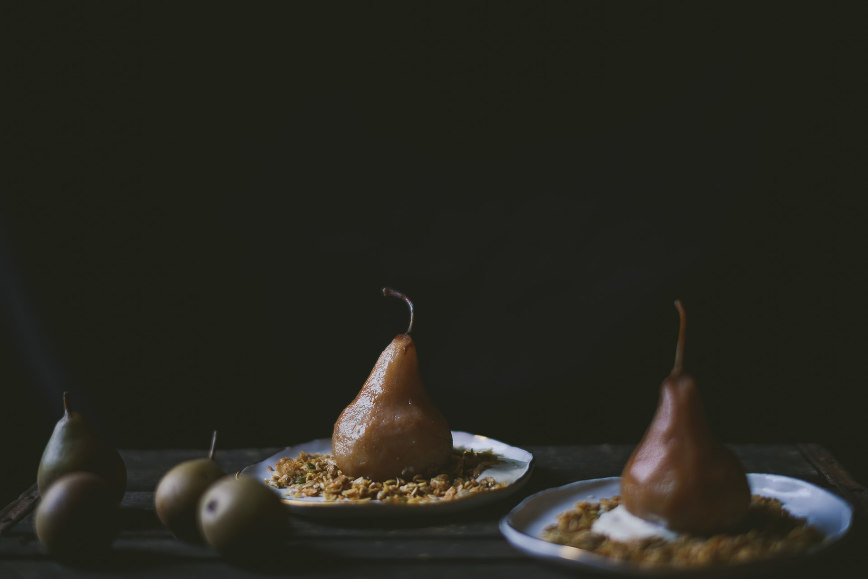 As you may know, I'm a fan of flavored poaching liquids (like in these poached plums), so I just had to try poaching in naturally flavored water, maple water. I took some ripe but firm bosc pears and poached them in maple water, along with a tiny bit of anise and half a cinnamon stick. The resulting fruit is delicious and perfectly flavored. It yielded a lovely, delicate, soft poached pear. I topped it with some olive oil maple granola (to continue the maple theme) and whipped ginger crème fraîche. This is actually one of the desserts I'm going to be sharing at our upcoming workshop, and I am so excited!

I recently discovered seckel pears – the small pears with the beautiful red, gold, olive green ombre coloring. I sometimes swing by Siena Farm's South End store, which is filled with crates of heirloom vegetables and fruits of all varieties. I picked up the pretty bosc pears but my eye was immediately caught on a crate full of these little Seckel pears. I asked about it, and I must be a really easy sell because I came home with a bag of those as well. I thought about poaching them alongside the bosc pears, but they are so little and so sweet (I did eat one right as I walked out of the store) that I thought they would fall apart in the poach. I'm glad I didn't, because these seckel pears are so good fresh!!! If you can find them around, definitely try it.





This post is sponsored by Drink Maple. All opinions expressed are purely my own. You can learn more about maple water here.
Notes:
Make sure you only put a tiny bit of star anise in – it is a strong spice and can easily overpower the poach.
My pears turned brown partly due to the bourbon, partly because I didn't properly douse it with lemon juice, which is acidic enough to prevent oxidation. It didn't affect the taste but it did turn them brown! Something to keep in mind.
If you don't want to use a dash of bourbon, leave it out!
The maple granola recipe is adapted from Food52's Genius Recipe, and it is a good one. I decreased the amount of maple syrup and sugar, and also switched the nuts out for seeds (as I am allergic). It's my go-to granola recipe, and I eat it with yogurt, on top of ice cream, or just by the spoonful. I'm that person who brings granola to class and chomps on it. No shame there.

RECIPE: Spiced Maple Water Poached Pears with Maple Granola
Poached Pears
4 Bosc Pears, peeled and cored, stem-on
4 cups Drink Maple Water
1/2 cup brown sugar
1/2 cinnamon stick
1/2 tsp whole cloves
dash bourbon (optional)
1/4 star anise pod
zest and juice of one lemon
1/2 vanilla bean, split lengthwise and scraped, reserving seeds and pod.
1| Sprinkle peeled and cored bosc pears with lemon juice and fresh lemon zest and set aside.
2| In a large saucepan, bring maple water to a boil. Dissolve brown sugar in. Add in spices. Simmer for about 5 minutes. Turn heat to low and place pears, standing, in water and cook for 15-20 minutes, covered, until fork-tender (depends on ripeness of your pears).
3| Remove from heat. Let cool to room temperature. Refrigerate pears in the poaching water to infuse. Refrigerate overnight for best flavors.
4| After at least 2 hours of refrigeration, reduce the sauce (optional)
5| Strain poaching water to remove spices and in a saucepan, heat maple water over high heat. Reduce until it has a syrup-like consistency, about 30 minutes.
Olive Oil Maple Granola
adapted from Food52's Genius Recipe.
3 cups old-fashioned rolled oats
1 cup raw sunflower seeds
1/2 cup pumpkin seeds
1 cup sesame seeds
1 cup coconut shreds
½ cup maple syrup
1/3 cup EVOO
2 tbsp turbinado sugar
coarse salt
1| Turn oven to 300F.
2| Mix everything together until well combined. Spread granola on a parchment-lined, rimmed baking sheet. Spread granola in an even layer. Bake at 300F for 45 minutes, making sure to stir every 15 minutes.
3| Remove and sprinkle with some salt. Cool completely.
Whipped Ginger Crème Fraiche
1/2 cup crème fraiche
2 tsp finely grated fresh ginger
1 tbsp packed light brown sugar
1 cup heavy cream
1| Chill bowl of a stand mixer for 10 minutes
2| Place crème fraiche, heavy cream, brown sugar in bowl and whisk until medium peaks form (1-2 minutes). Fold in ginger.
Serve: Place a spoonful of whipped crème fraîche at the base of standing pears and drizzle with syrup. Top with sprinkle of maple granola.