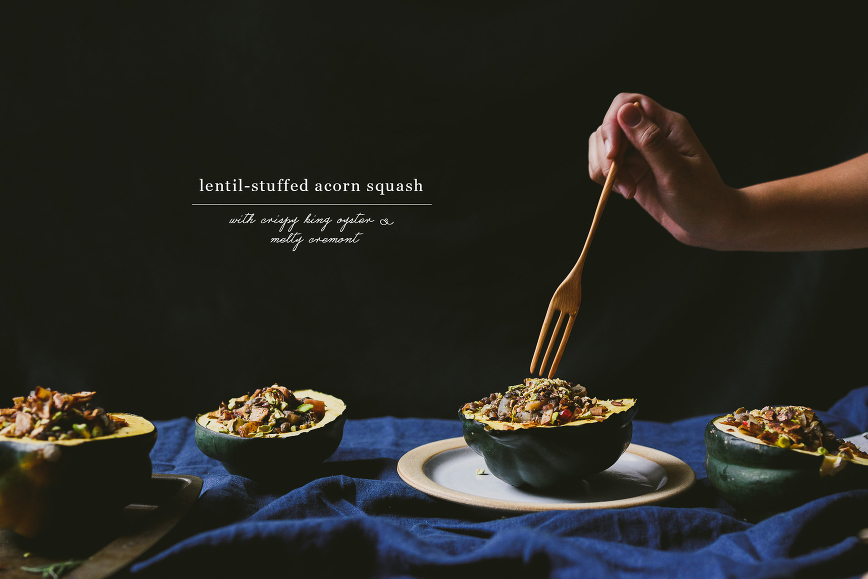 Yesterday, I drove up to Meg's place and struggled with five big boxes of bags, pans, products, and props!!! We giggled, let her dog Luke jump on us, tasted an awesome challah bread pudding we're serving on Saturday, and basically made a huge checklist of everything we have yet to do. Friends, this is the week! I'll be headed up to New Hampshire at the end of the week with some awesome people for the workshop!!! I'm super excited, and all our our ducks are (finally) in a row. Welcome bags collected, lessons planned, activities lined up, menus set and groceries bought – I'm looking forward to meeting everyone and basking in everything Tamworth, New Hampshire has to offer. I fully expect to fill up on sourdough bread and mushrooms – not a bad combination right? But before this workshop, I'm so happy to participate in this lovely virtual pumpkin party, put on by the talented Sara from Cake Over Steak! Have you seen her illustrations? Because you really should. This party actually came at the perfect time – I was planning and testing this stuffed acorn squash, because I'm serving it at our workshop!!
I'm head over heels for this kabocha galette, pumpkin spice japanese cheesecake, risotto + crispy prosciutto, and pumpkin polenta + goat cheese + mushrooms!!!! See everyone's delicious contributions to #VIRTUALPUMPKINPARTY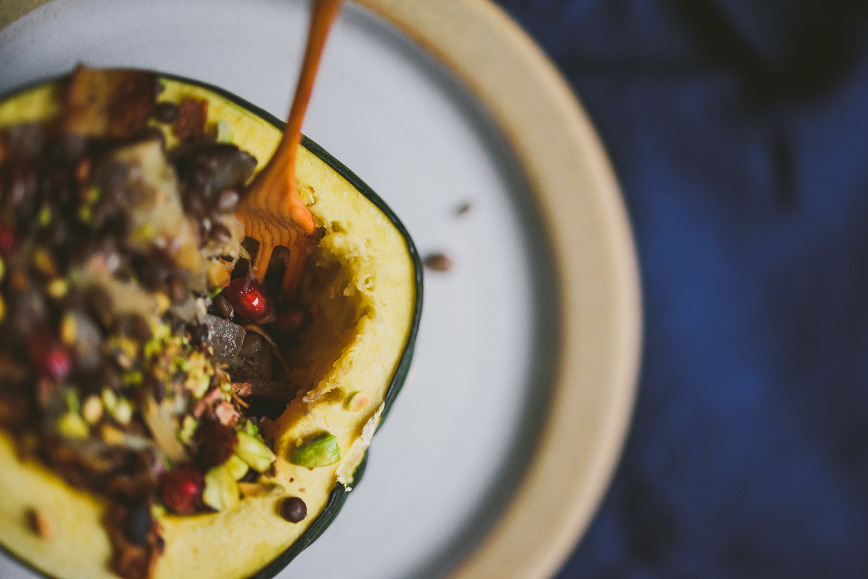 This is a really simple dish – roasted acorn squash halves with butter + maple syrup stuffed with lentils tossed with caramelized onions, apple, rosemary, and pomegranate, finally topped with crushed pistachios and crisped up king oyster bacon!!!!! What's missing in this description? The melty Cremont hiding within the stuffing – this is the star of this dish and brings it all together. Right when the acorn squash is removed from the oven, I put in thick chunks of Vermont Creamery's Cremont, an aged goat and cow milk cheese, letting it melt right into the acorn squash. Then comes the lentils and everything else. What you get in the end is bites of squash, lentils, and a creamy, melty filling of Cremont. So. Good. Crispy king oyster bacon is actually a mushroom, thinly sliced and fried until crispy. It was featured in this mushroom bowl post, and I've been using this technique ever since.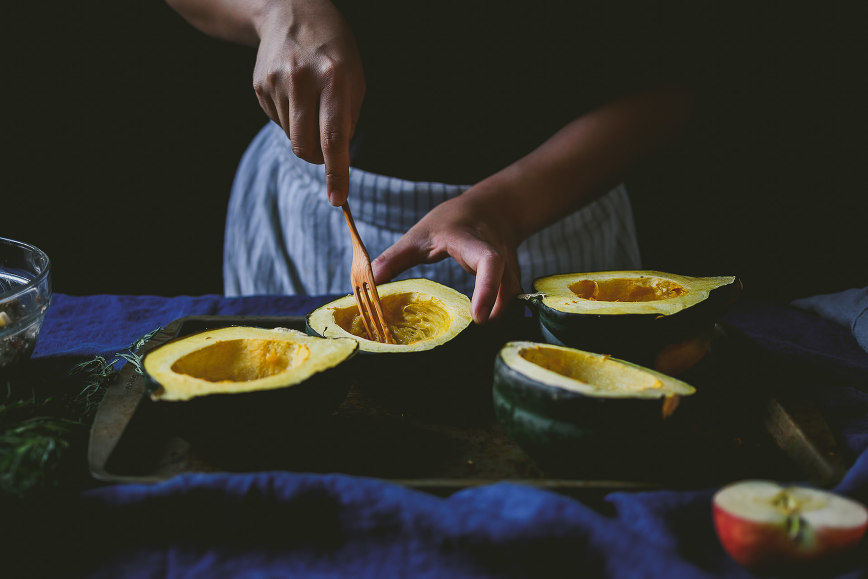 Let's talk about the acorn squash first. It's roasted until it's tender and soft. The butter and maple syrup you initially put in will be there in a nice melted puddle. At that point, use a fork to swirl it around and up the sides to spread that buttery maple-ness around. Then, immediately put in your chunks of Cremont.


Top with your prepared lentil filling. Pile it up until it overflows. Sprinkle pistachios and crispy king oyster bacon, and serve hot!!!! 





By the way, this post is not sponsored by Vermont Creamery. I just discovered this and have been obsessed with this cheese!!
Plates: farmhouse pottery / wooden utensils and scoops: apple doesn't fall / linens: the modern proper
RECIPE: Lentil-stuffed Acorn Squash with Crispy King Oyster and Melty Cremont
Serves 4
2 acorn squashes, cut lengthwise in half
1 cups dried lentils (or 2 cups cooked)
2 cups water or broth
2 apples, diced
½ medium onion, finely sliced
1 tbsp maple syrup for each acorn half
1/2 tbsp butter for each acorn half
1 tsp chopped rosemary
1/4 cup pomegranate seeds
1/4 cup crushed pistachios
4 slices Cremont (aged goat and cow milk cheese)
Cook Lentils
1| Bring dried lentils, 2 cups water, and pinch of sea salt to a boil. Lower heat to a gentle simmer, cover, and cook for 35-40 minutes, until lentils are tender and most of the water is absorbed.
Acorn Squash
1| Preheat oven to 375.
2| Cut acorn squash in half and remove seeds
3| Place maple syrup and butter in the middle of each acorn squash half
4| Bake at 375 for 40-45 minutes, until soft.
5| In the meantime, heat olive oil in a pan. Add in onions and cook until caramelized. Add in rosemary and apples and cook for 3-4 minutes
6| Combine in a large bowl with lentils, pistachios, and pomegranate seeds.
7| Remove acorn squash from oven, use a fork to scrape around and up the sides inside to mix the butter and maple syrup. Immediately place a slice of Cremont in each half to let it melt.
8| Add stuffing mixture and serve, topping with king oyster bacon and pistachios and aged goat cheese.
King oyster bacon
1|n a wide heavy bottomed skillet, cook thin strips of king oyster mushroom in one layer until crispy. Flip and cook until crispy. Place strips on a paper towel lined plate and let sit – it will turn crispy!