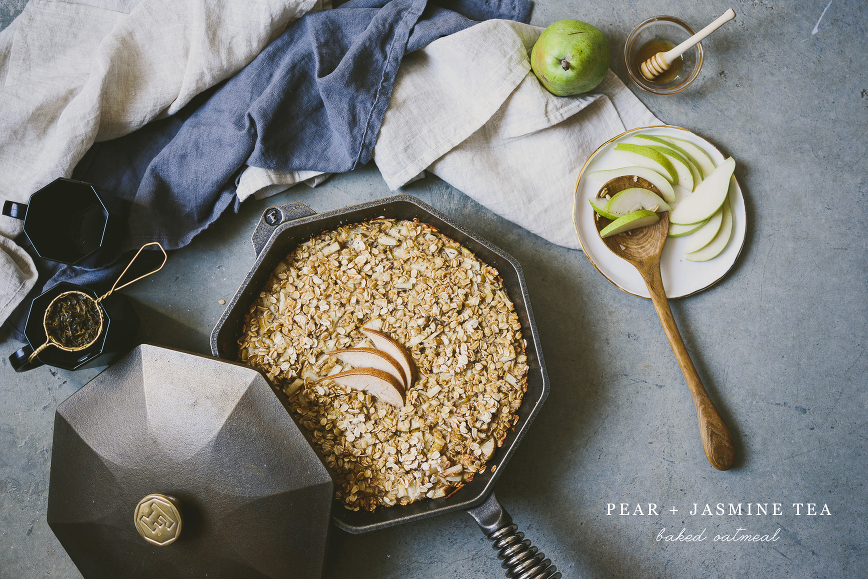 I'm bursting at the seams because I want to share everything that happened at the workshop with you all! I'm going to save that for another post, though, because after four days of nonstop styling, photographing, teaching, and cooking, I honestly did not want to touch food or my camera or LR at all. So, no recap for now, but soon :). It was an amazing, incredible experience that I hope I've captured through my photos. This recipe was tested weeks before the workshop, because it was our breakfast for Saturday morning. Instead of these pears though, I used Asian pears during the workshop – and it was so good. Asian pears are my favorite pears because they are sweet, juicy, and their flesh still retains a delicious crunch. I discovered my source for Asian pears at Belkin Lookout Farm, which grows the best Asian pears I've ever had. I was there on assignment for Edible Boston and my story was really apples + cider production, but they kindly took me on a tour and showed me their grove of Asian pear trees. After I could not hide my enthusiasm for this delicious fruit, he plucked a few and gave them to me!!! I was ecstatic and could not help but bite into one on the spot. Juice dribbled down my chin and my hands were thereafter coated with pear juice, but I didn't care. It was perfect. Luckily for me, I found out that they sold their Asian pears to the local Whole Foods. So, the day before I drove up to NH for the workshop, I stocked up :). That being said, using other pears like Bartlett or Bosc will work fine, too.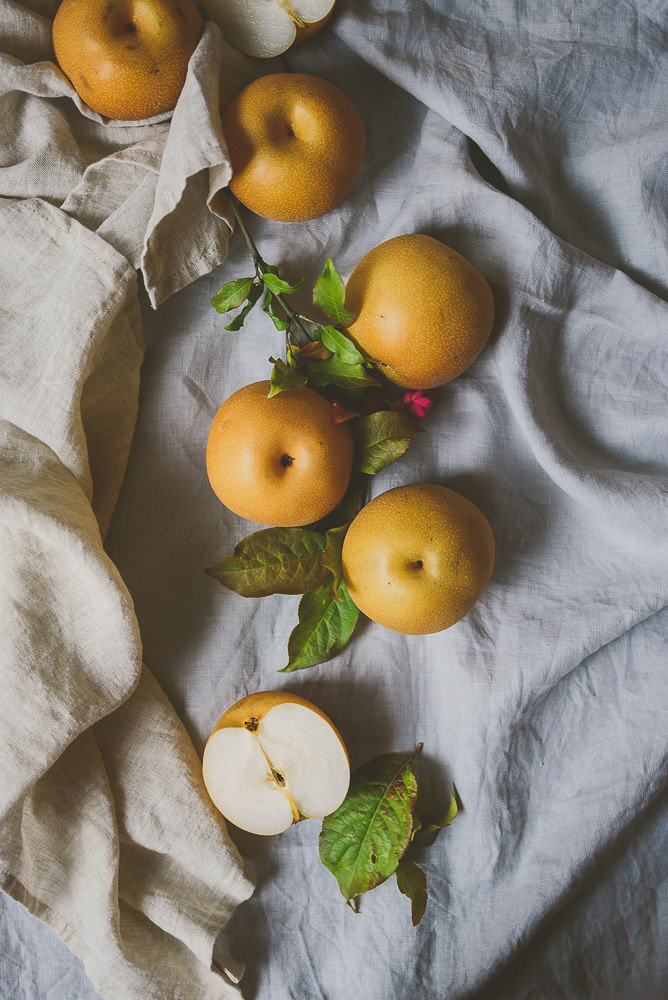 You can use any type of pear for this baked oatmeal recipe. I would recommend Asian pears, though, because of how sweet and juicy they are. Oatmeals soak up so much of the surrounding liquid that the flavor was really pronounced in the resulting baked oatmeal. That being said, it is very hard to mess up baked oatmeal. I sometimes don't even use a recipe and just eye it – you just need milk, seasonings, oats, and fruit. It's forgiving, which makes it the perfect breakfast for a cozy morning. Ever since fall started, I've been gravitating toward cozy meals – cozy lattes, cozy throws, cozy candles, and I'm loving all the cozy recipes proliferating the internet, like Jessie's porridge or Renee's horchata. I woke up this morning to the soothing pattering of rain, which made me want to throw out my schedule and just cuddle in the blankets with my puppy. By the way, if you're looking for a simple, cozy soup, I whipped up a kabocha apple soup for the Coastal Table blog, which you can find here.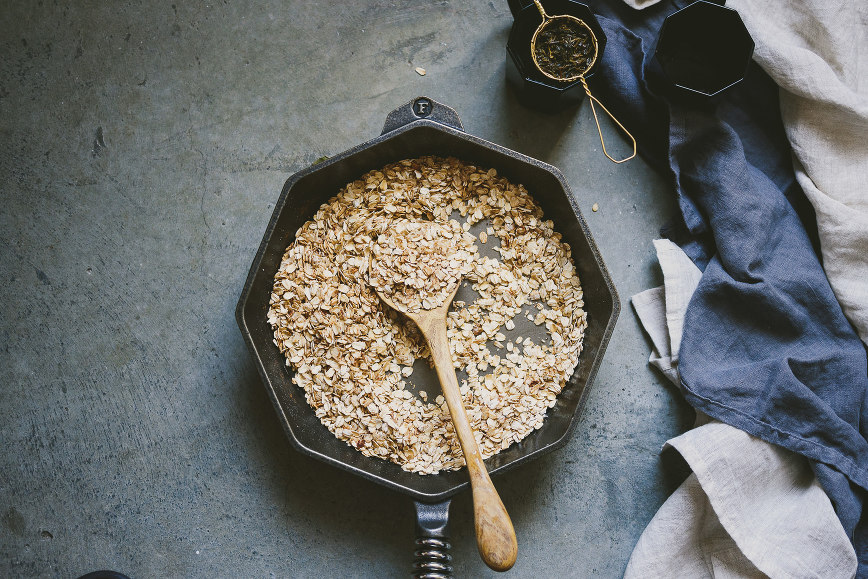 I could never resist adding tea as a complementary flavor to my baked goods. You've seen my earl grey bundt cake, jasmine tea pancakes, matcha panna cotta, earl grey ice cream – first of all, tea is my favorite drink, ever. I appreciate a good cup of coffee, but tea is my go-to drink, especially in the morning. Pears and jasmine green tea go well together and result in a wonderful floral fragrance. The tea is infused in milk, and also ground up finely in the baked oatmeal. Just imagine the smell from the oven as it's baking…




Note: This post is in collaboration with finex. All opinions expressed here are purely my own. Trust me guys, Finex's pans are brilliant. They are perfectly seasoned and I use the 12″ (used here) every day, and it has the easiest cleanup I've ever experienced for cast-iron. Definitely worth the investment! 
Plates: suite one studio / wooden spoon: Polder's Old World Kitchen / cast-iron pan: finex / tea strainer: Boston General Store
RECIPE: Pear Jasmine Green Tea Baked Oatmeal
inspired by and loosely adapted from Sini
2 cups milk infused with jasmine green tea
¼ cup honey
2 eggs
1 tsp cinnamon
½ tsp salt
1 tsp vanilla extract
2 pears, peeled, cored, and finely chopped
2 cups rolled oats
1 small pear, cut length wise for decoration
1 tsp jasmine green tea, ground up
Top with turbinado sugar
1| Preheat oven to 375 F
2| Heat up milk in a saucepan until scalding hot, but not boiling. Turn off heat and steep jasmine green tea in a sieve for 10-15 minutes. Let cool.
3| Toast oats: in a cast-iron skillet, melt better (about 1.5 tbsp) and toast the oats, stirring occasionally until a nutty smell wafts up, 2-3 minutes. Remove and let cool.
4| Whisk together milk, honey, eggs, cinnamon, salt, vanilla, jasmine green tea, until well combined. Stir in pears and rolled oats. Place into a baking pan or a pie dish and place decorative pear slices on top. Bake until golden on top, about 30-40 minutes. It should be a bit soft in the center. Let set for 10 minutes after removing from oven.
Serve with yogurt, more honey, and fresh fruit!