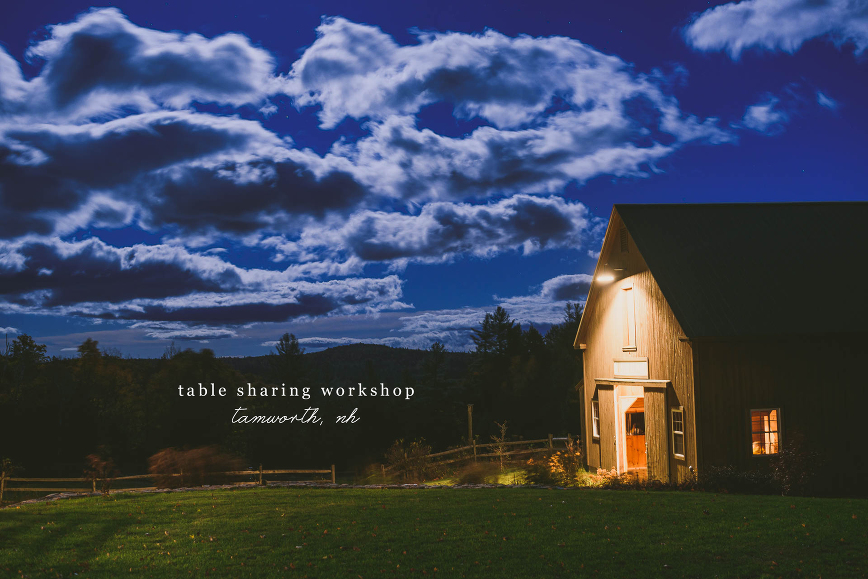 I want to begin this recap with a huge thank you. To our wonderful attendees, to our generous sponsors, to my lovely partner Meg, to the best assistant I could ask for, Summer, to the residents of Tamworth who made our stay so wonderful, and to all of you, my readers who have been with me through this process. I'm so excited to share photos from the event, and Meg and I are already planning for our next one :). If you missed out on this one, just send me an email so you can be informed first!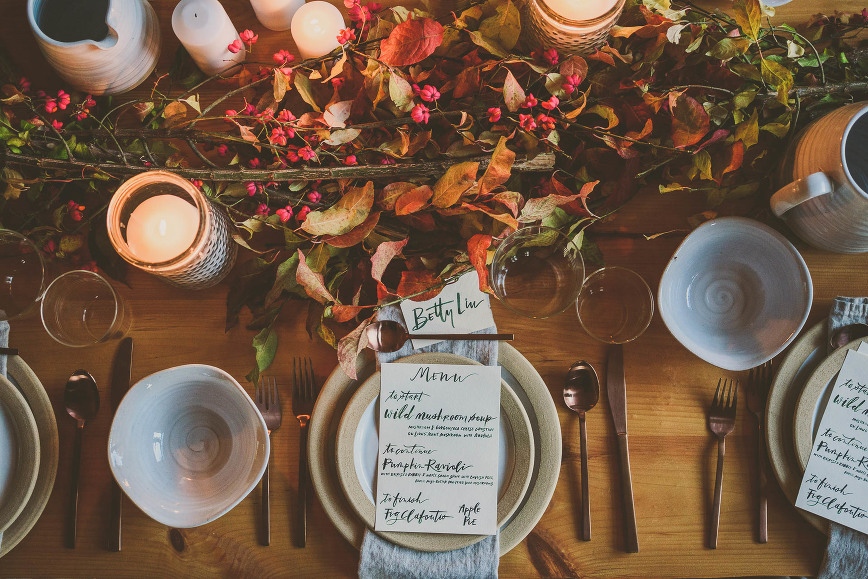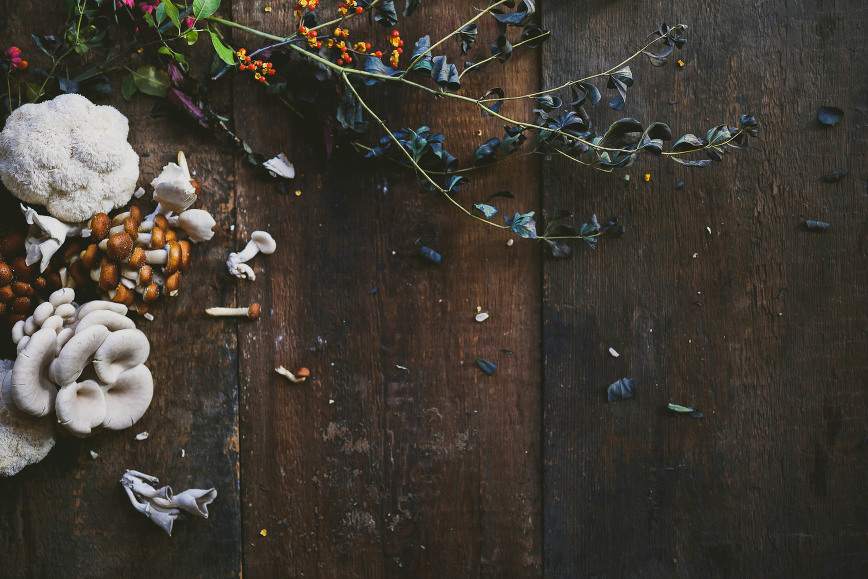 The weekend was a whirl of cooking, photography, teaching, and endless styling. We learned how mix porridge sourdough bread and then divide + shape them into loaves. In fact, we even got to take the loaves we mixed and formed back home with us, along with a parting gift of sourdough starter from the lovely ladies at Sunnyfield Bakery. The day I got home, I fed the starter. It was so satisfying seeing the active starter bubble and rise. I seriously cannot wait to start my sourdough bread adventure. We also went on a mushroom foraging trip, thanks to NH Mushroom Company. If you're in the area I highly recommend you make a trip to their farm. We first did a foraging trip by the White Lakes, where we collected whatever mushrooms we could find. The diversity of wild mushrooms in New Hampshire was astonishing. And mostly inedible!!!! The night before, our group had looked online and discovered the death angel mushroom, which can kill a person pretty immediately. And it's in New Hampshire!!!! One of the group members actually found it, and I swear all of our eyes popped wide open and we inched away from it. Insane. We did manage to find a TON of waxy cap mushrooms, which are edible and have a characteristic slime to it. Unfortunately, that slime does not wash off. I cooked it in some miso butter, but nobody wanted to eat it. I tried one. The texture was… not appetizing….
Gosh, I could go on and on about this weekend, but I'm so bad with words. So I'll just try to tell the story in photos. This is a pretty long post, so enjoy


I was excited for this weekend workshop. Meg and I were ready. We'd planned for months, writing out our schedules to the hour and finalizing full menus for each night. We had crazy color coded google documents and lists after lists. I bored my husband to tears as I chattered on about the technical side of photography and lighting, practicing talking about the more abstract concepts of photography out loud. As pumped as I was, I can't deny I wasn't nervous. I'm a natural introvert – I love one-on-one conversations and intimate small group settings, but put me in a crowd and I basically clam up, so naturally I was nervous about spending an entire weekend with basically 8 strangers, with me as the host + cook + teacher. But it was wonderful!!!!! I could not have asked for a better group- Liz, Zoe, Sara, Jessica, Robin, Katie, and Stephanie were amazingly warm, open, and eager to learn. I felt instantly at ease when presenting and good, thoughtful discussion flowed without much provocation. My favorite moments of that weekend was not actually our fun activities of sourdough bread baking or mushroom foraging but the moments after the classroom presentations when we'd all sit around in the living room with the fire blazing cozily, warm our hands with mugs of tea, and discuss food and photography. So, a huge thanks to our attendees. You all truly made this weekend special.


We woke up to the sound of wild turkeys, lay awake at night listening to the calls of coyotes, and watched the sun rise over the spectacular fields of the farmhouse we stayed at. Tamworth, NH was an idyllic, beautiful, calming place.
DAY 1 -welcome, everyone!



DAY 2 -sourdough bread baking
We started off with a styling / photography demo and allowed everyone to have liberties with the mushrooms, branches, and any props we provided.



Then we immersed ourselves in the lovely, hearth of Sunnyfield Bakery, warmed by the gorgeous wood-fired brick oven.







Lunch and dinner were, of course, more photography opportunities. There's something so special about a group of like-minded individuals coming together. Creating diffused light, standing on chairs, rearranging the table – these are normal activities for food photographers.

One of my concoctions for dinner was this miso-corn soup with baked lotus root chips. It was SO GOOD. I have a similar recipe coming your way next week :).


DAY 3 -mushroom foraging, picked up our loaves, + harvest meal
We started off with an amazing meal of toasted sourdough bread and perfectly poached eggs, made for us by Summer. She's a gem, that one <3.


We trekked to the White Lakes for our mushroom foraging trip!!! Summer and I were on the hunt for hen of the wood, but unfortunately we didn't find any! We were treated to a delicious, decadent de-constructed mushroom soup. Yup, this is soup, not a cappuccino. So good.





And here are the slimy waxy caps on the left and the deadly death angel mushroom on the right.


We went back to the bakery to pick up our loaves of sourdough, which rose overnight and was freshly baked in the wood-fired brick oven!


We concluded our last meal outside, made beautiful by our wonderful sponsors listed at the end of this post. We moved the table outside and set up a tablescape in an idyllic meadow, but of course, angry tumultuous clouds soon rolled in and we had to adjourn to the barn, which was a beauty in of itself!






As the host, I couldn't always whip out my camera to take photos of our meals, but I couldn't resist being that rude person at the dinner table who walked away mid-meal with my camera + tripod… I had to! The moon was out, the clouds were mysteriously formed, and there were stars peeking out! We were in Tamworth, New Hampshire. None of that city light pollution clouded my night shots. Had to do it, ok?



---

I would love to thank our sponsors. Without them, this workshop would not have occurred. I was amazed and taken aback by the generosity of our sponsors.
ACTIVITIES
Sunnyfield Bakery
New Hampshire Mushroom Company
WELCOME BAGS
West Elm warm throws + flatware
Staub mini cocottes
Print Club Boston custom linen toes
Hatchery tasting boxes + condiments
Boston General Store tea strainer + leather notebook
Cogworks bread boards
PF Candle Co candles
Taza Chocolate chocolate
DINNER + Other
LiWardian brush-lettered menus + name cards
Vermont Creamery goat cheeses
Farmhouse Pottery stoneware, enamelware, glass
The Modern Proper linens
Drink Maple maple water
Da Vinci Wine wine
Hermit Wood Winery mead
Pollen Floral Design florals