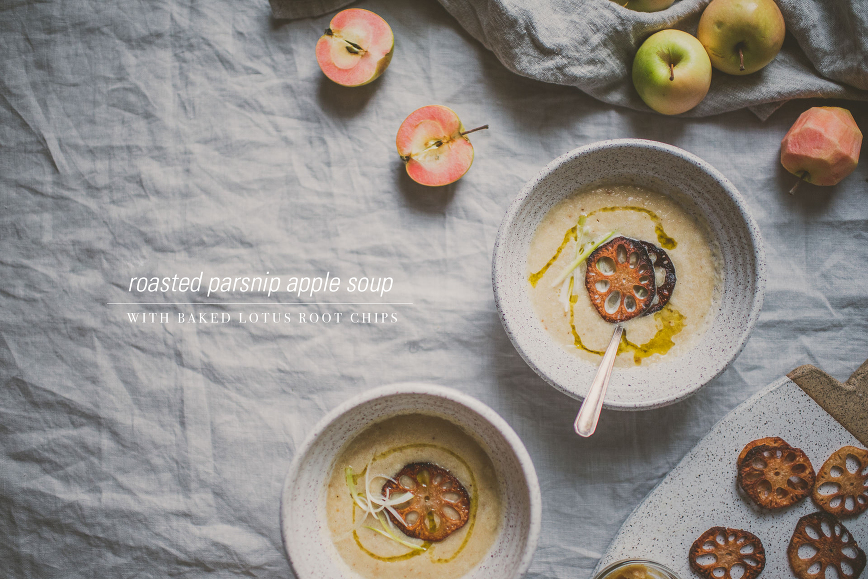 Carrots are always receiving attention due to their vibrant colors and beautiful heirloom varieties, and I love carrots, too, but recently I've been drawn to a vegetable that looks similar but possesses a different elegance and almost bold fragrance – parsnips. They're pale and creamy in color and have a unique, earthy taste to them that is just perfect for a cozy fall soup. As you peel a raw parsnip, you can almost taste the slightly sweet nuttiness of the vegetable, hinting at what it could taste like when cooked. I roasted them and then pureed them to form a soup. I've been obsessed with the umami-salty and sweet combination, so I couldn't resist adding a dollop of miso to it, and then adding some tart, crisp apples to enhance the parsnips' intrinsic sweetness.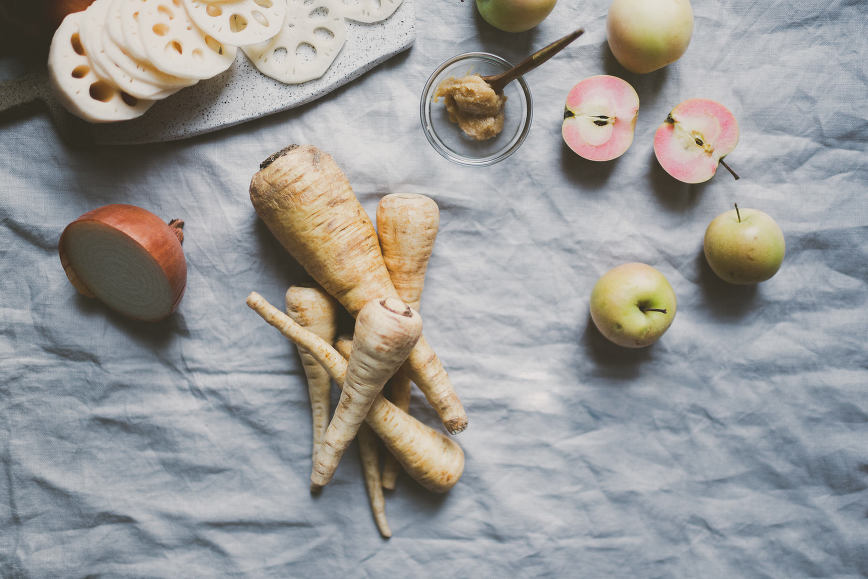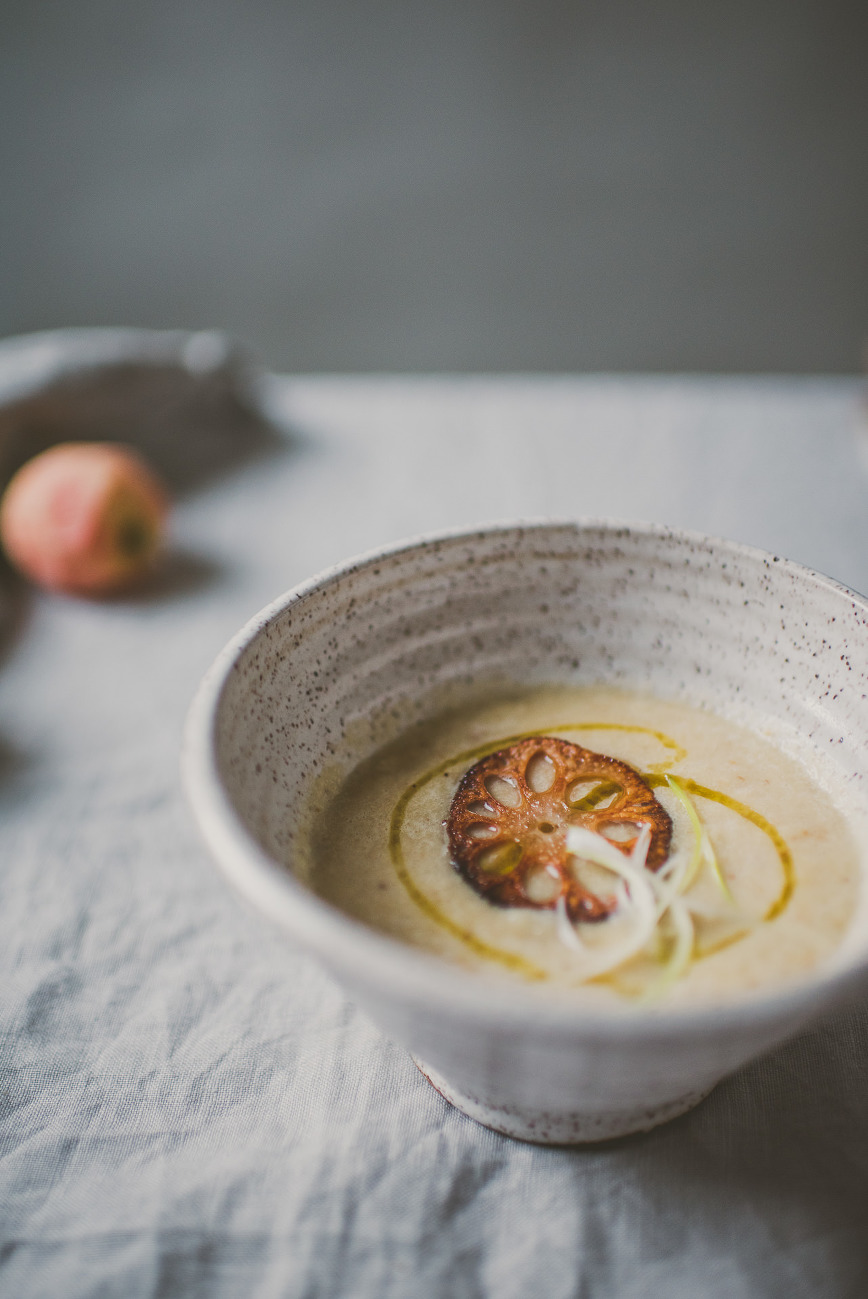 This soup is cozy. Rainy day weather, foggy skies kind of cozy. Instead of topping it with croutons, I crisped up some thinly sliced lotus roots with some salt and pepper. These can be made ahead of time, which is what I did, since they require a lower temperature so as not to get completely burnt. Lotus roots are a vegetable that is crunchy by nature, but can also get slimy when cooked. It's a slime that is welcome and you can often find them stir fried or incorporated in soups in Chinese cuisine. I've had them stuffed with sweet sticky rice or even as part of a porridge dish. This time though, I deviated from tradition. Actually, the first time I served these was at our Table Sharing workshop – I topped miso corn soup with baked lotus root chips, and it was so pretty and delicious I had to reproduce it, and this parsnip apple soup seemed like a great candidate. And it was. I love the contrast between the geometric shape and color of the lotus root chip and the creamy, pale parsnip soup. After I topped the soups, I just piled the rest of the chips on a plate and ate them like, well, chips.




I've partnered up with Wolf Gourmet to share this recipe for roasted parsnip apple soup with baked lotus root chips. When I was in St Louis, I had rented a house (also where we brought our dog Annie home as a little 11-week old puppy!!!), and for a year I lived in relative luxury with a newly renovated kitchen including a built in wine cooler, massive fridge, and most importantly? double ovens. That was actually the first year I hosted a large Thanksgiving dinner – a Friendsgiving, but because of my tendency to micromanage I ended up making all the dishes – and that double oven was very necessary. I had spreadsheets, timetables to the minute, and I think without a double oven I would've had to become very creative (and probably fail). Anyway, we moved away from St Louis and into Boston, which has a much higher cost of living. We're in a cute little apartment, with a tiny kitchen. Tiny. Miniscule. One oven that is often inaccurate, which wreaks havoc on my cakes. I did the whole Thanksgiving thing last year in this apartment, and it was OK – more finagling, more planning, but also less baked items because of the one oven limitation. Oh well. Gotta work with what you have, right?

Well, Wolf Gourmet sent me this beautiful, shiny, and most importantly, functional countertop oven. Why would I sacrifice precious apartment countertop space for this? Well, because it's 10 time better than my oven. It's got a crumb tray, digital thermometer, and also a proof setting, which is one of the settings I'm most excited for. I recently obtained a sourdough starter and right now all I've been doing is feed it (because it's my new pet and I have to keep it alive 😉 ), but I'm so excited to start baking sourdough, and I can't wait to use this proof setting!!!! I also bake a lot of challah bread, and I usually try to hack my existing oven by turning it to the lowest it can go (250) and then shutting it off, but the oven is usually still too high in temperature for proofing my challah, so I have to just… find somewhere else warm. In Boston, this is not exactly ideal in the winter.

Find the recipe for this soup over at Food Notes!
Anyways, I'm teaming up with Wolf Gourmet to give away one of these countertop ovens ($499 retail!!)!!! Just in time for Thanksgiving, right?

No more planning swap out times for the oven, no more adjusting recipes to fit one oven temperature – now you can have two ovens to prep for that festive meal. I know I'll be using mine instead of my subpar apartment oven!
to enter: Fill out the widget below and leave a comment on this post stating what you'd make first with this oven. You can gain an extra entry by following me on Instagram!! If you're already following me on instagram, just confirm that you've done so and you'll get the extra entry :).
Update – Giveaway has ended! Thank you all for participating. I truly enjoyed reading what you would all make first – I definitely had to go and get some food after reading through those comments :). Congratulations to Min for winning the Wolf Gourmet Countertop Oven!!
This post is sponsored by Wolf Gourmet, who is also providing a countertop oven to give away to my readers! All opinions expressed are purely my own, as always. Thank you so much for supporting the companies that support this blog.
Bowls + board: ogusky ceramics