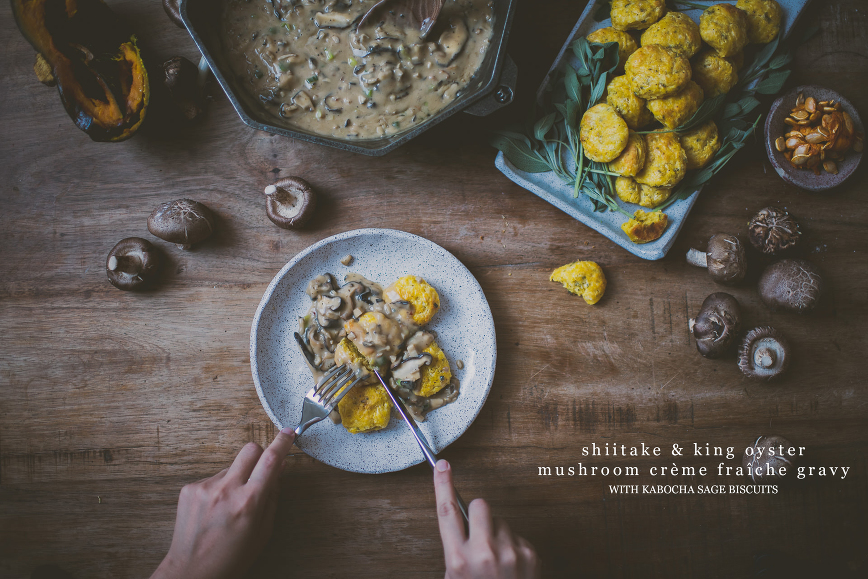 At first glance, you may think that this is all about that bright, yellow-orange kabocha biscuit studded with fragrant bits of sage, but you'll be wrong. This post is a tribute to shiitake and king oyster mushroom gravy, thickened and enhanced by tangy crème fraîche. It's no secret that I'm a bit obsessed with mushrooms and that one of my deepest desires is to find a big bunch of maitake someday to fry up, so with Thanksgiving right around the corner (next week!), instead of turkey turkey turkey, I've got mushroom mushroom mushroom in my head. Mushrooms are about as varied and intriguing as a painter's color palette. There are so many varieties (not all edible), and each one has its unique flavor. Two of my favorite mushrooms are shiitake and king oyster. I've had shiitake mushrooms since I was young. In fact, that was probably the main mushroom that we had growing up. It's packed with umami flavors and lends a depth to any soup or stir-fry. Sometimes we'd even have noodles cooked in shiitake soup. Not chicken soup. Shiitake soup. King oysters, on the other hand, captivated me with their almost pork-like taste. In fact, they even crisp up to make king oyster bacon, which you know I'm obsessed with. Fried up or used to make broth, these mushrooms are also packed with umami – that salty, sweet, deep flavor – and emits a wonderfully bacon-like fragrance. One time, I was frying up king oyster rounds in a cast iron pan with some butter and garlic, and Alex came home, took a huge sniff, and asked me, pork?!!!! But no. King oyster mushrooms! To create an umami-packed, deep, full-bodied gravy, I exploited both the shiitake and king oyster mushrooms, and now this is going to be my go to gravy. Have I convinced you about how amazing mushrooms are yet?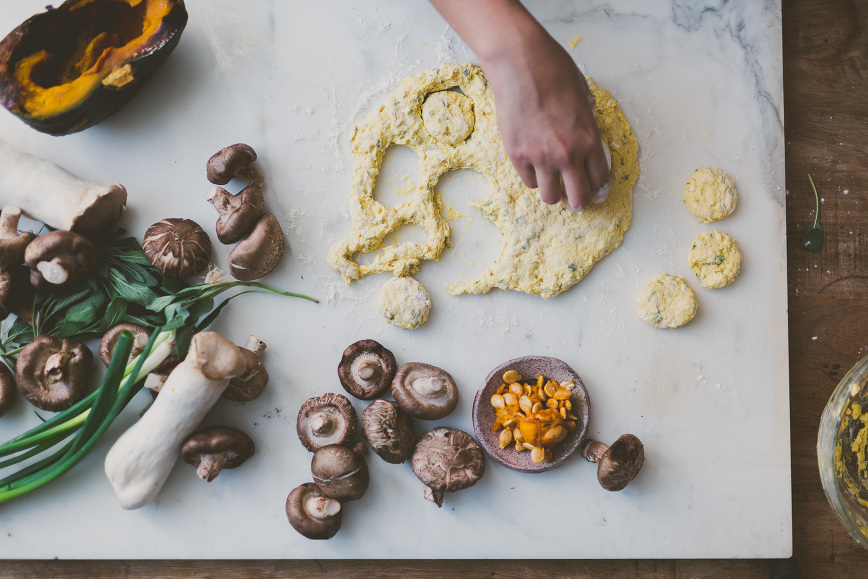 I also wanted to say, thank you all so much for participating in the giveaway. It ends tonight, and I'll be updating that post tomorrow for the winner! I loved reading what you all would make first in a countertop oven so much that I'll be hosting a series of giveaways this holiday season, so stay tuned :).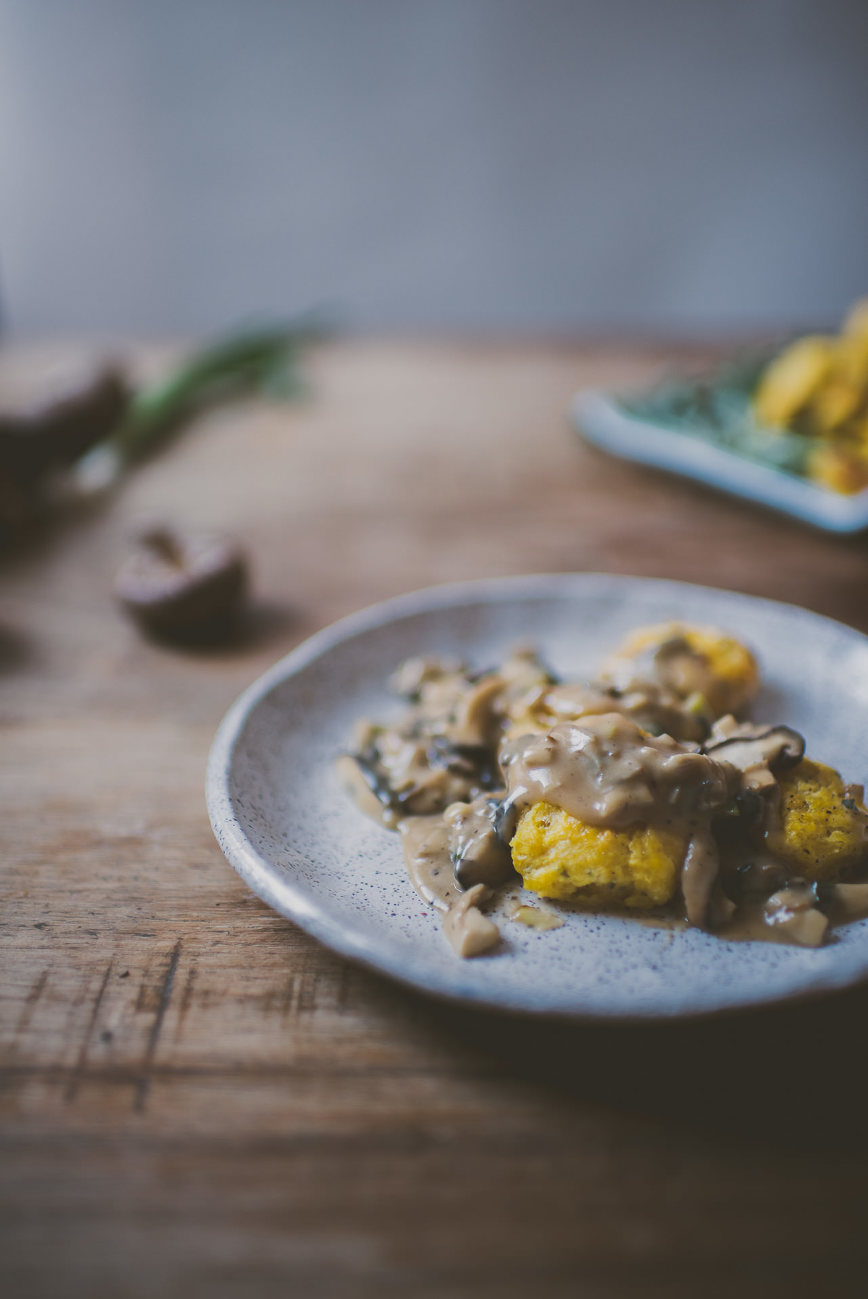 The biscuits are mini-sized. I don't have biscuit cutters (whoops) so I just used these measuring cups I had that were tiny. But I love  mini/tiny foods, so I was happy with that. These biscuits are adapted from the amazing Erika from Southern Souffle (I mean, who else would I turn to for biscuits?). I used the frozen grated butter method and added kabocha puree to get the taste and color of these biscuits. Root vegetables and mushrooms are a match made in heaven, don't you think? Whenever I'm doing anything with kabocha/butternut squash, I always want to throw in some mushrooms either as a base or as a complement. Chopped sage is sprinkled into the dough to provide a subtle fragrance that makes these biscuits irresistible! They are then slathered in warm mushroom gravy, but if you want to serve these as a Thanksgiving side, that's your prerogative. I just happen to love biscuits + gravy, my go-to brunch menu item.




This post is sponsored by vermont creamery. All opinions expressed are purely my own, as always. Thank you so much for supporting the companies that support this blog. I'm so in love with everything they make – the crème fraîche is a given, but their aged goat cheeses (cremont! bonne bouche! bijou!!! coupole!) are to die for and perfect with tart apples and honey, and their cultured butter is so dreamy I want to only bake/cook with it now.
---
RECIPE: Shiitake + King Oyster Mushroom Crème Fraîche Gravy and Kabocha Sage Biscuits
Biscuits adapted from Erika
Kabocha-Sage Biscuits
2 cups all purpose flour, sifted
2.5 tsp baking powder
½ tsp sea salt
2 tbsp fresh sage, finely chopped
6 tbsp butter, frozen grated
3 tbsp kabocha puree*
1 cup buttermilk
1 egg + splash of water for egg wash
1| Preheat oven to 450F.
2| Combine flour, baking soda, salt in a large bowl.
3| Thaw butter for a few minutes, then mix in butter with dry ingredients until butter is well coated and mixture resembles a coarse meal. Place in fridge for 10 minutes.
4| Whisk puree with buttermilk until smooth. Add buttermilk and chopped sage to the dry mixture and fold until just combined. It should be a rather wet dough.
5| Turn out onto a floured surface and pat until about 1/2" thick. Fold dough in thirds and pat again to about 1" thick.
6| Cut into rounds, re-patting until all the dough is used.
7| Place biscuits on a parchment lined cookie sheet and bake for 10-12 minutes, until tops are golden brown.
*Kabocha puree: cut kabocha in half and roast for 45 minutes at 400F. Let cool slightly before pureeing.
Mushroom Gravy
4 tbsp unsalted butter
2 tbsp olive oil
6 oz king oyster and shiitake mushroom, stems trimmed and thinly sliced
2 tbsp finely chopped scallion (white and pale green parts)
salt
freshly ground black pepper
4 tbsp all purpose flour
1.5 cup chicken stock
2-3 tbsp crème fraiche
1| Heat olive oil over medium heat. Add mushrooms and scallions and cook, seasoning with salt and pepper. Cook until mushrooms are soft and browned, about 5 minutes.
2| Reduce heat to medium low. Push mushrooms to the side of the pan. Melt butter.
3| Add in flour and stir to combine. Let flour mixture cook for about 3 minutes, until brown and toasted.
4| Slowly stream in chicken stock and stir constantly after each addition. Reduce heat to low and let simmer for another 5-6 minutes. Add in crème fraiche to thicken to your preference. Season generously with salt and freshly ground black pepper.
All ceramics: ogusky ceramics / wooden spoon: old world kitchen / cast iron skillet: finex us