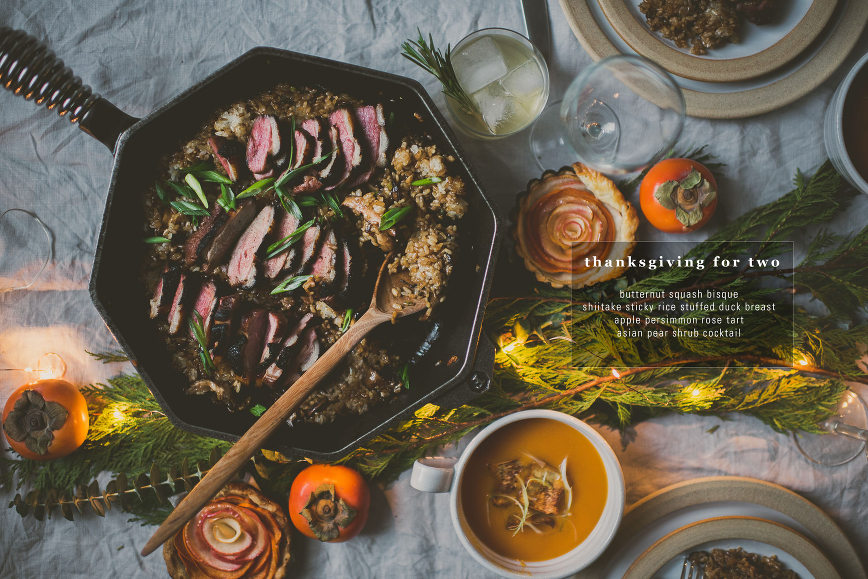 Thanksgiving has always been a time for gathering and for eating. Growing up, I had classic Chinese American Thanksgiving meals – huge gatherings of friends and family eating not turkey, but likely hot pot, steamed fish, and assorted other Chinese food. It wasn't until I was in college and stayed in St. Louis for the holiday that I had the whole American traditional Thanksgiving. The college, as a nod to all their international and west coast students, threw a huge Thanksgiving lunch banquet on Thanksgiving Day. Faculty and students from all disciplines trekked to the banquet and mingled like they would not have in their distinct academic departments. Thanksgiving, after all, is a rare opportunity to not only eat second or third helpings of really decadent comfort food, but also to congregate, have good conversations, and give thanks. During my first Thanksiving lunch banquet at the school, I felt giddy, as any freshman should. Turkeys! Gravy! Oh my gosh, there is actually sweet potato covered in marshmallow?
I fell in love Thanksgiving. In the later years we still stopped by the lunch banquets, but we also started hosting our own potluck-style Thanksgiving with our friends. When I moved to Boston, I did my first only-cooked-by-me Thanksgiving meal for a table of 12, and it was both fun and exhilarating and exhausting at once. We had paper napkins, paper cups, and disposable roasting pans, as we'd just moved a few months ago. I wouldn't have it any other way. The second year, Alex's family came over to celebrate with us, and I wanted to make a traditional meal to show them that Turkey does not have to be super dry and tasteless, as they had thought. That was even more terrifying but exciting, and it was our first Thanksgiving as a married couple. This year, I'm not doing any big meals. Instead, Alex and I are heading to maine with our dog and celebrating in a little loft in Portland with my sister and her boyfriend. I'll be making a variation of this meal – simple, so easy, and so delicious.
Plus, I'm giving away one of my favorite pans, a Finex 12″ cast iron skillet with lid!! See bottom of post for details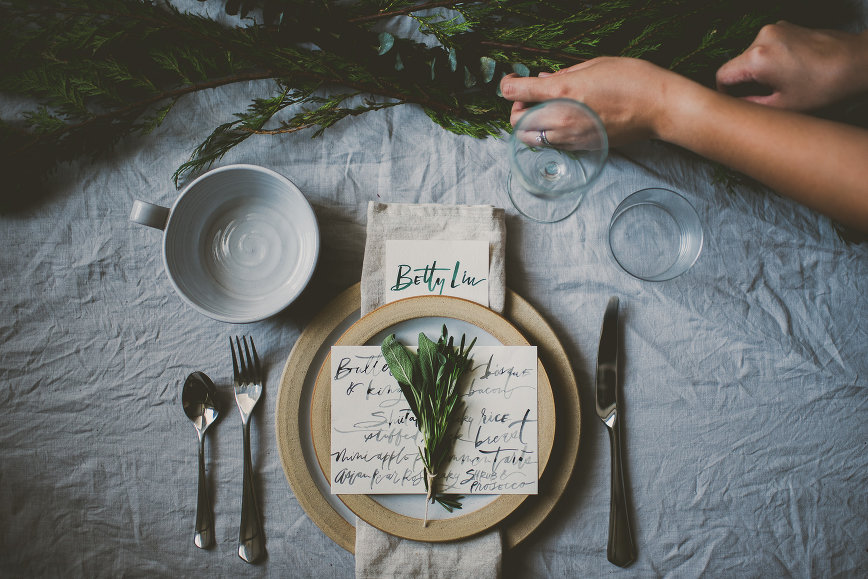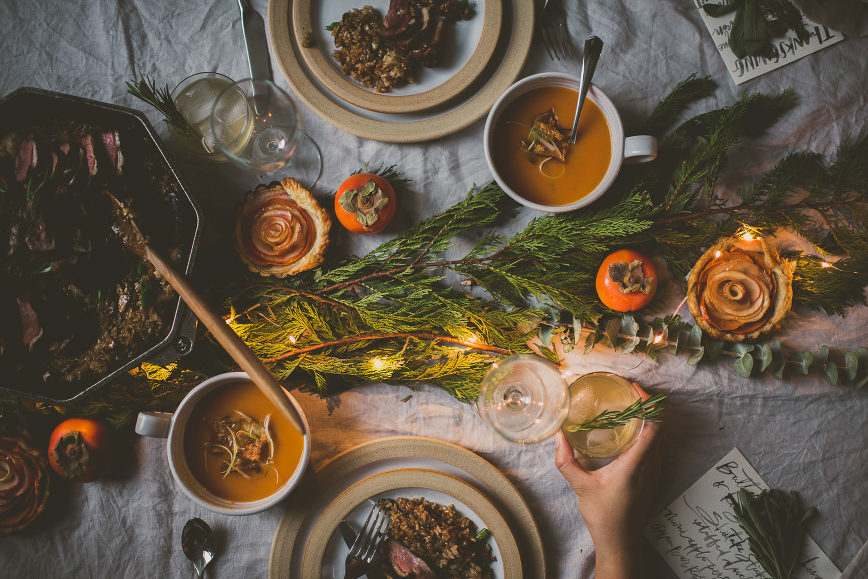 I loved setting this tablescape up. Photographing a Thanksgiving table scape, whether its for an intimate cozy dinner for two or a larger gathering of twenty, can seem daunting, but if you see every element of a Thanksgiving tablescape as an opportunity for styling, the process can become a dynamic, fun process to express your personal style. Styling can help bring photo to life – thoughtful styling can add movement, atmosphere, mood, and most of all, personality. I tend to lean towards muted, neutral tones accented by select color accents. I find that having a mostly neutral palette (notice the tablecloth, tableware, dinnerware, napkin, and menu are all of neutral tones) allows the shapes and color of the food to shine and draw attention. A simple garland of cedar and eucalyptus, accented by bright persimmons and a delicate string of lights is stretched across the table to provide an earthy, holiday cheer to the table scape. Take note of your color palette, be aware of the details, and have fun with your Thanksgiving table scape!!


Beautiful, beautiful hand lettered menus by Li, who ended up coming over to help me finish this meal :). Thank you, Li!! 

menu:
butternut squash bisque with king oyster bacon
shiitake sticky rice stuffed duck breast
apple and persimmon rose tart
asian pear shrub + prosecco rosemary cocktail

Looking for other Thanksgiving for two inspirations?? See Jessie's and Meg's wonderful, tasty menus. I wish I could crash each one!




Trying to stay true to the original usage of bisque, I incorporated shrimp and shrimp stock as the base – and I'm so glad I did. It does take a bit more effort to make the shrimp stock (but literally, just boil water with the shrimp shells!!), but the final result is worth it. The softened butternut squash, crushed tomatoes, and shrimp are blended together to form a smooth puree, but I strained the soup to create an even smoother, bump-free texture that will simply melt and coat your tongue with flavors. It's topped with my favorite topping, king oyster bacon, and curled up scallion pieces.


The star of the meal. My favorite. Everyone's favorite. An Asian American classic. Sticky rice!!!!!!! Instead of the classic American bread-based stuffing, Asians usually like to serve sticky rice, which can be flavored in so many different ways. I have the classic, with Chinese sausage and shiitake, and then Alana has a wonderful one with chestnuts and a whole bunch of other yummies. Of course, you can fry in some pork with it to make Shaomai's stuffing (but just don't wrap them). or, you can make this – a dish I want to make over and over again. I'm definitely making this come actual Thanksgiving. Sticky rice is stir fried in reserve duck fat, then baked with duck breasts spread across the surface, so that the fat rendered from the duck drips tantalizing into the sticky rice, spreading its flavor and charm. The duck is marinaded in soy sauce and wine and then seared, skin down, in a cast iron skillet to get and extra crispy skin. After the whole thing bakes, I let the duck breasts sit to finish cooking, then I slice it and arrange it prettily across the skillet. Serve and devour. Repeat next week (jk, but am i??)


You all know my fascination with fermentation, right? I did a quick ferment by making an Asian pear shrub! I did a slow overnight shrub, which basically means macerating the chopped and crushed pears with sugar and vinegar and letting it steep overnight. Before serving, I strained it, and as you can see, it provided a dreamy, golden color that perfectly matched the palette of my Thanksgiving meal. Add rosemary simple syrup and prosecco – how can it go wrong?


This is a riff of my apple wreath rose pie from last year. For the finale I wanted something both pretty and delicious, so I made an apple and persimmon rose tart. It's not really a tart but a mini pie, since the crust is still the buttery flaky crust of pie, but they're cooked in tart molds to create the individual serving. I served it with dollops of Vanilla bean creme fraiche, and it was divine. A perfect way to end the meal. The apple are cooked slightly to create that flexibility, but thinly sliced persimmons are so flexible and soft already that they don't need to be cooked to form the rose shape. After baking, the tart is brushed with rose syrup for an extra fragrance and shine.

---
FINEX PAN GIVEAWAY!!!! 
---
Friends, I am so thankful for each and every one of you. Is there ever a better time to get sappy than the holidays? When I started this blog, I never even dreamed I'd meet so many amazing people in this community. The blog world is seriously warm, giving, and sharing. I'm so happy to be a part of it, and your support means more to me than I can ever express. After last week's giveaway, I spent some time reading over each and every comment, and I loved matching instagram users to names to comments and discovering what you'd make first with the oven. Without you, my blog would honestly not even make a blip on the blogosphere. So, as a way to say thanks, I'm going to be hosting a giveaway every week for what's left of 2015!!!!! I'm bringing you products that I truly trust and love. Thank you so much for supporting me. For following along with me on my never-ending food journey, experiment with photography and styling. For just being there, whether you're a silent lurker or a constant commenter, I feel your presence. Thank you!!!! I'm no magician with words, so I doubt I can ever express how grateful I am for you all, but hopefully these giveaways can express that :).
Ever since I discovered Finex's cast iron skillets in the summer and tried out their 8″ skillet, I was in love. Instantly. Prior to Finex, I pretty much used nonstick skillets, but oh, boy, was I missing out. Cast iron really takes care of whatever food you're cooking – whether its browning meat, frying up some eggs, baking oatmeal or simmering sauce for a pasta. I'm so excited to team up with Finex to give away my favorite, everyday skillet – a 12″ Cast Iron Skillet with its own Lid!!! The lid is gorgeous and perfect for steaming or simmering. To enter, simply fill in the widget below and leave a comment telling me what your Thanksgiving plans are! If you're not celebrating Thanksgiving, just tell me what you want to make with this cast iron skillet. Open to US and Canada residents only. Giveaway closes in a week, on December 1st, 2015, so be sure to submit an entry before then!  Congrats to Suzanne for winning the skillet!!!!!! Thank you all for entering <3.
---
Note: This giveaway is sponsored by finex!!!! All opinions expressed here are purely my own. I'm so excited to give away one of these pans – I literally use it every day :).
---

Plates and Linens: Farmhouse Pottery / wooden spoon: polder's old world kitchen / cast-iron pan: finex / spanish wine glass: boston general store / menus: Li Ward
BUTTERNUT SQUASH BISQUE
adapted from here
3 tbsp unsalted butter
1 butternut squash, peeled and cut into cubes
½ cup thinly sliced onions
2 cloves garlic, minced
4 plum tomatoes, coarsely chopped
1 bay leaf
4 cups shrimp stock *
3-4 sage leaves
1 cup peeled shrimp (reserve shell + head for stock)
1 pod star anise

king oyster bacon
pale green to white parts of scallion, thinly sliced and placed in cold water to let curl
1| In a large saucepan, melt butter until foamy. Add onions and bay leaf and let cook until soft and translucent. Add squash and garlic, and cook until soft – 15 minutes. Add in shrimp and cook until shrimp turns pink (2-3 minutes).
2| Add in tomatoes and let cook for 3-5 minutes. Add in stock, star anise pod, and simmer for 10 minutes. Discard bay leaf. Remove star anise. Transfer to blender and puree until smooth. Turn off heat and slip in sage leaves. Cover and steep for 15 minutes.
3| Slice king oyster thinly (about 2 mm thick) and fry with butter in a cast iron skillet until crispy and golden on both sides. Let crisp up on a paper towel.
4| Strain soup and serve with king oyster bacon and curled up scallion pieces.
*Shrimp stock: place shrimp heads and shells in a saucepan and cover with water. Bring to a boil then simmer for 15 minutes. Strain.
SHIITAKE STICKY RICE STUFFED DUCK BREAST 
Sticky rice:
2-4 stalks green onion, white parts sliced thinly, green parts diagonally for garnish
2 cloves minced garlic
1 cup shiitake mushrooms, thinly sliced
2 cups sticky rice, soaked in water overnight


sauce
1.5 tbsp light soy sauce
1 tbsp oyster sauce
1 dash white pepper
2 tbsp shaoxing wine
1 tsp sesame oil
1 tsp salt

1/2 cup chicken broth

Duck
1 tbsp five spice
1 tbsp crushed Sichuan peppercorns
3 tbsp honey
3 tbsp light soy sauce
2 duck breasts, skin on, fat slightly trimmed, fat scored in criss cross
1| First, cook sticky rice in whichever way you prefer. I steamed it in batches but putting a plate on a metal steamer and spreading sticky rice over it (the old fashioned way). Set aside and put a damp paper towel over it to keep from getting dry.
2| Duck – mix marinade together and brush over duck. Let sit for an hour at room temperature.
3| Heat up a cast iron pan on medium-low and cook duck, skin down, for 5 minutes, until skin is crispy. Turn breast over and add the rest of the marinade in pan. Cook for just another minute. Set aside as you made the sticky rice. Leave remaining duck fat in pan, but if you think there is too much, pour some out (and save for other usage!). Don't forget to reserve marinade for the sticky rice, too!
4| This part happens quickly – in duck fat, cook white parts of onion and garlic until fragrant. Add in mushrooms and season with salt and white pepper. Add in cooked sticky rice, sauce, and mix. Turn off heat and let sit for one minute. Then, place duck breast on top, pour in 1/2 cup chicken broth and place in oven at 375 degrees for 7-8 minutes, depending on the thickness of your duck breast. Let sit for 1 minute. Remove duck breast and arrange in slices over sticky rice. Serve, topped with green parts of scallion.
APPLE + PERSIMMON ROSE TART
Pie crust adapted from four & twenty blackbirds

Pie crust
1 ¼ cup all purpose flour
1 stick butter, cold and cubed
½ tsp salt
1.5 tsp sugar
½ cup cold water (more than needed)
2 tbsp rose water
3 apples, peeled and sliced very thinly
2 persimmons, peeled and sliced very thinly,
3 tbsp sugar
dried rose petals, to top

egg + splash of water, whisked

rose syrup to finish
1| Prepare: Cube butter into 1cm pieces, and place it in a bowl in the freezer. I find that this allows the butter to get very cold before you work with it. Put the 2 tbsp apple cider vinegar into cold water, and place this into the freezer as well. Don't worry about it freezing- you will use it before it can freeze.
2| Combine flour, salt, sugar.
3| Take cold butter, and using a pastry cutter, fork, or fingers, work quickly and cut butter into dry ingredients. Pea size chunks will remain, and that's completely fine.
4| Take out rose / water mixture. Using tablespoons at a time, mix it into dry ingredients until just combined. Do not overmix or knead. Add the mixture gradually – you can always add more water, but you can't take it out. The resulting dough should be damp but not moist.
5| Shape into a disk and wrap with plastic wrap. Place in fridge. Let dough rest for at least 1 hour. 
6| Cook apples and sugar in a small saucepan for 3-4 minutes, until apples start to wilt and become flexible.
7| let apples cool completely. Preheat oven to 350F.
8| Roll out dough and place over individual pie/tart molds. Shape remaining dough into leaves, if desired. Arrange apples and persimmons in alternating layers on top of tart. Brush leaves (if using) lightly with egg wash and bake for 30 minutes until golden brown on top.
9| Remove from oven and brush immediately with rose syrup.
ASIAN PEAR SHRUB + PROSECCO ROSEMARY COCKTAIL
Asian pear shrub
2 cups asian pears, chopped and slightly crushed
½ cup sugar
½ cup apple cider vinegar

rosemary simple syrup
3-4 sprigs rosemary
1/2 cup water
1/2 sugar

prosseco
3 oz gin (optional)
1| Add pears and sugar and vinegar into a mason jar. Cover and shake vigorously. Let sit overnight. Strain through a sieve into another mason jar. Store in refrigerator for up to 2 months.
2| Bring rosemary syrup ingredients to a boil and let simmer until all the sugar is dissolved. Let cool completely.
3| Combine 1 tbsp syrup, gin, 3 ounces of pear shrub (more if you want more of a tang), and prosecco together. Cocktails are completely up to personal preference – if you want more prosecco, add more. If you want a sweeter drink, add more rosemary. if you want more of a tang, add in the pear shrub. Have fun with it, and top with a sprig of rosemary!