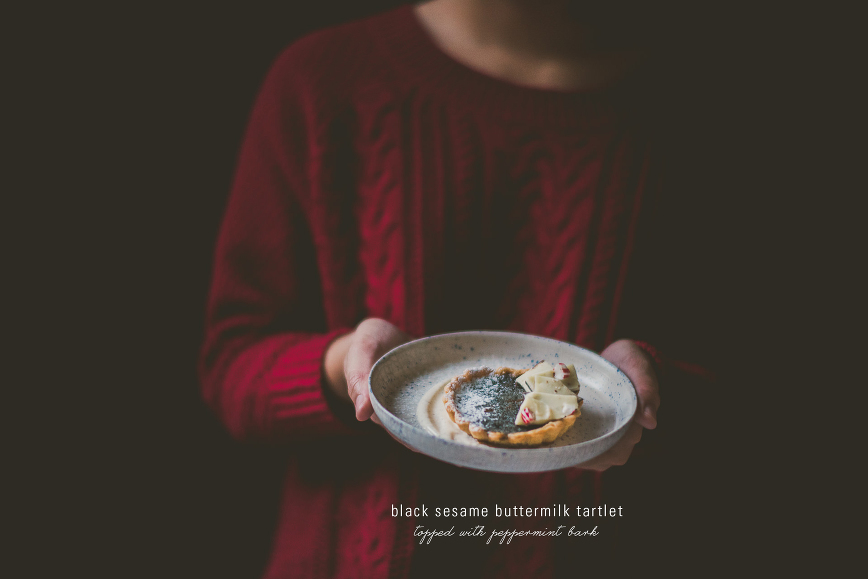 As a nod to my allergy to the majority of tree nuts out there, I'm always looking for alternative methods for that characteristic "nutty" taste. I'm not going to make wide, fantastical acclamations that I've replicated the flavor of nuts with seeds (those who can eat nuts always proclaim in shock over my allergies and then regretfully inform me exactly what I am missing out on…), but I am so happy with using seeds, peanuts, and pistachios (the one tree nut I can eat). To give you an idea of what I can't eat – well, I can't eat nutella. I can't eat or use marzipan (but there are ways around this…which I will share later this month :)). I can't eat most pestos. I can't eat French macarons (although, there are nut-free versions). In fact, just standing in a macaron shop in Paris caused my mast cells to go nuts, and I had to step outside. I consider myself lucky that I do not typically enter anaphylactic shock, although I did have a scary experience this past summer.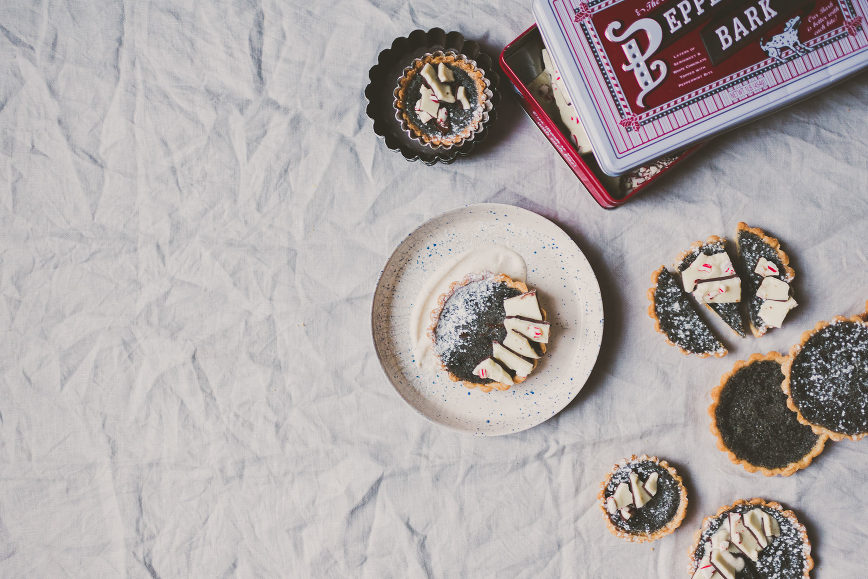 I've long since used black sesame as my go-to complement for that nutty quality. Black sesame goes with everything. Cinnamon rolls, ice cream, cakes, pesto, oatmeal – It's a small tiny seed with a surprisingly substantial flavor that has really grown in popularity. Dare I say, it has almost surpassed matcha in its accolade? When Williams Sonoma and Feedfeed asked me to create a recipe with William Sonoma's signature peppermint bark, my thoughts immediately went into full festivity mode. After all, once the turkey is eaten (duck, in my case) and December swings around, ornaments, wreaths, trees, and holiday cookies and desserts explodes like a confetti box. I wanted to create something that balanced the charming sweetness of the peppermint bark, so I immediately strayed away from something too sweet. I finally decided to test a black sesame tart. Buttermilk for that tang (plus, buttermilk tarts are just delightful and wonderful to infuse flavors with), individual sizes because that's just how I do things, and black sesame for an extra nuttiness and balance. The result? I ate, um, all of it. The melding of flavors work so well together. I added a dollop of vanilla bean creme fraiche to some, because I think creme fraiche is always welcome, but that's optional. What's not optional is the black sesame addition and topping with peppermint bark. Balance, friends!


Prior to this summer, I had never underwent anaphylactic shock due to my food allergies, but I think because of that I have become complacent. I'm generally good about avoiding nuts, and restaurants, markets, and other food vendors have increasingly become adept at providing information about food allergies right on the menu. This past season at one of our weddings, I plucked up a delicious looking appetizer that was being passed around. Now, I usually do not even eat any appetizers because we're working, but this was my friend's wedding, and at her urging I decided to try one. It was the middle of summer and I was already sporting a slight sheen of sweat, so stepping inside with a cool glass of coke (our cocktail hour go-to refreshment) and the urging of my dear friend the bride prompted me to break my own rule and eat a passed appetizer. The minute I swallowed that stupid puff, I knew. It had some sort of nut cream in it. I couldn't taste it, because I'm not experienced enough with walnuts/hazelnuts/almonds/pecans to distinguish between the three, but my mouth immediately told me that I had made a mistake. Stupid. Stupid of me not to ask the waitress or even my friend, who would know the menu. Luckily, my reaction was not that severe, and I certainly did not need an epipen or further medical care. I dealt with the discomfort, until later that night. For the first time in my entire history of allergies with nuts, I had a delayed reaction. I don't know if it was the heat, the immediate consumption of dinner after that nut-filled passed appetizer, or what, but near the end of the wedding, I suddenly felt my throat begin to close. Slowly, steadily, scarily. I was sweating. I looked like I had been drinking (asian glow) but I had not had a single drop of alcohol. For the first time, I felt scared of my allergic reaction. Stupid. Stupid stupid me, with not even a benadryl in my possession to combat the histamine in my system. Actually, since we underwent the immunology unit in medical school, I think I understand it more. IgE mediated hypersensitivity, when mast cells degranulate after contact with antigens (nuts, in this case), and histamines, PAF, or other mediators are released to draw further reactions from my immune system.  The food was still in my system, and as much as I wanted to deny it, I had a mild anaphylactic reaction. Maybe late phase reaction? I think I was scared that my reaction to nuts had become more severe, something that does happen with age for some individuals. I will not underestimate my allergies anymore. Lesson to be learned? Don't be complacent with my food allergy. Always, always, check to see what is in the ingredients.



Of course, now that I know that mast cells and degranulation are the primary enemies behind both my environmental and food allergies, AND my eczema, I always joke to my equally nerdy med school friends – ugh, my mast cells are going nuts. In fact, in a message to my primary care physician for a new prescription to treat my eczema, I joked about my mast cells. I bet she thought I was a typical first year :).





This post is sponsored by Williams Sonoma and Feed Feed as part of their #Barkyeah, 12 Days of Peppermint Bark campaign. All opinions expressed are purely my own, as always. Thank you so much for supporting the companies that support this blog. 
RECIPE: Black Sesame Buttermilk Tartlets with Peppermint Bark
Pastry Crust from Williams Sonoma
Buttermilk tart adapted from Yotam Ottolenghi and Food Network
Pastry Crust
1 egg yolk
2 tbsp very cold water
1 tsp vanilla extract
1 ¼ cup all purpose flour
1/3 cup sugar
¼ tsp sea salt
1 stick cold, unsalted butter, cut into cubes
Mix yolk, water, vanilla until incorporated.
Whisk flour, sugar, and salt together. Cut butter into dry mixture until a coarse texture forms (about pea-sized pieces, largest). Add wet mixture into dry with a fork until the dough just forms (do not over-mix). If dough is too dry, add 1 tbsp water at a time until dough just comes together.
Transfer to a floured surface and pat into a disk. Cover with plastic wrap and chill for 30 minutes.
Let sit at room temperature to thaw for about 5 minutes. Roll dough out on a lightly floured surface and flatten dough with your rolling pin. Lift dough and turn it a quarter of the way and roll to about 1/8" thick. Using your tart pan (or tartlet pans) in comparison, cut your dough into round(s) bout 2" wider in diameter than the pan for a large tart pan, or about 1/2″ wider for the small tartlet pans. Grease and flour tart pan(s). Fold rolled out dough in half and gently lift into your tart pan. Press into tart pan and up the sides. Trim any excess by simply rolling pin along the top. Then, use your fingers to push the tart dough slightly up the edge to compensate for any shrinkage. Dock dough by stabbing dough with your fork. Return to fridge and let chill for 30 minutes. If using tartlet pans, place on top of a baking sheet.
Preheat oven to 350.
Line with parchment paper or foil, fill with baking beans (but I use uncooked rice) and bake for 15-20 minutes. Remove parchment paper and weights and bake for another 10 minutes, until golden brown. Reduce heat to 325.
Black Sesame Buttermilk Filling

1/4 cup black sesame seeds, toasted
1 tbsp sugar
1 cup buttermilk
1/3 cup heavy cream
insides of vanilla bean, scraped
3.5 tbsp melted, unsalted butter
4 eggs, lightly beaten
1 cup sugar
2 tbsp flour, sifted

peppermint bark for topping
First, grind sesame seeds and 1 tbsp sugar in a food processor until thick. Oil from the sesame seeds should start to seep out, thickening the mixture into a paste.
Mix buttermilk, melted butter, and cream together. Whisk eggs and sugar together in a separate bowl until light and pale yellow. Add buttermilk mixture and flour to the egg mixture. Fold in black sesame seeds. Strain and pour into pre-baked pastry in tart pans.
Bake for 30-35 minutes, until sides are just set. The sides may be puffy and the middle can still be a bit jiggly, but remove from oven and let cool completely. Top with sifted powdered sugar and peppermint bark!
Beautiful plate: Zaira Zarotti / Tartlet pans: Williams Sonoma