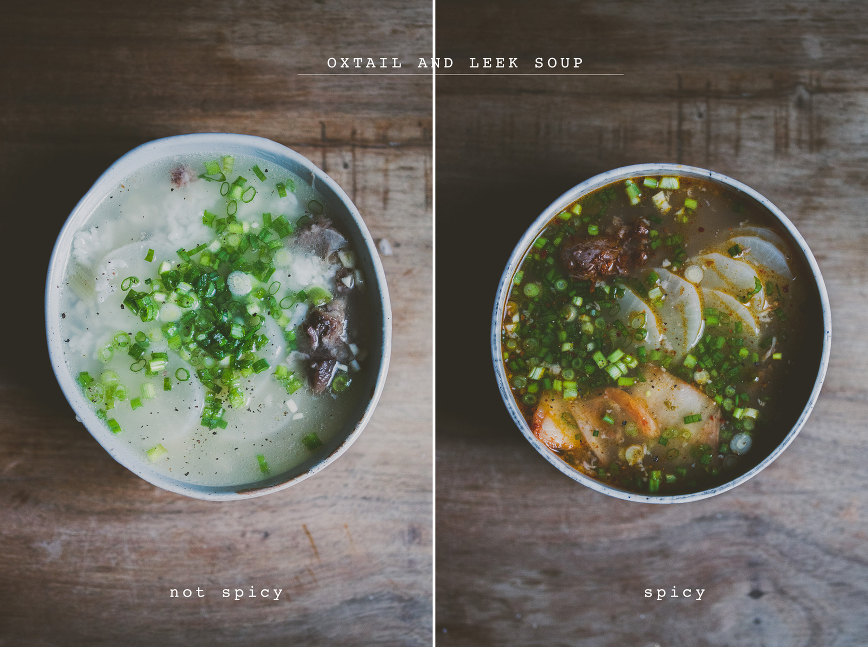 If I were a poet, I would write a poem about ramen. One of my greatest dreams is to stay in Japan for an extended period of time and apprentice with a ramen master and learn everything there is to know about making good ramen – the broth, the noodles, and everything else. What does ramen boil down to? For me, it's the broth. I could serenade about noodle too, but today, let's talk about broth. The key to every hearty ramen, porridge, or soup in general, is the broth. I keep using ramen as an example because of how much I love it, so bear with me – the first bite I take when digging into a bowl of ramen is not the noodles but rather a slurping of broth. Without a flavor-packed, intense broth, ramen is meaningless. I think this translates to soups in general – noodle soup absolutely needs a good stock as a base. What do you do when you have leftover turkey? Make stock. This recipe I am sharing today is all about the oxtail bone broth (plus, giveaway!! Scroll down for details)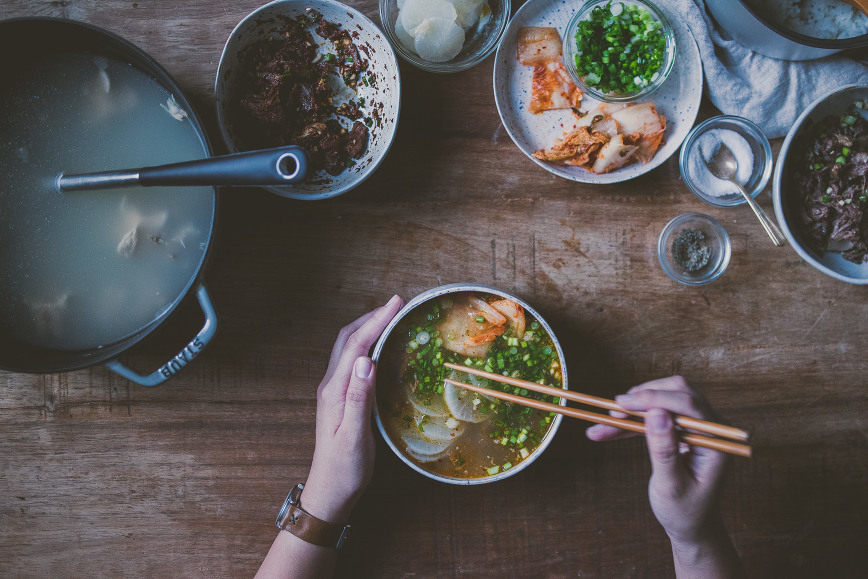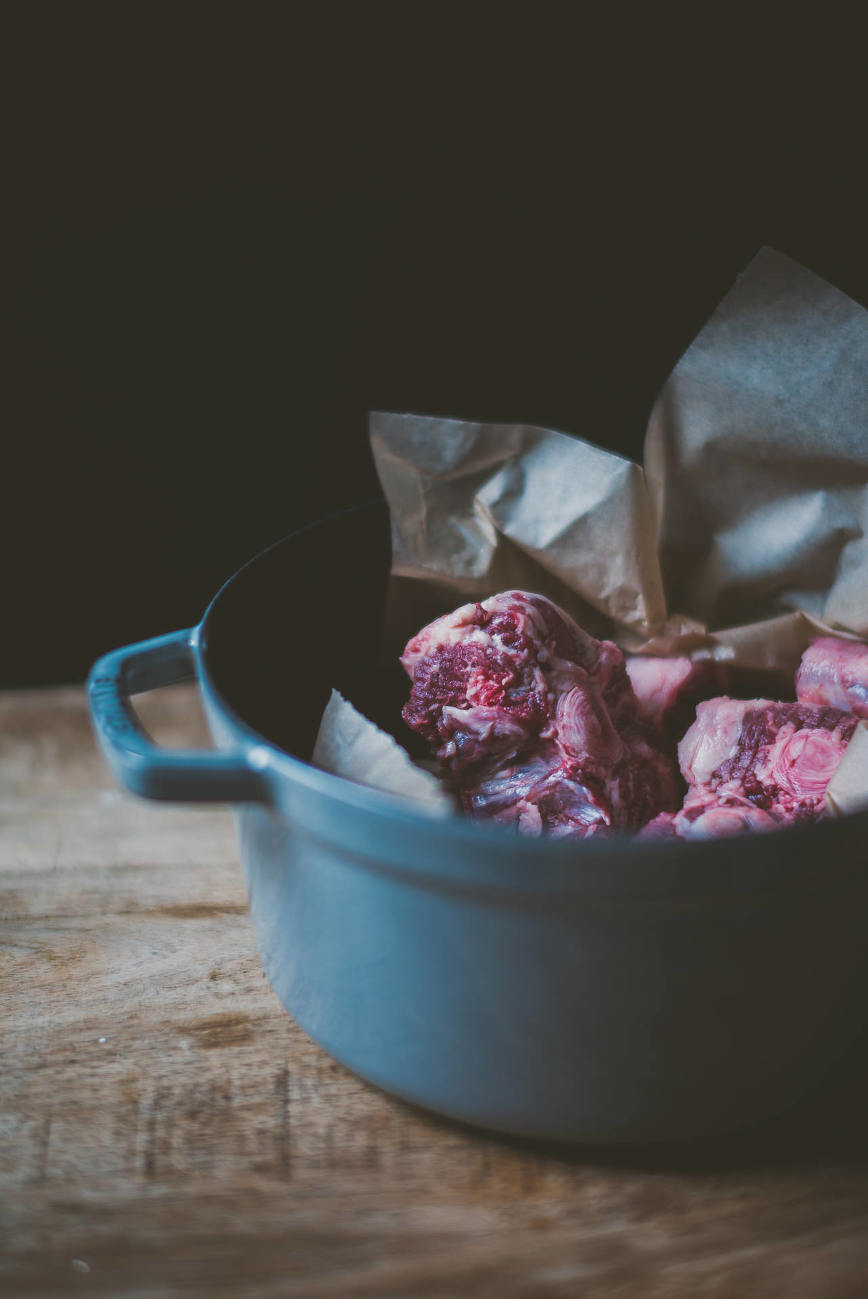 This soup was actually a request from my husband. He had this soup growing up, and when I first mentioned wanting to make oxtail soup (we'd just found oxtail in the Chinese supermarket near us!), he immediately exclaimed that I had to achieve that milky white broth, otherwise it's WRONG.  Jeez, husband, I didn't even start making it at that point! He has this habit of spooning up soup over rice, kind of like a porridge. I used to hate this method of eating rice, but recently, I've found it to be quite comforting. Last winter, I was at home in California, and I asked my mom, how do you make oxtail soup? In the way of a mother, she just continued cooking and the other million of tasks she can do at the same time, and distractedly said, Oh, oxtail soup? Just cook it for a really, really long time. A long time. That's why I don't make it much (all in mandarin, of course). When the temperature suddenly dips below 30 and the wind shrieks and pushes, all I want to do is curl up with good, steamy bowl of hearty broth. This oxtail-leek soup is both inspired by a dish I had at Fore St in Maine last week with the most amazing whole cod swimming in a leek-y sauce, and the famous korean oxtail soup. I immediately consulted my friend Bomin (who was also an invaluable resource for kimchi at home), and the method is basically just boil until it becomes milky white! This soup does take awhile to make due to the amount of time the bones cook, but it's worth it – a milky white oxtail soup. Served over rice, in a true and comforting fashion. Shredded oxtail mixed with scallions, garlic, and (if you want spicy) gochugaru. Radishes, soft but not falling apart. All mixed together. Top with kimchi and more scallions. A perfect winter bowl.

The very first step is to soak the bones for a good two hours. This draws out the blood – see the difference.

Then, after the first 4 hours of boiling, remove the broth in a large bowl. Fill the pot with water again, and then keep boiling the bones. You will end up with a creamy white broth!! This is added back to the original broth to create a lovely, opaque creamy broth. 

When the meat falls off the bone, collect it and save it – then toss with garlic, soy sauce, scallions, and (optional) gochugaru!



I did half/half – half became spicy, and half was just tossed with soy sauce, garlic, and scallion. Alex prefers non spicy ("pure oxtail broth, Betty!") but I love gochugaru.


Also, aren't these bowls from my lovely friend Zaira beautiful? It's so not fair that she's talented in photography, writing, cooking, and raku pottery!!! The raku bowls perfectly embody what I see in life – how imperfections are welcome, how beauty is not perfect… go visit her site, read her writing, and I promise you, you'll fall in love with her.



The holidays are a complex time. Last week, I asked you to share with me what your plans were for Thanksgiving, and I read through each and every one, empathizing with you. I almost felt like I could be sitting down with you at your Thanksgiving table! Some of you were hosting for the first time, some had to work, a lucky few had two dinners to attend (jealous!), and others shared some personal moments that really humbled me. I want to take some time to acknowledge that the holidays are not always an easy, festive time. Often on social media, holidays are portrayed as happy, bright, cheerful, festive, and that's all it is. Ornaments, Christmas cheer, and the carefully curated feed of what's only been styled and prepared to show that festivity. I get it – it's a public feed, and like it or not, social media is often used as a marketing path to demonstrate brand and style. In this post, I'd like to acknowledge that the holidays are not always festivities. It's easy to pretend that December is all about chocolate, cider, and cookies, but underneath that sheen, who knows? I can't speak to anyone's situation other than myself, but for me, while I may be posting pretty moments on Instagram, I'm suffering through an emotional tug of war, because someone who is supposed to be a part of our family wrote a scathing comment on her Facebook page around this time last year demeaning my wedding (attacking every one of my decisions), and refused to acknowledge or apologize. Because of that, part of our family dynamic has since been awkward and bitter, and she refuses to participate in any familial celebration. I'm sorry it's so vague (still getting used to the private-public line… >< ), but I just wanted to share that.
There's more to the holidays than twinkly lights and festive treats. In fact, behind the scenes of le jus d'orange, I'm actually running around cross eyed, desperately cramming anatomy terms in my head, and cursing myself for taking on too many projects. After reading through your comments last week, I wanted to share some more personal, more real moments with you. To those of you who shared with me last week, thank you. I really appreciated it, and your comments have motivated me to share more of what's going on, really, in my life with you.


GIVEAWAY
---
I'm giving away a special item that I trust and use every week, starting off with last week's Finex giveaway. This week, I'm teaming up with Staub to give away one of their signature 5.5QT Round Cocottes!!!! I've used their pots/pans for quite some time now (see here, here, and here) and I can say, without a doubt, that their products are superb. High quality, easy to clean, easy to work with. This cocotte (and my shallow round cocotte) is one of my favorite kitchen tools. Proof bread? Gotcha. Braise meat? No problem. Make soup? Well yeah – that's what this post is about! When I went to Maine, actually, for Thanksgiving, I brought one of my Staub pans! I'm pretty obsessed. Plus, they're easy on the eye. US residents only, sorry international friends! To enter, simply leave a comment telling me what your favorite soup is, and fill in the widget below! Bonus points for following Staub and me on Instagram, and liking my page on FB!
---
Note: This giveaway is sponsored by Staub!!!!! All opinions expressed here are purely my own. I'm over the moon to be giving away one of these cocottes! They're a CLASSIC! 

Some notes:
You can omit the leeks, but feel free to add any other allium you want for a little extra flavor – garlic, white onions, etc. I like to add at least one type of allium to help with the gamey smell/taste.
Two very important steps are to soak the bones for at least 2 hours, and to keep the bones at a moderate boil, not a simmer. The soaking helps draw all the blood out (see photos above). Without the excess blood, the broth has an opportunity boil to that white, milky broth you want. Simmering is keeping the water below the boiling point, but we want to really draw all the minerals and marrow out of the oxtail bones. Adjust heat as you wish but make sure that under the lid, the soup is actually boiling. It doesn't have to be a fast, rolling boil, but it should be moderately boiling.
I know some recipes, like the traditional Korean ox-bone soup by Korean food expert Maangchi, add beef flank or another cut, but I keep it simple and just use oxtail bones. The meat that falls off the oxtail is just delicious, and enough for me!
This recipe is hard to mess up. Simply boil, boil, and keep boiling. Don't forget to refrigerate the soup after the final boil. This allows the fat to separate out from the soup and float in a solid layer, to be removed later, leaving behind a clean, milky broth!
Because this is literally the base broth, you can do so much with it. I added leeks, and then seasoned simply with salt and pepper (or gochugaru-coated oxtail meat, if desired), and that was all the soup needed. I have a lot of leftover broth, though, so I'm excited to play around with it. I'm thinking it can be an amazing base for noodles and sauces!
If you have a large enough stock pot you can directly add water to the broth, but my handy dandy cocotte is the perfect size of my tiny Boston apartment kitchen, so I decided to use the collecting method, which worked well!
The point of this recipe isn't to direct you to make it exactly as I say, but to show you how you can persuade a really hearty, intense broth from a few pounds of oxtail!
RECIPE: Oxtail and Leek Soup
3 lb oxtail bones, fat trimmed
2 slices fresh ginger
2 tbsp shaoxing wine
1 large daikon, peeled and cut into slices
2 leeks, white and pale green parts cut into rough rounds
water

to serve
salt and freshly ground black pepper
3-4 tbsp ground gochugaru chili flakes,
3 cloves minced garlic
2 tbsp soy sauce
5-6 stalks scallion, finely chopped, for mixing and to top
fresh kimchi
white rice
Soak oxtail in water for at least two hours, until all the blood seeps out of the bone. Drain. Place oxtail, 2 slices ginger, 2 tbsp shaoxing wine, and water in a pot and bring to a boil. Cook for 2-3 minutes, then drain.
Add oxtail and ginger back in a new pot of cold water, making sure to cover bones completely. Add leek rounds. Bring to a boil, then reduce heat to medium. Cover and continue boiling for for 3-4 hours, adding more water if necessary. A moderate boil (not a simmer) should be continuous throughout the cooking period.
At the 3 hour mark, add in daikon slices and continue boiling for another 45 minutes. Check to see if the daikon is soft but. Turn off leat and remove daikon. Set aside and refrigerate. If the beef has started to fall off the bones, set that aside and reserve too (or, keep simmering! At this point the beef will be tender enough, but Alex actually likes it even MORE tender – it's up to you!)
At this point, we'll be further teasing the bone marrow out of the bones. Remove broth and set aside in a large bowl. Cover bones in pot with water and bring to a rolling boil and keep at that moderate boil for another 3 hours. Remove from heat and pour broth into that same bowl of reserved broth. Repeat the process – the broth should become creamy and white. I keep the bones in the broth, but you can remove it at this point if desired.
Reserve any meat that fell off the bones in a separate bowl.
Cover with plastic wrap and place in fridge overnight. This allows the fat to solidify and float to the top.
Remove fat in the morning. Pour back into a pan and reheat (including remaining bones). Meanwhile, make rice. Mix beef with garlic, scallions, soy sauce, and gochugaru, if using.
Divide rice into bowls. Ladle oxtail broth over rice. Serve with beef, radish, fresh scallions, and whatever else you want!