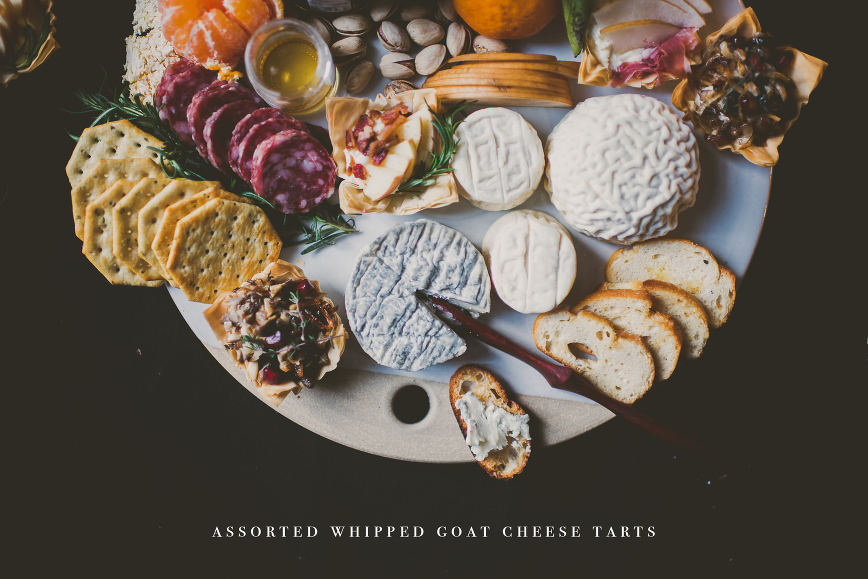 Today, I'm giving away an epic package that is very near and dear to me. Since moving to New England, I've been so enamored by the community here, both rooted in tradition but also unafraid to push boundaries. There's history. There's a strong sense of community and sustainability. There's warmth and welcoming. Vermont, in particular, has grabbed my heart and I'm not-so-secretly obsessed with it. My dream when I grow up is to move out there and raise goats and chickens, do some maple sugaring, and constantly visit my favorite makers there. I've been going on and on about Vermont Creamery's crème fraîche and aged goat cheeses, and now one of you gets to win a package of assorted goat cheeses, crème fraiche, and cultured butter, and a 10″ cheesestone (altogether $170)!!!! Hosting a party or get together? Well, I think this your solution for things to munch on :). Scroll down for the giveaway!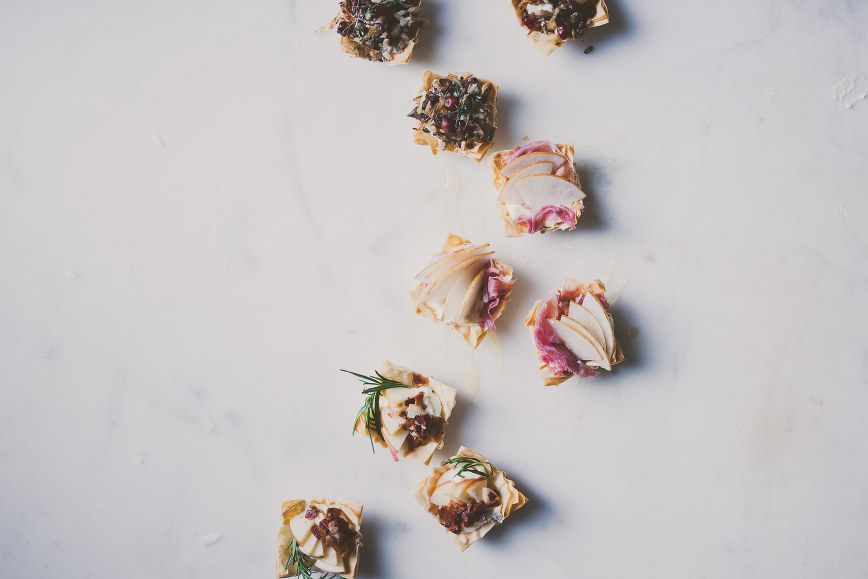 Thank you all for your comments in my last post! Your support means the world to me – December is always a crazy, emotional, but undeniably exciting month. As a way to thank you all, I'm hosting a series of giveaways throughout this month. We started it off with a Finex giveaway and then went right into a Staub cocotte giveaway (by the way, this ends tomorrow!! last chance to grab your very own Staub cocotte!). On Instagram, I'm also hosting a giveaway for a California Olive Ranch Limited Reserve extra virgin olive oil!! If you're not following me there yet, hop on over because I'll be hosting more both here on the blog and on Instagram :).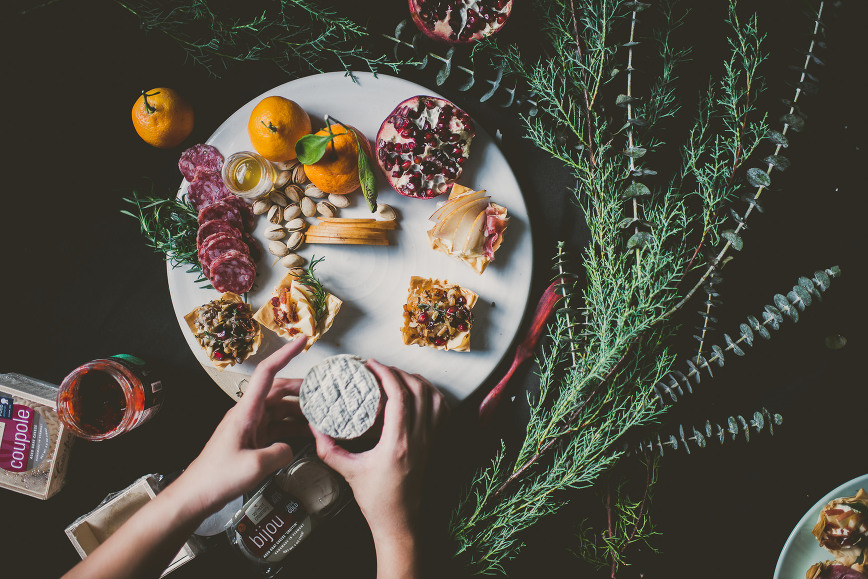 During the holidays I make everything mini-sized, because they're perfect for setting out on a plate for friends and family to help themselves to. One of my favorite entertaining tricks is to put together a great cheese and appetizer plate. First of all, nothing breaks the ice like some light cocktails or a glass of wine. Second, with drinks there should be something to snack on, such as cheese and light appetizers. A spread of universally adored goat cheese, crackers, fruit, and nuts would do the trick, but I can't resist adding in something cooked as well. These flaky, warm, filo tarts are simple and great for parties or get-togethers. Since my recent obsession with the juxtaposition of sweet and savory, I often combine fruit with a savory element, such as Asian pears and prosciutto, or apple and bacon. The beauty of these tarts is that they are completely customizable. Switch out the fruit, the meat, or omit the meat entirely. Fruit and goat cheese tarts are a classic, after all. I've provided three of my favorite topping combinations – Asian pear, prosciutto with drizzled honey; apple, rosemary, and bacon; and mushroom, caramelized onion, and thyme.


You can either buy pre-formed filo cups, or easily make your own. I followed the kitchn's instructions and used individual tartlet molds, but you can use muffin pans as a mold as well. The main thing to remember when forming these is not to let the filo dry out. I put a sheet of wax paper over them as I'm working, which seemed to do the trick. I also used 5 layers, just as the instructions say. The first time, I used 7-8, and the filo tart ended up puffing right out of the tartlet molds. 5 was the perfect number – still flaky, layered, and kept the shape of a tartlet cup.



 I used Cremont as my main goat cheese – it's the "Cream of Vermont", and is a mixed-milk cheese, and creamy as you can get. It's got a great, silky smooth texture, and whipped with creme fraiche and greek yogurt and you'll be eating it off the spoon before you fill these tarts up! The whipped goat cheese is added right when the cups come out of the oven, letting the residual heat slightly melt the goat cheese without turning into a melted mess.





GIVEAWAY

---
For this epic giveaway, you'll get: an assortment of Vermont Creamery fresh and aged goat cheeses, crème fraîche and cultured butter valued at $75, selection may vary from photo; a 10″ cheesestone from Farmhouse Pottery – together, the perfect hostess gift!!! To enter: Fill out the widget below, and leave a comment telling me what your favorite cheese is. The contest will close in a week, and a winner will be drawn randomly! Good luck!
---
This post is sponsored by vermont creamery in collaboration with farmhouse pottery. All opinions expressed are purely my own, as always. Thank you so much for supporting the companies that support this blog. I'm so in love all their cheeses and products. Their crème fraîche is a given, but their aged goat cheeses (cremont! bonne bouche! bijou!!! coupole!) are to die for and perfect for any kind of appetizer (both cooked and on its own), and their cultured butter is so dreamy I want to only bake/cook with it now.

RECIPE: Assorted Whipped Goat Cheese Filo Tarts
Three variations:
Asian pear, Prosciutto, drizzled honey | Apple, rosemary, bacon | Mushroom, caramelized onion, thyme
Filo Cups
1 package frozen filo dough, thawed
¼ cup melted butter
Form Tartlets: Preheat oven to 375F. Unroll filo pastry sheets and cover with wax paper to prevent drying out.
Lay one sheet of filo out and brush lightly with melted butter. Place another sheet of filo on top. Repeat until you have 4-5 sheets of filo stacked together. Using a sharp knife, slice into equal squares squares and press into tartlet molds or muffin pan. One stack can make 9-12 tarts, depending on the size of your tarts. Carefully roll up remaining filo to reserve for other purposes.
If using tartlet molds, place on a baking sheet. Bake for 9-10 minutes, until golden brown.
Whipped Goat Cheese Tarts

1 package of Cremont, at room temperature.
2 tbsp crème fraîche
2 tbsp greek yogurt
Make Whipped Goat Cheese: Beat goat cheese with crème fraiche and greek yogurt until light and fluffy.  Set aside. Once the tart molds are removed from the oven, immediately dollop whipped goat cheese over tart molds. Add toppings and serve warm.
Toppings

½ Asian pear, sliced thinly
prosciutto
honey, to drizzle

½ apple, sliced thinly
3 slices bacon, cooked and rougly chopped

A quarter of a white onion, thinly sliced
½ cup chopped mushrooms of any variety (I used oyster mushrooms)
1 tsp chopped thyme, and more for garnish
Asian pear, Prosciutto, drizzled honey: top goat cheese with thin slices of Asian pear. Nestle prosciutto around pear slices, and drizzle with honey.
Apple, rosemary, bacon: top goat cheese with thin slices of apple, rosemary sprig, and crumbled bacon.
Mushroom, caramelized onion, thyme: Heat up 1 tbsp butter or olive oil in a skillet. Cook onions on low heat until soft, brown. At about 15-20 minutes, add in mushrooms and continue to cook until mushrooms are soft and onions are caramelized. Stir in chopped thyme. Spoon mushroom mixture onto goat cheese tartlet, and garnish with a sprig of thyme. Optional: top with pomegranate seeds.