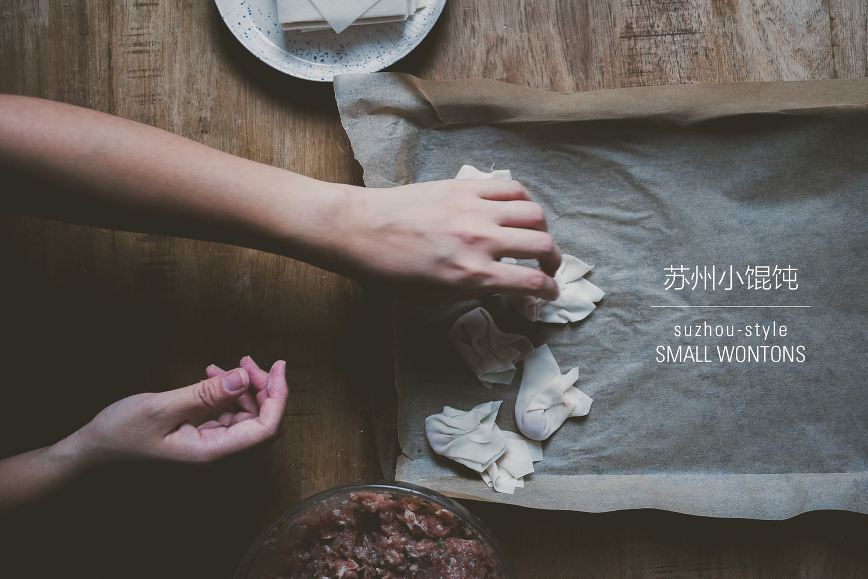 This is a nostalgic post -wontons have always been a comforting, slurp-it-up food, both easy to make and easy to save. My mom used to make rows of wontons, and I'd happily help her fold them. Wontons are much easier to fold than dumplings, in my opinion, because there's no complicated pleating involved. Instead, simply stuff, fold, seal. When I went to visit Suzhou with my then-boyfriend Alex during college, we stopped by a small, local spot (NOT in the tourist-heavy areas) that served quite simply the best soup dumplings (小笼包) I've ever had, and for awhile my attention was completely diverted to those. However, Alex also made sure to grab two bowls of steaming hot, fragrant, mini wontons (小馄饨). Mini wontons? Small wontons? These wontons are stuffed with a tiny bit of pork filling with a paper-thin skin, immersed in a rich broth. Slurping in these small wontons are like slurping up noodles – smooth, fast, and incredibly satisfying. Alex recalled seeing his grandmother in Suzhou make these at home. She'd take a piece of wonton skin, dip her pinky finger into the meat filling to scoop up a tiny bit of meat, smear it across the skin, and then quickly stuff it into a little baggy pouch. These small wontons are not folded neatly like a little pouch. Instead, these small wontons look like they're stuffed quickly and then just smashed together to seal, and that's pretty much how these wontons are folded! See the stop-motion vignette below. I used chopsticks to take a tiny bit of meat and smeared it on a wonton skin. I used store-bought skins (sigh), which aren't as thin as I'd like for these wontons, so next time I may try my hand at making wonton skin at home. Avoid the egg-based wonton skins that are yellow – those aren't what you want for these wontons. Look for the shanghai-style wonton skins that are white and eggless, not yellow! Small wontons' soup is a key part of this dish – don't settle for plain water or bouillon cubes – make the real thing. Get chicken bones (or a whole chicken) and simmer it for 4-5 hours to get that rich broth necessary for this dish.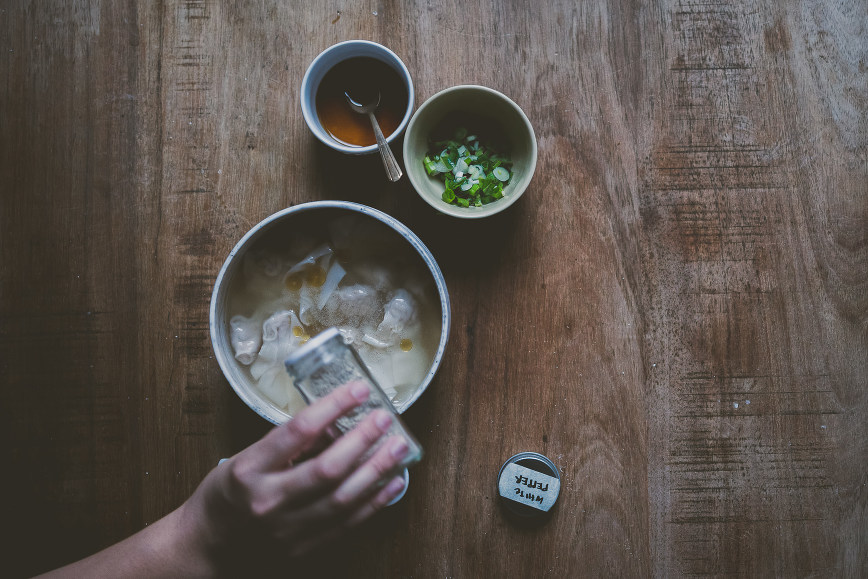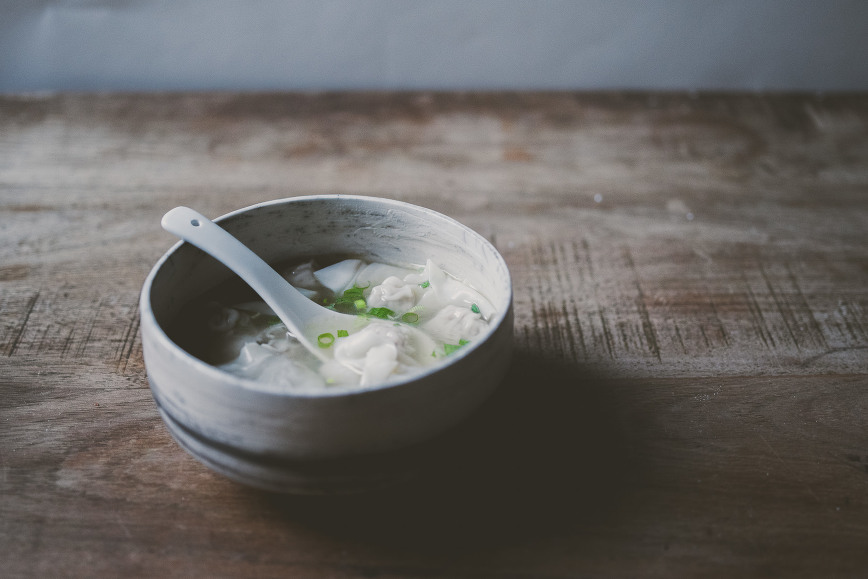 The next time we went to Suzhou to visit Alex's grandparents, after we got married, we beelined to that little shop and had a hearty meal of soup dumplings and small wonton soup!

As I made these wontons, I gave my mom a call. My mom is from Shanghai, and Alex's grandparents are from Suzhou, but both are part of the Jiang Su region, so shanghai and suzhou cuisine are actually pretty similar. There are a lot of overlapping dishes with some differences, but for the most part the cuisine is familiar. My mom immediately knew what I was talking about – small wontons. It's a familiar dish in Shanghai, too, and the way she described it – a hearty broth, a tiny bit of meat (just meat, no vegetables in the filling), the skin scrunched up to enclose the meat – closely resembled what I had in Suzhou.




The wontons can be served with piping hot soup, topped with scallions, but I also like to add a dash of white pepper and a drizzle of sesame oil to the soup. Since it's just Alex and me, we froze the rest up and then divided them into plastic bags, ready for easy consumption in the future.



Let's be even more nostalgic, shall we? I took some time to really think about the new year – what my goals and aspirations are, especially for this blog. In the end, the answer was simple – to have fun with this blog. To continue to make the connections in this truly wonderful community that lead to fun "in real life" friends. To explore the history, culture, and techniques of various foods, such as learning about making kombucha at home. To continue to develop my food photography and styling. To enjoy blogging. Last year, I put the pressure on myself to try to blog once a week at least, and while it was a stimulating and challenging experience, I think it was a bit too much, and with wedding photography and starting medical school, I knew I needed to re-evaluate. I want to go back to my roots. The whole reason I started this blog was to document my mom's recipes so that I could make them, all the way across the country, and I'm going to do more of this :). Also, some changes are coming to this blog! Mostly minor – some restructuring, reorganizing, etc (for example, more fermentation exploration and possibly a whole section on it!!!) For now, here are some highlights in the wonderful 2015:
Anyways, I'm hoping to do some more travel this year, more workshops (!), and more photography experiments.

PS, gorgeous raku ceramics by the freaky table!

---
Notes:
Try to find eggless wonton wrappers, as thin as you can find them. Usually the Shanghai-style wonton wrappers will do, although the real version you can find in China uses paper-thin wrappers that almost dissolve in your mouth.
It really is a tiny amount of meat per wonton wrapper. In fact, Alex noted that my wontons are probably still too stuffed -it's literally a tiny bit smeared across the wonton skin. I couldn't help but add slightly more, but maybe next time I'll add less.
Don't worry about wrapping them perfectly. These wontons are meant to be scrunched up and sealed – probably the easiest "dumpling" to wrap. No pleating, no folding, no worrying about the perfect look!
It's easy (in my experience) to scoop up a tiny bit of meat filling from the bowl and onto the wonton skin, smeared, and then using that same pair of chopsticks to scrunch it up in your hand.
To freeze, lay the wontons out on a parchment-lined baking sheet, and freeze. Then, separate wontons into plastic bags and place back into the freezer. To eat, simply boil water and add the wontons in. When the wontons float, they are ready. Serve with hot soup.
Do your wontons look wrinkled? Yes? Good. They're supposed to be!
If you're unsure about the seasoning, you can make one wonton, then cook it and taste-test. I do this usually if I'm making a big batch, and if it is too bland, I add more salt or soy sauce.
RECIPE: Suzhou Small Wontons 苏州小馄饨 
Simple Chinese Chicken Stock
This is a chicken stock that can be used in sauces or as a base for other soups – it's easy to make and so versatile. It's not unusual to find a pot of it simmering along in the background in most Chinese households :). There's no real measurement, but usually I get around 3-4 lbs of chicken with bone and then fill up the pot until there's only 1″ space from the rim. You can use chicken thighs, a whole carcass, or whatever parts you have, but make sure there is bone!!! 
3-4 lb chicken parts with bone
water
one bunch scallion, white to pale green parts
5 slices ginger
1/4 cup shoaxing rice wine
1 tsp szechuan peppercorns (optional, but I love the flavor this adds)
1 tsp salt
Bring a large pot of water to a boil. Add in chicken parts and cook for 3-4 minutes. Drain and wash chicken thoroughly. Line white and pale green parts of scallion at the bottom of a new, clean pot. Place washed chicken parts in. Add enough water to fill the pot to 1″ from the brim. Add the rest of the ingredients. Bring to a boil and then turn the heat low to a simmer. Keep at a simmer for 4-5 hours. Occasionally skim the surface if any foam or scum appears. If necessary, strain, but usually I skip that part. Keep in fridge (reboiling to eat) or freeze for later usage!
Small Wontons 小馄饨
½ lb ground lean pork
2 tsp grated fresh ginger
2 clove minced garlic
2-3 tsp water (or less, depending on texture)
1 tsp cornstarch
1 stalk scallion, finely chopped
2 tsp light soy sauce
2 tsp shaoxing wine
dash white pepper
1 tsp sesame oil
1 egg for filling
1/2 tsp salt

1 package thin, eggless wonton skin

Serve with white pepper, fresh sliced scallions, and sesame oil
Combine ginger, garlic, pork, 2 tsp water, cornstarch, scallion, soy sauce, wine, pepper, sesame oil, egg, and salt together. Using a wooden spoon, mix in one direction until the texture resembles a paste. If the mixture is too stiff, add one more tsp water. For this step, I like to use my hand to just mash the meat mixture together.
Wrap wontons. Using a pair of chopsticks, scoop about 1 teaspoon of meat filling and scoop it onto a wonton wrapper. Use chopsticks to smear meat mixture onto the wonton skin, and then using the chopsticks, press wonton skin into your opposite hand and begin to scrunch the opening closed. Seal by pressing tightly and set aside.
Continue making wontons. I keep a sheet of plastic wrap over my ready-made wontons to prevent any drying out.
To cook: Bring a pot of water to a boil. Add in dumplings. When they float, continue to cook for about 1 minute, then drain and rinse quickly with cold water.
To serve: Bring a pot of chicken stock to a boil. Place wontons in a bowl, then spoon soup over wontons. Top with fresh scallions, a dash of white pepper, and a small drizzle of sesame oil.