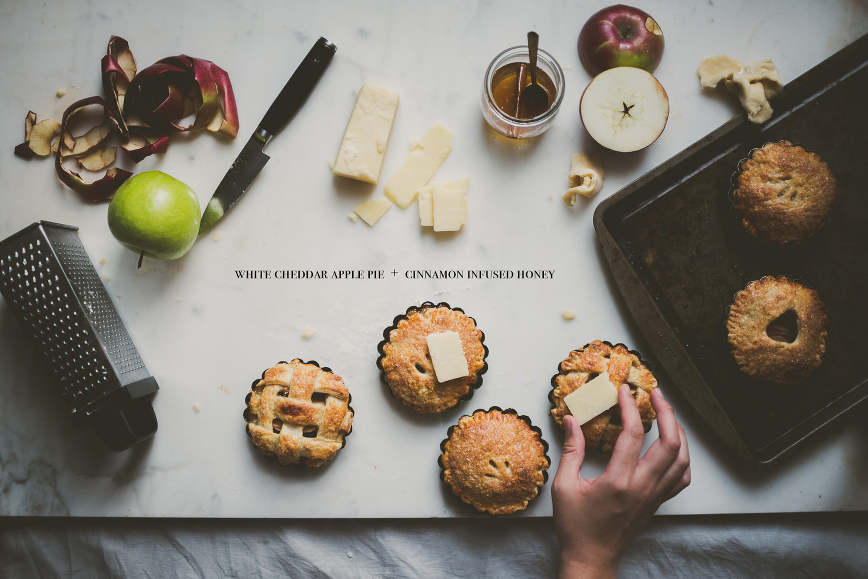 It's #cheesebabyshower time!!! I go on and on about the food community but it truly is a wonderful one, and this is a prime example of how friendly it can be. I first met Sarah last summer and together, with Alanna, we made three types of hand pies!!! I made stop motion vignettes, we chatted (and tried delicious test-bakes) about Alanna's upcoming cookbook, and I learned that Sarah was pregnant! I'm so happy to participate in Sarah's virtual, warm, baby shower to celebrate cheese-baby. Just looking at all the contributions made me a bit teary-eyed. Congratulations Sarah, and I can't wait to visit next time I'm back in the bay :). A huge thanks to Alanna and Todd for masterminding this party!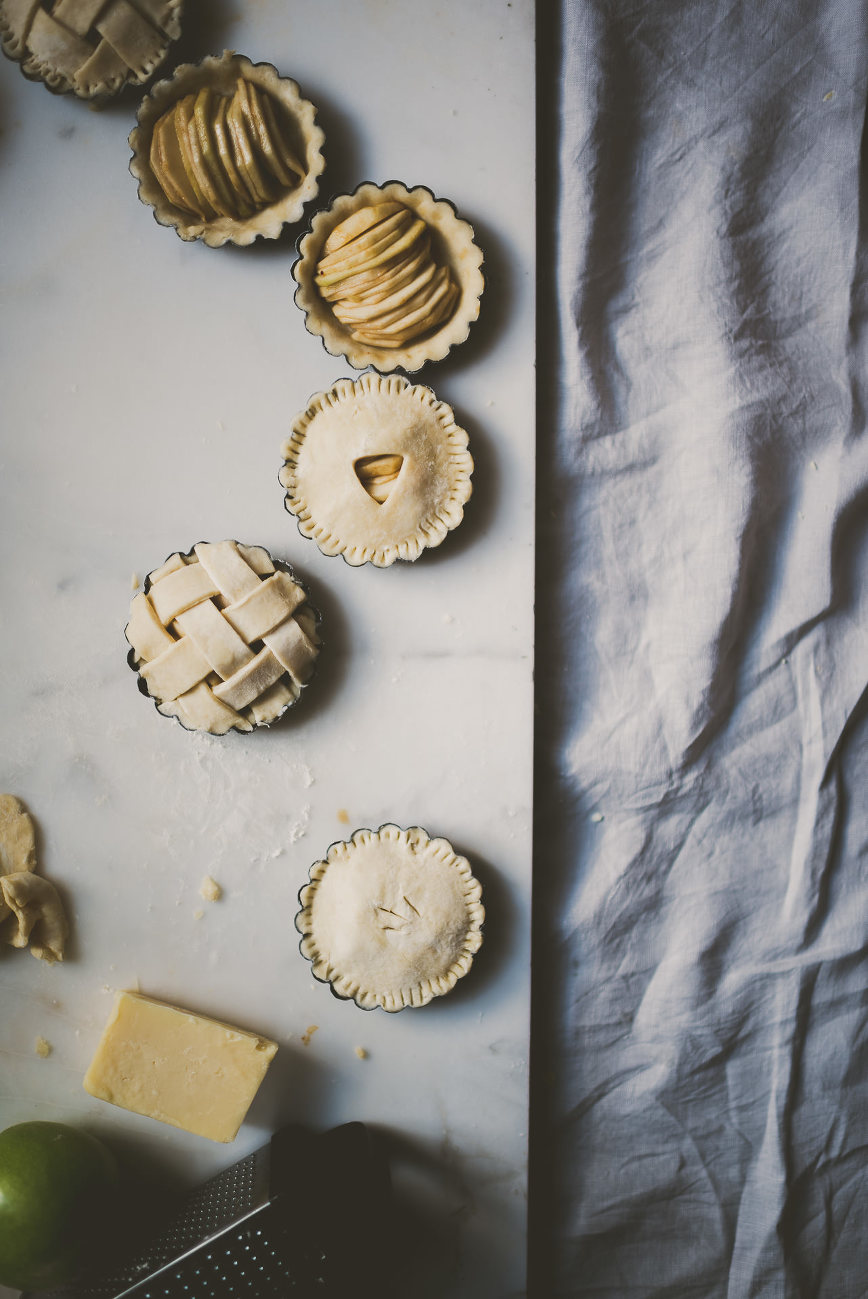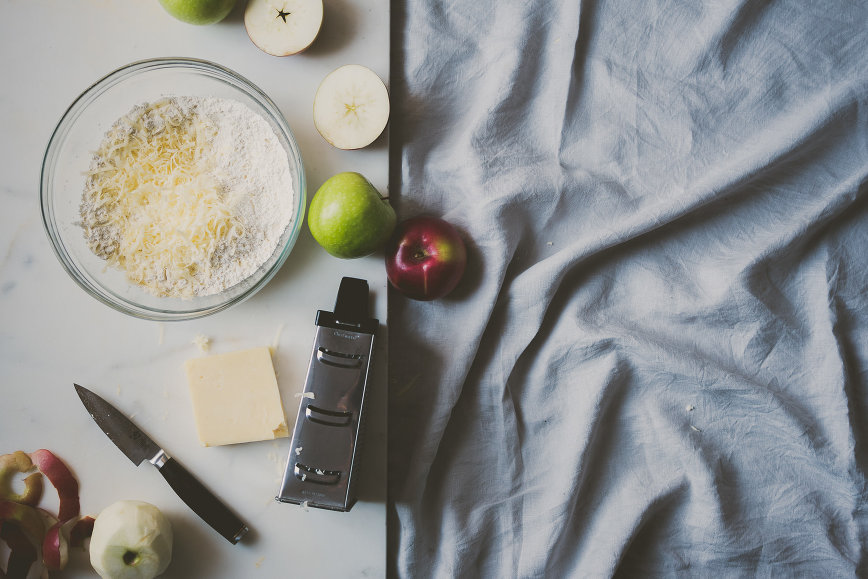 At first I was going to make something matcha-related, because we had extensive conversations about matcha (basically, we obsessed over it), but then I started dreaming up cheese + sweet combinations, which score "bonus" points, and I couldn't stop thinking about a New England classic: apple pie with a slab of cheddar cheese. Before I moved to Boston, I'd never heard of such a thing. And at first, I was confused – how would that work? I put it aside, but the next time I was at Whole Foods, I tried some Vermont extra sharp white cheddar made with raw milk, and I instantly thought of apples. Tart sweet apples with this sharp white cheddar seemed like the perfect marriage, and I began to play around with the concept of a white cheddar apple pie, mini-version, of course! You all know I've been preoccupied with combining savory and sweet (like miso apple pie, watermelon mentsuyu salad), with adding some umami to desserts to really bring out the flavors, and this pie does it. It really does. I grated white cheddar right into the crust, and then gently placed a slab of white cheddar right when the pie came out of the oven, allowing the residual heat and steam to melt that slab right on the crust.



Combining white cheddar and apples made me hesitant about adding cinnamon. Normally, I liberally add cinnamon, nutmeg, and other spices to my apple pie, because what goes better together than apple and cinnamon (maybe cheese and apples), but I didn't want the spice to overrule the umami white cheddar. I omitted it entirely in the filling, and it worked out really well. Instead, I infused some honey with cinnamon and drizzled that over the pie before serving, and I'm happy to say it worked. A hint of spice over melted cheese, a flaky crust, and warm apple filling – that's happiness in a plate.



finish with a drizzle of cinnamon infused honey



Please hop on and visit all the other attendees to this  #cheesebabyshower!!!!
Cheesy Things
Sweet Things
Cheesy & Sweet Things
---
Notes: I used mini tart pans, but you can use any vessel you want – full sized pie, cupcake tin, mini cocottes, little tart molds – any will work, just keep an eye on the baking time.
RECIPE: White Cheddar and Apple Mini Pies with Cinnamon-Infused Honey
As always, pie crust from Four & Twenty Blackbirds
Cinnamon Infused Honey
1/2 cup honey
cinnamon stick
Simply put honey and cinnamon stick in a pot and heat on low for 10-15 minutes. Then, pour into a bottle with cinnamon stick and let sit overnight.
Pie Crust
2 1/2 cups flour
2 sticks butter, cubed into 1 cm pieces, cold – prepare this beforehand
1 tsp salt
3 tsp sugar
3/4 cup cold water
1 cup extra sharp white cheddar, grated
Filling
3-4 apples, I used Macintosh, a new England staple for apple pie, and 1 Granny Smith for extra tartness, peeled and cored and sliced
juice from 1/2 lemon + zest
½ tsp coarse salt
1/2  cup brown sugar
2 tbsp flour

egg wash – 1 egg + splash of water, beaten
demarara sugar

slabs of extra sharp white cheddar
Prepare: Cube butter into 1cm pieces, and place it in a bowl in the freezer. I find that this allows the butter to get very cold before you work with it. Place cold water into the freezer as well. Don't worry about it freezing- you will use it before it can freeze.
Combine flour, salt, sugar, grated cheese.
Take cold butter, and using a pastry cutter, fork, or fingers, work quickly and cut butter into dry ingredients. Pea size chunks will remain, and that's completely fine.
Using tablespoons at a time, mix cold water into dry ingredients until just combined. Do not overmix or knead. Add the mixture gradually – you can always add more water, but you can't take it out. The resulting dough should be damp but not moist.
Separate dough into two halves. Shape into disks and wrap with plastic wrap. Place in fridge. Let dough rest for at least 1 hour.
Filling: Squeeze lemon juice over apple slices, toss with brown sugar, salt, and flour.
Assemble: Line tart pans with pie dough. Arrange apple spices over it. Roll out other half of pie dough and arrange in lattice or full-crust form. Place in fridge for another 10-15 minutes. Brush with egg wash, sprinkle demarara sugar over the top, and for the full-crust pies, slice some venting slits on top. Bake at 375 for 30-40 minutes, until top is golden brown.
Serve: with a slab of white cheddar right on top of the crust (or on the side, up to you), and allow the residual heat to melt cheddar onto the crust. Serve by drizzling cinnamon infused honey on top.