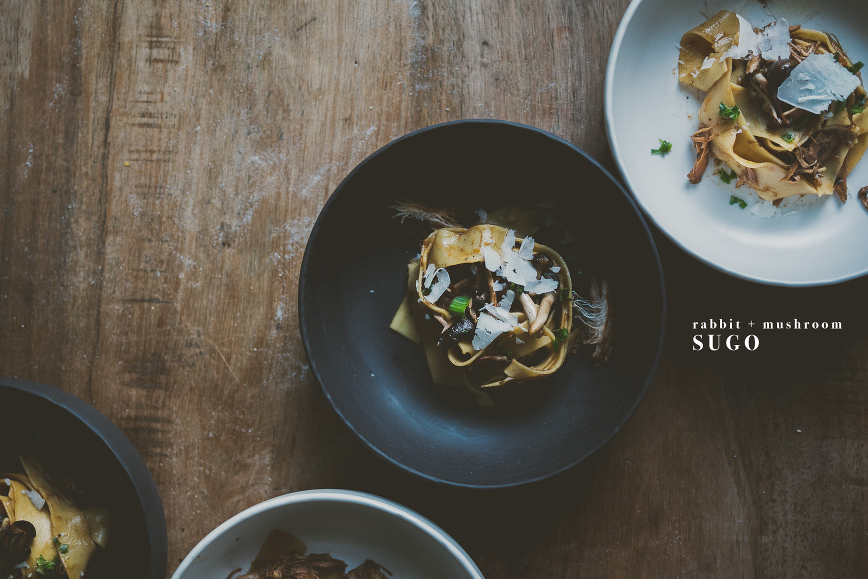 We had our first real storm in Boston since I can back earlier this month. We huddled inside for most of the day but of course had to take our dog out so she could frolic around in the snow (probably her favorite activity). On Sunday, instead of studying for my upcoming exam, I diced up some fennel, carrot, and onions, popped open a bottle of white wine, seasoned my rabbit meat, and let it all simmer slowly for several hours. The entire apartment filled with a delicious aroma that simply belied the dreary gray snowfall outside, and we couldn't wait to get our hands on the final dish.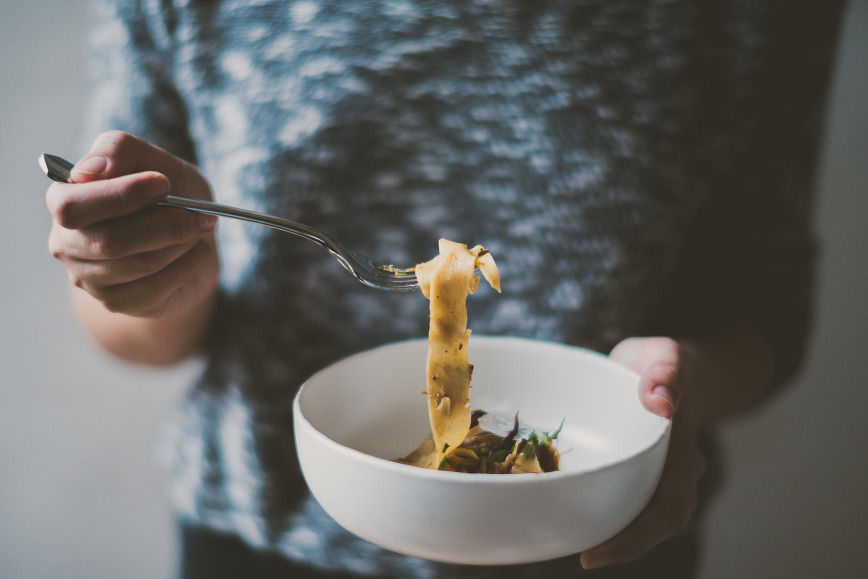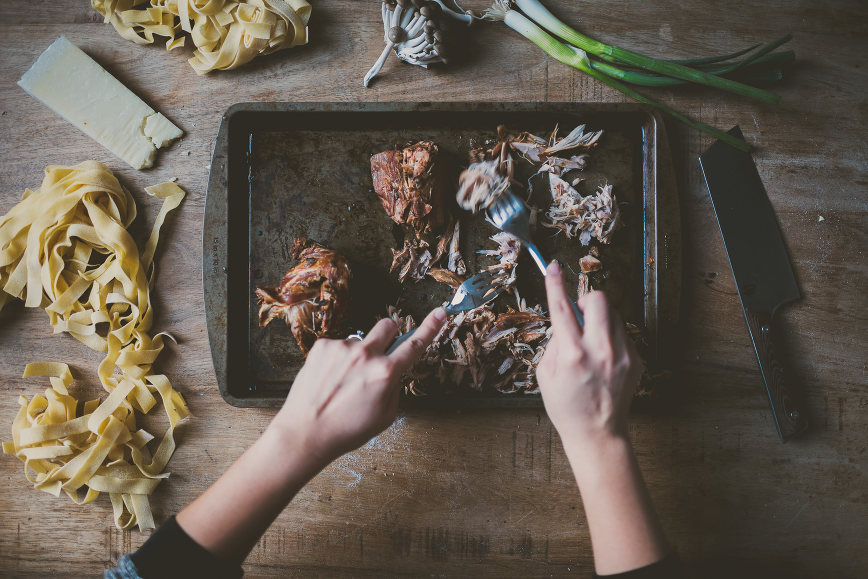 The first time I had rabbit was in Italy. We were in the franciacorta region of Italy, which is known for their sparkling wine, for a little escape that we hoped not to be full of tourists (this was shortly after graduation, and we'd just come from Venice, which was beautiful and amazing but also packed to the brim with tourists). Both Alex and I had taken beginner's Italian, but that just means we could understand directions and ask questions in very broken, basic Italian. We stayed near the breathtaking Lake Iseo and spent a few lazy days exploring the area. We quickly realized that this area did not attract many tourists, so the majority of people we met did not understand or speak English, which gave us a completely different experience than the ones we had in Florence, Rome, Venice, and Milan. One night, we wanted to go try a restaurant, but in such a small town, there were no public transportation available to the restaurants open, and they were way too far for us to walk to. The manager of the restaurant, sensing our disappointment, decided to drive us in her own car to her favorite local restaurant – a little family-run place, bustling with people and energy, conversations flowing freely. The same hotel manager translated the menu for us and ordered for us, and it was one of the best meals we've ever had. I had pasta with a simple butter sauce and pieces of rabbit meat – forgive me, I cannot remember the proper name for it, just the taste and simplicity of the dish. The pasta was homemade and there was no formality – no careful plating or careful placement of the silverware. It was a straightforward, comforting plate of pasta. Alex also ordered pasta – a simple meat sauce that somehow had a million flavors at once. We left with a feeling of gratitude to our hotel manager, who took the time to introduce us to her favorite local eat, to the restaurant servers who patiently waited for the translation and treated us to wine, and to the lovely country of Italy in general, whose hospitality is only rivaled in Japan, in my experiences. I have never had someone go so out of their way to make our stay special, and I will never forget it.


I've loved rabbit meat ever since, but I could only find it on menus of more fancy restaurants, such as Bottega in Napa Valley, where I had their delicious rabbit sugo, the inspiration for this post. It was served with a side of sautéed mushroom, and I loved how meaty and hearty this pasta dish was – almost like a stew. I made my own little version of it, enhanced with shiitake mushrooms and the water reserved from soaking, topped with butter sautéed beech mushrooms, a personal favorite of mine.
Before we dive into the recipe, I want to give a huge thanks to dear Valentina of Hortus Cuisine, whose help and insight were invaluable to developing this recipe. She is the sweetest and my go-to gal for Italian cuisine. I know that when I do eventually try my hand at making pasta at home, I'll be going to her blog first.

Sugo is a long-simmered meat sauce that is also known as ragù or bolognese sauce, depending on the region. Apparently, rabbit ragu is a specialty of the Ligurian coast! I so wish I had some time to just eat my way through Italy, learning about the specialties in each region and the history behind them… but I've not even done that properly with China yet, so my list of future-travel-experiences grows… Sugo/ragù can be cooked in so many different ways. Similar to the hallmark of homestyle Chinese food, each family and each region have their own way of making sugo, but there is a constant: soffritto, a "flavor base" of diced onion, celery, and carrot. I sneakily substituted fennel in lieu of celery, because I personally cannot stand the taste of celery, cooked or raw, and it worked fine :). Pancetta is added for additional flavor and fat, but I decided to omit pancetta in this dish. The meat, which can be anything ranging from rabbit to pork, veal, beef, or a combination of meat, is then browned. White wine is used to deglaze, and stock and/or milk is added to the pot to form a long, slow simmer for hours, until the meat tenderly falls of the bone.
The result is amazing. I think my sugo is a little thinner than I'd like, so if I had more time I would let it simmer even longer. But the taste. THE TASTE! As I wrote this blog post up, I realized I seem to be drawn to long-simmered dishes (like this oxtail soup and red braised pork belly), but the thought of flavors cooking and meshing and infusing for hours is simply irresistible. Many sugo/ragu use tomato in their braise, but since it's the dead of winter and I wanted the flavor of rabbit and mushroom to really shine through, I omitted it. I'm so glad I did.
Valentina gave me the tip to add juniper berries to a rabbit sugo. I ground whole juniper berries with black peppercorn and a pinch of red pepper flakes and added that to the rabbit. It is so fragrant – I would definitely try not to omit it and find some juniper berries to add!






Enjoy! As with almost all of my recipes, feel free to take the liberty to adjust to your own taste preference :).
This post is sponsored by REVOL! All opinions expressed are purely my own, as always. Thank you so much for supporting the companies that support this blog!!! Revol is a France-based family owned business that has been making porcelain pieces since 1768. With centuries of experience, they focus on quality, design, and innovation in their bakeware, cookware, and table-top products. I'm so in love with their beautiful porcelain – I want them ALL. You can find the bowls I used here, and I honestly want their entire collection in this line. Check out the rest of their products here. 
---
Notes:
I seared and braised the rabbit whole, but you can chop it up into pieces if you want. I chopped mine up afterwards and then went at it with two forks
When you add stock/wine/mushroom water, make sure that the meat is covered. Then, reduce it in the long simmer, uncovered, stirring occasionally
I used fennel in my soffritto, but the tradition, I believe, is celery. I personally thought fennel added a sweetness that was really lovely. I've also read somewhere that the addition of chives gives the sugo/ragu a more delicate flavor, so I'm curious to try that in the future
My favorite pasta to use is pappardelle, and I buy it fresh. The egg pasta has a wide cut that is perfect for clinging onto a hearty meat sauce.
This is not a light pasta – it's hearty, meaty, and perfect for the winter.
mortar + pestle – boston general store  \ wooden spoon – old world kitchen \ oval cocotte – staub \ rectangle platter – ogusky ceramics
---
RECIPE: Hearty Rabbit and Mushroom Sugo 
1 2-3lb rabbit
5-6 dried shiitake mushrooms, soaked in cold water for 15-20 minutes, water reserved
2 peeled carrots, finely diced
1 bulb fennel, core removed, finely diced
1/2 onion, finely diced
3 cloves garlic, finely minced

3 whole juniper berries
1/2 tsp red pepper flakes
1 whole black peppercorns

3 bay leaves
1 1/2 cup white wine
1 1/2 cup rabbit stock (or chicken stock)
salt and pepper, to taste
olive oil, for frying

pappardelle
pecorino romano
Wash rabbit in cold water and pat dry. Season rabbit with salt. In a large dutch oven, heat 3 tbsp olive oil over medium heat. Sautee onion until it becomes translucent and soft, about 7-8 minutes. Add fennel and carrot and a pinch of salt and cook for another 8-10 minutes.
Grind up juniper berries, red pepper flakes, and peppercorns in a spice grinder until fine.
Add in meat and shiitake and let pieces brown gradually, turning ocassionally until all sides are lightly browned – 5-7 minutes. Add in juniper berries mix and a couple of bay leaves. Deglaze with white wine and let cook until reduced. Add 1.5 cups stock and reserved mushroom water until meat is covered. Add some salt, and turn heat to low and cook for 2-3 hours, letting it reduce. Stir occasionally and adjust seasoning with salt and pepper.
When meat is tender and seems to fall off to bones, remove rabbit and shred meat from bones, when it is cool enough to handle, with two forks. Return meat to pot and skim off any fat that accumulated. Adjust sauce to desired consistency – reheat to a simmer, and cook without bones for another 30 min until thick. Season with salt and pepper, to taste.
Cook pappardelle according to directions – be sure to heavily salt the water!
In the meantime, sauté beech mushrooms in butter until browned. Toss pasta with rabbit sugo and mushrooms, and finish with a drizzle of good olive oil and freshly shaved pecorino romano.