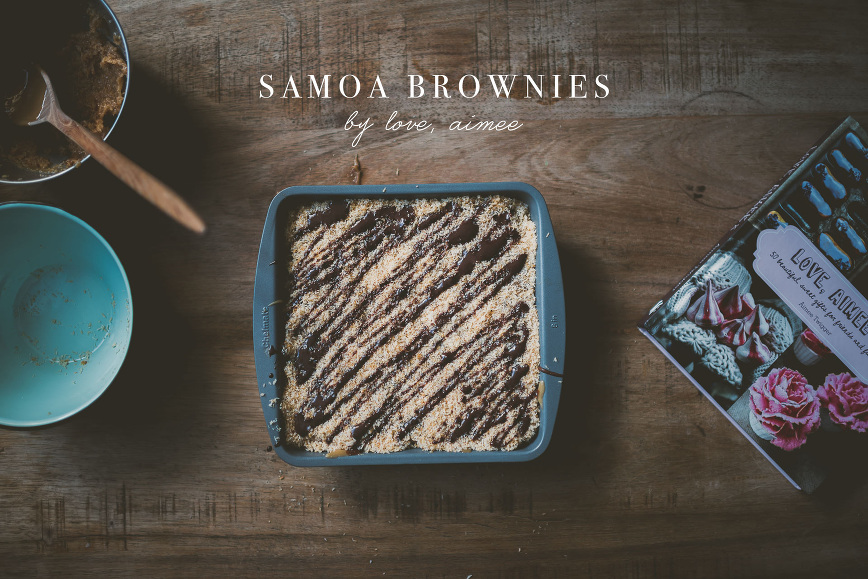 I'm so excited to share this with you and have been since I got my hands on this cookbook– Love, Aimee x. My dear friend Aimee, known for her gorgeous styling and sublime cakes, has a beautiful cookbook!!!!! If you're into desserts at all (and who isn't?) you need to get your hand on this book. I've bookmarked so many desserts, including the churro donut holes, eggs with shortbread soldiers, chocolate chip banana bread doughnuts, all those edible flower treats, and of course, these samoa brownies, that was so compelling Nik also made them. I simply couldn't resist. If you're not familiar with Girl Scout cookies, they pop up with the incoming spring and always mark a time of lack of restraint and shoving my face with thin mints and samoa cookies. Samoa cookings were the indulgent ones for me – soft, chewy, but also with a crunch, these cookies were so fragrant and decadent I could only eat 1-2 at a time. So, when I flipped through Aimee's book and saw these samoa brownies, I immediately began to collect the ingredients to make these. I have to say, Aimee's recipes are so easy to follow and understand – and the brownies turned out amazing!!!!!! I'm so excited to share it with you all today :).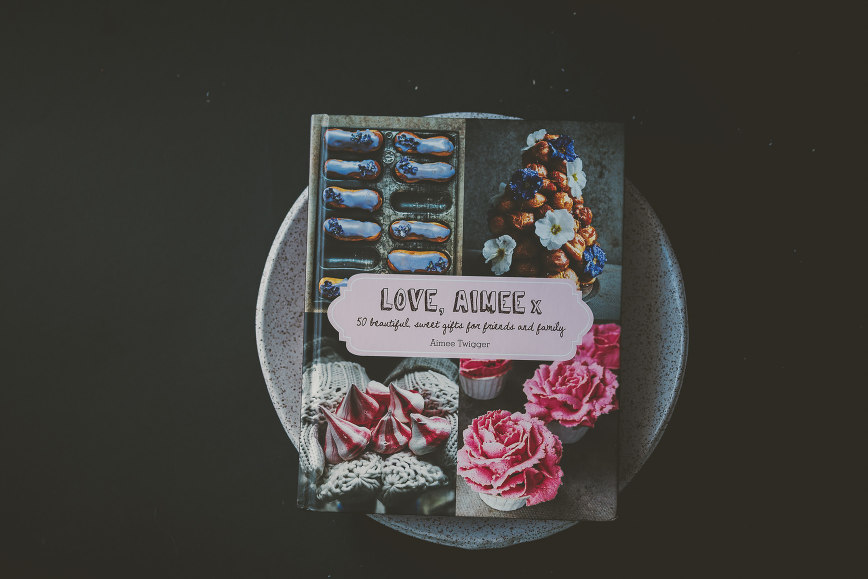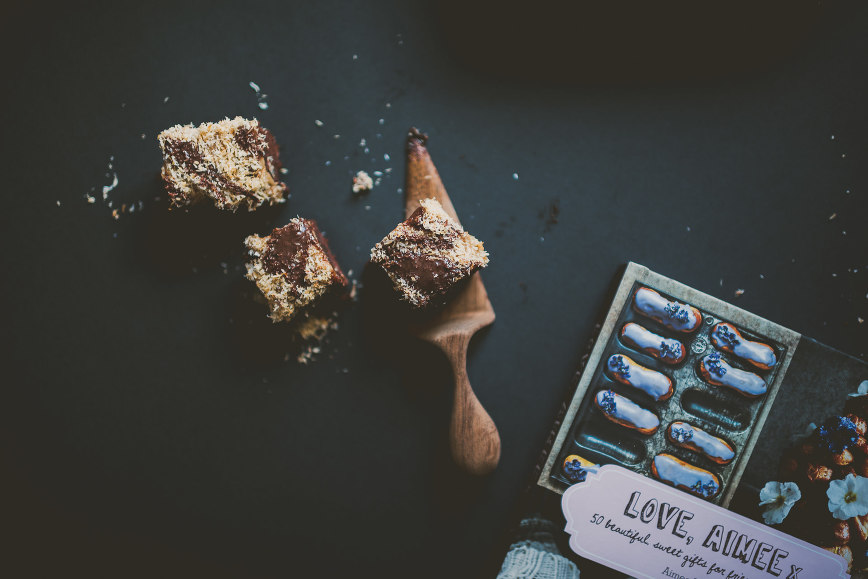 printed with permission from Love, Aimee x
---
RECIPE: Samoa Brownies
For the brownies
90g butter
200g (7 oz) dark chocolate, chopped
4 eggs
220g caster sugar
100g all purpose flour
3 tbsp unsweetened cocoa powder
1 tsp baking powder
Preheat oven to 350F and line an 8×8 baking tin with baking paper. Melt the butter and chocolate in a microwave or in a heatproof bowl over a pan of boiling water, then set aside to cool. Beat the eggs and sugar together in a bowl until pale and thick, then fold in the chocolate mixture. Sift in the flour, cocoa, and baking powder and fold in until you have a consistent batter, but do not overmix.
Pour the mixture into prepared baking tin. Bake for 25-30 minutes and then allow to cool.
For the caramel
90g desiccated / shredded coconut
60g butter
110g caster sugar
100g brown sugar, lightly packed
125 ml (1/2 cup) golden syrup (light treacle)
125 ml (1/2 cup) sweetened condensed milk
Spread desiccated coconut on a baking tray and bake for 5 minutes until toasted. Put the remaining ingredients for the caramel into a heatproof bowl and microwave for 6 minutes, stirring after every 2 minutes.
Spread half of the caramel over the brownies. Mix remaining caramel with half of the toasted coconut and spread this on top of the plain caramel. Sprinkle the remaining toasted coconut on top.
To Decorate
100g (3.5 oz) chocolate, chopped
Melt chocolate and pipe lines over top. Slice and enjoy.