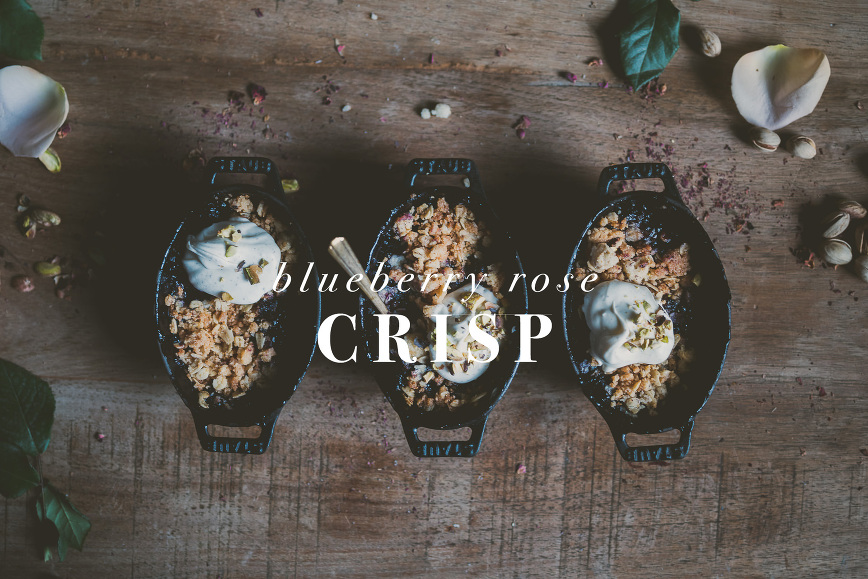 I'm going to keep this post short and sweet. It's been a hectic week, but luckily I'm off for the entire next week, and I have so many fun projects on the schedule – Yay! April will be particularly packed with schoolwork, so this is my attempt at blog planning. Dear blogger friends, tell me – how do you plan when you know you'll be busy for a certain time? Guest bloggers? Making things beforehand? Teach me your ways!!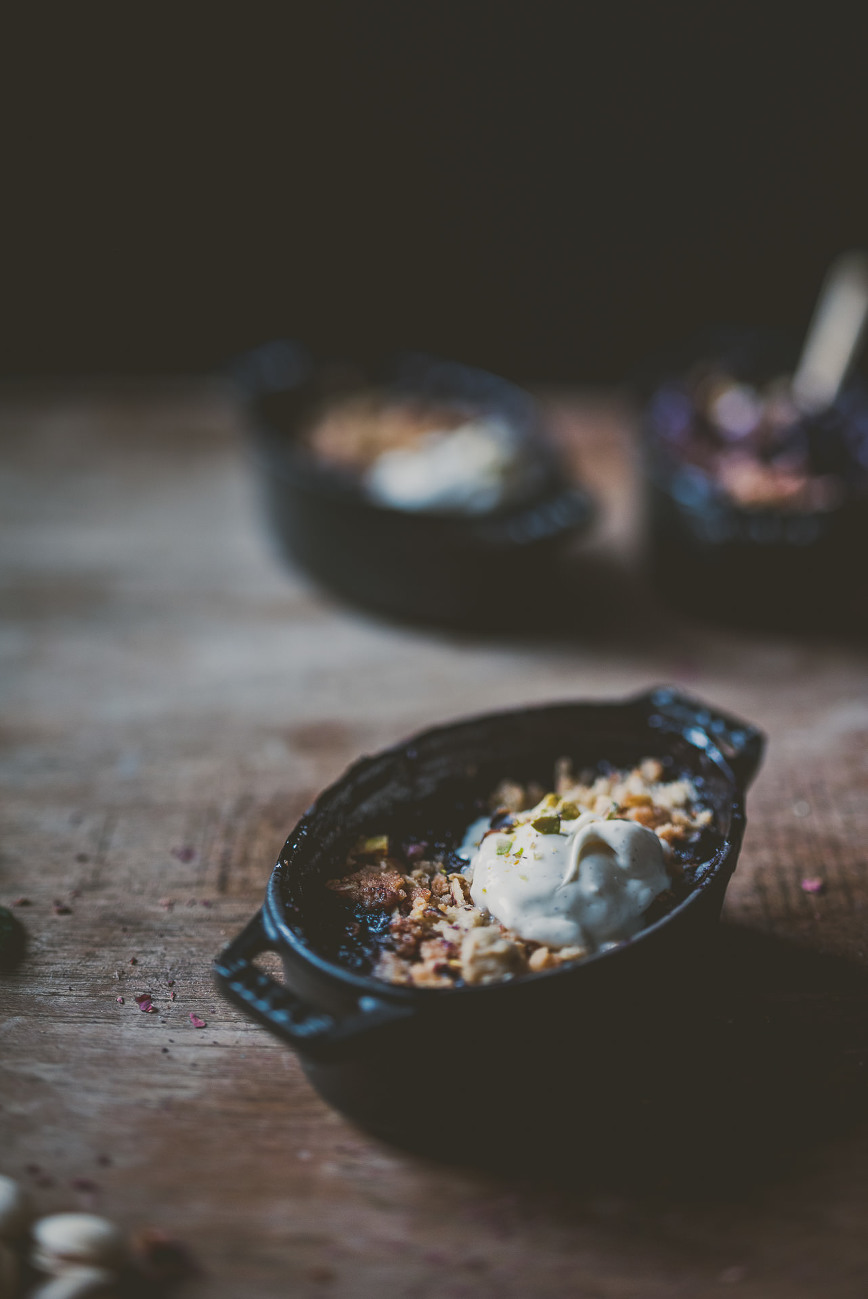 I've partnered up with Wyman's of Maine to make these spring-anticipating blueberry rose crisps!!! Spring officially commences in a few days, and I'm already pretending my home is filled with blooms, greens, and lots of baked goods. I'll do with this, for now. Rose butter is made a day beforehand to let the rose tones to really infuse in the butter, which is then  used to make the crisp topping. That way, the  rose flavor can be tasted with every bite! Extras can be used to spread over rolls or used in other desserts. I used Wyman's frozen wild blueberries, which taste so delicious and juicy. When I moved to New England, I didn't know picking blueberries was a thing. But it is. And I could not be happier because blueberries are one of my favorite fruits. Wyman's of Maine blueberries are special because they're frozen within 24 hours of harvest. That way, the freshness is locked in, and these blueberries are still juicy as if they're just plucked off the vine!!!
This recipe is simple. The rose butter is probably the most complicated part, and even that is simply room temperature butter whipped with crushed rose petals, and then chilled again. Easy, right?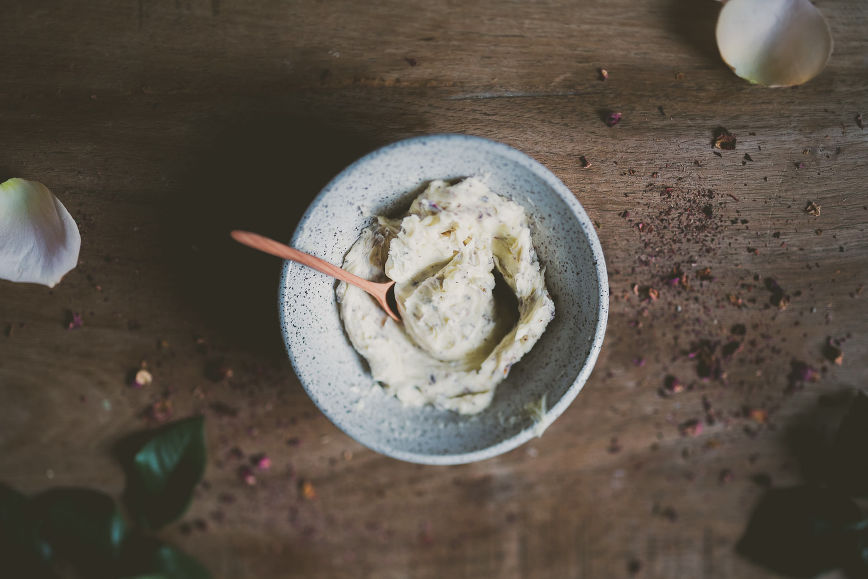 This past weekend, wedding season officially started for us!!!!! Hooray! When wedding season ebbs, we get into a photo withdrawal. I still continuously take photos, thanks to this blog, but photographing portraits, people cuddly and in love, is an entirely different experience than styling and photographing food. It's more in the moment. More about the un-posed interactions between two people that I love to document. At some point in January, Alex and I actually started playing the typical wedding reception playlist on one Saturday evening, to get us back in the wedding zone. Over the holidays when we were in California, we photographed two lovely engagement sessions in two beautiful locations, Muir Woods and Crissy Fields, which "fed" our portraiture cravings for a while. And then, we did binged on photography during our trip to Iceland (if you haven't seen it yet, go NOW. And then book your next trip to Iceland), and then finally, our wedding-drought ended and our 2016 season started!!!! I know I sound way too giddy and bubbly about the onset of wedding season, but Alex and I truly love photographing weddings. We both are otherwise occupied with school and other work, so trust me – if we didn't love photographing weddings, we wouldn't do it. Simple. That being said, our 2016 wedding season is awesome. There's a lull in April and then picks up dramatically from May – November. So soon, I'll have to say bye-bye to my Saturdays again. YAY!!! But first, to get through the school year.






This post is sponsored by Wyman's of Maine! All opinions expressed are purely my own, as always. Thank you so much for supporting the companies that support this blog!!! Wyman's of Maine is committed to sustainability, and as mentioned above, all their fresh fruit are frozen within 24 hours of harvest, locking the freshness and character in.  
mini oval cocottes – staub / ceramic bowl – ogusky ceramics / wooden spoon – apple doesn't fall 
---
RECIPE: Blueberry Rose Crisp
Crisp Topping:
½ cup rose butter
¾ cup heaping flour
½ cup brown sugar
¼  cup rolled oats
1 tsp crushed dried rose
demara sugar, for sprinkling

Blueberry filling
3-4 cups Wyman's frozen wild blueberries
¼ cup sugar
1 tbsp cornstarch
squeeze of lemon
pinch of sea salt

Rose Butter
1 cup butter, room temperature
2 tbsp crushed dried rose
Whip butter with crushed dried rose. Chill in fridge for 24 hours to let flavors develop.
Preheat oven to 375F.
Combine dry ingredients of topping together. Cut butter into dry ingredients of crisp topping until coarse crumbs remain. Chill for 30 minutes.
Heat blueberries in a small saucepan until it begins to thaw and soften. Toss with sugar, cornstarch, squeeze of a lemon, and salt. Spoon into each cocotte, or a 8×8 pan. Gently spoon crisp topping over the blueberries without pressing.
Sprinkle demarara sugar on top. Place cocottes on top of baking sheet and bake for 45-60 minutes, until golden brown and bubbling.