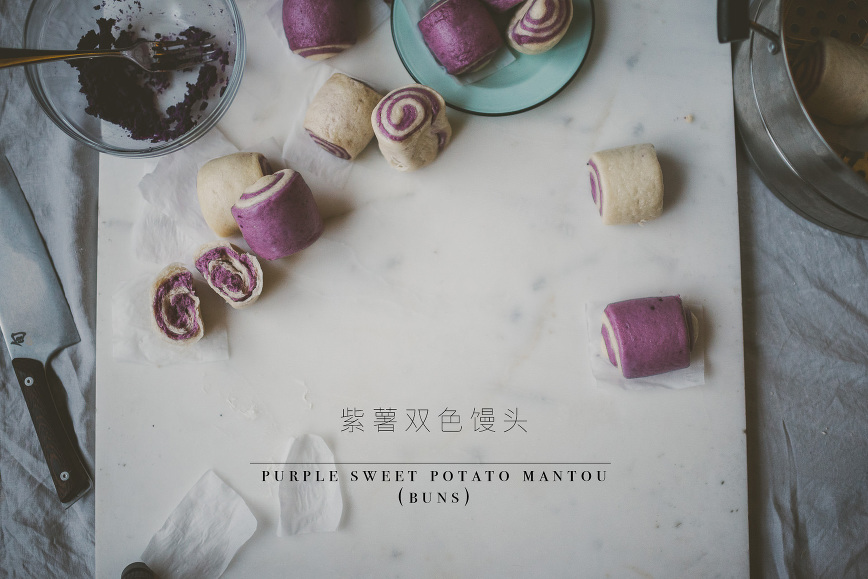 I woke up yesterday morning to a blanket of snow. A last poke from winter, ironically the day after spring officially started, that I felt strangely appreciative of. I mentioned in my last post that wedding season started, but I forgot to mention that our first wedding this year was at the same venue as our first wedding last year, at the same weekend in March. The 2015 wedding had 3 feet of snow, and our bride was prepared with a fur shawl. Our 2016 wedding had 0 inches of snow, and it was actually warm under the sun. As much havoc as the snow last year caused, there was a weird sort of freedom that came with it. Roads were closed, work canceled, school canceled. We hiked through the woods with our dog, who barreled through delightedly, chomping at the loose snow billowing around her. We stayed inside, watched movies, and made steaming mugs of hot chocolate, citing the 3 ft of snow to be a pair of hermits for those days. Stepping outside, everything was given a white, pearly cover. Well, we didn't quite get that this year. Great for the city (and the MBTA), but I admit I was a little sad we didn't get a lot of snow this year. Just when I started thinking about spring recipes and summer travel, a snowstorm comes our way. I woke up yesterday to about 4 inches of snow, and then by nightfall, it was all gone. Precious.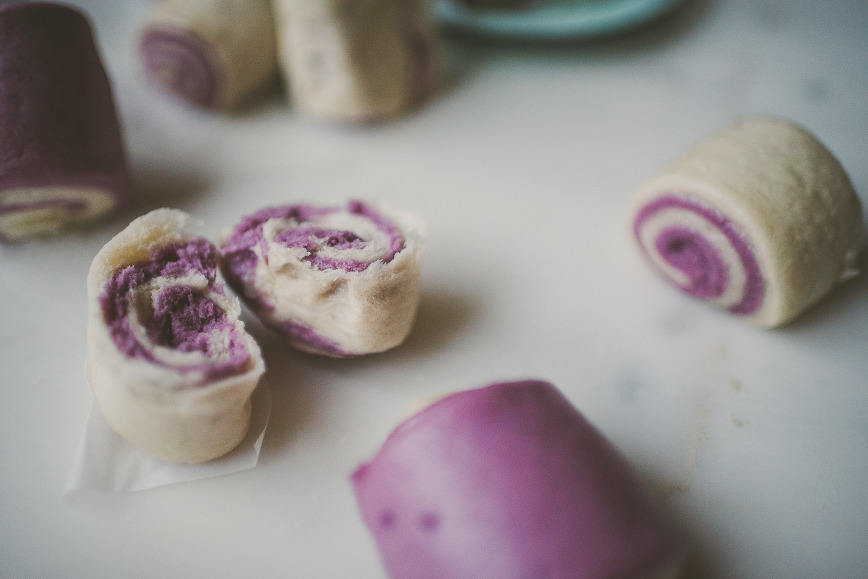 Happy Easter everyone! My family never really celebrated this holiday, so we don't have any "must-make" dishes for Easter, but around us the stores filled with those brightly colored peeps and chocolate eggs in pastel foils and we'd always somehow find ourselves in an easter egg hunt. Alex and I still don't celebrate Easter, but I can't help but smile in delight when I see all the pastel-colored, bunny-themed cuteness that sprouts up everywhere. Last year, I made a mash-up of the quintessential hot cross buns – coconut tangzhong hot cross buns, which uses the Chinese bread-baking method of incorporating a water roux (tangzhong) into the dough, making it silky, pillow-y soft. It's not to be missed. This year, I have another Chinese recipe for you. It's not a mash-up of any traditional Easter treat, but hey, let's make our own traditions, shall we?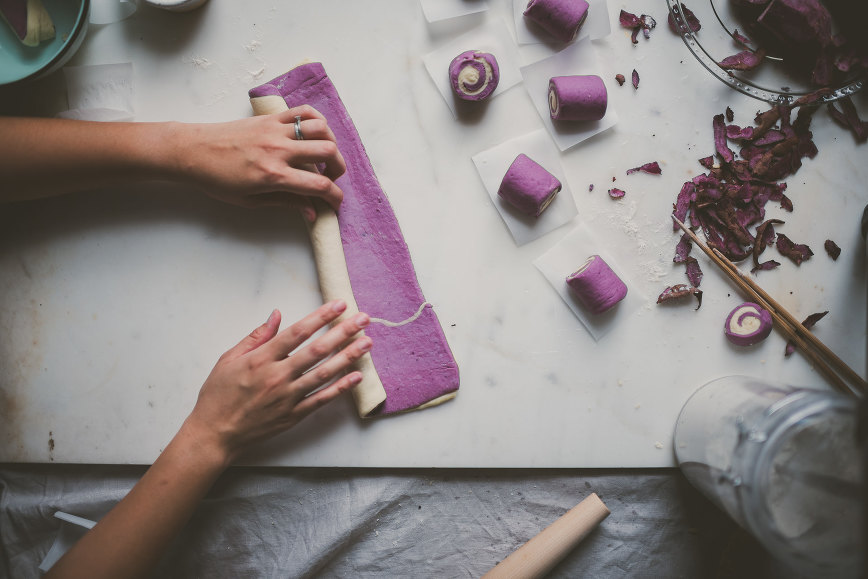 This is a version of 馒头 man tou, which refers to the classic Chinese steamed bun. It's ridiculously simple to make and is one of my favorite breakfast treats ever. There are so many variations, and you can try out my scallion flower buns if you want a savory mantou! The one I'm sharing with you today has a beautiful purple color, naturally obtained from a purple sweet potato. It's very simply incorporated with half of the dough I made, then rolled up with the non-purple dough to create that swirl. Fun, colorful, and so delicious.

There are three parts – a yeasted part, purple sweet potato dough, and white dough. The first one, yeasted dough, is what it sounds like – a yeasted base allowed to rise. After the first rise, it will have doubled in size, and one telltale sign is if you gently pull the dough from the side of the bowl, you'll see a honeycomb texture.

This is then split into two halves and each separately incorporated with purple sweet potato or without for a normal mantou dough. The mashed steamed sweet potato may seem daunting to incorporate with half of the yeasted dough, but just keep kneading, and suddenly the dough will become a uniform gorgeous purple color.




After the purple and white doughs rise, you want to assemble. I tried to include as many photos as possible, because it can seem a bit confusing. It's simply two rolled out slabs of dough, sealed together with a thin layer of water. After that, I wanted to have a variety of white and purple buns, which depends on how you roll it – if you roll with the purple layer on the inside, you'll get a white outer layer. If you roll with the white layer on the inside, you'll get a purple outer layer. Simple, no?



Cut evenly in half, seal with a rolling pin, and then brush another thin layer of water on both dough slabs, one on the white side, one on the purple. Roll tightly, seal the ends of the log, and then slice into pieces.



There is a two-fold steaming method that allows evaporation of the steam. This creates a more aesthetically pleasing surface – shiny, smooth, and without wrinkles or bumps. After bringing water to a boil, turn to very low, and steam for 10 minutes, cover on. Remove lid for 2 minutes to let steam disperse, and then replace lid and steam at mid-high heat for another 5-8 minutes, until surface is bright and shiny, which indicates that the bun is done cooking.





enamelware – farmhouse pottery / asian utility knife – shun cutlery 
---
Notes:
You can use orange sweet potato if you want. Purple sweet potato can be pretty hard to find, but I can find it occasionally at my local Whole Foods market.
The two-fold steaming process at the end has to do with creating a smooth surface, without wrinkles or bumps. You can omit it and just steam for 12 minutes, then turn heat off and let sit, cover on, for another 5 minutes, but this method creates a more aesthetically pleasing bun, and more reliably! I'm not going to lie, making this bun is quite a process and can take awhile, with all the resting dough, but it's worth it.
To save for later, steam the buns, wrap them individually, and stick them in the freezer. Simply re-steam or microwave with a wet paper towel to reheat.
RECIPE: 紫薯双色馒头 Purple Sweet Potato Mantou Bun 
Yeasted Dough Base
220g flour
3/4 cup + 2 tbsp milk, warm
2 tbsp sugar
1.5 tsp active dry yeast

Sweet Potato Dough
1/2 of dough base
1/4 cup purple sweet potato, steamed and mashed
50g flour
1 tsp cooking oil

White Mantou Dough
1/2 of dough base
60g flour
30g granulated sugar
1 tsp cooking oil

water for brushing
Mix warm milk, sugar, 1 tsp flour, yeast and let sit for 15 minutes to ensure its activity. Bubbles and foam should appear in a thick layer on the surface.
In a bowl, add the remaining flour of Yeasted Dough Base  to the yeast/milk mixture and knead for at least 2 minutes minutes until dough forms, or until your hands and the bowl are no longer sticking to the dough. Cover and put in a warm place, let rise for 1.5 hours, until doubled in size. You will see the characteristic "honeycomb" pattern when you lift the dough from the bowl.
Sweet Potato Dough
To steam purple sweet potato, steam until fork-tender, then mash. Add cooled mashed sweet potato and the rest of the ingredients to half of the yeasted dough base. Knead until well incorporated – about 15 minutes, until dough becomes smooth, elastic, and shiny. Let rise another 15 minutes.
White Mantou Dough
Add the rest of the yeasted dough to the ingredients of white mantou dough. Knead for 10-15 minutes until well incorporated, smooth, elastic, and shiny. Let rise for 15 minutes as well.
On a floured surface, roll out purple sweet potato dough into a rectangular shape, about 1/8″ thick. Roll out white dough in a rectangular shape as well.
Brush a thin layer of water on the purple dough and then gently stack the white dough on top. Use a rolling pin to seal the two layers.
If you want both purple and white buns, split dough in half. Otherwise, proceed.
Brush another layer of water onto the white surface so that it can tightly roll up into a log, yielding a purple outer layer. Pinch ends to seal. Let rest for 5 minutes. Repeat with other half of dough, with a layer of water on the purple surface, yielding a white outer layer.
Cut each half into about 6 equal pieces on parchment paper squares. Cover and let rise for another 20 minutes.
Let water boil in a steamer. Turn heat to low. Steam for 10 minutes, and then remove lid for another 2 minute to disperse the steam, then put lid back on and steam at mid high heat for another 5-8 minutes, until the surface is bright and shiny, indicating it is done.