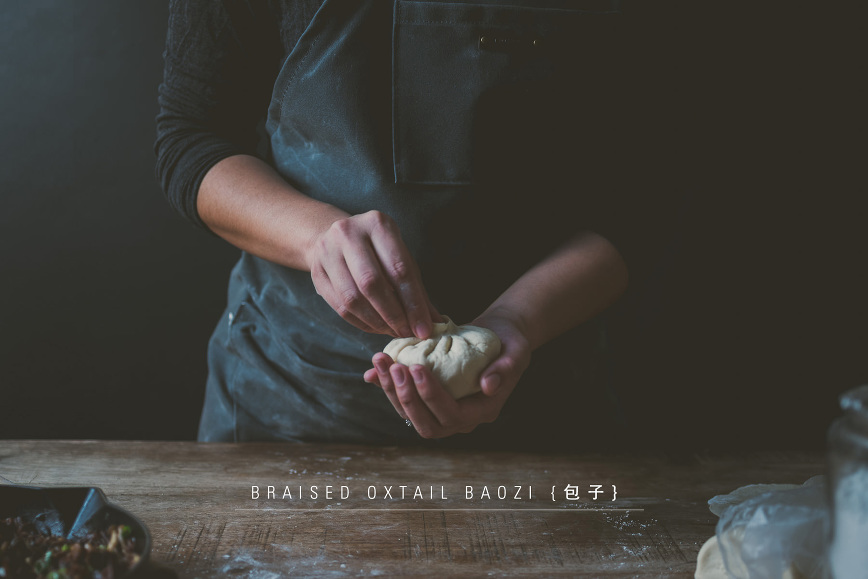 I'm sharing my secrets today for how to make your own stop-motion vignettes. Truth be told, it's not really a secret, but I've been bombarded with very kind, sweet emails and DMs imploring me to create such a post, so here I am, spilling the beans :). One of the reasons I continue to blog is the community I find myself lucky to be a part of – a wonderful group of creative people who constantly inspire and amaze me with their art and generosity. I'm so humbled by all of you and your warm support, and in the same spirit of generosity, I'm so excited to share my method of making stop-motion vignettes, to be made into GIFs for your website or videos for social media. I'd love to see what you come up with! Let me know what you come up with, your tag me on Instagram – @bliu07
If you have no interest in a stop-motion tutorial, then scroll on down for the recipe for this decadent braised oxtail baozi.
---
Stop-Motion Vignettes: GIF + Video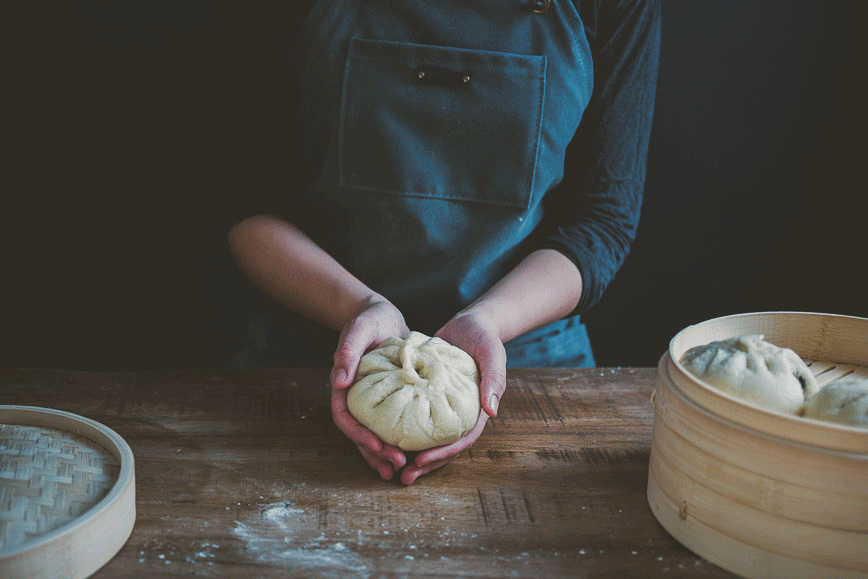 Stop motion vignettes are what I call process driven fun videos I like to put together. They're great for complementing a recipe post, especially when there is a more complicated folding or assembly process involved. Many have assumed it's an app, and technically it is, but not a simple app on your iPhone. Instead, it can be very easily assembled on your computer. My very first one was very rough – how to wrap Shanghai shaomai. Since then, I've made vignettes on how to shuck an oyster, garnish soup, assemble a Thanksgiving table-scape,  layer and frost a cake, assemble spring rolls, and even a full recipe stop-motion video – taro milk tea rolls.  I've included a step by step tutorial – please let me know what you think, and if you've made your own, I'd love to see them!
I want to note that there are many ways to make these sweet videos – this is the way I've always done it. I'm so excited to share this process with you!!!
With Instagram's push towards video and their new "views" capability, these stop-motion vignettes have become increasingly popular. I've been sharing these via instagram since a year ago, and the increasing engagement has been astounding!! I've also heard feedback that these GIFs are really helpful when navigating how to do a more complicated cooking process, such as wrapping dumplings or the spring rolls. This past weekend Instagram featured me as their kickoff to #WHPfoodfilms, which received over 3 million views. Since then, a Vietnamese spring roll assembly vignette I posted received over 200,000 views, which was amazing and humbling all at once. Today, I'm going to show you how you can make your own.

Notes/Tips 
Have idea of what you're shooting. Is it process? Is it folding a dumpling? Or is it putting on garnish for a soup? Or, are you cutting a cake? Assembling a tablescape? All of these microstories would work beautifully in a stop-motion vignette. Put together a small storyboard so that you know what the beginning frame is and what the last frame is (or at least visualize it in your mind).
Shoot in RAW so you have full capability to edit to create uniformly edited photos.
Use a tripod for steady framing if you are planning on incorporating your own hands. I use a Gitzo explorer.
Prepare all the ingredients beforehand so you can simply shoot without interruption.
GIF vs MP4
Gifs are file formats that allow motion on a webpage without prompting a video to play. They're great to embed into blog posts, although they can cause a webpage to load more slowly. Gifs usually won't resize automatically like JPGs do, so export at the specific width of your page to avoid any complications. They also have limited colors, so keep that mind in mind. Currently, Instagram does not accept GIF file formats, but you can easily export to an .mp4 file for social media purposes. 
After you've finished photographing and editing the individual frames, export to JPG in a single folder
Open Adobe Photoshop. File >> Scripts >> Load Files Into Stack

Click browse. Find your designated folder, and select all.

Click OK. All files should then appear as individual layers in one file.
Click Window >> Timeline to prompt the timeline window

Click "Create Frame Animation" in the timeline window
In the Timeline Window's top right corner, click on the menu and click "Make Frames from Layers". The frames will then populate across the Timeline Window.

In the same menu, click "Reverse Frames" to obtain the right order.

Adjust the timing to your specifications.
To export:
– GIF: File >> Export >> Save for Web
– .mp4: File >> Export >> Render Video
Enjoy, and be sure to show me what you come up with!
---
Braised Oxtail Baozi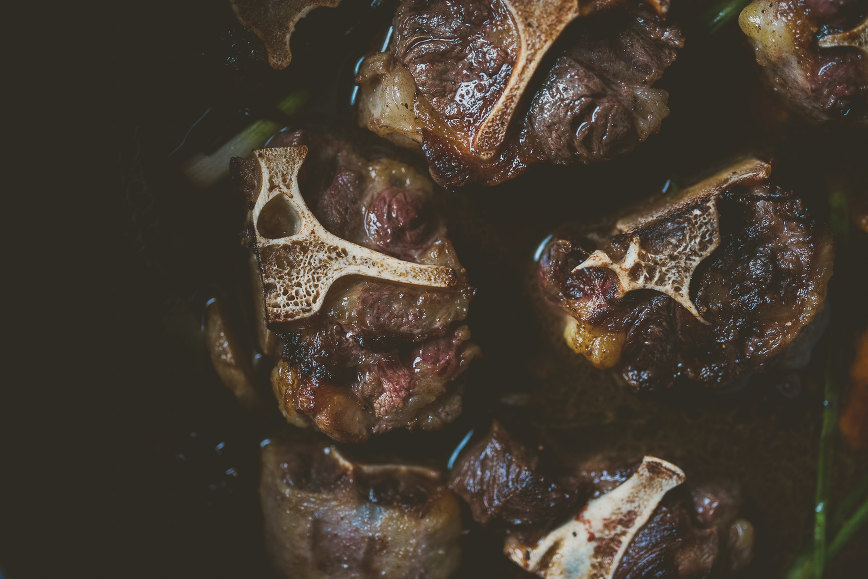 Now that you're an expert on making stop-motion vignettes, let's talk about braised oxtail baozi!!! In my previous post on purple mantou, I talked about how obsessed I was with steamed buns, and that obsession really stemmed from a favorite breakfast street food from Shanghai: pork baozi! Giant fluffy pork baozi. When I worked in Shanghai for a summer, I stopped by a little breakfast stand and got pork baozi (and possibly shaomai too, hehe). Since then I love everything stuffed in fluffy mantou. I've been meaning to make this for awhile, and I'm so happy to finally share this with you. Tender, braised oxtail (in the red-braise method) and succulent mushrooms, all stuffed in soft fluffy mantou dough. If I'm honest, this does take awhile to make, with the braise and the dough and the assembly and finally steaming, but it's so worth it. Trust me. And you can freeze any leftovers and ta-da! Easy, convenient and delicious breakfast awaits next week.



See GIF below for wrapping technique. I definitely have to work on my wrapping technique – you ca see how messy they are :). 



Also, I'm so obsessed with this waxed canvas apron from Rehouse VT! What I'm wearing is a full coverage Pinafore. You can't see it here but its tied with gorgeous leather straps. It fits my aesthetic perfectly and I can't wait to do more with it. Many thanks to Matt and Britt


RECIPE: Braised Oxtail Baozi 包子
Braised Oxtail
2-3 lb oxtails
1 tbsp oil
2 slices ginger
4-6 cloves garlic
2 whole star anise
2 bay leaves
3 stalks scallion, roughly chopped (to be removed later)
2-3 sichuan peppercorns
1/4 cup shaoxing wine
3 tbsp light soy sauce
2 tbsp dark soy sauce
1 tbsp sugar (rock s sugar if you have it)
citrus peel
1.5 cups stock

salt

1 cup mushrooms (I like beech, but sliced shiitake works well here too)
2 tbsp butter
2 tbsp flour
Rinse oxtail and pat dry. Heat a dutch oven over medium-high heat and brown all sides until golden brown.
Remove oxtails from pot, set aside. Add in ginger, scallions, garlic, star anise, bay leaves, peppercorns. Cook until aromatic, around 2 minutes.
Add in shaoxing wine, soy sauces, sugar, water and deglaze pot. Place oxtails back in, bring to a boil, then reduce heat to low. Simmer, covered, for 2-3 hours, until meat is fork-tender and falls off the bone. Add more water if necessary!
When oxtail is fork-tender, remove from pot. Use a fork to remove and shred meat. Set aside. Reserve a few tablespoons of braising fluid. Cook mushrooms over oil and then melt butter. Add in flour and whisk until thick. Thicken with braising fluid until you obtain the consistency you want. Toss oxtail shreds with mushroom gravy mixture and let cool completely.
Mantou Dough
400g flour
220g milk, lukewarm
1.5 tbsp active dry yeast
20g sugar
Mix warm milk with yeast and sugar. Let sit for 5 minutes, until foamy. In a separate bowl, add flour. Make a well in the center and add milk/yeast mixture. Stir with chopsticks until a dough starts to form.
Knead until the dough, bowl, and hands are clean and shiny. (10 minutes – ps, this is an old Chinese saying to indicate when the dough is ready to rise!)
Cover and let rise until doubled, 1-2 hours.
Punch dough down and knead a few times, then get ready to make baozi.
Roll into a log, divide into 6 pieces. Use a rolling pin to roll around the edges, so that the edges are thinner than the middle. Spoon cooled oxtail-mushroom mixture. Pleat and seal (see GIF above for illustration).
Bring cold water to a boil. Put steamer on, place lid on, steam for 15-17 minutes, then turn off heat and let sit for 2 more minutes.