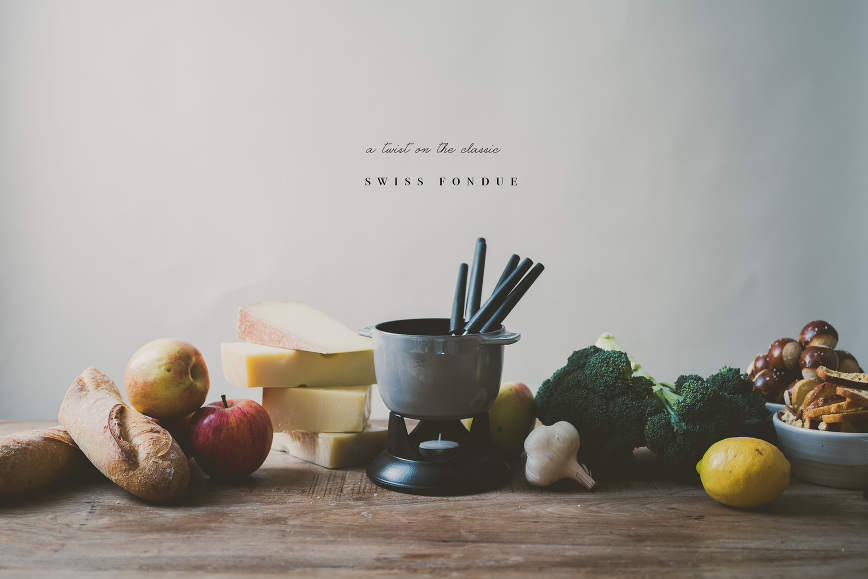 Happy National Cheese Fondue Day!!!!
What does fondue mean to you?? More broadly, what are your experiences with eating from a still-cooking pot of something? Growing up, we would almost always have hot pot for special occasions. A portable gas-powered burner with a large, divided pot would sit at the middle of the table, with anything from fresh vegetables to slices of raw lamb surrounding the pot – we'd wait for rich broth to come to a boil and then begin to cook the thin slices of meat. A few seconds in the pot, a slight shifting of your chopsticks, and a medium rare cooked piece of lab is ready for consumption. Then, two years ago when Alex and I visited Japan, we had sukiyaki, which is "Japanese-style hotpot". First, lard is melted in a pot on the table, and then meat and vegetables are slowly cooked throughout the meal. What I loved about that was that right after a piece of meta is cooked, it is dipped into a bowl of beaten raw eggs and then consumed. It sounds weird, but it's really delicious. And then there's Korean barbecue. Do I even need to describe it?? What I loved about all of these, food-cooked-at-the-table dishes were how communal they were. A group of friend gathered at one table, reaching for a set of dishes spread in the center, cooking them in the same vessel. We have Chinese hot pot on special occasions because the atmosphere is celebratory – it becomes a huge spread because the options are endless, and the very nature of reaching over to cook things in a communal pot encourages communication and interaction. Of course, Japanese shabu-shabu, which is individual hot pots, are fun, too, but it's not quite the communal experience like Chinese hot pot or Korean barbecue.
Oh, and on another note – I'm so glad you enjoyed my stop-motion vignette tutorial from last week! Keep tagging me, emailing me, DMing me to let me know you've tried it out – I LOVE seeing what you come up with. It's much easier than you thought right?? Also, SLR Lounge very kindly wrote up a feature about it, and you can check it out here!!!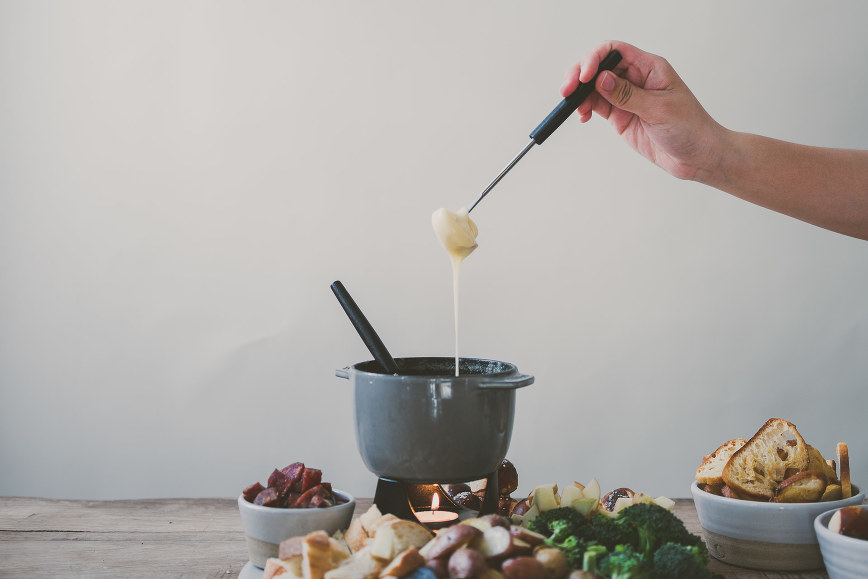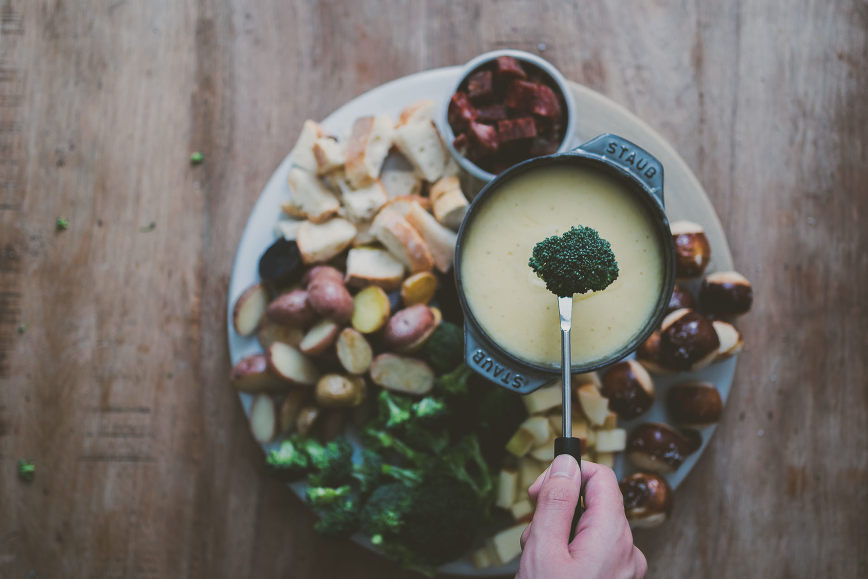 I find that fondue is similarly communal and engaging. I think I first had chocolate fondue, but I wasn't too fond of it. I preferred my fruits by themselves, so I wasn't ga-ga over the extravagant chocolate fondues I sometimes encountered. In fact, according to Makiko, in Switzerland chocolate fondue isn't actually very popular. Instead, "la fondue" simply indicates cheese fondue, with wine and bread. I was much more interested in cheese fondue – as you might know from my previous posts about cheese (like this and this), I love all kinds of cheese – goat cheese, cow cheese, sheep's milk cheese. Give me a cheese and I will try it, the stinkier the better! If you come over, you'll often find some type of cheese in my fridge, ready for any cheese cravings. Melted cheese with bread and other things dipped in it for cheesy coated goods? That sounds pretty perfect to me. I teamed up with Emmi USA to make a twist on the classic Swiss cheese for National Fondue Day!!!! A good chunk of le gruyère, the classic Swiss cheese Emmentaler, and this funky cheese der scharfe maxx. Together, they formed a really creamy, smooth, nutty, delicious fondue!!!!




I mentioned this combination of fondue with my friend and her fiancé, whose family is of Dutch origin, and I was pleasantly surprised to know that their family loves fondue! They have a special drawer in the fridge just for cheese for fondue!!!! I asked them what their favorite dipping foods are, and bread was definitely the most enthusiast answer!!! Bread is what is traditionally dipped into Swiss fondue – specifically really crusty bread. Andrew mentioned to get bread that had a lot of crispy crust – enough so that the fondue fork can pierce through and actually have a grip, without falling lost into the fondue. I also added my favorite foods to eat with this sort of cheese: broccoli, apples, salami, pretzel bites, and potatoes!!! Fondue is communal and casual – I took the liberty to choose whatever foods I wanted to dip into the fondue, and I encourage you all to do the same. Host a fondue party!!!! Invite as many people over as you have fondue forks, and have fun with it.



I used this cast iron fondue pot from Staub, and it was perfect for four people!!! It has a candle underneath, which worked out fine for this size of fondue. I've seen other fondue pots with an electric base, but this worked beautifully for us!
An aged gruyère and the classic Swiss cheese (that's depicted in all the cartoons – the ones with big holes in the wedge) Emmentaler are classic choices for a fondue. I was really intrigued by Emmi USA's  der scharfe maxx and it worked so wonderfully in this fondue!!! It's a semi-soft cheese with a pungency that is almost meaty. It's deep, bold and nutty. With the milder Emmentaler and the flavorful gruyere, this der scharfe maxx added the perfect note of rustic complexity to this fondue. I highly recommend this addition!



This post is sponsored by  Emmi USA. All opinions expressed are purely my own, as always. Thank you so much for supporting the companies that support this blog. Their gruyère and emmentaler are truly spectacular, and I'm so glad I discovered their der scharfe maxx!! I'm dying to try their spicy appenllezer, which I think would work really well with a mango chutney grilled cheese (ooh, must do this in the future!) 
fondue pot – staub / serving stone + ceramics – farmhouse pottery 
---
RECIPE: 3-Cheese Swiss Fondue with Gruyere, Emmentaler, and Der Scharfe Maxx
¼ lb emmentaler
½  lb le gruyère
¼ lb der scharfe maxx
1 clove garlic
1.5 tbsp lemon juice
2 tsp corn starch
1 cup dry white wine (like sauvigngon blanc)
2 tsp kirsch brandy

pepper and nutmeg, as needed
Using clove of garlic, rub around the inside of the pot. Discard garlic. On the stovetop, pour wine into the pot. Heat over medium heat until it simmers – do not let it boil. Add cheese, 1 cup at a time. Stir constantly with a wooden spoon and continue to add cheese, until a light, creamy sauce forms. Let simmer on low heat for 10-15 minutes. Stir lemon, kirsch, and cornstarch together until dissolved. Stir into pot. Let simmer for another 10 minutes, continuously stirring. The more you cook, the creamier and less string-y it will be. Emmanteler can tend to make fondue string-y, so make sure you cook it sufficiently for that extra creaminess.
Season with pepper and nutmeg to your preferences.
Bring to a boil. Remove pot and place over fondue burner.
To dip:
crusty bread like a French baguette
raw broccoli
pretzel bites
apples
salami, cut into cubes
roasted fingerling potatoes (at 425F, toss with olive oil and salt and pepper, roast for 20 minutes)