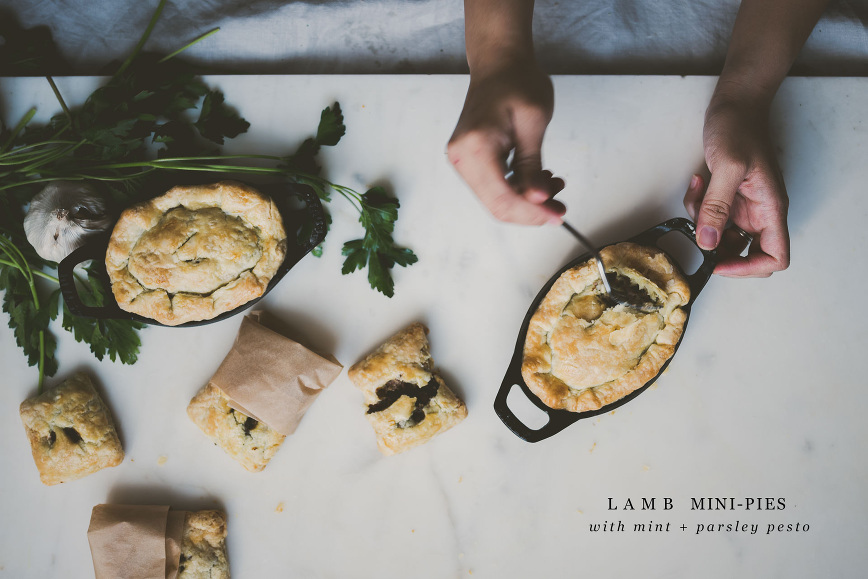 Around this time last year, Alex and I gallivanted off to New Zealand for our honeymoon, and besides the gorgeous landscapes and bungee jumping, we specifically hunted down (via lots of recommendations and fame) little individual meat pies!!!! Steak pies, lamb and mint, duck, pork belly – meaty, earthy, hearty, flaky little pies that satisfied every craving we had. When we were there at the end of April, it was early fall. The weather was crisp, with slight breezes and the occasional crazy downpour – actually very similar to what we're having in Boston right now! After a hike or a tour among the fjords, Alex and I would hunt down a meat pie and devour it in seconds. We wanted to try all the flavors (impossible, but we can try) and I just fell in love with meat pies. I made a kimchi and pork belly pie last year, and this time I'm making one of my favorite flavors: lamb and mint! Lamb is braised with bunches of fresh mint, and then a mint and parsley pesto is stirred in right at the end for a flavorful, fresh, spring-y lamb filling. It's tender, falls apart at the slightest touch, and is thickened in some braising stock gravy, stuffed in a flaky buttery crust. This pie is a decadent, rich, and comforting treat, and with individual sizes, they're the perfect course to serve for a little dinner gathering!!!!!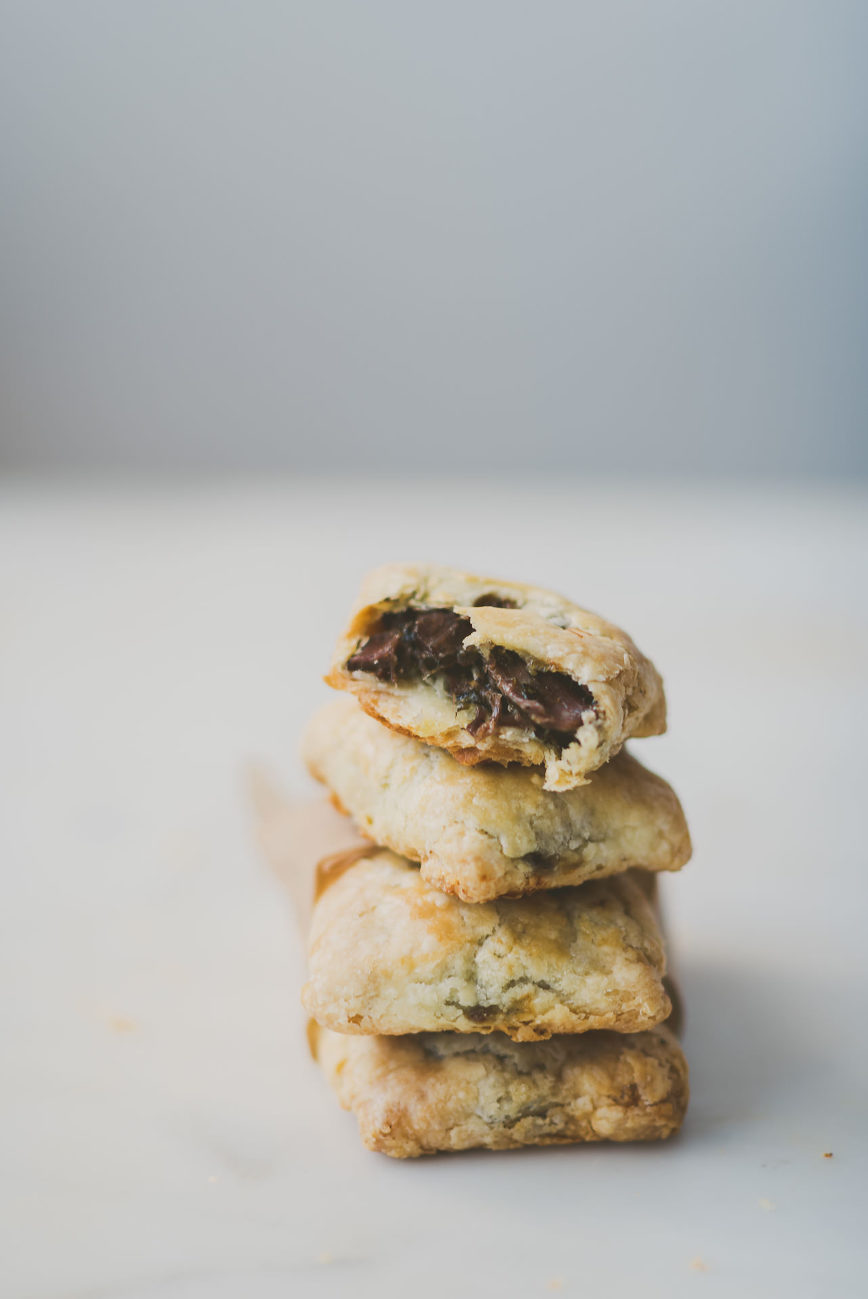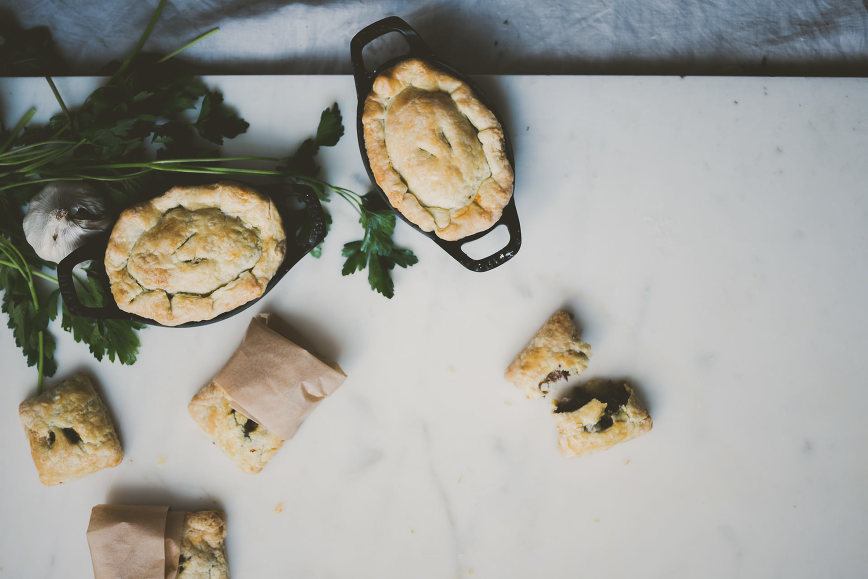 To make preparation easier (especially if you're planning a gathering), the lamb shanks can be braised the day before until fork-tender and then chilled with the braising fluid overnight. The next day while you're preparing the pastry, warm up the braise, rip the meat from the bones, and then strain the stock for the gravy. The pesto can also be prepared beforehand (and used for other dishes as well!).


Lamb shank is browned well then braised with a fennel, carrot, and onion mix. I used Progresso's Salt Free Chicken Broth  with the braised, full of flavor but with flexibility for me to season it how I wanted to. The braise is continued in the oven at a low temperature for a few hours, until the meat falls off the bones – tender, saturated with flavor, with notes of mint embedded.



You can either make them into envelope-style hand pies, or in mini pans for mini pies. It's up to you. I've provided instruction for both. To give you a reference, the pie crust I listed made 2 mini oval pies and 4 hand-pies!!!!!



This post is sponsored by Feed Feed and Progresso, All opinions expressed are purely my own, as always. Thank you so much for supporting the companies that support this blog!!! 
---
RECIPE: Lamb Mini-Pies with Mint and Parsley Pesto
braised lamb shanks adapted from this recipe 
Braised Lamb Shanks
2 lb lamb shank, fat trimmed
6 garlic cloves, peeled and smashed
2 tbsp olive oil
1 bulb fennel, chopped
1 carrot, chopped
½ yellow onion, chopped
½ cup white wine
2 cups Progresso salt-free chicken broth
2 bunches fresh mint

2 tbsp butter
2 tbs flour

Mint-Parsley Pesto
2 cups fresh mint leaves, finely chopped
1 cup Italian parsley, finely chopped
1 tbsp lemon zest
Heat oven to 325F.
Season lamb shanks with salt and pepper. Heat 1 tbsp oil in a dutch oven over medium high heat. Brown lamb shanks until golden brown on all sides, cooking in batches if necessary. Set aside.
Turn heat to low. Add in another tbsp olive oil and add in fennel, carrot, onion and salt and cook until soft and translucent, about 3-4 minutes. Add smashed garlic and cook until fragrant and beginning to brown, about a minute. Increase heat to medium high, and add wine. Deglaze pot but scraping at the brown bits at the bottom. Increase heat to high, add salt-free chicken broth and lamb pieces. Bring to a boil then turn heat low to a simmer. Add in fresh mint leaves. Cover, and then turn off heat and transfer pot to the oven.
Let braise for about 2 hours, turning at the halfway point, until meat is fork tender. This can be done a day ahead and chilled in fridge with braising fluid. Meanwhile, make pesto!
PESTO: In a food processor or mortar & pestle, combine mint, parsley, lemon juice, salt, garlic, until smooth. When processor running, add oil in a thin stream until evenly incorporated. Stir in zest and set aside.
When braise is done, remove shanks with tongs and set aside to cool. Strain leftover sauce and pour back into pot, without the vegetable base. Bring to a boil and aggressively reduce by half. In a separate pan, melt butter. Whisk in flour until a paste forms and cook until fragrant, 1-2 minutes. Whisk in ladles of braising stock until you have a smooth gravy. Let thicken for a few minutes. Gently rip shanks into smaller pieces. Add shank chunks into gravy. Stir in pesto. Let cool.
Pie Crust
2 1/2 cups flour
2 sticks butter, cubed into 1 cm pieces, cold – prepare this beforehand
1 tsp salt
3/4 cup cold water

1 egg + splash of water
Cube butter into 1cm pieces, and place it in a bowl in the freezer. I find that this allows the butter to get very cold before you work with it. Place cold water into the freezer as well. Don't worry about it freezing- you will use it before it can freeze.
Combine flour and salt. Take cold butter, and using a pastry cutter, fork, or fingers, work quickly and cut butter into dry ingredients. Pea size chunks will remain, and that's completely fine.
Using tablespoons at a time, mix cold water into dry ingredients until just combined. Do not overmix or knead. Add the mixture gradually – you can always add more water, but you can't take it out. The resulting dough should be damp but not moist.
Separate dough into two halves. Shape into disks and wrap with plastic wrap. Place in fridge. Let dough rest for at least 1 hour.
ASSEMBLY: 
Preheat oven to 375 F.
Mini-pies

– Line pie vessel with pastry dough. Add filling. Cover with an oval cutout of pie dough and seal. Brush with egg wash and slice a few air holes in.

Hand-pies

: see step-by-step instructions here.
Once pies are formed, chill in fridge for 10 minutes. Brush with egg wash. Slice in 2 slits per pie as air vents.
Bake at 375 for 30 minutes, until pastry is golden brown and cooked.