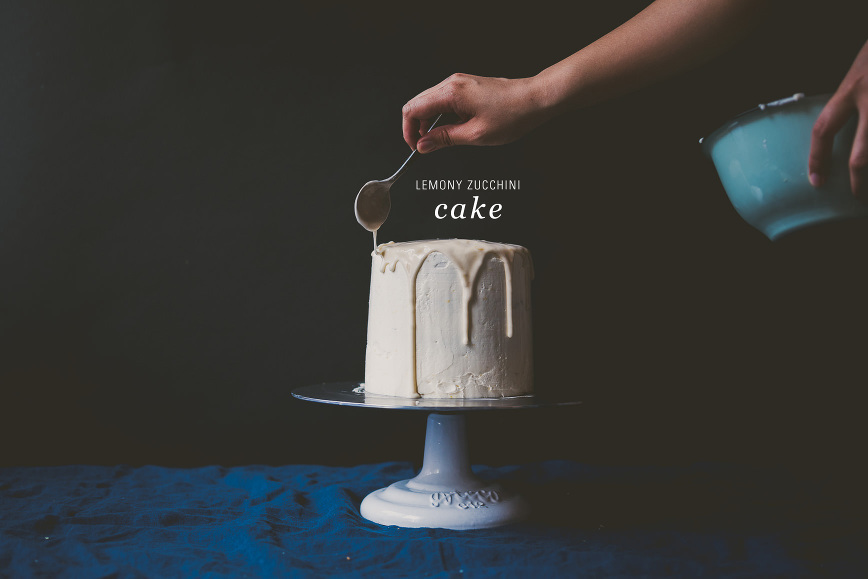 If you're an avid lover of food blogs like I am, you'll notice the collective, communal celebration of a certain sweet cookbook called Layered: Baking, Building, and Styling Spectacular Cakes by the talented goddess of cakes, Tessa, of Style Sweet CA. I mentioned her in my previous cake post, and I meant every word about how helpful her blog had been when assembling my cake. When I held her book in my hands, after being dazzled by the glorious photos and inventive, elegant cakes, I felt my confidence growing – it was like Tessa was holding my hand, telling me, Betty, you CAN make more cakes. I had such a conundrum deciding on which cake to make. The beauty and ingenuity of Tessa's book is that it allows personal preference and the freedom to mix and match to your heart's desire, and I'm loving all combinations popping up around the blogosphere. There's the classic riesling rhubarb crisp cake, yellow cake with earl grey crumbles and earl grey frosting, chocolate fudge cake, chocolate tiramisu (!!) cake, and london fog cupcakes!!!!!!!!!! All from Tessa's cookbook, but individualized through mixing and matching. Can't you just taste the potential??!!!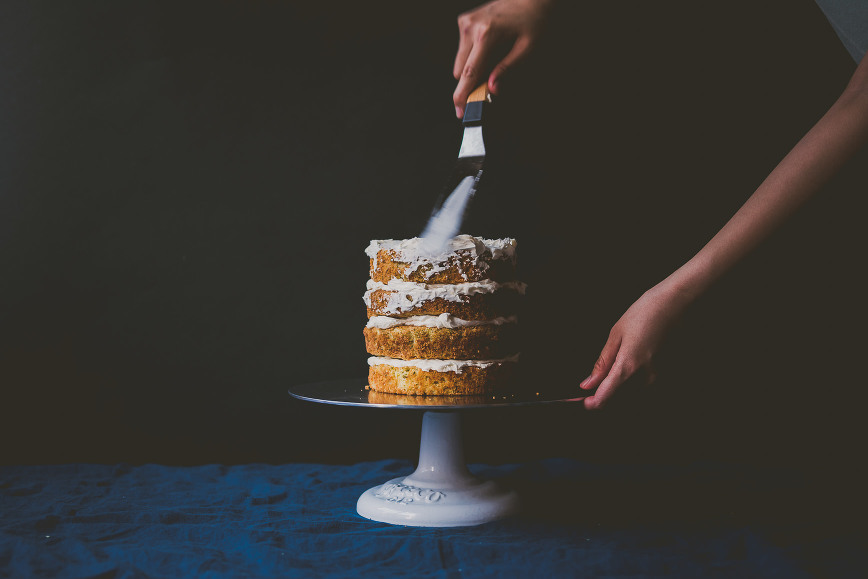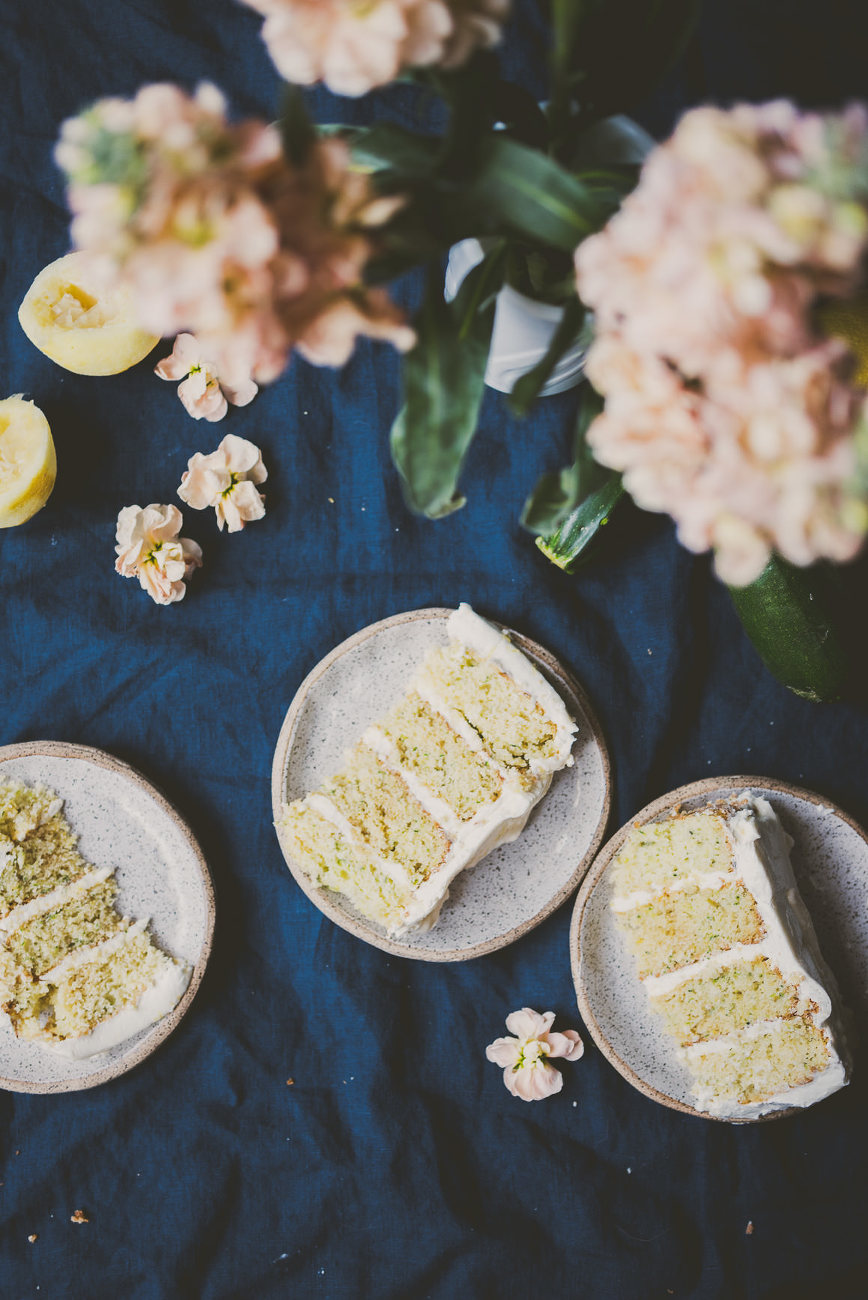 I was immediately drawn to the lemony zucchini cake, originally listed with goat cheese frosting and a lemon glaze. I retained the lemon glaze, but I just had to try Tessa's swiss meringue buttercream! I'd only made the normal, boring one that I fancied up with earl grey, which tasted pretty good, I thought, but after I whipped up the swiss meringue buttercream, I was completely converted. I am never making "American" buttercream anymore. The swiss meringue is super smooth, light, fluffy, with absolutely no residual grease, and not too sweet, either! I added lemon zest and lemon juice and it took on the perfect hint of lemon without overwhelming the cake.




This is my first vegetable cake! Because of my walnut allergy, I've never really had carrot cake, and I really wanted to do something out of my comfort zone. So I grated the zucchini, drained it like a good recipe reader, and followed Tessa's instructions. I was so apprehensive when I put the cake pans in (also, a great way to use my little 6″ pans!), but they turned out beautiful. Moist, but not dense at all. Super fluffy, with a light crumb, and lightly speckled with green, almost like a green funfetti cake!!!! The cake almost crumbled when I removed it from the pan – that's how tender and moist it was.



I still have to work on my frosting technique, but the lemon glaze that topped it all off helped mask some of the bumps and creases :). I was so close to leaving it a naked cake, as it was intended, but any chance to practice my frosting skills is welcomed, so I went ahead and frosted. I'm kind of glad I did! This swiss meringue buttercream is amazing and light enough to accompany this cake.
Tessa, thank you so much for sharing your cakes with me. I know I'll be baking out of it for years to come – and you will forever be my resource for decorating and assembling cakes :).



ceramics by Ogusky Studio!
Notes:
When glazing the cake, Tessa had a really lovely tip: Test it with a tiny bit first to see if the glaze's consistency is right. If it drips too fast and pools at the bottom of the cake, it's too thin. It should be thick and drip slowly down the sides.
I poured the glaze down the middle and then added additional glazes along the sides, using my spoon to push the glaze gently off to drip down the side.
I substituted the original lemony goat cheese frosting (which sounds amazing too) for the lemony swiss meringue
After grating your zucchini, drain it!!!!! It affects the weight and texture of the cake.
Grease your cake pans well, or, what I do is cut out a circle from parchment paper and line the bottom of the cake pan. It helps tremendously with removing the cake from the pan, and since I started using this method it's saved me many layers!!!!!
This is the tallest cake I've ever made, and Tessa's medium-quantity buttercream frosting worked perfectly to frost and cover a 6″ 4-layer cake!
I put fresh flowers on, but remove before consuming. Unless you know the origin of the flower and are positive of its edible nature, always remove the fresh flowers!!!!

---
RECIPE: Zucchini cake with Lemon Swiss Meringue Buttercream and Lemon Glaze
Recipe from Layered, by Tessa
Makes 1 four-layer 6″ inch cake
Zucchini Cake
315g (2 1/2 cups) all purpose flour, plus more for pans
2 tsp baking powder
1/2 tsp baking soda
1/2 tsp salt
1/2 tsp ground cinnamon
1/2 tsp ground cardamom
1/4 tsp freshly grated nutmeg
1/2 cup plus 2 tbsp grapeseed oil
300g (1 1/2 cups) granulated sugar
3 large eggs
225g (1 1/2 cups) grated zucchini, drained
3 tbsp buttermilk
1 tsp fresh lemon juice
Preheat oven to 350F. Grease and flour four 6-inch cake pans. Set aside.
Sift together flour, baking powder, baking soda, salt, cinnamon, cardamom, and nutmeg and set aside.
In the bowl of a stand mixer fitted with paddle attachment, beat together the oil, sugar, and lemon zest on medium speed for 2-minutes. with the mixer on medium-low, add the eggs one at a time. Stop mixer, scrape down the bowl.
Turn the mixer to low, add flour mixture in two batches until incorporated. Add zucchini, buttermilk, and lemon juice. Mix on medium for no more than 30 seconds.
Evenly divide the batter among prepared pans. Bake for 24-26 minutes, or until a toothpick inserted into the center of the cakes comes out clean. Let them cool on a wire rack for 10-15 minutes before removing the cakes from their pans.
Lemon Swiss Meringue Buttercream 
1/2 cup + 2 tbsp large egg whites
250g (1 1/4 cup) granulated sugar
2 cups (4 sticks) unsalted butter, at room temperature, cubed
2 tsp pure vanilla extract
1 tsp lemon zest
1 tsp freshly squeezed lemon juice
Place egg whites and sugar in the bowl of a stand mixer. Whisk them together by hand to combine. Fill a medium saucepan with a few inches of water, place it over medium high heat. Place mixer bowl over top of saucepan (bottom should not touch water).
Whisk intermittently and heat egg mixture until it is hot to the touch. Once hot, carefully fit the mixer bowl onto the stand mixer.
With the whisk attachment, beat the egg white mixture on high speed for 8-10 minutes, until it holds medium-stiff peaks. when done, the outside of the bowl should return to room temperature. Stop mixer, and attach the paddle attachment.
With mixer on low speed, add butter a few tablespoons at a time, then the vanilla. Add lemon zest and juice. Once incorporated, turn the mixer speed to medium-high and beat for 3-5 minutes, until buttercream is silky smooth.
ASSEMBLE CAKE:
Once cakes have cooled completely, level them and place one layer on a cake plate or serving dish. Spread frosting on top and add another layer. Continue until the last layer is added. Crumb coat the cake and frost it with the remaining lemon buttercream. Garnish with lemon glaze.
Lemon Glaze
125 g (1 cup) confectioners' sugar, sifted
2-3 tbsp fresh lemon juice
2 tbsp finely grated lemon zest

more lemon zest, as garnish
In a small bowl, whisk together sugar, 2 tbsp lemon juice, and lemon zest until sugar has dissolved. Add more lemon juice until laze is thick yet able to drip over sides of cake. Pour lemon glaze onto the center of the top of the cake. Spread it with an offset spatula or the back of a spoon, and let it drip over the edges. Sprinkle lemon zest on top, and garnish with flowers, if desired.