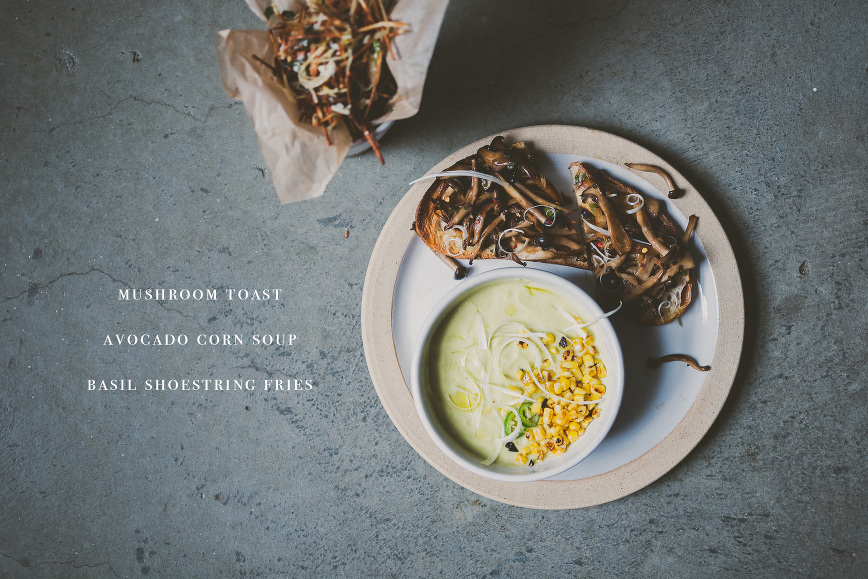 When I was in college with a limited ground-floor kitchen and close to zero cooking abilities, I used to go to local cafes and get my favorite combination: grilled cheese with tomato soup, with a side of fries. Delicious, but not exactly the healthiest choice of meals. So, when Salt for Life reached out to me to create three better-for-you recipes with their low sodium salt, I immediately thought of that classic comfort meal, only a little more self-conscious. Mushroom toast was my first thought, and one that would become the starting point of this meal. I eat mushroom toast at least once a week. Lightly toasted sourdough bread topped with gently sautéed mushrooms and scallions – you've seen me drool over this on instagram before, and I'm so happy to finally share my go-to on the blog!!! A slightly spicy avocado corn soup, served either warm or cold, complements this toast. It's naturally creamy, without the addition of any creams, and can be topped with a dash of olive oil or sautéed corn kernels. The last accompanying dish is the indulgence dish – who doesn't like fries? However, these are baked, not fried, and are immediately coated with a basil, garlic, and parmesan for a wonderfully aromatic side dish.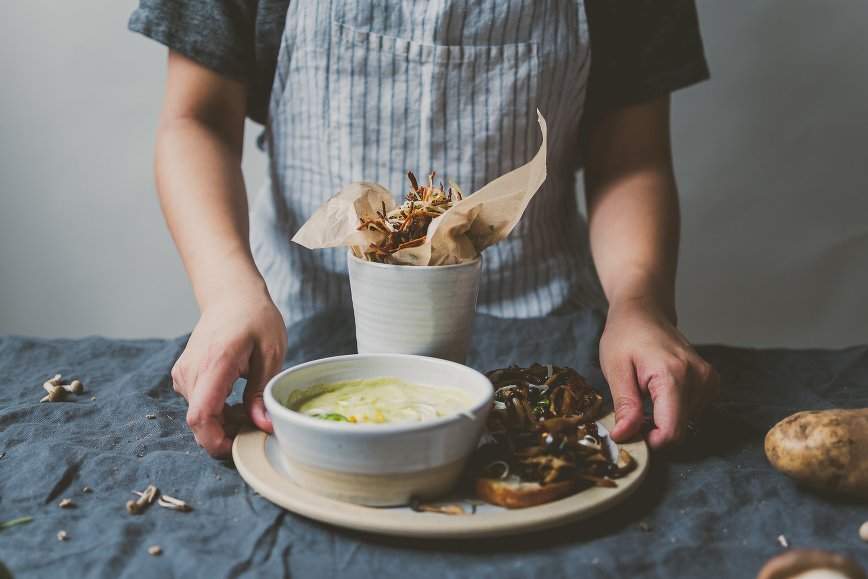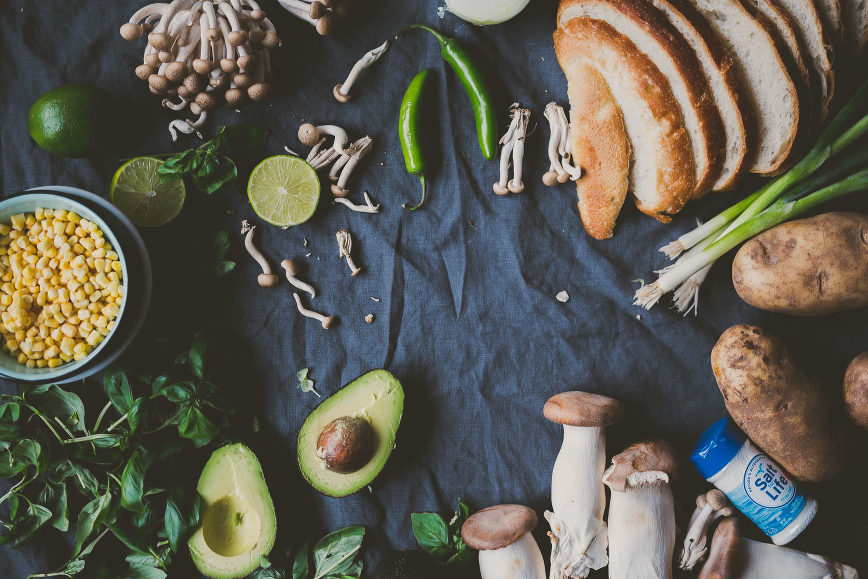 A huge thanks to Salt for Life for sponsoring this post. They're having a fun contest going on, so head on over to their Instagram page to vote for your favorite!!! Salt For Life is a low sodium salt that has 75% less sodium than ordinary table salt, and it's a 1-to-1 replacement, making it a simple transition from table salt. New England area folks, you can find this in DeMoulas Markt Basket and also select Walmart stores. 




All recipes serve 2.
---
MUSHROOM TOAST

The beauty of mushroom toast is that you can do whatever you want with it. I personally like juicy little beech mushrooms and thinly sliced king oyster mushrooms. As you know from my obsession with king oyster bacon (see here and here), thinly sliced king oyster bacon sautéed crisps up to "bacon" in no time. It provides a natural almost smoky taste that does wonders for any sort of topping. You can use shiitakes, button mushrooms, hen of the woods – any mushroom that strikes your fancy. One key part is to sauté the mushrooms without allowing them to steam. It's a quick sear, and then the mushrooms are braised in broth. I also include scallions, both cooked and as a garnish. A tablespoon of yogurt is stirred in after the mushrooms are cooked, giving it a thicker sauce-like consistency.
Toasted sourdough bread slices
3 tbsp extra virgin olive oil
2 cups mushroom
salt
freshly ground black pepper
1/4 cup water or chicken broth
red pepper flakes
2 stalks scallions, chopped, with white-green parts sliced thinly for garnish
1 tbsp greek yogurt  (can omit if wanted)
Heat a cast iron skillet over medium high heat. Add olive oil and let it heat up. Add mushrooms in batches, making sure no overlap occurs. Cook without stirring for about 3 minutes. Mushrooms should sear and become deep golden brown. Flip them and sear other side for 1-2 minutes.
Add chopped scallions and season with salt and pepper. Add in ¼ cup broth and cook until reduced by half, about 2-3 minutes. Turn off heat, then stir in greek yogurt. Spoon over toast. Top with reserved scallion and red pepper flakes.
---
AVOCADO CORN SOUP


A pale green soup with naturally thick consistency, this soup is so refreshing and light, with a kick of heat with every bite. The serrano pepper is optional, but I love it! No heavy cream or sour cream is added. Instead, avocado contributes not only the green tint but also the creamy thick texture of the soup.
2 ripe avocados, pitted and diced
3 cups water or stock
2 tbsp olive oil
kernels from 2 ears of corn (or 1.5 cups frozen corn kernels, with some reserved for garnish)
1 garlic clove, smashed
1.5 tsp salt for life
1 cup chopped white onion
1 fresh serrano chile, coarsely chopped
juice of 1 lime
Heat oil in a saucepan. Add in and onions and cook for 5-7 minutes, until soft and translucent. Add in garlic and corn. Add broth. Bring to a boil then reduce to a simmer. Cook for 10-15 minutes.
Pour into the container of a blender. Add serrano pepper and blend. Strain through a fine-mesh sieve.
Return broth to blender and add avocados and lime juice in. Blend again, then either chill or serve immediately. Garnish with sautéed corn, and dots of olive oil.
---
BAKED BASIL SHOESTRING FRIES



Crunchy yet soft, these fries are a wonderful side dish to this meal. Use a mandolin (or, if you're like me and are intimidated by mandolins, use a sharp knife and cut a potato into matchsticks) to create matchsticks. Toss with minimal olive oil, spread them on a baking sheet lined with parchment paper, making sure to give the fires room – don't let them overlap!! Then bake. I did two batches to make sure there was just a single layer. The tricky part is to keep an eye on the fries. My oven is pretty inconsistent and uneven, so half of my fries turned brown and crispy fast. They weren't burnt, but they were mostly crunchy without any softness within. Just keep an eye on them and remove any that have turned golden brown already. Immediately after baking, toss with basil, garlic, and some parmesan cheese.
1 russet potato
2 tbsp olive oil
2 cloves minced garlic
1 tsp finely chopped basil leaves
3 tbsp finely grated parmesan cheese
salt
freshly ground black pepper
Preheat oven to 425F. Line 2 baking sheets with parchment paper
Scrub potatoes, and dry. Cut using mandolin or sharp knife into matchsticks. Toss in a bowl with olive oil.
In a separate bowl, prepare basil, garlic, and parmesan. Set aside.
Separate matchsticks onto the two baking sheets in a single layer, with no overlapping of fries. Bake for 15 minutes. Remove any fries that have already turned golden brown. Flip fries, and then place back in. Switch racks – if the first baking sheet was on the top rack, move it to the bottom rack, and vice versa. Bake for another 5 minutes, keeping an eye on how brown they are. If there are any approaching burnt, remove. Bake another 5 minutes. Continue until all the fries are cooked.
Immediately toss with basil, garlic, and parmesan.