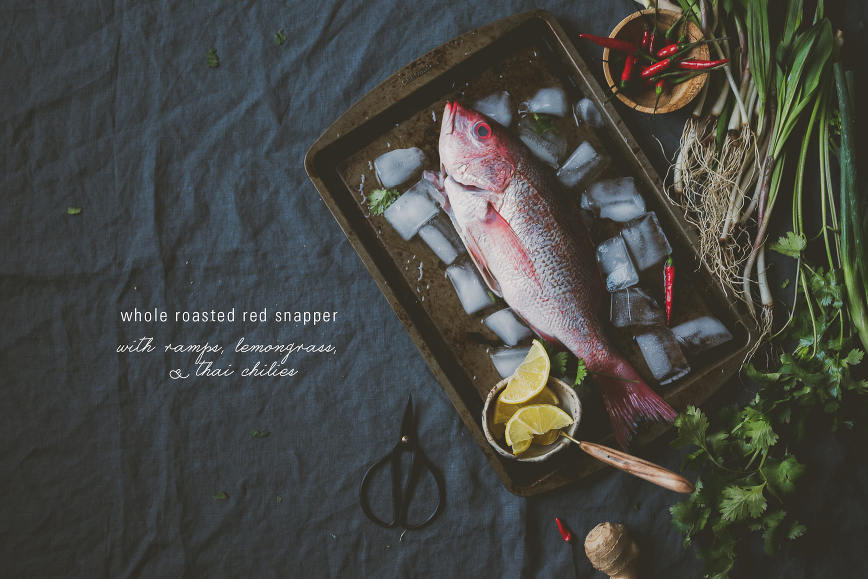 Before I dive into this delectable and extremely simple whole roasted fish recipe, I'm so excited to announce that I'll be joining valentina of hortus cuisine and zaira of the freaky table  for an intimate photography and styling workshop in the romantic, medieval village of Gradara in central Italy, right by the Adriatic sea. We'll call this medieval village home for a few nights, a perfect, charming place to nurture creativity and learn together. Zaira and Valentina are the masters of compelling storytelling – join us for a few days of photographing, storytelling, and feasting on what this village has to offer. We'll feel the beating sun on our backs as we traverse the market. We'll gaze out at the Adriatic sea along the secret beaches Valentina had discovered. We'll feast on all the local produce and seafood there is, and experience traditional, authentic central Italian cuisine. Pasta-experts Valentina and Zaira will also be teaching us how to make our own pasta from scratch, in the authentic way without a pasta maker!!!! You can see the full details and how to sign up here. I'm so happy to say that all my previous workshops have sold out (and rather quickly), so be sure to snag your spot today!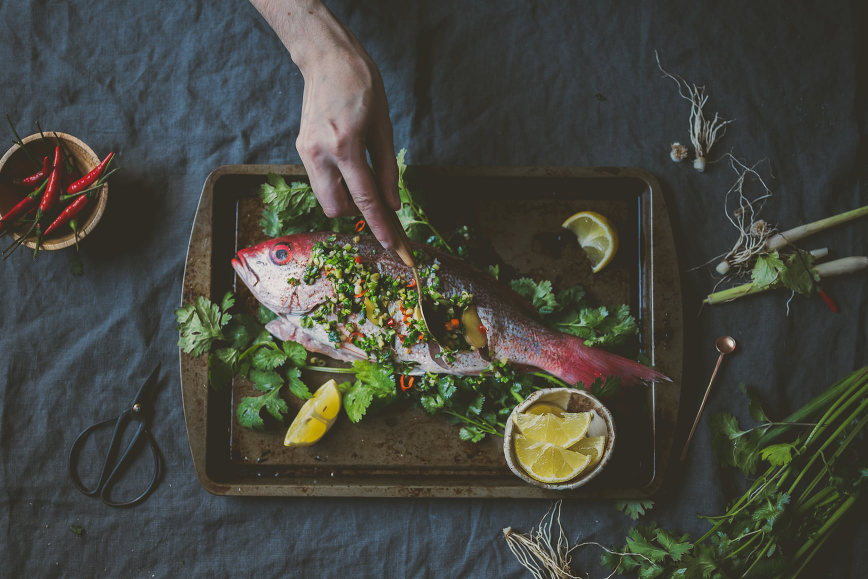 I've said this before, and I'll say this again: I love this food community – the way people connect and develop real friendships, the way we support each other, the way this community fosters creativity and constantly inspires me – honestly, a large reason I continue to blog is this community!!! Thank you for letting me be a part of it, and thank you for always inspiring me :). A few weeks ago, my dear friend Carey, the talented photographer from Reclaiming Provincial, visited me in Boston!!!! We'd connected about a year ago and just started texting, totally nerding out over camera gear and spazzing out over Iceland. We roamed the city, visiting some favorite shops of mine (like Boston General Store and Pod) and also photographed this fish recipe together! The last time I photographed with other bloggers was last year with Sarah and Alanna, but since I've been back in Boston I've had a bit of a mental block – probably too shy about my shoot space and super cramped apartment. I love hosting and entertaining, but I always want it to be perfect and as a result get quite anxious and agitated about having everything in place. In my mind, having other bloggers over and shooting would be fun and ideal, but I've always frozen with self consciousness, wondering if my kitchen were too small or if my place was just too shabby. I think because I'd texted so much with Carey and we freak out together over the same things, I decided to just … let it go. Just tidy things up a bit, and I was honestly just excited that Carey was visiting. She'd also been talking about the new camera she rented and I was SUPER excited about seeing it in action and how she liked it (yup, we nerd out all the time about this stuff). It was so. much. fun. We had matcha, cooked the fish, ooh-ed and ah-ed over the props she brought (this is how I know we're soul-photographer-sisters: she brought over shoot boards, aprons, and a few props of her own to style with!!!! How can someone NOT love a fellow photographer like that???), and then hopped out to a happy sunny brunch (sitting outside!!). Carey, thanks for spending this time with me, and I look forward to future Boston/VT playdates (or elsewhere :)).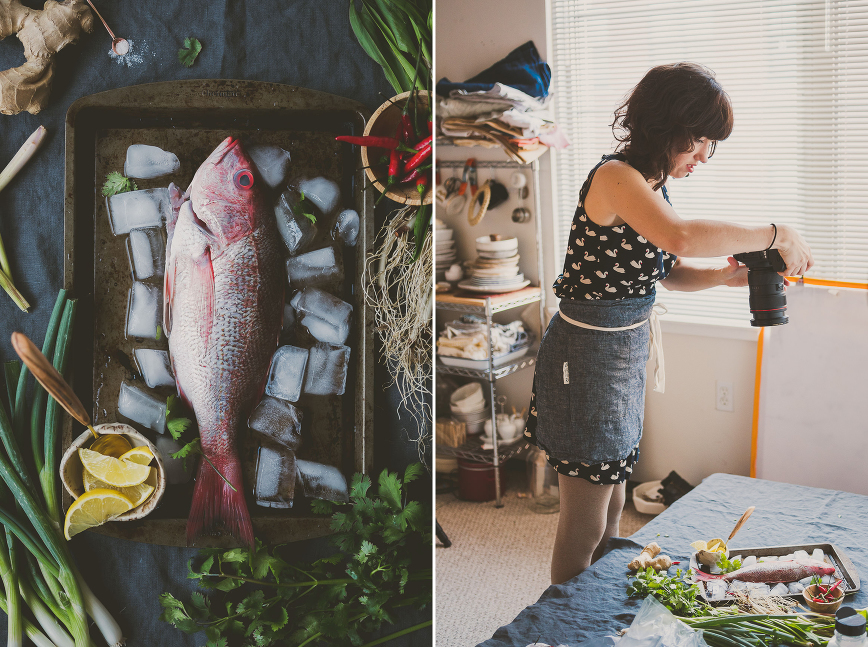 One of my favorite ways to eat fish is whole fish – there are so many delicious parts that are missed if you just get the filet, like the cheek of the fish!!!! I've talked previously about steaming fish, still one of my favorite ways to prepare whole fish, but roasting fish is another extremely simple way to make delicious, moist fish. I chose a red snapper and smothered it with ramps, scallions, thai chiles, and ginger, sautéed with lemongrass. Thai chilies are optional but I highly recommend it – it has a sharper, more fragrant heat than other peppers, in my opinion. Carey doesn't like spiciness so I chopped up the thai chilies, but oh my gosh. It was so funny, the minute I started chopping up the chilies, Carey started coughing, and then I started coughing / tearing up. These thai chilies are so potent!!!! Oh gosh. It was hilarious and tortuous all at once, and when we added it to the pan, more peppery fumes wafted up, and even Alex, sitting on the cough, started coughing and asking what the heck was going on. We were dying of laughter and chili fumes.


If you've been following me on Instagram or Snapchat (bliu07), you'll know that I've been obsessed with ramps. Last year, I became aware of this elusive, expensive allium, but I was like psh, it's trendy and whatever, looks like a scallion. But then, this year, I found some at the local farmstead I like to shop at, and I was mesmerized by the beautiful purple/red stalks and garlicky smells. Yes, I was the weird person who leaned in close to the bucket of ramps and inhaled deeply. They were almost as pungent as chives, with a sweeter aroma. I brought a bunch home and immediately just sautéed them whole in butter, and it was delicious. I was obsessed and knew it would be the perfect allium for roasting whole fish with. At this point I knew Carey was coming, so the day she came I went and bought a whole bunch of ramps, some for us to use, and (haha), a bunch for her to bring back to Vermont! I then bought way more and pickled them for a recipe that you'll see soon and that I'll be bringing to my Martha's Vineyard workshop!



The red snapper is smothered and stuffed with this mixture, letting the flavors permeate through the flesh of the fish. I topped it with squeezes of lemon and fresh cilantro, and Carey and I just dived right in, with it still on the shoot surface!!! It's an easy dish to prepare (besides the potent thai chilies) and beautiful in presentation. Highly recommend it, and I know I'll be serving it to friends soon!




Whole Roasted Red Snapper with Ramps, Lemongrass, and Thai Chilies
Together with Carey of Reclaiming Provincial 
1 red snapper, scaled and gutted
2 bunches ramps (about 18 stalks, more if desired), white and green parts separated, chopped
1 bunch scallions (about 6 stalks),  white parts and green parts separated, chopped.
olive oil for frying
2-3 inch lemongrass, crushed to release flavors
1 tsp fresh ginger, minced
3 thai chilies
juice of 1 lemon
1 lemon sliced
fresh cilantro
salt and pepper

3 thin slices of ginger

optional garnish: white parts of scallion julienned, soaked in cold water to let curl.
Preheat oven to 425F.
Pat fish dry with paper towel. Make three diagonal cuts into the bone of the fish. Rub fish with olive oil. Season with salt and pepper generously, stuffing it into the slits. Cut off pectoral fin (close to the head).
In a skillet, heat 2 tbsp olive oil. Add in chilies, lemongrass, and white parts of ramps and white parts of scallions. Add green parts of ramp last and sauté for a few seconds until it begins to soften. Season with salt and pepper. Set aside.
Place fish on tray with parchment paper. Place fish on top. Stuff a slice of ginger in each slash along with some lemon grass mixture. Stuff some of the mixture inside the fish as well. Cover fish with lemongrass mixture. Squeeze lemon juice over the fish and drizzle with some olive oil. Roast for 20-25 minutes, until golden brown and cooked through.
I like to check if the fish is ready by using the tip of the knife in the small slit to see that the fish is opaque and no longer translucent. The fish's flesh should be white and flake easily. Remove from oven, let sit for 2-3 minutes. Garnish with curly scallions, fresh cilantro, and lemon wedges.