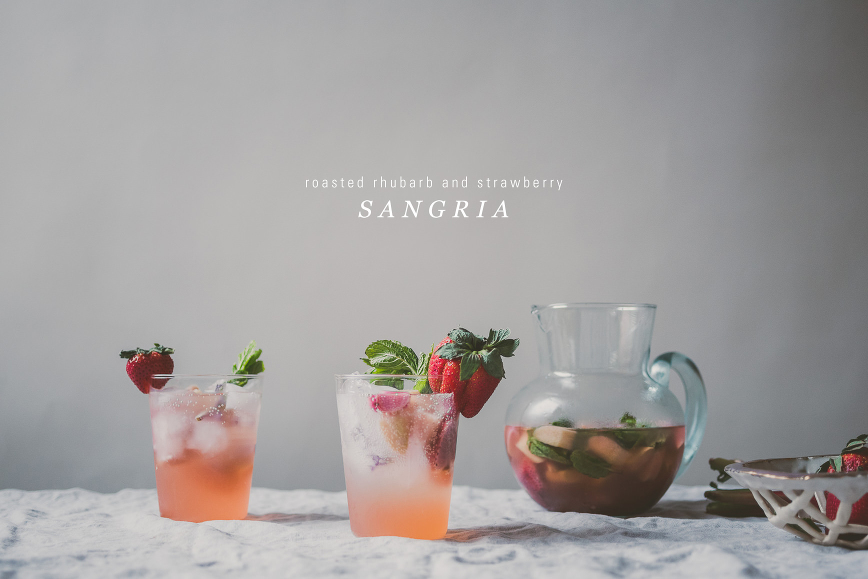 The first time I had rhubarb was about a year ago, when I tasted it in a pie, and the tangy, citrus-y flavor that burst across my tongue and lingered lovingly even after the crumbs were gone captivated my curiosity. I ended up making a rhubarb rose jam at the tail end of rhubarb season, and I've been looking forward to this spring every since. If you follow me on Instagram, you'll probably have seen a rhubarb blackberry and sage pie with a braided and cut-out crust I made that will be on this blog very soon, and I also am making a pistachio frangipane rhubarb galette that I'm really excited about!!!!! I had all these ideas I was desperate to try out, but oddly, I couldn't find rhubarb anywhere! I tried my trusty farmstand in the South End, Whole Foods, other fresh grocery shops, but no traces of the beautiful deep pink stalks appeared. Finally, I visited Foodie's in the South End, and it was there!!! Beautiful, thick stalks of rhubarb, with a compelling ombre of pinks, magentas, and reds across the stalk. I bought 3 pounds and brought them home.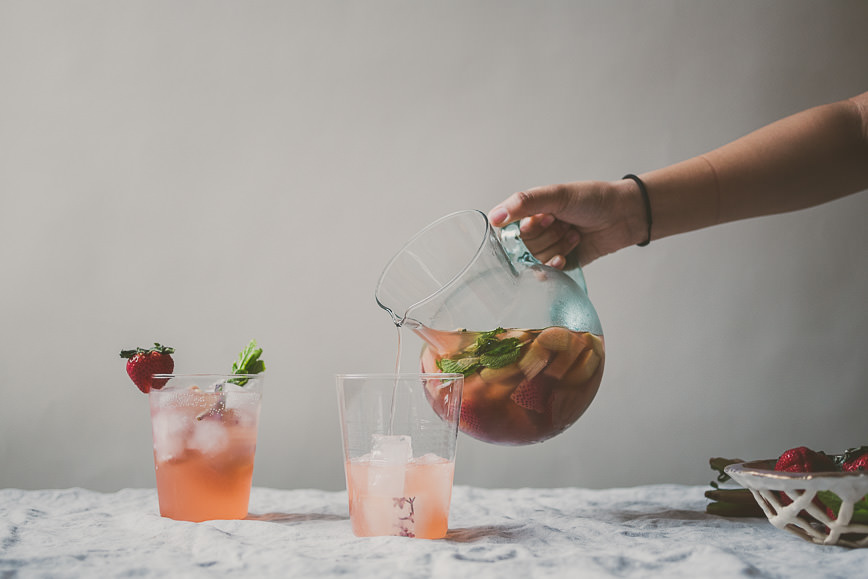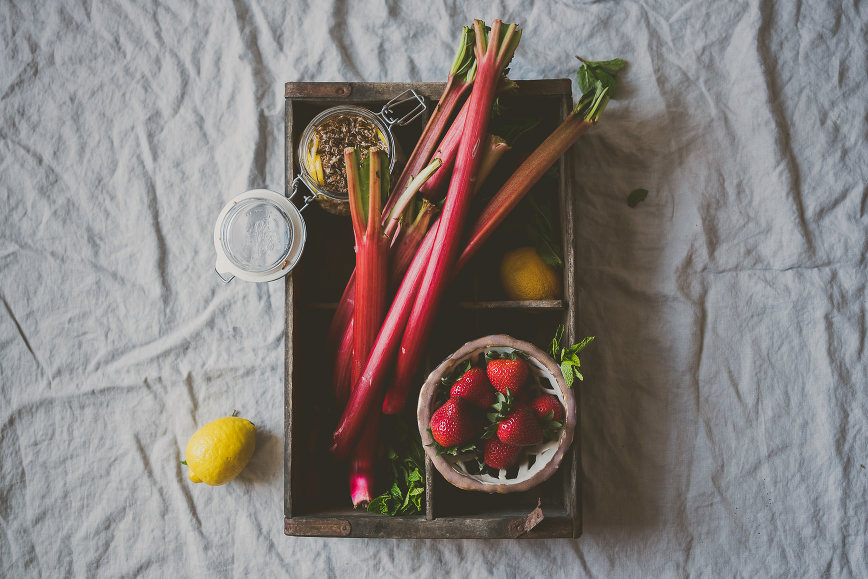 I'm so excited to partner with South Hollow Spirits and their sister vineyard, Truro Vineyard to make this light and refreshing roasted rhubarb and strawberry sangria!!!!!! I boosted it with a touch of lilac cordial (soon to be on the blog), but any floral syrup or cordial will suffice. Elderflower, I'd imagine, would be wonderful with this, as would honeysuckle or rose. With any other sangria, I'd simply soak fresh fruit with wine overnight, but with rhubarb I wanted some of the structure to break down and let the juices out into the sangria, so I roasted it with strawberries, tossed in a bit of honey, to create a really delicious sangria, without any additional sugar. The caramelized flavor of roasted rhubarb and strawberries adds quite a bit to this sangria – a touch of rum and finished with sauvignon blanc and you have a delicious summery drink that takes minimal preparation! After chilling overnight, I shoved in some mint and poured them into glasses, then topped them off with some sparkling water.





This post is sponsored by south hollow spirits! All opinions expressed are purely my own, as always. Thank you so much for supporting the companies that support this blog!!!

glassware: farmhouse pottery \ ceramics: facture goods \ ice cube tray and pitcher: boston general store
Roasted Rhubarb and Strawberry Sangria
1 bottle white wine – Truro Vineyard Sauvignon Blanc 
½ cup Twenty Boat Amber Rum
3 tbs lilac cordial or other floral syrup/cordial
3 cups rhubarb, chopped
2 cups strawberries, hulled and halved
lemon zest
1/3 cup honey
1/2 tsp salt

topping: fresh mint, fresh strawberry
Preheat oven to 350F. Toss rhubarb and strawberries with honey, lemon zest, and salt. Spread on a parchment lined baking sheet and bake for 30-35 minutes. Let cool completely.
Combine with white wine, rum, floral cordial in a pitcher, and let marinade overnight in the fridge.
Divide into glasses with ice cubes. Ladle or pour into glasses. Top with sparkling water, and then garnish with fresh mint and fresh strawberries.