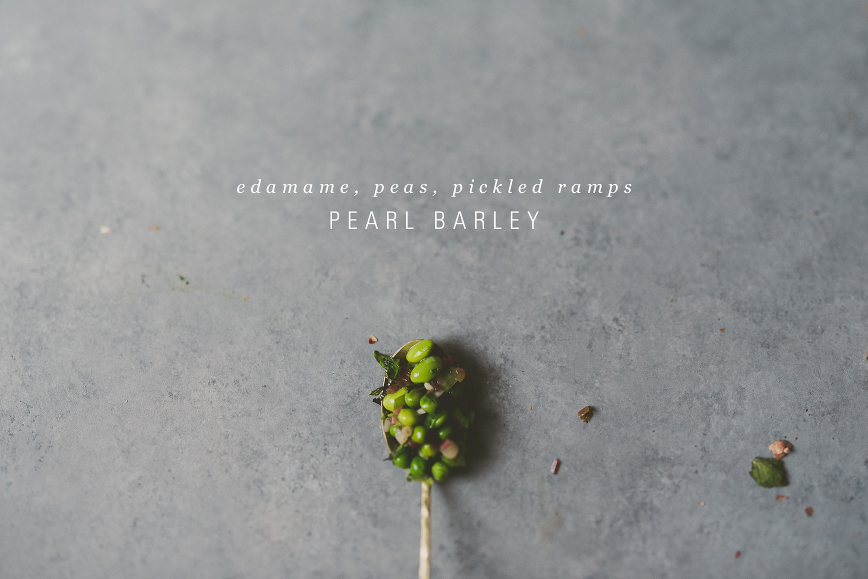 This is possibly one of the healthiest meals I've made in awhile… we've got our protein, grains, and fermented addition!!! To be honest, though, I was not thinking about health at all when I tried to put this together. However, just last week in we had a "lifestyle modifications workshop", where I learned about proper nutrition and was mind-boggled at how many vegetable servings we are supposed to have daily (10 servings of fruits + vegetables, with 7 of it being vegetables!!!) I do not get that many vegetables, but I'm going to try my hardest to try. This dish was actually inspired by a pickled green strawberry with edamame at local Asian tapas restaurant Banyan! I've had it twice and fell in love with the tangy pickled dish with chilled edamame. Since it's the crazy ramp season, short in duration but stirring up a frenzy in demand, I decided to pickle some ramps in a quick semi-spicy brine, and then tossed it with chilled edamame, peas, and pearl barley!!!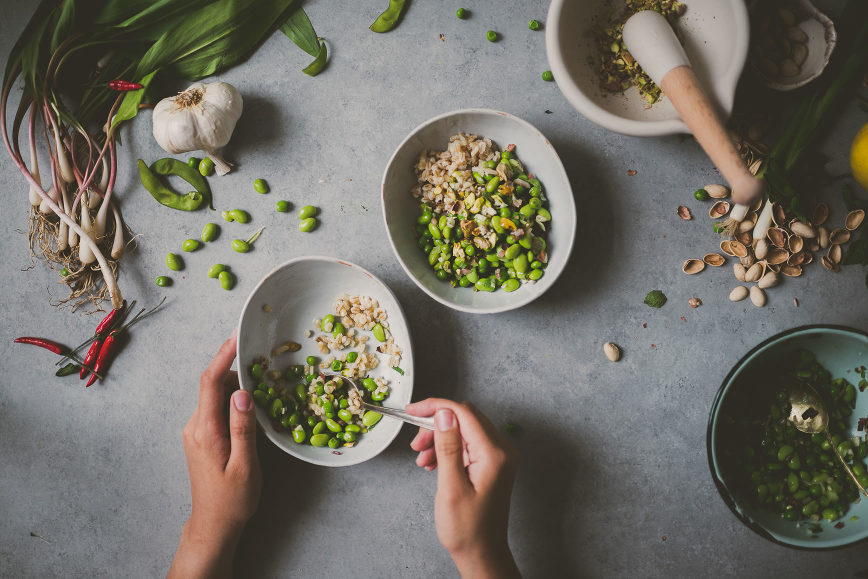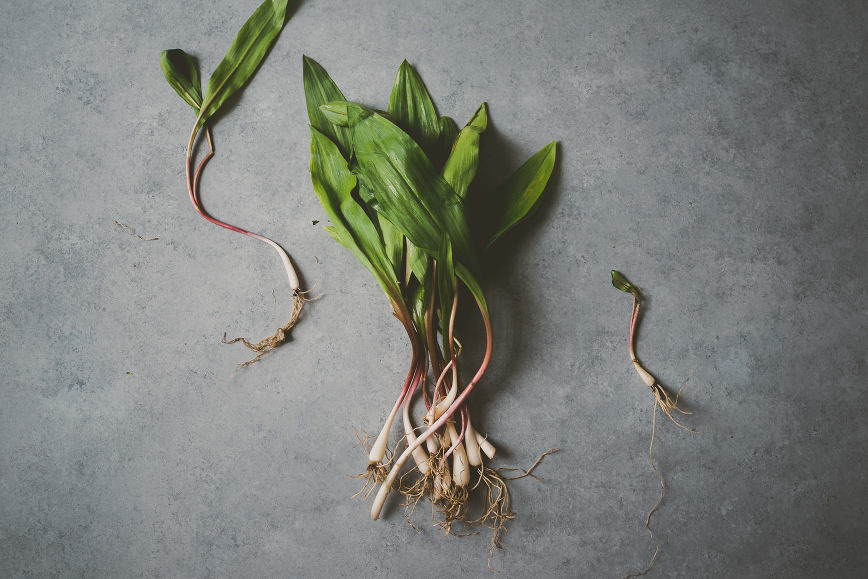 The pickled ramps are the stars of this dish. If you look at this recipe and think, ugh, this will take forever, well… these ramps are worth making, just by themselves! Ditch everything else and just make these pickled ramps. There are still ramps on the markets and you can prolong their season in your abode by pickling them for your satisfaction later. These pickled ramps are tangy and garlicky with a touch of sweet and spice. They're perfect tossed with anything, packing immense flavor in such tiny morsels. If you've cooked with ramps before, you'll know that a little bit of ramps go a long way, and imagine that flavor intensified by pickling! I'm definitely on the bandwagon for these wild ramps, and I'm not hopping off anytime soon.


In fact, I just got back from my Martha's Vineyard workshop, and this salad was one of the first dishes I served to our guests!!! I did add some five-spice tofu in there (not part of this recipe, but actually it worked really well), and I daresay it was a hit!! It's refreshing, full of flavor, and super easy to whip together. I'll save the workshop for a separate post, but since I'm still cross-eyed and exhausted, I'll just go straight to the recipe.


This post is sponsored by bob's red mill! All opinions expressed are purely my own, as always. Thank you so much for supporting the companies that support this blog!!! I've loved Bob's Red Mill since I started baking – it's my go-to for flour, grains (their farro!!!), sugar (the best turbinado for topping pies), and all things baking related. 
enamelware: farmhouse pottery \ brassware and colander: facture goods \ copper ware: falk USA
Edamame, Peas, and Pickled Ramps Pearl Barley Bowl 
Pickled Ramps
2 lbs ramps, cleaned, green parts separated from white (about 1" past white parts)
1 tbsp salt, more as needed
1 cup rice wine vinegar
1 cup sugar
1 cup water
1 tsp sichuan peppercorns
½ tsp black peppercorns
1 tsp gochugaru (korean chili flakes)
1 bay leaf
Bring vinegar, sugar, salt, water to a boil, let dissolve. Pour in mason jar over ramps. Seal jar. Let cool to room temperature. Then chill in fridge. Let them rest for at least 1 week, but up to a year!
Pearl Barley Bowl
1 cup chopped pickled ramps
1.5 cups uncooked pearl barley
½ cup chopped scallions
1 cup edamame, cooked and shucked
1 cup fresh peas, cooked
3 tbsp fresh lemon juice
1 garlic clove, minced
2 tbsp olive oil
3 tbsp shredded fresh mint
salt and black pepper to taste

¼ cup pistachios, to taste.
Cook barley. Drain and rinse with cool water. Drain.
Combine barley, scallions, , pickled ramps, edamame, peas together. Set aside.
Combine lemon juice, olive oil, salt, pepper, and garlic together. Drizzle over barley edamame mixture. Sprinkle with pistachios. Stir in chopped mint right before serving.