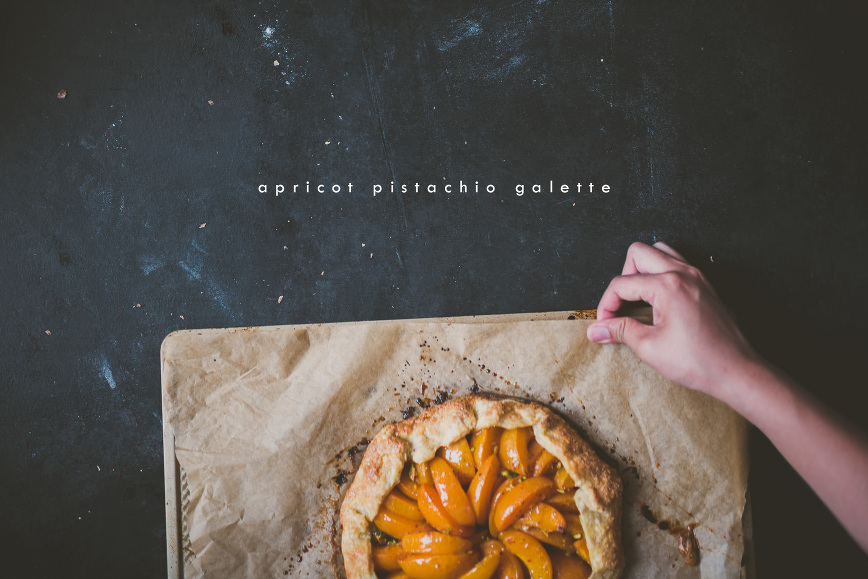 Galettes are one of my go to desserts. One of the early posts I did for this blog was the simplest blueberry galette, and it remains something I make all the time once blueberries are back in the market, freshly picked around the New England area. It's got the delicious jam-y texture of cooked down fruit, lovingly enveloped with all butter flaky pastry crust – I mean, it's like pie, without all the fuss! Simple folds, bake, and you've got a delicious, unassuming dessert in front of you. With all the stone fruits in the market, I couldn't resist trying out this apricot pistachio galette. Decadent slices of apricot are baked down to a jam-like consistency, soft but utterly irresistible in flavor, tangy and sweet all at once, and they sit on top of a layer of crushed pistachio, which almost merges with the flaky crust underneath. Sweet apricot with nutty pistachios – plus, aren't the colors of this galette just gorgeous?!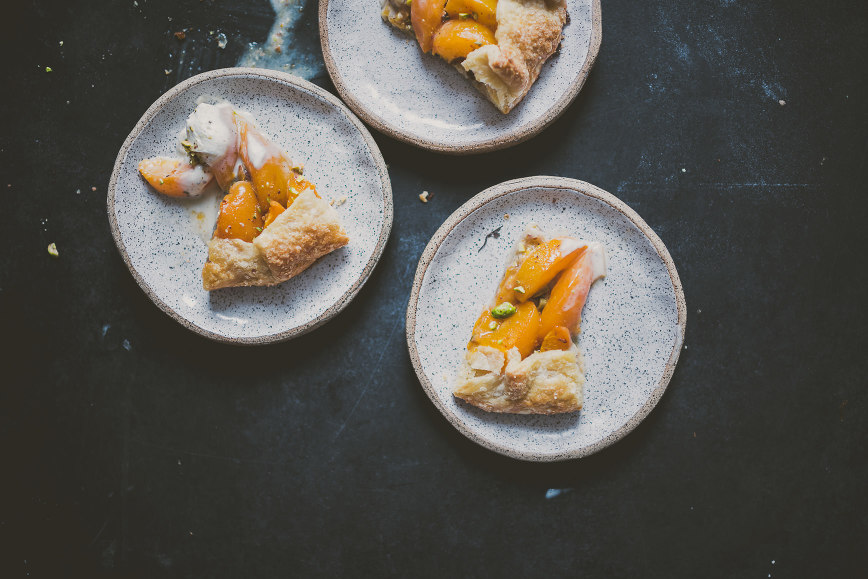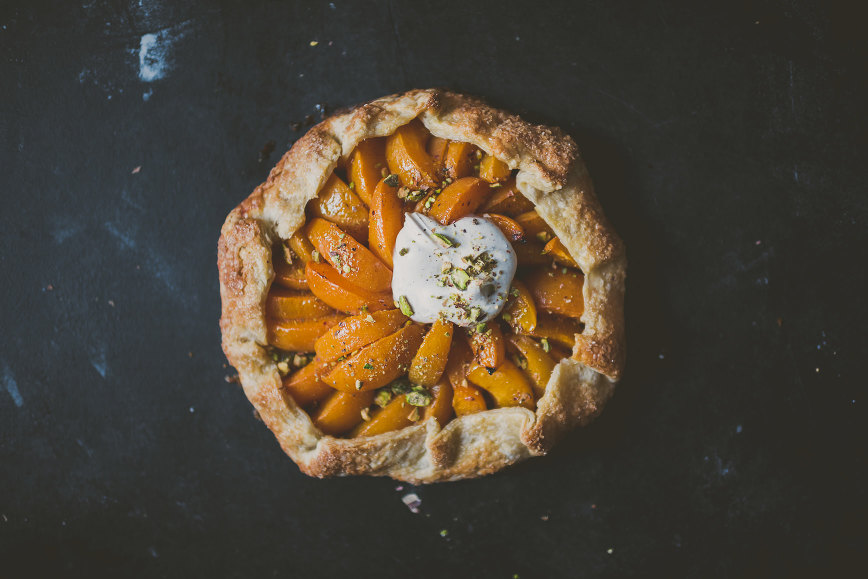 I'm out for the summer (yay!), but my days are still filled with tons of planning, research, and shadowing. And of course, weddings every weekend woo! I'm happy though, because these weddings take me all around New England, and we'll be headed to CA (NorCal) and Toronto in the upcoming weeks for more weddings! I can hardly believe it's already mid-June, because that means that in little over a week, my dear Valentina of Hortus Natural Cooking is coming to visit!!!!! I'm going to welcome her in my very humble abode and we're going to have so much fun exploring Boston and prepping for our July workshop (which is officially SOLD OUT!!!). June is fun, and it's going pass so quickly. I'm going to publish this, and then it's going to be July 4th weekend already! Just watch!
And July… well, I'll write about that later. Finalizing some fun details so I'll keep hush for now :).
I still feel like I'm recovering from the past Martha's Vineyard workshop, and I'm still seeing our attendees trickle out photos, which always casts a warm glow and big smiles. This galette was the perfect dessert for this recovery period. I stick with the pie crust I've always used – an all-butter crust, but this time I tried chilling the bowl and flour. I can't tell the difference in the end product, but it was easier to mix the pie dough together. Not sure I'll continue this technique, but it does give me extra time.


The amount of sugar will vary according to how sweet/ripe your apricots are. I added more because mine weren't super ripe yet and still had some tang!



I've always trimmed the edges for my galettes, but it's totally unnecessary! Call it for visual purposes, whatever. There's something really beautiful about a rustic free form edge too, but I've never preferred it because I always roll out my dough with much too uneven edges.



And of course, a dollop of vanilla bean creme fraiche. I mean, how could you not? Whipped cream or ice cream work too!

---

RECIPE: Apricot Pistachio Galette
Galette Dough
1 1/4 cup all purpose flour
1/2 tsp salt
1 tbsp sugar
1 stick butter, pre-chopped into 1 cm cubes and placed in the freezer
1/2 cup ice cold water
Directions:
Pie Crust: Prepare all ingredients. Chill water and butter.
Mix together flour, salt, and sugar.
Take butter out of the freezer and using a pastry cutter, a fork, or your fingers, work quickly and cut butter into dry ingredients. You should end up with pea sized chunks, which is completely fine!
Take out water mixture. Using tablespoons at a time, mix it into dry ingredients until just combined. Do not overmix or knead. Add the mixture gradually – you can always add more water, but you can't take it out. The resulting dough should be damp but not moist.
Shape into a disk and wrap with plastic wrap. Chill in the fridge for at least 1 hour.
Apricot Pistachio Filling
about 10 apricots, pitted and sliced
2 tbsp cornstarch
1/4 cup granulated sugar
1 dash salt

3 tbsp shelled pistachios, crushed, with some reserved for garnish
egg wash: whisk 1 egg with a splash of water
demarara sugar, for sprinkling
Take galette dough out of the fridge. Preheat oven to 400F.
Mix apricots, cornstarch, sugar, and salt in a bowl.
On a lightly floured piece of parchment, roll out dough to about 10-12″ round.
Spread crushed apricots on dough, leaving 1″ around the edges. Top with apricots. Fold edges over fruit. Chill for 15 minutes.
Slide onto baking sheet.
Brush with egg wash. Sprinkle generously with demarara sugar.
Bake at 400F for 35-40 minutes, until golden brown and fruit is bubbling. Remove from oven and let sit for 15 minutes. Top with creme fraiche, ice cream, or whipped cream, then top with remaining pistachios.