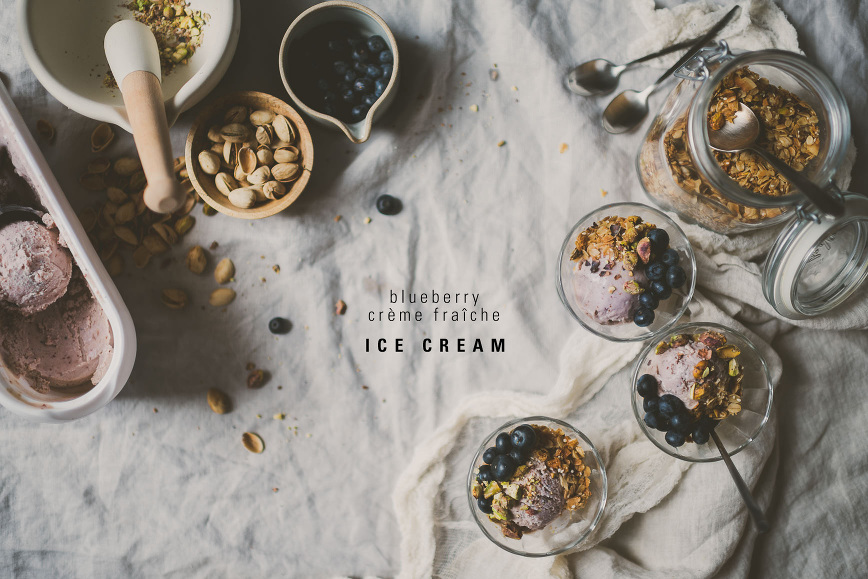 A few days ago, Alex and I celebrated our 2 year anniversary!!! When the day came, I almost blurted out "Happy 1 year anniversary!", but caught myself just in time. It's crazy to think that we've been married for 2 years now, and together for…. 8 years? Sometimes I think back and it seems like just recently that we stood under sparkly lights and committed our lives to each other. He's my best friend, partner in life and in business, and my biggest supporter. Did you know that he was the one who suggested I even start a blog? I didn't think anyone would be interested in what I had to say, but he thought others might like to know how to make my mom's delicious food, and so this blog came to life. I'm so happy, so thankful to have a guy like him in my life- a guy who is up for spontaneous trips to Iceland despite it being the middle of classes, a guy who has my back for everything photography-related, a guy who can anticipate what I want when I want it, a guy who is simply there for me, listening to all my bemoaning about this and that – I love this guy!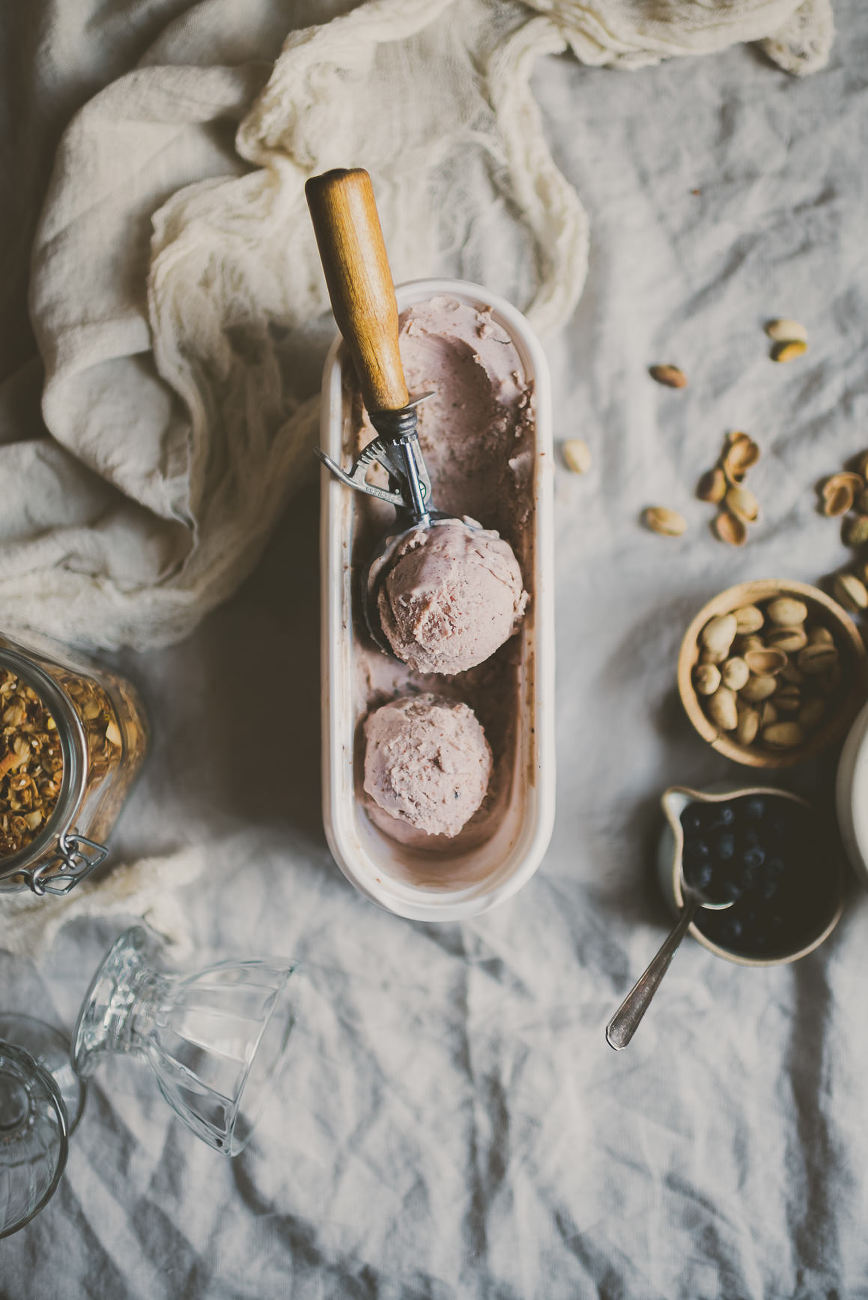 We're currently back "home" in California, where I spent most of my childhood and adolescent life. The bay area has changed drastically and is now a major hub, with dynamic and amazing food. If you've been following along via snapchat (bliu07), you'll see some of the deliciousness I've been consuming non-stop. The weight I've lost to prepare for summer has all come back, unfortunately. Stays in California has taken on somewhat of a vacation-feel, even if we're still working. In fact, we actually came back to photograph a wedding, and decided to stay on for a week to visit family. I still have loads of emails, photos to edit, projects to complete, that I can work remotely on, but just being at home… it puts me in vacation mode. I find myself glancing at emails, then forgetting about them. Dragging out the computer, and sluggishly editing photos. I lose efficiency and take twice the amount of time to do work. I think it's because I'm being coddled by parents and in-laws. With food, wonderful tea, conversations. Since leaving for college, going home has always been surrounded by a cushion of "break" – between semesters, summer break, holiday break. This time, though, I have to shake out of this vacation stupor and actually get work done! Wish me luck, friends. Do you ever get that feeling associated with a certain place?
We're headed to Yosemite for a few days, to experience the majestic park and hopefully get a respite from how connected everything is these days. I'm super excited!!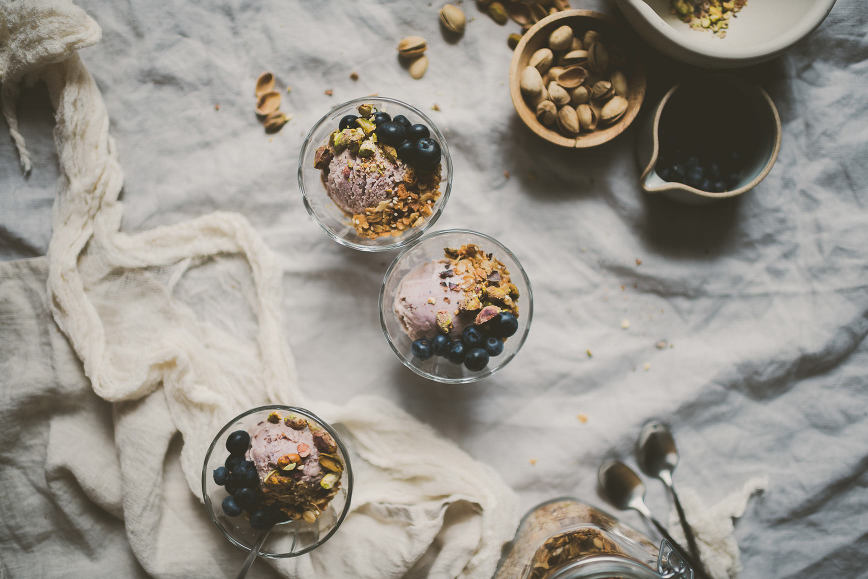 For now, I have this delicate, creamy blueberry crème fraîche ice cream, served with my go-to granola for you! I've been toying with adding creme fraiche into ice cream for awhile – my usual base is the standard custard base with whole milk and cream, but since I've done creme fraiche cake and buttercream, and basically started using vanilla creme fraiche instead of whipped cream, I decided to try using creme fraiche in my ice cream base! And it's delicious!!! The resulting ice cream has a subtle tang, which worked well with the blueberries in this particular case, and the base is so creamy and thick from the additional fat of creme fraiche – this would be the perfect ice cream to hold toppings or go in ice cream sandwiches!!!




wooden bowl – nershiwoodworks / mortar and pestle – boston general store 
This post is sponsored by vermont creamery. All opinions expressed are purely my own, as always. Thank you so much for supporting the companies that support this blog. I'm so in love all their cheeses and products. Their crème fraîche is a given, but their aged goat cheeses (cremont! bonne bouche! bijou!!! coupole!) are to die for and perfect for any kind of appetizer (both cooked and on its own), and their cultured butter is so dreamy I want to only cook with it now.
RECIPE: Blueberry Crème Fraîche Ice Cream
3 cups blueberries
1 cup vanilla bean crème fraiche
1 cup crème fraiche
1 cup whole milk
¼ tsp salt
5 egg yolks
1 cup granulated sugar
Prepare the night before: Stick freezer bowl in the back of the freezer the night before you plan to make ice cream.
Bring 6tbsp sugar and blueberries in a small saucepan and bring to a boil. Remove from heat, then mash blueberries. Strain and set aside. Once completely cooled, mix with crème fraiche.
Heat milk until almost simmering – do not let it boil. Remove from heat.
In the meantime, whisk yolks until thick. gently stream hot milk mix into yolk/sugar mixture, whisking constantly after each addition.
Pour mixture back into a saucepan and heat until custard is thick. I like to use the spoon test – dip a wooden spoon into the mixture, and remove it. Draw a line down the back of the wooden spoon. If the line remains visible, then the custard is thick enough. Cover with plastic wrap and immediately chill in fridge for at least 2 hours, or overnight.
Before pouring into ice cream  maker, combine blueberry crème fraiche mixture into custard mix. Pour into ice cream maker and churn according to instructions. (20 minutes for my ice cream maker).
Pour churned ice cream into an airtight container and freezer for another few hours.
Pistachio Maple Granola
adapted from food52's genius recipe.
3 cups old-fashioned rolled oats
1 cup shelled, gently crushed pistachios (so that large chunks still remain)
1 cup sesame seeds
1 cup coconut shreds
½ cup + 2 tbsp maple syrup
1/3 cup EVOO

coarse salt
1| Turn oven to 300F.
2| Mix everything together until well combined. Spread granola on a parchment-lined, rimmed baking sheet. Spread granola in an even layer. Bake at 300F for 45 minutes, making sure to stir every 15 minutes.
3| Remove and sprinkle with some salt. Cool completely.