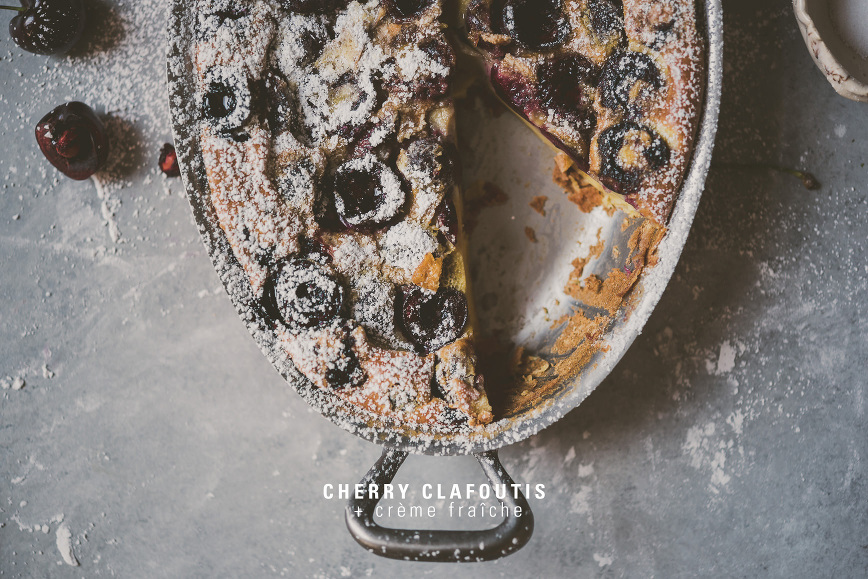 I'm always so inspired by the fresh produce of each season – this summer, I'm particular inspired by all the summer fruits. Last week I made blueberry ice cream, and this week I landed some amazingly sweet, fresh cherries and had to put it in a classy clafoutis. This is also my farewell to my Instagram Takeover #CheeseButterLove with Vermont Creamery, and I thought a dessert is a nice round off for that :). I fancied up this already fancy custard dessert with some tangy, rich crème fraîche, and it worked out wonderfully! A custard just set with juicy cherries spread throughout, this simple dessert can be a showstopper at any gathering.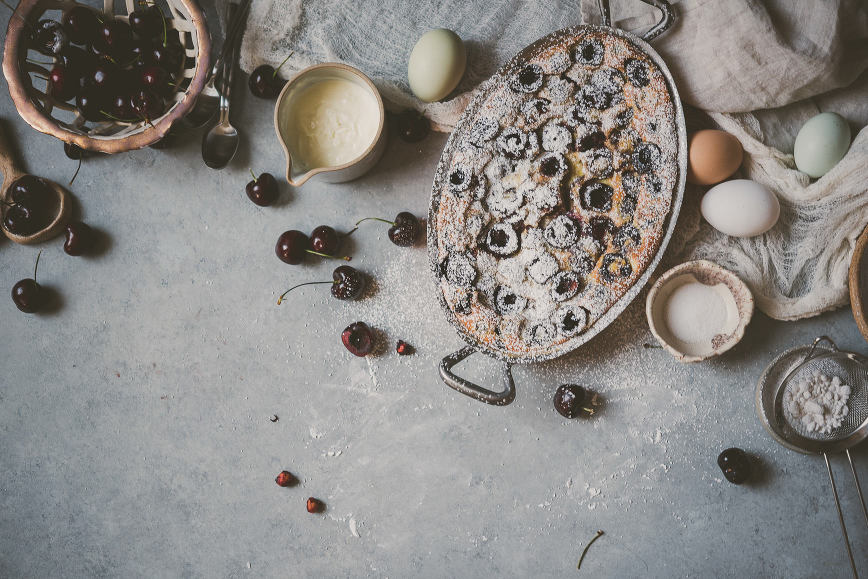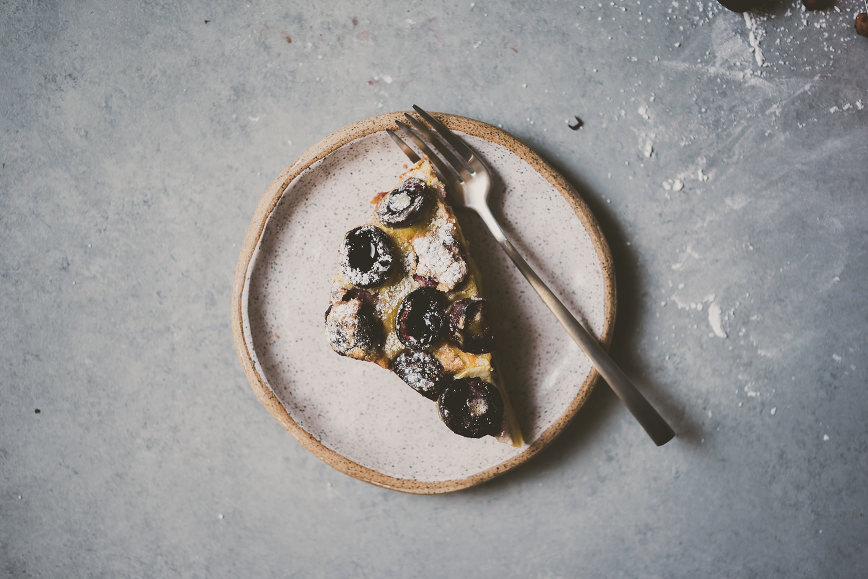 This past week, my body has been telling me f*** off. Since last week when I was in California, I've been feeling a bit under the weather. This is an unglamorous rambling, sorry guys (as life often is), but even when I was in majestic Yosemite, I'd have to taken more frequent breaks and even napped in the car at one point after a hike. Then, we flew back to Boston and immediately photographed two weddings over the course of the July 4th weekend, and things went down from there. I feel fortunate that I'm technically on summer break and could take these past 5 days to recuperate and complete some freelance work in my own studio, but this afternoon we're headed to Toronto (!!!!!) for two more weddings, and I'm SUPER excited but also a bit apprehensive. I'm still not at 100%, and shortly after I'll be headed to Italy and then Scotland, and I feel certain my body is telling me something important: that I've been running myself ragged and not taking care of myself!!! When I'm back from Toronto, I'm going to spend more time resting and letting my body recover before I dive into more travel. And, I think it's time to rethink some projects and cut back, as hard as it is for me to say….
To top it off, my oven broke! It was taking longer and longer to preheat, until it just… stopped preheating. After 2 hours of "preheating" I decided it was over, and lugged out my countertop oven – whew.
And now that I'm done ranting my complaints to you, let's talk about this clafoutis!


It's the simplest dish to make. I simply put everything in a blender and blended until smooth. You have to make sure no lumps of flour remain, which can be hard if you're not adept with a whisk, but blending definitely ensures no lumps of flour. A clafoutis is basically a custard that is set, and when you take it out of the oven, it can still be a bit wobbly. To test its done-ness, just insert a knife and it should come out almost clean. I've heard that traditionally, the cherries are added with the pit to give it that almond-like flavor, but I can't imagine having people spit out pits while eating dessert, so I just pitted all my cherries. A dusting of powdered sugar tops it off – I love how puffy and crackled it gets!!!! The cherry flavor is so lovely. Kirsch, a cherry brandy, enhances the flavor but is optional.




Copperware – Falk USA / ceramic little bowl – facture goods / ceramic speckled plate – Ogusky Ceramics
This post is sponsored by vermont creamery. All opinions expressed are purely my own, as always. Thank you so much for supporting the companies that support this blog. I'm so in love all their cheeses and products. Their crème fraîche is a given, but their aged goat cheeses (cremont! bonne bouche! bijou!!! coupole!) are to die for and perfect for any kind of appetizer (both cooked and on its own), and their cultured butter is so dreamy I want to only cook with it now.
RECIPE: Cherry Clafoutis with Crème Fraîche
Inspired and adapted from here, here, and here
1 lb cherries, pitted
6 eggs
¾ cup flour
1/4 cup sugar
pinch salt
1 tsp vanilla extract
1 cup milk
1/4 cup
¼ cup crème fraiche
2 tsp kirsch, optional
powdered sugar
Preheat oven to 425F. Butter and flour a baking dish. Scatter half of the cherries into the pan.
Whisk together milk and crème fraiche, with sugar, kirsch, vanilla, eggs, and salt and whisk until smooth. Add in flour and put in blender, and blend until no lumps remain.
Pour batter into pan, and distribute remaining cherries evenly across the surface. Bake for about 30 imnutes, until toothpick in middle comes out clean, and clafoutis is golden brown and puffed up. Dust with confectioner's sugar and serve warm.