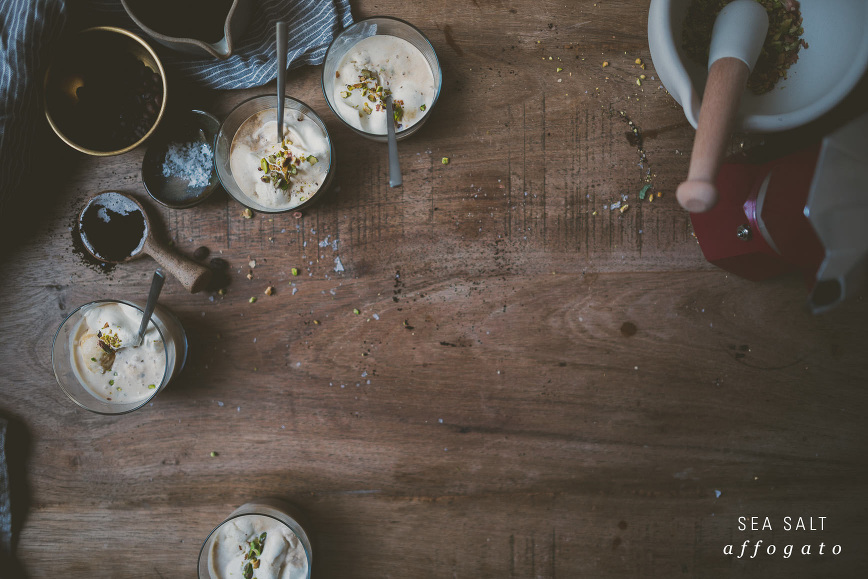 A few years ago in college, I spent a few months in Shanghai completing an architecture internship with a small international architecture firm. The days were hot and humid, but I'd leave pretty early in the morning from my apartment to commute to work, and luckily for me, there was a branch of the ubiquitous 85C Bakery cafe right below my apartment. Needless to say, I had a lot of coffee, milk tea, and pastries to accompany my commute. One of my favorites was their sea salt coffee, a delicious iced coffee drink topped with decadently whipped sea salt cream. The combination was amazing – the right balance of necessary coffee, creaminess, and the touch of sea salt. Fast forward to when my passion for food really started, and I began to discover that sea salt atop sweets was just a magical combination. This affogato recipe is entirely inspired by this drink, by those seemingly mundane but sweet walks to work, relishing in the relatively cool and sort-of empty streets of Shanghai, sipping on coffee/cream/sea-salt-ness.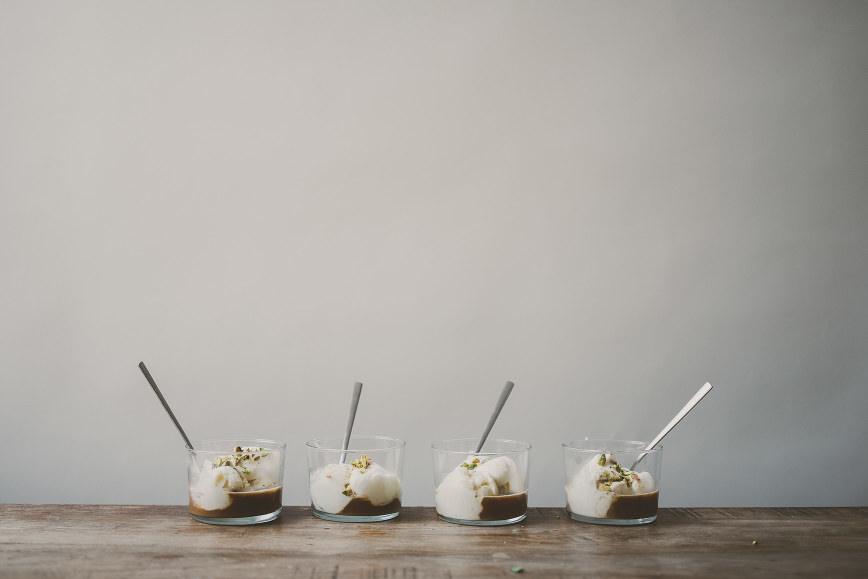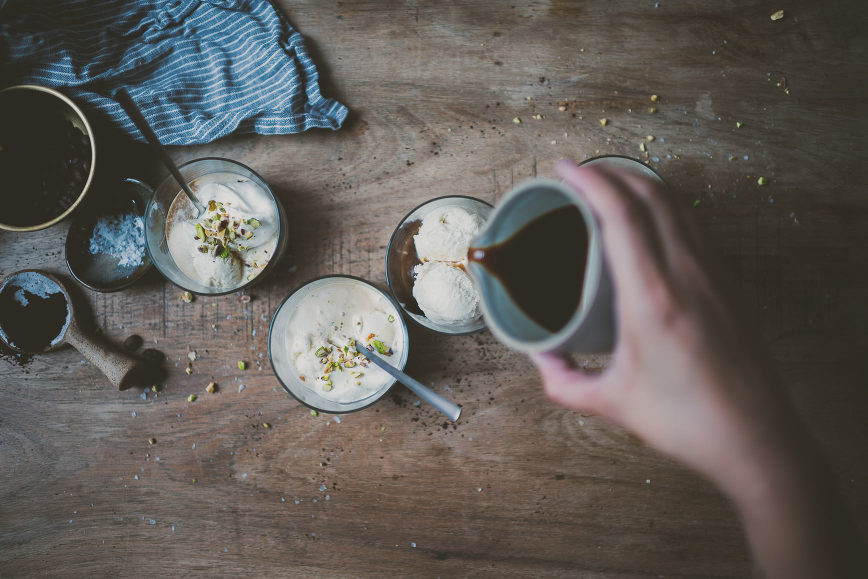 Affogato is espresso over ice cream – and my favorite way to eat it is simply: vanilla ice cream and strong hot espresso. The espresso partly melts the ice cream and the combination is truly delicious. This sea salt affogato contains plain vanilla ice cream, espresso, and sea salt whipped cream, with a tiny bit of pistachios on top for crunch. Everything sort of melds together and it's a delicious mouthful of cold vanilla ice cream, soft and pillow-y whipped cream, and warm, rich espresso.

This post is kindly sponsored by Vitamix, and I'm so excited to try out their Dry Grains Container to grind my coffee beans. It's a grinder like I've never used before – differentiating percolator, pourover, and french press grinds is the amount of time. I made espresso using a percolator on the stove top, and for that you grind for 7-8 seconds. However, for very fine grind such as for espresso machine, you can grind for 20 seconds.




I'm currently in Valentina's gorgeous kitchen. Last night we said goodbye to our 9 attendees after a gorgeous meal during sunset in the Italian countryside. Produce fresh from her garden, cooked to perfection for piadinis by her mother the chef, it was the perfect evening. These past few days have been a blur (as always with workshops), and I'm so so happy to be here. It's seriously been a dream. A full, comprehensive recap post soon, I promise!




For a video of putting this sea salt affogato together, see my Instagram, where I post most of my longer stop-motion videos :).
This post is sponsored by Vitamix. All opinions expressed are purely my own, as always. Thank you so much for supporting the companies that support this blog. Their dry goods container is intriguing to use, and I'm excited to try using it to grind flours from grains!!! The possibilities are endless. Again, they're offering this container for $50 with the purchase of a new full size Vitamix (available at Sur la Table and Vitamix) 
---
linen + glass cups – shop fog linen / mortar and pestle – boston general store  / dessert spoons – simon pearce
Notes:
For sea salt, you can use any kind you want. I'm in love with flaky malden sea salt, so I took it and pinched it so it crumbled some more and added it in. The flavor came out really nicely – the salt flavor should not be hidden but should be embraced. You can use regular sea salt or even fancy salts such as pink salt!
RECIPE: Sea Salt Affogato
Sea Salt Whipped Cream
1 cup heavy cream, cold
1 tsp malden sea salt
Whip cream until soft peaks JUST begins to form (but do not form). It will stay soft and cloud-liked. Gently stir in sea salt.
Sea Salt Affogato
vanilla ice cream
espresso
sea salt whipped cream
optional toppings: pistachios, nuts, caramel
Place 2 small scoops vanilla ice cream in bowls. Pour 1 shot espresso over, or three tablespoons of strongly brewed coffee. Top with pistachios and generous dollops of sea salt whipped cream.